James Jasper 'Jap' Knight
(1873-1935)
Jap Knight
James Jasper "Jap" Knight was born on Feb. 16, 1873 at or near Van Wert, Van Wert County, OH, the son of Daniel Harry and Caroline Elizabeth (Llewelyn) Knight.
As an adult, Jap was of medium height and build, with brown eyes and black hair.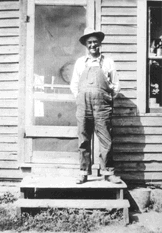 Jap at home
On May 18, 1894, at the age of 21, Jap married 18-year-old Sarah Ellen "Sally" Ralston (1876-1965) at Scott, Van Wert County. She was a native of Piqua, OH, and the daughter of John and Delilah (Lewis) Ralston.
Tragically, their first three children -- Esther Knight, Nolis Knight and an unnamed infant son -- all died young, and are buried in the Blue Creek Cemetery in Scott.
In 1898, Jap and Sally joined his parents and adult siblings in a mass migration to Washington State, finding a new home in Puget Sound near Seattle, King County. But they quickly became disenchanted with the rainy climate, and within three months decided to leave. Knowing that Jap's uncle John Lewellyn had found a suitable home in Michigan, the group relocated again, to Gladwin, Gladwin County, MI. There, they remained for good.
Their fourth child, Eve Bender, was born in 1901 in a small log cabin that Jap had built, after the family had arrived in Gladwin. Eve thus was their only child who survived into adulthood.
According to a typed family manuscript:
They had four children, the first three of whom died when only a few months old. In those days of scarcity of doctors and money, and infant illnesses were prevalent and not usually diagnosed by a physician, Aunt Sally, as she was known to friends as well as relatives, attributed the deaths to "consumption." Around 1900, … [they] became concerned over a new pregnancy. In due time came a dear little old grandmother who predicted as follows: "Your baby will live if you do as I say. If your baby is a boy, call him Adam. If it is a girl, call her Eve'." Eve lived – so who is to say?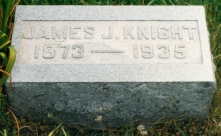 Ridge Cemetery, Gladwin
During the first World War, at the age of 45, Jap had to register for the military draft. He dislosed to the registrar that he was a farmer.
Little else about Jap's life is known.
Jap died on Aug. 11, 1935 at Gladwin, at the age of 62. He is buried near his parents at Ridge Cemetery.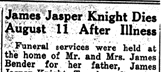 Obituary, 1935

Sally outlived her husband by three decades. Remembered a granddaughter, "Everyone remembers Sarah Knight as a sweet, unselfish, wonderful person and she deserved the love and respect of us all."

Her daughter and son in law, Eve and James Bender, gave her constant attention and care in her final years.

She passed away on Sept. 2, 1965, and is buried with her husband.

~ Daughter Eve (Knight) Bender ~

Daughter Eve Knight (1901- ? ) was born on Feb. 5, 1901 in Gladwin.

She attended the Riley county normal school, about half a mile north of her parents' log cabin home. Recalled her daughter, "She attended Gladwin High school until her senior year, then went to County Normal and became the teacher in an eight-grade school at the ripe old age of eighteen. Throughout her school and teaching career she was interested in music and sang in the high school and church choirs as well as being a good pianist."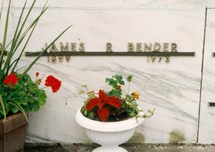 Highland Cemetery
On her 21st birthday in 1922, Eve married James Raymond Bender (1899-1973), a native of Beaverton, Gladwin County.
James was of medium height and build, and had brown hair and brown eyes. Prior to marriage, during World War I, when he registered for the military draft, he stated that he was a farmer working for his father, J.M. Bender of Beaverton.
They made their home for the first few years of married life in Saginaw, MI. They then moved back to Gladwin.
Their three children were Dorothy Ellen Krieg, James Richard Bender and Nancy Priscilla Glass.
The family were longtime members of the First Methodist Church of Gladwin. After retirement, they divided their time between Tampa, FL and Michigan, often spending time with Eve's cousin Thelma (Webb) Merrick Clark and her second husband, Herb Clark. In 1972, the Benders celebrated their golden wedding anniversary.

Dorothy (Bender) Krieg
James died in 1973, at the age of 74. He was laid to rest in a crypt in Highland Cemetery.
Daughter Dorothy Helen Bender (1924-living) was born on New Year's Day 1924 in Saginaw, MI. Because of delicate health, she and her mother returned to Gladwin, where Dorothy lived with her grandparents. She married Robert Ralph Krieg, the son of Ernest August and Augusta Krieg, on Feb. 25, 1950, in Saginaw County. Their children were Robert Ralph Krieg Jr., Theodore James Krieg, Jeffrey Peter Krieg and Kristine Augusta Schurkamp. The Kriegs made their home in Grand Haven and White Cloud, MI. Bob worked in electrical maintenance for a new Consumers Power plant. Dorothy was a kindergarten and first grade teacher for 32 years before retiring in 1985. She also was an active genealogy researcher over the years. In 1992, she and Bob traveled to Western Pennsylvania to meet the founder of this website and graciously shared their findings about the Knight branch of our family. In July 1993, Minerd.com's founder visited with the Kriegs in Michigan and toured the old Gladwin farms and cemeteries. During the 1990s, Dorothy and Bob attended our Minerd-Miner-Minor Reunions. Sadly, Bob passed away on June 27, 2007. In 2015, more than two decades after first meeting, Dorothy returned to the Minerd Reunion accompanied by her son Bob and his wife Kristen. They attended again in 2017.
Grandson Theodore James Krieg (1951-2018) was born on Oct. 22, 1951 in Saginaw. He was a graduate of Grand Haven High School. Circa 2008, he became employed with B&B Design as a draftsmen. He was a member of the Grand Haven Eagles and St. John's Lutheran Church. He also took pleasure in golf, photography and following the Detroit Red Wings hockey team and Detroit Tigers baseball team. He died single at the age of 66 on March 21, 2018.

Dorothy and Bob Krieg, 1992, in a visit to Western Pennsylvania to see her great-grandfather Daniel H. Knight's home region
Son James Richard Bender (1928-1979) was born on April 28, 1928 in Gladwin. He came into the world during a blizzard, kept safe and warm in a white iron bed. At the age of 17, he joined the U.S. Army, serving in Korea and Vietnam, earning the Silver Star and Bronze Star for bravery in action. He served as a medic's aide during combat and later, while on duty in Germany and the U.S., was assigned to hospital duty. Retiring to Tampa to be with his parents, and suffering from poor health contracted in military service, he died there at the age of 51 on Jan. 19, 1979.
Daughter Nancy Priscilla Bender (1939- ? ) was born on Feb. 5, 1939. She married Eugene "Gene" Glass (1936- ? ) in 1957, and they had three children -- Dawn Eugenia Foust, Richard Glass and William "Billy" Glass. They lived in Midland and Gladwin, MI, and then moved to Daytona, Volusia County, FL. The Glasses' marriage ended in 1963. Nancy later married Johnson Jameson, but they also divorced.
Copyright © 2001-2002, 2007, 2011 Mark A. Miner