Lillie May (Knight) Walters
(1867-1950)
Lillie Walters

Lillie May (Knight) Walters was born on Aug. 27, 1867 in or near Van Wert, Van Wert County, OH, the daughter of Daniel Harry and Caroline Elizabeth (Llewelyn) Knight.
On March 8, 1889, at the age of 22, Lillie married 28-year-old John Walters (1861-1945) at Scott, Van Wert County.
John was a native of Kentucky.
Together, the couple produced a family of three children – Daniel Alexander Walters, Mamie "Mayme" Hawley and Caroline Elizabeth Riley.
The Walterses first lived in Scott and in Cook County, OH, before moving with Lillie's parents and adult siblings to Washington State in 1898. The relocation that was short-lived, as the family did not enjoy the cold, wet climate. The entire group decided to leave after only three months.
Returning to the midwest, Lillie and John and the Knights set down roots near Gladwin, Gladwin County, in the north-central part of Michigan. A flat farming community, Gladwin is located about 30 miles to the west of Lake Huron's Saginaw Bay. Descendants of this large family still continue to live there today.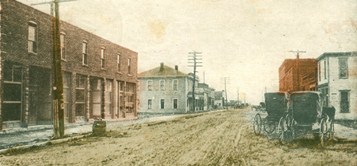 Unpaved Main Street in Scott, OH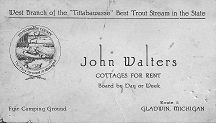 John's business card

Said a typed manuscript, "They resided on the Sugar River between Gladwin and the West Branch [of the Tittabawassee River,] and operated a 'part-time' hunting and fishing lodge which was popular with a more or less permanent clientele." John's business card, seen here, touted the "Best Trout Stream in the State" as well as "cottages for rent ... board by day or week... [and a] fine camping ground."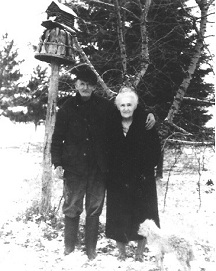 John and Lillie
The federal census of 1910 shows John, Lillie and their 24-year-old daughter Carrie making their residence together in Butman, Gladwin County. John's occupation that year was recorded by the census-taker as general farming.
By 1920, with their married son Daniel making his home in Nester Township, Roscommon County, MI, Lillie and John moved there, and lived next door to their son and his family. They continue their life's labors as farmers.
Lillie and John remained in Nester Township for at least 10 years. They are shown there on the 1930 census, again living next door to their married son Daniel and his growing brood of children.
The couple enjoyed camping on their property along the Tittabawassee River, and used a small log cabin built of sturdy, thick logs as shelter during their "retreats" there.
They endured the untimely deaths of their granddaughter Maxine Walters Carpenter in 1937, at the age of 18 shortly after her marriage and grandson Bert Hawley Jr. in 1944, at the age of 40.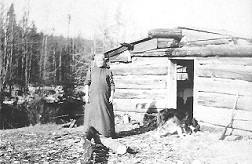 Lillie at her "camp cabin"

Little else is known of their lives.

In about 1944, both Lillie and John were admitted to a sanitarium or home in Traverse City, Grand Traverse County, MI, even though they maintained their home in Nester Township.

John passed away at the age of 84 on March 5, 1945, at the sanitarium.

Lillie outlived her husband by five years.

At the age 83, she died on May 19, 1950, also at the sanitarium.

They are buried at Butman Township Cemetery. Their graves are marked with small, simple metal plaques. The founder of this website paid his respects at these graves in the summer of 1992, and photographed them for posterity.

A grandson and his wife live today as third generation owners of the Walters farm.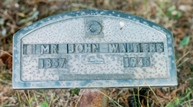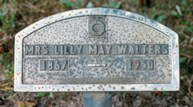 John and Lillie's grave markers in Buttman Township Cemetery
~ Daughter Caroline Elizabeth (Walters) Riley ~
Daughter Caroline Elizabeth "Carrie" Walters (1886-1961) was born on June 2, 1885 in Scott, Van Wert County.
She married Thomas B. Riley (1877- ? ), the son of James and Ruby (Eldredge) Riley. The nuptials took place on Sept. 30, 1901, performed by J.S. DeLong, a minister of the Methodist Episcopal Church. At the time, she was age 15, and he was age 24, a difference of eight years. On her marriage license she claimed to be 16.
They had at least two children, Lillie M. Riley and John J. Riley.
The Rileys made their home in the early years on the farm of Thomas' widowed father, James Riley, a native of Ireland. The 1910 census shows them all under one roof in Gladwin, Gladwin County.
By 1920, likely after the death of Thomas' father, the family had moved elsewhere in Gladwin County, living in Sherman Township. Thomas continued his longtime occupation as a farmer.
Carrie died on Feb. 4, 1961, at the age of 75. The fate of Thomas is not yet known.
Daughter Lillie "May" Riley (1902- ? )
Son John J. Riley (1906- ? )
~ Daughter Mamie "Mayme" (Walters) Hawley ~
Daughter Mamie "Mayme" Walters (1889-1962) was born in 1889 in Cook County, OH.
She married Albert "Bert" Hawley (1884-1966), a native of Michigan, and the son of Lee and Irene (McLean) Hawley. They were wed on Nov. 10, 1903, when Mamie was age 14, and he 20. On her marriage license, she listed her age as 16.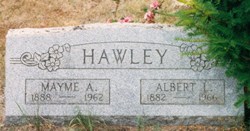 Ridge Cemetery, Gladwin

They bore a total of six children -- Bert Hawley Jr., Rhea Hawley, Reta Hawley, Lester Hawley, Wanda Hawley and Doris Hawley.

When the federal census was enumerated in 1910, the Hawleys made their home in Gladwin. Bert's occupation was as a laborer at the local grain elevator, serving the community of farmers.

The family appears in the 1920 census of Gladwin, with Bert and Bert Jr. working "out" as laborers. They remained in Gladwin through the decade of the 1920s, and were there in the census of 1930.

Mamie passed away on Feb. 18, 1962, at the age of 73.

Bert survived Mamie by four years. He died in 1966, at the age of 85. They rest together for eternity in Gladwin's Ridge Cemetery.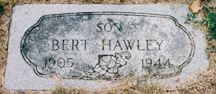 Highlands Cemetery

Son Albert "Bert" Hawley Jr. (1904-1944) was born in 1904 in Michigan. He died in 1944, at the age of 40. He is interred in Gladwin's Highlands Cemetery. The cause of his death is not yet known.

Daughter Rhea Hawley (1908- ? ) was born in 1908 in Michigan.

Daughter Reta Hawley (1911- ? )

Son Lester Hawley (1914- ? )

Daughter Wanda Hawley (1916- ? )

Daughter Doris Hawley ( ? - ? ).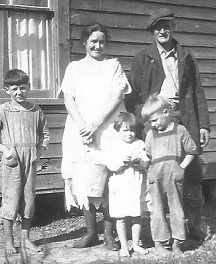 Daniel, Delilah and 3 of their children
~ Son Daniel Alexander Walters ~
Son Daniel Alexander Walters (1893-1982) was born on May 12, 1893 in or near Scott, Van Wert County, OH.
As an adult, he was of medium height and build, with blue eyes and light brown hair.
Daniel married Delilah Bradley (1896-1992), a native of Michigan, on March 2, 1915, when he was age 22, and she 18.
Daniel and Delilah became the parents of six children -- Zarold D. Walters, Wayne J. Walters, Ward A. Walters, Maxine E. Carpenter, Betty J. Klemach and Francis J. Walters.
During World War I, in 1917, Daniel registered for the military draft at age. He told the draft registrar that he was age 26, when in reality he was only 24. He stated that he was a self-employed farmer, and had a wife and two children at the time.
The United States census of 1920 shows this family residing in Nester, Roscommon County, MI, with Daniel working as a general farmer. His parents had migrated there also, from Gladwin, and lived right across the road that year.
They continued to make their respective homes in Nester for decades.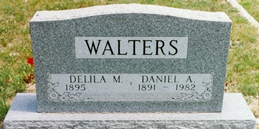 Butman Township Cemetery

Daniel later was employed as a fire warden by the Conservation Department, and as a supervisor of the Works Progress Administration (WPA). The WPA was one of the ways President Franklin Delano Roosevelt and the federal government tried to overcome unemployment during the Great Depression. It's widely considered one of the Roosevelt's largest and most ambitious undertakings of his "New Deal" to get the nation back on sound economic footing. Over the years, the WPA hired millions of out-of-work individuals to build public works projects, such as roads, bridges, retaining walls and buildings.

He also was a truck driver for the Roscommon County (MI) Road Commission and State Highway Department.

Later in life, the family returned to Gladwin, residing at 10997 Dunham Lake Road.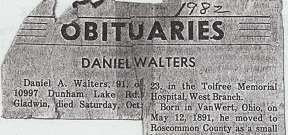 Obituary, 1982

Daniel died at the age of 91 on Oct. 23, 1982, in the Tolfree Memorial Hospital in West Branch, MI. He was laid to rest in Butman Township Cemetery, where many of their offspring also repose in eternity.

At his death, a newspaper reported that he was survived by 21 grandchildren, 52 great-grandchildren and nine great-great grandchildren.

Delila spent her final years in Nester Township. After 10 years as a widow, she passed away on Jan. 10, 1992.

Son Zarold D. Walters (1915-2002) was born on March 1, 1915, in Gladwin. He married Helen Hollenbaugh ( ? -2010) and had five children: Zarold James Walters, Leslie Gale Walters, Helen June Walters, Richard Allen Walters, Annette Walters and Daniel Timothy Walters. Sadly, newborn daughter Annette died in 1937, at the age of one day. Zarold died on Feb. 13, 2002 at the West Branch Hospital in Michigan. Helen outlived her husband by eight years. She passed away two days after Christmas in 2010.
Granddaughter Leslie Gale Walters died in 1984, at the age off 44, with burial also in the Butman cemetery.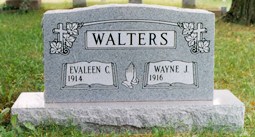 Ridge Cemetery near Gladwin

Son Wayne J. Walters (1916- ? ) was born on July 8, 1916. He married Evaleen C. Bowers (1914- ? ). He was two years younger than his bride. They resided in the Gladwin area. Their six children were Marcella Ann Walters, Rodney Wayne Walters, Onalee Gail Walters, Gerry Lee Walters, and twins Dixie Lee Walters and Darla Kay Walters. Wayne and Evaleen are buried together in Ridge Cemetery near Gladwin.

Granddaughter Marcella Ann Walters
Grandson Rodney Wayne Walters
Granddaughter Onalee Gail Walters
Grandson Gerry Lee Walters
Granddaughter Dixie Lee Walters was a twin with her sister Darla Kay.
Granddaughter Darla Kay Walters was a twin with her sister Dixie Lee.
Son Ward A. Walters (1918- ? ) was born on May 17, 1918 in Nester, Roscommon County. He married Lula Belle Bowers ( ? - ? ). They had five children, including Cleo Maxine Walters, Marilyn Kaye Walters, Jo Ann Walters, Jerry Ward Walters and Bonnie Lynn Walters.
Granddaughter Cleo Maxine Walters
Granddaughter Marilyn Kaye Walters
Granddaughter Jo Ann Walters
Grandson Jerry Ward Walters
Granddaughter Bonnie Lynn Walters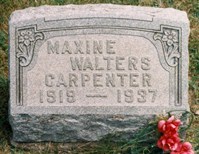 Butman Township Cemetery

Daughter Maxine E. Walters (1919-1937) was born on Nov. 22, 1919, likely in Rosscommon County. She married (?) Carpenter. Tragically, Maxine died at the age of 18 on Aug. 30, 1937, of causes not yet known. She is buried at Butman Township Cemetery near Gladwin.

Daughter Betty J. Walters (1921- ? ) was born on Dec. 14, 1921. She married Max Klemach ( ? - ? ). They had no children.

Son Francis J. "F.J." Walters (1924- ? ) was born on Oct. 27, 1924 in Rosscommon County. F.J. married Norma Jean Benmark ( ? - ? ). Their five children were Valerie Jean Walters, Francis J. Walters Jr., Michael Lee Walters, Crystal Ann Walters and Gale Lynn Walters.

Copyright © 2001, 2006, 2011, 2012 Mark A. Miner

Grave marker photographs by Mark A. Miner, July 1993