Ira Hubert Laughery
(1898-1972)


Ira and Ruth
Ira Hubert Laughery (pronounced "loff-ree") was born on Feb. 13, 1898 in Dunbar, Fayette County, PA, the son of David Leander and Martha Jane "Mattie" (Harbaugh) Laughery.
Ira spent his early boyhood in Vanderbilt, Fayette County, where his father was serving as United States postmaster.
As a 12-year-old, in about 1910, Ira moved with his parents to the state of Delaware, settling on a farm in Greenwood, Sussex County.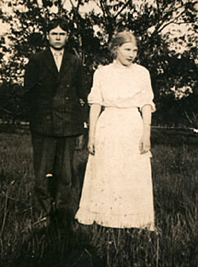 Ira with his sister Leona
Ira later obtained employment with the Bell Telephone Company in Philadelphia, PA, and moved his residence in West Philadelphia.
Ira married Ruth Annie Malehorn (June 20, 1907-1995).
They bore one daughter, Lois Ann Winand.
When the federal census was taken in April 1930, the Laugherys made their residence in Upper Darby Township, Delaware County, PA. Their home was on Ashly Road. The census-taker marked his occupation as "Maintenance - Telephone." Daughter Lois was marked as age one year, three months.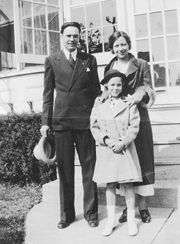 Ira, Ruth and Lois
Ira's work for the telephone company provided stability and income and allowed him to save for their daughter's college education.
The Laugherys later moved to Aldan, Delaware County, where their home was located at 61 South Glenwood Avenue. This was Lois's residence at the time she was in college.
At some point over the years, Ira and Ruth purchased a seasonal home on McFee Street in Lewes, Sussex County, DE and and a 92-acre farm in Queen Anne County, MD.
Ira retired from Bell Telephone in 1963, when he reached age 65. He was a member of the Bell Pioneers, an organization of Bell retirees devoted to honoring the dedication of the founders of the telephone industry. He enjoyed spending time with his grandchildren and showing them all sorts of practical things they could do with electricity.
In retirement, Ira and Ruth moved to Bayshore, Ocean County, NJ near Cape May. There, he was a member of the Tabernacle United Methodist Church of Erma, NJ and a member of the Crescent Lodge of the Masons.

Ira passed away at the age of 74 on March 16, 1972. He was laid to rest in Erma, Cape May County, following a funeral led by Rev. William I. Roberts of the Tabernacle United Methodist Church.
As a widow, Ruth became close with her son-in-law's father Leroy Winand (Jan. 21, 1902-1988- ? ), and they eventually married, on Jan. 7, 1978.
The couple spent their final years in the Dillsburg-York area of York County, PA.
Leroy died on March 14, 1988.
Ruth passed into eternity on March 15, 1995, at the age of 87.

Lois Ann Winand
~ Daughter Lois Ann (Laughery) Winand ~
Daughter Lois Ann Laughery (1928-2001) was born on Dec. 29, 1928.
She was a 1950 graduate of Drexel Institute of Technology in Philadelphia, receiving her bachelor's degree in home economics, and is pictured in the institute's yearbook, The Lexerd. An original copy of the yearbook today is preserved in our family's archives.
Lois married Harry Leroy Winand (1923-2001), the son of Leroy and Jean C. (Wolf) Winand of State College, PA. They were wed at the Aldan Union Church of Aldan, Delaware County, PA, by the hand of Rev. William A. Dean, followed by a reception at the Swarthmore Woman's Club.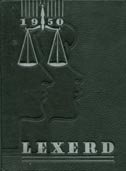 Lois' college yearbook
They had four sons -- Steve Winand, Relland "Rell" Winand, Keith Winand and John Winand.
As newlyweds, the Winands first lived in Philadelphia at 4300 Osage Avenue, but by 1968 made their residence in Landsdowne, Delaware County, PA where they raised their family.
Harry, a graduate of Pennsylvania State College, served in the U.S. Army during World War II, as a captain in the 78th Infantry Division in Europe. After the war, he was employed in the advertising department of the Philadelphia Evening Bulletin and later the Philadelphia Inquirer.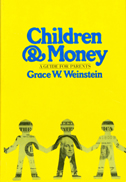 Book citing Lois' work
After their sons had grown to manhood, Lois obtained a Ph.D. degree in education and joined the faculty of Glassboro State College, also known as Rowan College, in New Jersey in 1971, where she served as a professor of home economics for two decades. Subsequently, she obtained a Ph.D. degree in education from Penn State University in 1981.
Her work attracted much attention in the education field. She and her demonstration preschool program at Glassboro are mentioned in the book Children and Money: A Parents' Guide, by Grace W. Weinstein (Charterhouse, 1975). In the book, author Weinstein writes:
Although most nursery schools have toy cash registers and some a mock storefront as well, few try specifically to teach consumerism. An exception is the demonstration project at Glassboro State College in southern New Jersey, where home economics consultant Lois Winand is developing a consumer education program for three- and four-year-olds. "They can understanding a surprising variety of consumer concepts, even at this age," she insists; that things that look good to eat may not be safe, that clothing you care for lasts longer.
Lois also published several studies of her own research through the college.
Lois retired from Glassboro in 1991. In retirement, the Winands moved to Florida, living in Crystal River, Citrus County. There, Harry obtained his master gardener certificate.
Lois (Laughery) Winand's Glassboro Publications
Final Report on Meeting the Needs of Disadvantaged Urban and Rural Youth through Home Economics Education - by Lois Winand, Vivian Gunn Morris, Division of Vocational Education and Career Preparation (1985).
Meeting the Needs of School Age Pregnant and Parenting Students: A Curriculum Guide for Consumer and Homemaking Education Programs; Reinforcing Reading, Writing and Mathematics Skills - Lois L. Winand, project director; Vivian Gunn Morris, project coordinator; Marilyn Norris, editor (1989)

Lois passed away on Aug. 9, 2001, at the age of 72.
Harry only outlived her by two and a half months. He died on Oct. 21, 2001.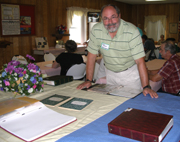 Steve Winand, 2010 reunion
Son Stephen "Steve" Winand was twice married. He and his first wife produced two children, Jennifer Flickinger and Stephanie Winand. Then in about 1988, he married again to Janice Moore (1954-2017), daughter of Olin and Dorothy M. Moore of Wilmington, DE. They resided in Chestertown, MD. A graduate of Goldey Beacom College, Janice was employed for 32 years with Delmarva Power, and received an early retirement as human resources manager. She went on to become a substitute teacher at Centreville Elementary School and assisting Occasions Catering of Chestertown. Reported the Chestertown News Journal, Janice "enjoyed spending time on the water with her husband boating and traveling throughout the Chesapeake as First Mate on their boat. She also had fun rock fishing occasionally with friends using her "mean green fishing machine." Janice and her husband also enjoyed traveling and exploring new places." Steve has attended the Laughery Reunions over the years, and met the founder of this website at the 2010 reunion in Farmington, DE. Sadly, at the age of 63, Janice passed away at Compass Regional Hospice Center on Nov. 10, 2017. An obituary was published in the News Journal.
Granddaughter Jennifer Winand wedded Ryan Flickinger and resides in Newark, DE.
Granddaughter Stephanie Winand makes her home in Wilmington, DE.
Son Relland "Rell" Winand and his wife Dayna make their home in West Chester, PA and have hosted Laughery Reunions at their home.
Son Keith Winand married Maryanne Cerra and they reside in Chester Springs, PA. They also have hosted several Laughery Reunions at their home.
Son John Winand lives in Media, PA.
Copyright © 2009-2010, 2017 Mark A. Miner
Portrait of Lois Ann (Laughery) Winand originally published in the Lexerd yearbook of the Drexel Institute of Technology, 1950.