Leona (Laughery) Wilkerson
(1895-1968)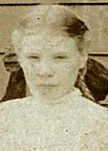 Leona J. (Laughery) Wilkerson was born on July 14, 1895 in Dunbar, Fayette County, PA, the daughter of David Leander and Martha Jane "Mattie" (Harbaugh) Laughery.
In 1909, 14-year-old daughter Leona sent a birthday card to her grandmother Mary Magdalene (Whipkey) Harbaugh, and referred to the recent birth of Leona's baby brother Willis:
Wishing you a happy birthday. Hellow Grandma, How are you these days. We are all well and hope you the same. The baby is growing. We haven't named him. Our school starts in two weeks.
As a 15-year-old, in about 1910, Leona and her parents and siblings moved from Vanderbilt, Fayette County to the state of Delaware. She remained there the rest of her life.
Leona wed William Clayton Wilkerson (1889-1977), the son of Uriah and Virginia V. Wilkinson, on Feb. 27, 1919. At the time, Leona, who was six years younger than her husband, was age 23. Rev. Chauncey Day, of Harrington, Kent County, performed the ceremony.
They had three children -- John "Jack" Wilkerson, Ralph Wilkerson and Iris Woehlke. They made their home in Greenwood, Kent County.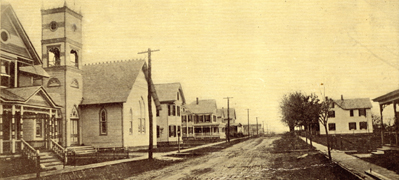 Greenwood's Market Street, looking east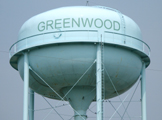 Married and living in Greenwood, Leona provided information about both her father's and mother's respective branches of the Harbaugh family for the Harbaugh History (now a standard reference book). The volume was published in 1947 by Cora Bell Cooperider and her son J.L. Cooperider of Evansville, IN.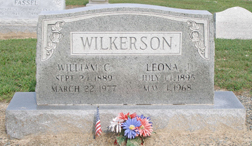 Leona looked forward each year to the Laughery Reunions, begun by her brother Willis in 1963. She and William received the award one year for "oldest married couple" and William himself as "oldest member." Sadly, she only was able to attend a handful of the reunions before her death.
She passed away on May 4, 1968, at the age of 73. The local newspaper obituary said she had succumbed "after a short illness" in Kent General Hospital in Dover. She was laid to rest at the St. Johnstown Cemetery.
Her brother Arthur and his wife Kathryn also rest for eternity in the cemetery. In August 1968, a little more than three months after Leona's death, William and his adult children attended the Laughery Reunion, held at the Greenwood home of Willis and Dorothy Laughery. Daughter in law Ruth Wilkerson made a "lovely home made four-tier reunion-anniversary cake with pink, white, green and violet decoration," reported the local newspaper.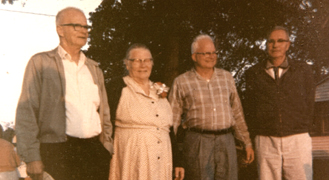 Leona with her brothers, L-R: Arthur, Willis and Ira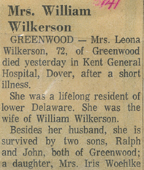 William outlived his wife by nine years. He died on March 22, 1977, at the age of 88.
~ Son Ralph W. Wilkerson ~
Son Ralph W. Wilkerson (1921-1995) was born on Nov. 13, 1921. He wed Ruth (1921-1989). They lived in the Greenwood area.
Ruth died on Jan. 8, 1989.
Ralph passed away on Nov. 5, 1995. They are buried at St. Johnstown Cemetery. Their grave marker is seen at right, as photographed in August 2010.
~ Son John E. "Jack" Wilkerson ~
Son John E. "Jack" Wilkerson (1931-2000) was born on Aug. 24, 1931.
He married Elaine in the mid-1960s, and at the Laughery Reunion that year won the "newest married couple" award. Jack and Elaine made their residence in Greenwood.
They enjoyed attending Harbaugh Reunions "back home" and in 1976 and 1977 received the "Traveled Furthest" award for driving 336 miles from Delaware. Again in 1991-1992, they received the "Traveled the Furthest" award. Sadly, Jack died on May 19, 2000, at the age of 68.
~ Daughter Iris (Wilkerson) Woehlke ~
Daughter Iris Wilkerson married Mr. Woehlke.
Copyright © 2009-2010 Mark A. Miner