Arthur Davis Laughery
(1899-1981)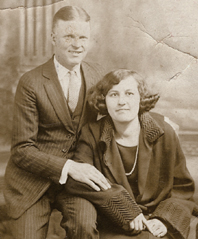 Art and Kathryn Laughery
Arthur Davis Laughery (pronounced "loff-ree") was born on Aug. 1, 1899 in Dunbar, Fayette County, PA, the son of David Leander and Martha Jane "Mattie" (Harbaugh) Laughery.
As an 11-year-old, in about 1910, Arthur moved with his parents from Vanderbilt to the state of Delaware, settling on a farm there in Greenwood, Sussex County. Despite the geographical distance from his mother's family in Southwestern Pennsylvania, he kept a deep emotional attachment to them and attended Harbaugh Reunions as an adult.
Arthur married Mary "Kathryn" Sammons (1908-1989), the daughter of Frederick and Caroline (Coverdale) Sammons. They were eight years apart in age.
The Laugherys had seven children, all born in Greenwood between the years 1928 and 1939 -- Jeannette Passwaters, David Frederick Laughery, Irene Dorothy Vincent, Loretta June Downes, James Herbert Laughery, Peggy Ann Case and Harold E. Laughery.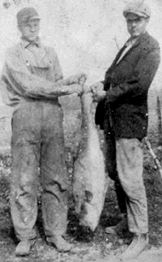 Brothers Arthur and Ira
Seen here, Arthur (left) and his brother Ira pose with a 50 lb. fish they proudly caught. The date and place are unknown.
When the federal census was taken in 1930, the 30-year-old Arthur, and 22-year-old Kathryn made their home near Greenwood, with their two eldest children in the household. Arthur's occupation was listed as "farmer."
In his early adult years, Arthur and his brother Willis drove milk trucks and had their own routes. Arthur also dug ditches for the Works Progress Administration (WPA). In about 1937, he became employed by the Rural Electric Association, also known as Delaware Electric. He started as a lineman, requiring him to climb poles to maintain the wiring at the top. If at home when thunder and lighting storms struck the area, his telephone inevitably would ring, and off he would go to fix the damage.
Arthur was a self-taught, naturally inclined electrician and carpenter who had a knack for building useful household furniture with high precision of finish after planning their construction in his mind and then sketching out his plans. Among his creations that remain in the family today are book cases, office desks, toy chests, kitchen cabinets and the like. He also assembled a board walk in the front yard of their home, so that the children could stay out of the dirt and mud when entering the house.
Using his skills honed at Delaware Electric, Arthur wired many houses for electricity. During World War II, he served as a local air raid warden. He was a heavy smoker, and enjoyed rolling his own cigarettes for hours at a time. He liked to snack on sardines out of a can, and on crackers covered with ketchup. He is said to have had a slow, easy-going disposition -- a Laughery trait, according to a daughter.
To earn extra money for their large brood, Kathryn would take in laundry for other families.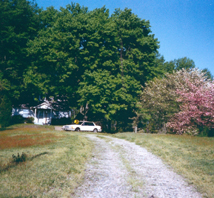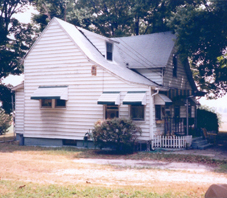 The Laugherys' longtime home, "Gobbler's Knob," near Greenwood, Delaware
At some point in the late 1940s, Arthur admired a 27-acre farm property he had driven past every day to and from work, sitting on a small hill in the otherwise very flat farm country. It was considered the highest point in Sussex County, located along Route 36 in Greenwood. A small old house sat at the top. Arthur approached the owner and asked to buy it. When the owner immediately agreed, Arthur asked the price, and was told $3,500. Arthur had no cash on his person at the time, so went into town and borrowed $5 from a local oil and gas broker. He then drove back to the farm and handed over the cash as a down payment. The next day, Arthur went to his bank and borrowed the remainder of the funds needed.
The Laugherys moved to their new home, which he dubbed "Gobbler's Knob," possibly after a farm he had known "back home" in the mountains of Fayette County. He spent significant time remodeling and expanding the dwelling, including a den, sun porch and bathroom. The family remained for many years.
At White's Chapel, a local church, he built a six-foot-high wooden cross with a storage box for flowers. He also refinished old chairs found in the storage area. He did not charge for any of the materials and donated his labor.
Arthur passed away on the Fourth of July 1981, at the age of 82. He was laid to rest in the St. Johnstown Church Cemetery near Greenwood. A friend named Shirley wrote this tribute, based on the Bible verse Isaiah 25:8, and read it aloud to fellow parishioners at their church:
The other day my friend's father died;

She said, "I was there at his beside;"

"I held his hand until he slipped away."

"With him till the end I wanted to stay."

My own father's death my mind ran across,

And I could understand the sorrow of her loss.

I thought of the hands she held until the end.

They were always busy for he like to build and mend.

Memories of Sunday School programs filled my mind.

The many things he made for us, he was so kind.

But now his hands are still, the job's been done.

He is at rest, the victory has been won.
Kathryn outlived her husband by eight years. In about 1983, when she was age 75, the automobile which she was driving was struck by a jackknifed tractor-trailer about a half mile north of Greenwood. The local newspaper reported that she suffered a broken collarbone and ribs, and was in serious condition in Milford Memorial Hospital.
She died in 1989, at the age of 81. She rests for eternity beside Arthur.

Jeannette Passwaters
~ Daughter Jeannette (Laughery) Passwaters ~
Daughter Jeannette Laughery (1928-1998) was born on Sept. 20, 1928 in Delaware.
As an 18-year-old, she married 23-year-old Norman Eugene Passwaters (1923-1983), the son of Rufus and Lillie Passwaters. The wedding took place on Oct. 4, 1946.
At the time of marriage, Norman was employed at DuPont.
They had two children -- Norman Eugene Passwaters Jr. and Thomas W. Passwaters. The family resided in Milford, Kent County, DE.
Norman was an instrument mechanic at DuPont company's Seaford nylon plant for 36 years, retiring in 1982. He also owned and operated Lakeside Cab Company in Milford, having founded it as a moonlighting business in 1967.

News story, 1983
Tragically, while driving his taxi in Milford, at the age of 60 on April 15, 1983, Norman died at the wheel. He slumped over the steering wheel before the vehicle careened off the road and collided with a utility pole. He was laid to rest in the Odd Fellows Cemetery in Milford.
Jeannette outlived him by 15 years. In August 1984, she hosted the 20th annual Laughrey Reunion at her home. Said a newspaper, "Everyone enjoyed the delicious food, games and swimming in Passwaters' beautiful pool. Percy Martin of Michigan was the family member that traveled the farthest."
Jeannette died at the age of 70, on Jan. 14, 1998, in Milford, and rests for eternity beside her husband.
Son Norman Eugene Passwater Jr. (1947-1998) was born in 1947. He married Donna Teare ( ? - ? ). They had two children. He passed away on Jan. 23, 1998, at the age of 51, just nine days after his mother's death.
~ Son David Frederick Laughery ~
Son David Frederick Laughery ( ? - ? ) wed Molly "Vicki" Johnson (1931-2012), the daughter of Carl Axel and Olga Angela (Martinez) Johnson, on the day after Christmas in 1953, in Salisbury, MD.
They resided in Seaford, DE, and had three children -- Victoria Kathryn Bartholomew Messick, David Carl Laughery and Sheila Lyn Laughery.
The Laugherys enjoyed attending the annual Laughery Reunions, and graciously hosted the late-summer events at their home in 1977, 1983, 1997 and 2005.
Vicki passed away on March 15, 2012, at the age of 80. A moment of silence was held in her memory at the 2012 Laughery Reunion.
David and his daughter planned to host the 2013 Laughery Reunion at his home in Seaford, DE. But sadly, he died just a few weeks before the event, at the age of 83, on July 25, 2013.
Daughter Victoria Kathryn "Vickie" Laughery (1954-2004) suffered from juvenile diabetes. She was married twice, and her married names were Bartholomew and Messick. She had three children. Sadly, she suffered a heart attack at home and died on March 26, 2004, at the age of 49. Her remains are interred at Our Lady of Lourdes Cemetery in Seaford, DE.
Daughter Sheila Lyn Laughery was elected to serve as president of the Laughery Reunion to be held in 2011.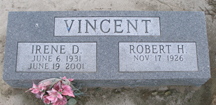 St. Johnstown Cemetery
~ Daughter Irene Dorothy (Laughery) Vincent ~
Daughter Irene Dorothy Laughery (1931-2001) was born on June 6, 1931.
When she was 19 years of age, Irene married Robert Homer Vincent ( ? - ? ) on Nov. 8, 1950. They lived in Milford, DE.
The Vincents had two daughters -- Deborah Lynn Webb and Linda Kay Webb Unruh Lane.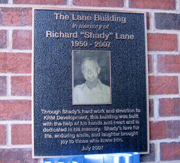 "Shady" Lane memorial
Irene passed away on June 19, 2001, and rests in the St. Johnstown Cemetery in Greenwood, DE.
Daughter Linda Kay Vincent married Richard Alan "Shady" Lane (1950-2007). He supervised construction of an office building in Chestertown on Kent Island, MD for his employer, KRM Development Company. Sadly, Shady died on Feb. 21, 2007, of melanoma, at the untimely age of 57. Today the building he helped construct in Chestertown officially is named "The Lane Building" and a plaque bearing his likeness is mounted on the side of the brick building. In an article in the Cape Gazette, columnist Dennis Forney wrote that Shady had been a KRM employee "up until two weeks before his death... In appreciation of Shady's great work and the unshakable good humor and spirit he brought to the company, officials decided to name the building in his honor. Ron Athey, who hired Shady and grew up with a bunch of us over on the Chesapeake side of the peninsula, presided at the ceremony and spoke warmly and eloquently of his good friend's contributions to KRM and the human race."

Loretta Downes
~ Daughter Loretta June (Laughery) Downes ~
Daughter Loretta June Laughery married Frank "Clayton" Downes on May 10, 1952, in Bridgeville, DE. He was the son of Carlton and Ida Belle (Beebe) Downes. They made their residence in Milton, Sussex County, and later at Lewes, DE.
The Downses had two daughters -- Kim Colleen Douglas and Julie Ann Yakimowicz.
Loretta and her sister Peggy Ann Case attended our 2007 reunion, and have provided valuable information for the Laughery biographies on this website.
Clayton was a long time meat cutter in the Sussex County area. In about 2000, they moved from Milton to the home of his late parents in Lewes, just north of Rehoboth Beach.
Suffering from cancer, Clayton passed away on Jan. 11, 2010, at the age of 80. He was laid to rest in the quiet churchyard of White's Chapel Methodist Episcopal Church near Lewes.
Son in law Richard Yakimowicz, known locally as "Captain Rick," pilots fishing boats for tourists, operating out of Fisherman's Wharf in Lewes.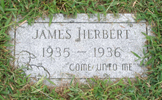 Hollywood Cemetery
~ Son James Herbert Laughery ~
Son James Herbert Laughery (1935-1936) died at the tender age of one-and-a-half-years on Aug. 24, 1936.
His fragile remains were laid to eternal rest at the Hollywood Cemetery in Harrington, DE.
His flat grave marker, seen here in August 2010, reads: "Come Unto Me."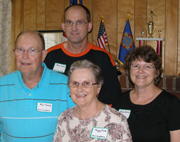 Ron and Peggy Case and family
~ Daughter Peggy Ann (Laughery) Case ~
Daughter Peggy Ann Laughery wed Ronald B. Case, the son of John Burton and Marguerite P. (Hall) Case, on Jan. 21, 1956, in Greenwood.
The Cases had two children: Karen Renee Holman and Blair Burton Case.
The family is seen here together at the Laughery Reunion in 2010. The family has lived in Wilmington and Newark, New Castle County, DE.
Ron was a researcher for 41 years for the DuPont Company, joining its Experimental Station in January 1956 and retiring at the end of 1997. During his career, concluding as technical representative, technology, he contributed to the development of many successful DuPont products, among them Alathon, Aldyl, Viton, Kalrez, Hypalon, Vamac, Elvaloy, Nordel, Neoprene and Bexloy. Ron also holds several patents which were assigned to the company.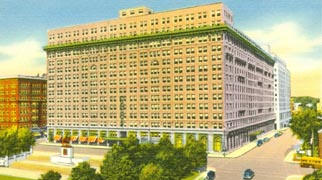 The DuPont & Nemours Building in Wilmington, with Rodney Square in the foreground
Peggy and Ron are longtime organizers of the annual Laughery reunions, holding the joint positions of secretary/treasurer. They came to our reunion in 2007, and helped host the founder of this website when he attended the Laughery gathering in 2010. They have been exceptionally kind and helpful in the research for this biography.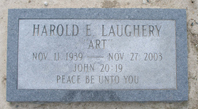 St. Johnstown Cemetery
~ Son Harold Eugene "Art" Laughery ~
Son Harold Eugene "Art" Laughery (1939-2003) was born in 1939.
At the age of 22, he married Jean Thompson on June 24, 1961, in Ridgely, MD. Jean's parents were Ruben J. and Myrtle (Tribbitt) Thompson.
The Laugherys' residence was in Easton, Talbot County, MD. Their children were Wendy Jean Winchell, Lisa Louise Laughery and Donald Arthur Laughery.
Sadly, son Donald died in infancy at the age of two days on Jan. 2, 1966.
Harold passed away on Nov. 27, 2003, at the age of 64. He rests in his parents' plot of graves at the St. Johnstown Cemetery in Greenwood. The inscription on his grave marker is taken from the New Testament, John 20:19 -- "Peace be unto you."
Copyright © 2009-2012, 2016 Mark A. Miner