Home

Ignatius G. Martin
(1844-1897)
Ignatius G. Martin was born in 1844 in Preston County, WV, the son of Henry and Keziah (Miner) Martin.
He was a Civil War veteran who in young manhood became a pioneer settler of Missouri.
Ignatius stood 5 feet, 9 inches tall, and weighed 170 lbs. During the Civil War, Ignatius served with several military units from West Virginia. He joined the 2nd West Virginia Infantry, Company B, on May 20, 1861. In the spring of 1862 his regiment was reorganized into the 5th West Virginia Cavalry, and he served for three years until his term expired. He then became a member of a veterans regiment, the 6th West Virginia Cavalry, Company H.
While stationed at Belington, Barbour County, WV in December 1863, Ignatius was seriously injured when thrown from his horse, and fractured his right collar bone. "I was detached with a scouting party," he wrote, "my horse stumbled and fell throwing me on my right shoulder and broke it, causing what the physicians call bone clavicle which was never set and has remained fractured ever since."
After the war's end, sometime between 1865 and 1870, Ignatius migrated westward to Missouri.
Looking east on Cameron's Third Street, circa 1906
Ignatius married Martha Lionhart (1849- ? ), a native Missourian.
Together, the couple produced a family of three daughters -- Tinnie Ollie Newman, Fannie Christman and Russie Spiers.
When the federal census was enumerated in June 1870, the Martins lived in Liberty, Clay County, MO, with 28-year-old Ignatius employed as a "peddler."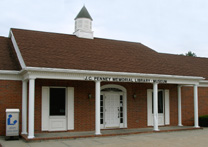 J.C. Penney Museum, Hamilton, MO
When the federal census was taken in 1880, the family resided in Cameron, Clinton County, MO, about 35 miles east of St. Joseph, MO. The census-taker listed Ignatius as a "canvasser" and Martha employed in "hair dressing." At least one of their daughters, if not all three, were born in Missouri.
Three years later, Ignatius purchased a town block in Cameron, north of the Hannibal and St. Joseph Railroad right of way, from seller William and Kate D. Shaw. The deed is filed in the Clinton County courthouse.
At the time Ignatius and Martha moved to Cameron, a young boy was growing to adulthood on a dusty farm about 12 miles directly east in the town of Hamilton. As a young man, he began working for a local dry goods merchant but later struck out on his own and went on to build a nationwide chain of some 1,400 department stores. His full name was James Cash Penney but better known around the world as "J.C. Penney" -- his birthplace today is a tourist attraction in Hamilton, which also is the site of the J.C. Penney Memorial Museum.
In May 1886, while in Clay County, MO, Ignatius further aggravated his wartime ailments when thrown from a buggy which he was driving. He wrote: "I was rideing in a buggie when my horse got scared and gave a sudden jump which jerked the seat off the buggie throwing me out backwards and hurt my right shoulder over again in the same place..."
As the years went on, Ignatius' shoulder gave him a growing discomfort. He petitioned the federal government for a pension as compensation. One of the fellow soldiers he like to have used as a witness was J.M. Ashby, but Ashby was dead, having been "killed in a Shaft in Kingwood Tunnel B. & O. R.R. West Va." after the war, Ignatius wrote. The claim was rejected.

Above: 1897 Plat Book of DeKalb County shows Ignatius' 30-acre farm at the far southeast corner of the county, bordering Clinton and Caldwell Counties. Below: the site today, north of the Cameron exit of Missouri Route 36.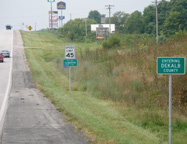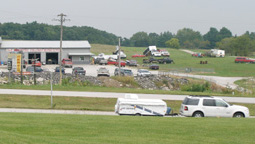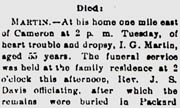 Cameron Daily Observer, 1897
In 1891, after his mother had died back in West Virginia, Ignatius and his adult siblings were sued by their brother Presley. In the matter, brother Presley wanted the court to approve the sale of the mother's old house and lot in Independence, WV, so the funds could be used to offset costs of her care during her final years. Ignatius received a copy of the legal complaint, and apparently did not enter an objection to it. He was named in legal advertisements that year in the West Virginian newspaper of Marion County, WV.
During the last few months of his final illness, Ignatius entrusted the feeding and care of his team of horses to Joel King, M.D. King later received payment of $18.00 for these services.
Ignatius passed away on Feb. 23, 1897, at his home one mile east of Cameron, at the age of 53. Said the Cameron Daily Observer, "He had been sick a long time. During his illness he was watched over by relatives, neighbors and members of the G.A.R. The funeral service was held under the auspices of Joe Hooker Post, G.A.R., of which deceased was a member."
His remains were laid to rest in the Packard Cemetery. Apparently no marker was erected on his final resting place, even though he would have been entitled to a government issued one as a Civil War veteran. There is no record of any sort of grave marking in an index of the cemetery kept today by the DeKalb County Historical Society.
Martha seems to have faded into history, but will be researched.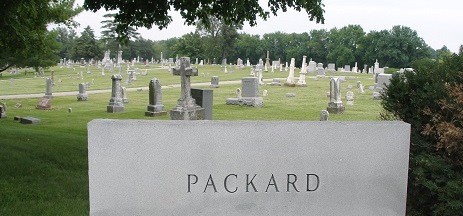 Ignatius' final but resting place
~ Daughter Tinnie Olive "Olive" (Martin) Newman ~
Daughter Tinnie Olive "Ollie" Martin (1875 - ? ) was born in 1875.
She was joined in wedlock with Albert Gallatin Newman Jr. (1855-1935), the son of Albert Gallatin and Minerva (Hays) Newman Sr. Albert's father was a prominent hardware store owner in Columbia and 1870 was elected to the Missouri House of Representatives. Oil on canvas portraits of the father and mother today are held in the collection of the State Historical Society of Missouri.
The wedding took place in Boone County, MO on Aug. 13, 1897, six months after the passing of Tinnie's father. W.F. Maupin, a Minister of the Gospel, officiated. The bride was two decades younger than the groom. They apparently had no children.
Just before marriage, Tinnie took on the task of serving as executrix of her late father's estate. The original papers are on file today at the DeKalb County Historical Society in Maysville.
When Columbia's first paid fire department was formed in 1893, Albert was hired as chief, and was paid a monthly salary of $30.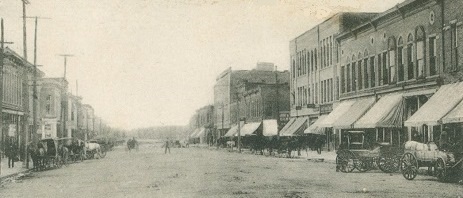 Columbia, MO's Broadway, early 1900s
When the federal census was taken in 1900, three years into the marriage, Tinnie and Albert made their home with his mother in Columbia, Boone County. That year, the census taker recorded that Albert had no occupation. The 1910 census of Columbia shows Albert and "Ollie" to be the only occupants of their home, with Albert employed as chief of the local fire department. They have not yet been located on the 1920 census, but it's presumed that Albert continued his work as the city's fire chief as he retired from this position in 1920.
In 1930, the census shows that after 30 years of marriage, the Newmans continued to reside in Columbia, on the corner of North Fourth Street and Wilks Boulevard. They kept a boarder that year, 58-year-old John J. Daly, who was a laborer on buildings. Albert, age 75, was retired as he had no recorded occupation.
Circa 1934, the Newmans lived in Columbia, Boone County, MO. Albert suffered from chronic nephritis and heart disease. He died from their effects at the age of 79 on Jan. 18, 1935. He was buried at Columbia Cemetery.
~ Daughter Fannie Estelle (Martin) Christman ~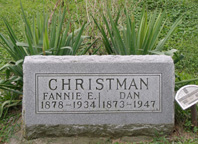 Bowman Cemetery
Daughter Fannie Estelle Martin (1878-1934) was born in 1878 in Missouri.
At the age of 19, on March 21, 1897, she was united in matrimony with 23-year-old Daniel Christman (1873-1947), the son of Civil War veteran Henry Christman and his wife Mary. The wedding took place just a few weeks after her father's death, by the hand of justice of the peace Hiram Smith. Their marriage license was recorded in Clinton County, MO, where the original remains on file today.
Together, the couple produced a famaily of six sons -- Martin Henry Christman, Lee Christman, Roy Christman, Lloyd G. Christman, Floyd Christman and Fred Christman.
The Christmans were members of the Christian Science Church, although Dan maintained ties to the Methodist Church. Circa 1897, Fannie and Dan made their home in Daviess County, MO, but by 1901 had migrated to Hamilton, Caldwell County, MO.
After her father's death, Fannie tried to persuade the government to continue paying his pension, but her letters to the U.S. Pension Commissioner apparently went unanswered.
The federal census enumerations of 1910 and 1920 list the family on a farm in Sheridan, Daviess County.
By 1930, the Christmans moved to Hutchinson, Reno County, KS, where four of their adult sons lived. The U.S. Census of 1930 shows Dan earning a living as a railroad laborer and Fannie as a hotel maid. The couple returned to Cameron in February 1934, and found a farm near Lock Springs.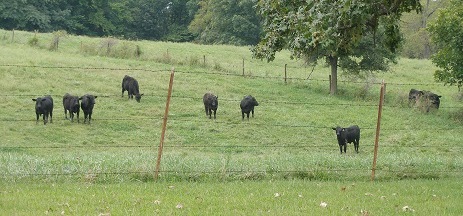 Scene today near Hamilton, Missouri
Sadly, Fannie was stricken with appendicitis and passed away just a few weeks after their move to Lock Springs, as she neared her 56th birthday, on March 8, 1934. She was laid to rest at the Bowman Cemetery in nearby Daviess County, MO, about 16 miles northeast of Cameron.
Dan outlived Fannie by 13 years, and moved back to Hutchinson, where he shared a home with his son Roy. He labored there building roads. He died there at the age of 74 on Oct. 21, 1947, with his remains returned to Missouri for burial beside Fannie. Dan's parents rest nearby in the small country grave yard.
Son Martin Henry Christman (1897-1970) was born on Dec. 28, 1897 in Daviess County, MO. He grew up working on the family farm. Martin wedded Estelle Elizabeth Curtis (1903-1986), also a native of Daviess County and the daughter of Oliver Perry and Cina Belle (Cathcart) Curtis. They were the parents of one known son, Francis Eugene Christman. By about 1941, the couple relocated to Denver. Martin died at the age of 72 in April 1970. Placement of the remains was in Hampden Memorial Estates in Denver. Estelle outlived her spouse by 16 years. She surrendered to the angel of death in Lakewood, CO in July 1986.
Grandson

Francis Eugene Christman

(1920-2001) was born on July 25, 1920 in Lock Springs, Daviess County, MO. In young manhood he accompanied his parents on a relocation to Denver. He stood 5 feet, 10½ inches tall and weighed 175 lbs., with brown eyes and brown hair. In 1941, he resided at 4545 Thompson Court in Denver and worked for Central Fiber Products Company. He served in the U.S. Navy during World War II. Francis was joined in matrimony with Florence Marriette (Nov. 27, 1924-2010). Francis died in Contra Costa County, CA at the age of 81 on Nov. 28, 2001. Florence lived on as a widow for nine more years. She passed away on Nov. 11, 2010. Interment was in Oakmont Memorial Park in Lafayette, Contra Costa County.
Son Lee Christman (1903- ? ) was born in about 1903 in Missouri.
Son Roy Christman (1905-1991) was born n Sept. 29, 1905 in Hamilton, MO. He moved in his youth to Hutchinson, KS. At the age of 23, on March 6, 1929, he was united in wedlock with 18-year-old Iola Marie Berends (Jan. 9, 1913-1997), a native of Gate, Beaver County, OK. The couple is not known to have reproduced. Roy and Iola made their first home with Roy's parents in Hutchinson, Reno County, KS. Circa 1930, he and his father and brother Fred all worked for the railroad in Hutchinson. By 1940, Roy earned a living as a butcher in a Hutchinson packing house. During World War II, he served in the U.S. Navy with the Seabees. Upon his return home, he was employed in the construction industry as a "stationery engineer." His memberships included the Robert S. Thurman post of the American Legion in Joplin, MO and the local lodge of the Masons. The couple's final home was in Missouri at 1101 Jefferson Avenue in Joplin, Jasper County. Roy passed into eternity on Jan. 11, 1991, bringing a close their union which had endured for an extraordinary 62 years. Iola outlived her spouse by six years. Death swept her away at the age of 84, on Valentine's Day 1997, in Joplin. The couple sleep side by side in Mount Hope Cemetery in Webb City, MO.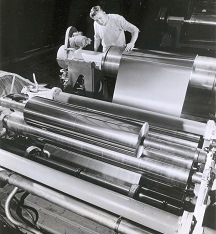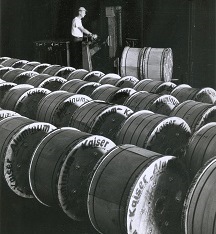 Equipment and products of Spokane-based Kaiser Aluminum. Company photos.
Son Lloyd G. Christman (1908-1981) was born on May 19, 1908 in Gallatin, Daviess County, MO, a twin with his brother Floyd. His middle initial "G." was an initial only and did not stand for a name. In adulthood he stood 5 feet, 10 inches tall, weighed 163 lbs. and had brown hair and brown eyes. He entered into marriage with Mabel Helen Weaver (1911-1988). She was a native of Kansas and the daughter of John Thomas and Williamina Houston (Mooney) Weaver, who migrated to Spokane when she was young. The brood of offspring they bore together were June Frances Dvorak, Jane Camille Christman, Joan Butcher, Jean Wynne, June Dvorak, Dan H. Christman and Dennis Oliver Christman. The couple established their life together in about 1940 in Spokane, at the address of North 6920 Yale Street. The city was known for large-scale agricultural and lumbering operations and was considered the mining capital of the Pacific Northwest. Circa 1940, when he registered for the military draft, he was employed with National Pole and Treating Company. During World War II, Lloyd served in the U.S. Armed Forces. After the war, Lloyd earned a living as a steelworker for Kaiser Aluminum near Spokane. Lloyd belonged to the Eagles lodge in Spokane and held a membership in St. Patrick's Roman Catholic Church. The angel of death whisked away Lloyd at the age of 73, in Spokane, on July 3, 1981. Following a Rosary prayer service, burial was in Colfax (WA) Cemetery in Whitman County. An obituary said he was survived by 18 grandchildren and eight great-grandchildren. Mabel lived on for seven years as a widow. She succumbed to the angel of death in 1988.
Granddaughter Jane Camille Christman

(1937-1954) was born in 1937 in Hutchinson, KS. She developed a heart ailment in childhood from which she never recovered. She relocated from Kansas to Elberton, WA in late 1953 and had not long to live. At the age of 16, on April 10, 1954, she passed away in Spokane. Her remains are at rest in Colfax Cemetery in Whitman County, WA.
Granddaughter Joan

Christman

wedded (?) Butcher

. Her home in 1981-2011 was in Spokane.
Granddaughter Jean

Christman

married ( ? ) Hubert and (?) Wynn/Wynne

. She lived circa 1981 in Lewiston, ID and in 1988 in Enumclaw, WA. At the death of her brother Daniel in 2011, she dwelled in Spokane.
Granddaughter June

Christman

(1933-2007) was born on June 7, 1933 in Hutchinson, KS. When in young girlhood, she relocated with her parents to Washington State, settling in Deer Park. On Aug. 24, 1951, when she would have been 18 years of age, she was joined in matrimony with World War II Army veteran Frank Joe Dvorak Sr. (May 1, 1911-1989)

, son of Vencel and Vincincia Dvorak and a native of Manning, Dunn County, ND. Their wedding was held at the Hitching Post in Coeur d'Alene, ID. Frank was 22 years older than his bride. Nine children were born in this family -- Thomas Dvorak, Denise Raye Dvorak, Vanessa Faye Dvorak, Frances Dean Dvorak, Virginia Jane "Janie" Lile, Joseph Dvorak, Christopher Dvorak, Christine Fanning and Frank Joe Dvorak Jr. The family grieved when three of the babies died at birth over the years -- Thomas (1952), Vanessa Faye (1956) and Denise Ray (1959). Frank Sr. earned a living as a barber. The couple lived in many places over the years, including Deer Park, Springdale, Elberton, Spokane and Palouse. For the final decades of their lives, they dwelled in Oakesdale, Whitman County, WA. Over the span of 25 years, June was a volunteer cook and cleaner with the CAC. She also was active in the community as a member and president of the Oakesdale Rebekah Lodge, Sunday School teacher and Presbyterian Youth Program director as well as a Campfire Girls and Cub Scouts leader. Sadly, Frank passed away in Whitman County on Jan. 19, 1989, bringing to a close their union which had survived for 38 years. The widowed June outlived her husband by 18 years. She died in Colfax at the age of 74 on July 8, 2007. On Aug. 24, 2007, on what would have been their 56th wedding anniversary, both of their cremains were lowered into the sacred soil of Colfax Cemetery.
Great-grandson Thomas Edward Dvorak (-1952-) passed away at birth on July 28, 1952, in Colfax, Whitman County. Interment was in the Babyland section of Colfax Cemetery.
Great-granddaughter Denise Raye Dvorak (-1959-) sadly died at birth in Colfax, WA on July 30, 1959. Her tender remains sleep for all time in the Babyland section of Colfax Cemetery. A prayer inscribed on a special monument in Babyland reads: "Take them, O Father, in thine arms, and may they henceforth be a messenger of peace between our human hearts and thee."
Great-granddaughter Vanessa Faye Dvorak (-1956-) passed away at birth in Spokane on June 17, 1956. Her ashes are in repose in Colfax Cemetery.
Great-granddaughter Frances Dean Dvorak (1961-2005) was born in 1961. She was gathered away by the angel of death on July 18, 2005. Her cremains are at peace in Colfax Cemetery in Whitman County.
Great-granddaughter Virginia Jane "Janie" Dvorak (1953-2009) was born on Nov. 28, 1953 in Colfax, Whitman County, WA. She grew up in the communities of Elberton, Garfield, Palouse and Oakesdale, WA. In young womanhood, she received a culinary arts certificate from the community college in Spokane. In 1984, when she was 31 years of age, she was united in matrimony with (?) Lile ( ? - ? ). Together, the couple produced a family of three -- Jennifer Lile, Joy Lile and John Luke Lile. Virginia at one time operated a daycare in Oakesdale. Later, for 25 years, was employed as a postal clerk and postmaster relief for the U.S. Postal Service, primarily at its facilities in Malden and St. John. In her free time, she liked to sew, garden and make crafts. Sadly, at the age of 55, she died in Oakesdale, Whitman County on May 8, 2009.
Great-grandson Joseph "Joe" Dvorak resided in 2009 in Spokane.
Great-grandson Christopher Dvorak made his residence in 2009 in Farmington.
Great-grandson Christine Dvorak wedded (?) Fanning. She lived in Bellingham, WA in 2009.
Great-grandson Frank Joe Dvorak Jr.
The heart of Spokane, WA and its 7 bridges and 5 waterfalls
Grandson Daniel H. Christman (1935-2011) was born on Aug. 1, 1935 in Hutchinson, Reno County, KS. During the Korean War, he joined the U.S. Army in September 1952. In fact, he was deployed in country in 1953 when his teenage sister Jane died in Spokane.

He received his honorable discharege in September 1955. Upon his return home, he put down roots in Kirkland and Newport, WA. On Christmas Eve 1954, when he was 19 years of age, he entered into marriage with Shirley Flowers ( ? - ? ). Their nuptials were held in Elberton, WA. Together, the couple produced an only son, Daniel Christman. The newlyweds established a home in Garfield, WA and remained there for 13 years. Daniel, as had his brother Dennis, made a living working at R.A. Hanson Company in Palouse, WA. Among the company's projects in the 1950s was building a missile track system during the Cold War and a 2,000-ton gantry crane which lifted a massive power generation into place in the Grand Coulee Dam. The couple relocated to Portland in 1968, where he obtained employment with FMC, a food machinery cooperative. They stayed in Portland until 1975, when they migrated to Kirkland, WA, where Daniel joined Safeway Stores Inc. as an operating engineer. He finally retired in 1997, and the couple moved once more, for good, to Newport. Daniel held a membership in the American Legion post in Cusick, WA, and he liked to tinker with model railroads, watch western movies and read. Sadly, likely due to Parkinson's Disease, Daniel passed away on Jan. 13, 2011. Pastor Kathy Lee Kramer preached the funeral service, with burial following in Garfield (WA) Cemetery. An obituary appeared in the

Spokane Spokesman-Review

.
Great-grandson Daniel Christman wedded Tish. Circa 2011, they dwelled in Bothell, WA.
Grandson

Dennis Oliver Christman

(1941-2019) was born on Christmas Day 1941 in Spokane, WA and spent his entire life in the community. He is known to have served in the U.S. Navy during the Vietnam War in the early 1960s. Upon his return home, in 1963, he was united in the bonds of holy wedlock with his childhood sweetheart, Mary Ann Bastine ( ? - ? ). Two offspring were born to this couple -- Jeffery Christman and Deanna Christman. Dennis earned a living in his early working career as a journeyman machinist with R.A. Hanson Company, a manufacturer of a variety of equipment for farming, mining and construction housed in a former Kaiser Aluminum magnesium plant. In time he left Hanson to pursue additional education, earning degrees in watchmaking and business. He is said to have been one of the youngest certified master watchmakers at a certain point in time. In his free time he liked to camp, fish, hike and hunt as well as sail and take photographs. He also liked to collect postage stamps and belonged to the Spokane Philatelic Society. He was swept away by the grim reaper of death on May 10, 2019. The

Spokane Spokesman-Review

published an obituary.
Great-grandson Jeffery Christman
Great-granddaughter Deanna Christman
Son Floyd F. Christman (1908- ? ) was born on May 19, 1908 in Gallatin, Daviess County, MO, a twin with his brother Lloyd. He relocated to Arkansas. Floyd wedded Mary Ina F. (Dec. 20, 1906-1989). Their home for years was in Dumas, AR. Sadly, Mary Ina died on March 14, 1989. Floyd endured for another dozen years. Floyd passed away at the age of 92 on Feb. 11, 2001. The couple sleeps side by side for all time in Jefferson Cemetery in Desha County, AR.
Son Fred Clayton Christman (1911-1995) was born on Dec. 10, 1911 in Sheridan, Daviess County, MO or in Hamilton, Caldwell County, MO. At the age of 18, in 1930, he resided with his parents in Hutchinson, Reno County, KS and was employed as a railroad laborer. Fred is known to have joined the U.S. Navy during World War II. At the age of about 48, on July 17, 1959, he was joined in matrimony with Chicago native Georgia Mae Krause (May 7, 1920-2011), daughter of William and Bertha (Wolff) Krause. The pair did not reproduce. Circa 1981, the couple dwelled in Maringo, IL. By 1991, they had relocated to Rogers, Benton County, AR. Georgia held a membership in the Village Bible Evangelical Free Church in Bella Vista, AR. He succumbed to death in Rogers at the age of 83 on Feb. 16, 1995. As a widow, Georgia survived for 16 years and remained in Rogers. Toward the end she was admitted to Ashley Health and Rehabilitation. She passed into the arms of eternity at the age of 90 on March 4, 2011. Pastor Mark Voll preached her funeral sermon. Burial was in Rogers Cemetery. Inscribed on the face of their grave marker is scripture from Matthew 28:20 -- "I am with you always, to the end of the age."
~ Daughter Russie (Martin) Spiers ~
Daughter Russie Martin (1880-1966) -- also known as "Ressie" and "Bessie" -- was born on Aug. 18, 1880 in Missouri.
Circa 1897, at the time of her father's death, she resided in Caldwell County, MO.
When Russie was 21 years of age, in about 1902, she entered into marriage with Oren Franklin "Frank" Spiers (June 22, 1878-1949), also spelled "Owen" and "Spires." He was a native of McFall, MO and the son of Henry and Carrie (Christie) Spiers.
One daughter was born to this marriage, Florine French Thrailkill.
The couple relocated to Nebraska, where their daughter was born in Fairbury, Jefferson County in April 1904. By 1910, they moved back to Missouri and made a home that year in Savannah, Andrew County, MO.
Oren and his brothers co-founded the Savannah Produce Company, with offices in Dearborn, St. Joseph and Savannah, and he was named as its president. Reported the St. Joseph Observer in June 1907:
...it is needless to say that there is not a farmer in northwest Missouri who has neither heard of this marvelous company, nor has been a patron, directly or indirectly of it. It can, for the sake of comparison, be likened to a giant octopus; its branches and agents extend in every direction to the north, east, south, west and intermediate points. This company handles immense shipments of poultry, butter, eggs and fruits and does an export business which branches upwards into the thousands of dollars annually... On coming to Savannah in 1902, [O.F. Spiers] saw the splendid opportunity for the building up of an immense poultry and egg business and commenced trading on a small scale. His infant business soon became a giant industry and branch houses became a necessity resulting in the founding of those at Dearborn and St. Joseph. Last year alone, the business of the three houses ran over $300,000, a tremendous increase, and at the end of this fiscal year, it is estimated that it will be double the figure above given. The firm has, in connection with its poultry ande egg business, a large ice cream plant, having a daily capacity of 600 gallons. Their cream is an excellent standard and is shipped all over northwest Missouri and up into Iowa. In their poultry business, this company taps a country rich in resources. Agents can be found in every small town offering prices which are far above their competitors and naturally eggs, poultry and other farm products are always held by the producer until an offer can be made by one of the company's agents. This splendid firm has earned the reputation as an upright business firm among the farmers and their business in both the branches above given is daily assuming huge proportions, due entirely to the foresight, level headedness and business enterprise of its energetic president, Mr. O.F. Spiers.
Oren was so popular that circa 1909 he served as mayor of Savannah. During his term, he and other public officials broke ground in July 1910 on an interurban trolley line that was constructed between Savannah and St. Joseph.
Their marriage fell apart during the decade of the 1910s. Russie sued for divorce, and it was approved in January 1919 by Judge Vories in Buchanan County Court in St. Joseph. News of the matter was printed in the St. Joseph News-Press.
Russie and their daughter relocated to St. Joseph after the divorce. She earned a living in 1920 and 1930 by running a boardinghouse on South 11th Street. Her boarders in 1920 were James E. Johnson, May Colemens, Ada McBeth, Hariet Reynolds, Mayme Murphy and Allie Glass. Making their home under her roof in 1930 were boarders Emma Edwards, Mary Harrington, Mary A. Wildbahn and Hattie Tenholm. Russie's name during that era has been spelled in public records as "Ressie."
By 1934, Russie had relocated to Columbia, Boone County, MO.
Former husband Oren eventually moved from Savannah to St. Joseph in about 1947, where he made his residence with his married sister Elizabeth Mae Schultz. Suffering from diabetes and heart disease, he died in the Schultz dwelling on Nov. 15, 1949, with an obituary appearing in the St. Joseph Gazette. Interment of the remains was in McFall Cemetery.
Evidence suggests that she relocated to Oklahoma, where she reputedly died in Tulsa in January 1966. This needs to be confirmed.
Daughter Florine Spiers (1904-2000) was born on April 29, 1904 in Fairbury, Jefferson County, NE. As a young girl, she moved with her parents to the town of Savannah, Andrew County, MO. Her parents divorced in 1919, when she was about 15 years of age. Even though she was raised by her mother, she is known to have visited her father's parents in the summer of 1920 and over the Christmas holidays in 1921. Her first husband was Frank Robert French (1904-1989). One son born to this union was Robert Charles 'Bob" French (later renamed Thrailkill). They first lived in Wichita but then moved to St. Joseph, Buchanan County, MO. The federal census enumeration of 1930 shows the couple living in St. Joseph, with Frank employed as a salesman for the New York Life Insurance Company. In 1936, her written testimonial for Spry vegetable shortenings for her baked and fried foods was published in the St. Joseph Gazette. The pair divorced during the decade of the 1930s. Florine supported herself in the late 1930s as a junior buyer for Townsend & Wall department store in St. Joseph. In April 1940, Florine was joined in wedlock with Buell Gordon "Jerry" Thrailkill (1903-1976), a fellow St. Joseph resident and the son of Robert L. and Anna Della (Grundy) Thrailkill. News of their marriage license appeared in the Gazette and of the wedding itself in the King City (MO) Tri-County News. Their wedding was held in the study of the First Presbyterian Church, presided over by Rev. Dr. George Mauze. In announcing the marriage the Tri-County News said that the groom "got his first newspaper experience [here], and it's high time he was bringing the new Mrs. Thrailkill to Kign City and showing her to The News." Census records for 1940 show the Thrailkills in St. Joseph. Buell was a graduate of the University of Missouri. He spent 46 years in the newspaper business, starting with the Tri-County News and then the St. Joseph Gazette and St. Joseph News-Press. His roles at the Gazette included sports editor and then city editor. He and a colleague named Robert shared turns in writing a daily Gazette column headlined "Top o' the Morning" with the combined byline "Robert Gordon." Then in 1943, he accepted a position with the Birmingham (AL) News and in 1946 joined the Des Moines Register as assistant city editor. He was elected president of the Des Moines Press and Radio Club in 1952. During his years with the Register, he focused on covering agricultural issues and, in appreciation, was bestowed awards from state and national farm publications. Among these was in 1958 when the American Seed Association recognized him as the country's "outstanding farm newspaper writer." Florine continued to earn a living of her own as buyer for Younkers Department Store in St. Joseph and Des Moines. The couple retired to Hot Springs, Garland County, AR, where Buell began a 13-year second career with Dow Chemical Company as an agricultural consultant. For a time he was employed by the Arkansas Agricultural Aviation Association as executive director. His interests broadened during that time to sculpture. Sadly, he died on Aug. 21, 1976 at the age of 72. His remains were cremated. Obituaries were published in the News-Press and Northwest Arkansas Times of Fayetteville. Florine spent her widowed years in Overland Park, KS, and relocated into Olathe, KS in about 1997. She was a member of First Presbyterian Church of St. Joseph. She passed away in a healthcare center in Olathe at the age of 96 on July 17, 2000. Her obituary was printed in the News-Press.
Grandson Robert Charles "Bob" Franch Thrailkill (1930-1991) was born on Sept. 25, 1930 in St. Joseph Hospital in St. Joseph, Buchanan County. He was very young when his parents divorced, and after his mother married again to Buell Gordon Thrailkill, Robert took on the "Thrailkill" surname. He graduated from the Drake College of Journalism and followed his father's footsteps into the field of newspapers. For decades, starting on Feb. 28, 1966 to his death, he earned a living in the advertising department of the Waterloo (IA) Courier. On Jan. 3, 1960, in nuptials held in Des Moines, Robert was united in matrimony with widow Iona Mae (Dolecheck) Davenport (Dec. 4, 1931-2021, daughter of Frank and Ethel (Blauer) Dolecheck of Diagonal, IA. The couple's two daughters were Charlene Jean Ludwig and Laura Ann Nelson. Her first husband, Kenneth Davenport, had been killed during the Korean War. A graduate of the American Institute of Business in Des Moines, Iona was employed over the years as Recorder with Ringgold County, City of Waterloo, IA, National Dairy Council and the food production center of Olathe (KS) District Schools. In her spare time, she liked to cook, sew, garden and crochet pot holders and afghans. The family address in the early 1990s was 2725 Highview Avenue in Waterloo. The family was plunged into grief when, stricken by heart failure, Robert died at the age of 60, in Waterloo, on May 15, 1991. He was pictured in his Courier obituary. His remains sleep for eternity in Rose Hill Cemetery in Mount Ayr, Ringgold County, IA. Iona outlived Robert by three decades. Toward the end she became a resident of Aberdeen Village in Olathe. Death swept her away at the age of 89, in Olathe, on March 14, 2021. Following a funeral service at Beautiful Savior Lutheran Church in Olathe, burial was in Rose Hill.
Great-granddaughter Charlene Jean Thrailkill married (?) Ludwig. She dwelled in Olathe in 1991 and Overland Park in 2000.
Great-granddaughter Laura Ann Thrailkill wedded (?) Nelson. The pair migrated to Spokane, WA and in 2000 were in McCleary, WA.
Copyright © 2007, 2009, 2021 Mark A. Miner