Ignatius G. Martin
(1844-1897)
Ignatius G. Martin was born in 1844 in Preston County, WV, the son of Henry and Keziah (Miner) Martin. He was a Civil War veteran who became a pioneer settler of Missouri.
Ignatius married Martha Lionhart (1849- ? ), a native Missourian. They had three daughters -- Tinnie Ollie Newman, Fannie Christman and Russie Spires.
Ignatius stood five feet, nine inches tall, and weighed 170 lbs. During the Civil War, Ignatius served with several military units from West Virginia. He joined the 2nd WV Infantry, Company B, on May 20, 1861. In the spring of 1862 his regiment was reorganized into the 5th WV Cavalry, and served for three years until his term expired. He then became a member of a veterans regiment, the 6th WV Cavalry, Company H.
While stationed at Belington, Barbour County, WV in December 1863, Ignatius was seriously injured when thrown from his horse, and fractured his right collar bone. "I was detached with a scouting party," he wrote, "my horse stumbled and fell throwing me on my right shoulder and broke it, causing what the physicians call bone clavicle which was never set and has remained fractured ever since."
After the war's end, sometime between 1865 and 1870, Ignatius migrated westward to Missouri. When the federal census was enumerated in June 1870, the Martins lived in Liberty, Clay County, MO, with 28-year-old Ignatius employed as a "peddler."
Looking east on Cameron's Third Street, circa 1906
When the federal census was taken in 1880, the Martins resided in Cameron, Clinton County, MO, about 35 miles east of St. Joseph, MO. The census-taker listed Ignatius as a "canvasser" and Martha employed in "hair dressing." At least one of their daughters, if not all three, were born in Missouri. Three years later, Ignatius purchased a town block in Cameron, north of the Hannibal and St. Joseph Railroad right of way, from seller William and Kate D. Shaw. The deed is filed in the Clinton County courthouse.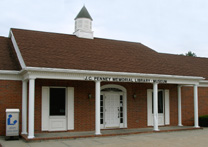 At the time Ignatius and Martha moved to Cameron, a young boy was growing to adulthood on a dusty farm about 12 miles directly east in the town of Hamilton. As a young man, he began working for a local dry goods merchant but later struck out on his own and went on to build a nationwide chain of some 1,400 department stores. His full name was James Cash Penney but better known around the world as "J.C. Penney" -- his birthplace today is a tourist attraction in Hamilton, which also is the site of the J.C. Penney Memorial Museum (seen here).
In May 1886, while in Clay County, MO, Ignatius further aggravated his wartime ailments when thrown from a buggy which he was driving. He wrote: "I was rideing in a buggie when my horse got scared and gave a sudden jump which jerked the seat off the buggie throwing me out backwards and hurt my right shoulder over again in the same place..." As the years went on, Ignatius' shoulder gave him a growing discomfort. He petitioned the federal government for a pension as compensation. One of the fellow soldiers he like to have used as a witness was J.M. Ashby, but Ashby was dead, having been "killed in a Shaft in Kingwood Tunnel B. & O. R.R. West Va." after the war, Ignatius wrote. The claim was rejected.

Above: 1897 Plat Book of DeKalb County shows Ignatius' 30-acre farm at the far southeast corner of the county, bordering Clinton and Caldwell Counties. Below: the approximate site today, north of the Cameron exit of Missouri Route 36.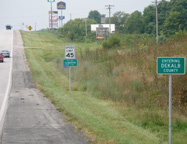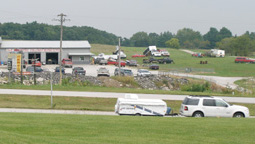 In 1891, after his mother had died back in West Virginia, Ignatius and his adult siblings were sued by their brother Presley. In the matter, brother Pressley wanted the court to approve the sale of the mother's old house and lot in Independence, WV, so the funds could be used to offset costs of her care during her final years. Ignatius received a copy of the legal complaint, and apparently did not enter an objection to it. He was named in legal advertisements that year in the West Virginian newspaper of Marion County, WV.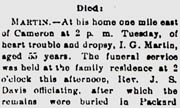 During the last few months of his final illness, Ignatius entrusted the feeding and care of his team of horses to Joel King, M.D. King later received payment of $18.00 for these services.
Ignatius passed away on Feb. 23, 1897, at his home one mile east of Cameron, at the age of 53. Said the Cameron Daily Observer, "He had been sick a long time. During his illness he was watched over by relatives, neighbors and members of the G.A.R. The funeral service was held under the auspices of Joe Hooker Post, G.A.R., of which deceased was a member."
He was laid to rest in the Packard Cemetery, seen here. Apparently no marker was erected on his final resting place, even though he would have been entitled to a government issued one as a Civil War veteran. There is no record of any sort of grave marking in an index of the cemetery kept today by the DeKalb County Historical Society.
Martha seems to have faded into history, but will be researched.
~ Daughter Tinnie Olive "Olive" (Martin) Newman ~
Daughter Tinnie Olive "Ollie" Martin (1875 - ? ) married Albert Gallatin Newman Jr. (1855-1935), the son of Albert Gallatin and Minerva (Hays) Newman Sr. Albert's father was a prominent hardware store owner in Columbia and 1870 was elected to the Missouri House of Representatives. Oil on canvas portraits of the father and mother today are held in the collection of the State Historical Society of Missouri.
The wedding took place in Boone County, MO on Aug. 13, 1897, six months after the passing of Tinnie's father. W.F. Maupin, a Minister of the Gospel, officiated. The bride was two decades younger than the groom. They apparently had no children.
Just before marriage, Tinnie took on the task of serving as executrix of her late father's estate. The original papers are on file today at the DeKalb County Historical Society in Maysville.
When Columbia's first paid fire department was formed in 1893, Albert was hired as chief, and was paid a monthly salary of $30.
Columbia, Missouri's Broadway, early 1900s
When the federal census was taken in 1900, three years into the marriage, Tinnie and Albert made their home with his mother in Columbia, Boone County. That year, the census taker recorded that Albert had no occupation. The 1910 census of Columbia shows Albert and "Ollie" to be the only occupants of their home, with Albert employed as chief of the local fire department. They have not yet been located on the 1920 census, but it's presumed that Albert continued his work as the city's fire chief as he retired from this position in 1920.
In 1930, the census shows that after 30 years of marriage, the Newmans continued to reside in Columbia, on the corner of North Fourth Street and Wilks Boulevard. They kept a boarder that year, 58-year-old John J. Daly, who was a laborer on buildings. Albert, age 75, was retired as he had no recorded occupation.
Circa 1934, the Newmans lived in Columbia, Boone County, MO. Albert suffered from chronic nephritis and heart disease. He died from their effects at the age of 79 on Jan. 18, 1935. He was buried at Columbia Cemetery.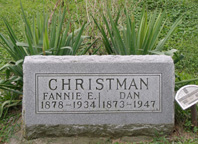 ~ Daughter Fannie Estelle (Martin) Christman ~
Daughter Fannie Estelle Martin (1878-1934) married Dan Christman (1873-1947), the son of Civil War veteran Henry Christman and his wife Mary. The wedding took place on March 21, 1897, just a few weeks after her father's death, by the hand of justice of the peace Hiram Smith. Their marriage license was recorded in Clinton County, MO, where the original remains on file today.
They had six sons -- Martin Christman, Roy Christman, Lloyd Christman, Fred Christman, Floyd Christman and Lee Christman.
The Christmans were members of the Christian Science Church, although Dan maintained ties to the Methodist Church. Circa 1897, Fannie and Dan made their home in Daviess County, MO, but by 1901 they resided in Hamilton, Caldwell County, MO. Fannie tried to persuade the government to continue paying her father's pension, but her letters to the U.S. Pension Commissioner apparently went unanswered, as her father was dead.
At some point, the Christmans moved to Hutchinson, Reno County, KS, where four of their adult sons lived, but returned to Cameron in February 1934, and found a farm near Lock Springs. Sadly, Fannie was stricken with appendicitis and passed away just a few weeks after their move to Lock Springs, as she neared her 56th birthday, on March 8, 1934. She was laid to rest at the Bowman Cemetery in nearby Daviess County, MO, about 16 miles northeast of Cameron.
Dan outlived Fannie by 13 years, and moved back to Hutchinson. He died there at the age of 74 on Oct. 21, 1947, with his remains returned to Missouri for burial beside Fannie. Dan's parents rest nearby in the small country grave yard.
Scene today north of Hamilton, Missouri
~ Daughter Russie (Martin) Spires ~
Daughter Russie Martin (1881 - ? ) married (?) Spires in about 1902, when she was 21 years of age.
Circa 1897, at the time of her father's death, Russie lived in Caldwell County, MO.
She resided in St. Joseph, Buchanan County, MO when the census was taken in 1930. That year, after 28 years of marriage, Russie was marked as married, but living alone as the head of her household, and running a boarding house. Making their home under her roof were boarders Emma Edwards, Mary Harrington, Mary A. Wildbahn and Hattie Tenholm.
By 1934, Russie had moved to Columbia, Boone County, MO. Nothing more about her is known.
Copyright © 2007, 2009 Mark A. Miner