Keziah (Miner) Martin
(1807-1890)
Keziah (Miner) Martin was born in about 1807 near Kingwood, Preston County, WV, the daughter of Burket and Frances (Skinner) Minerd.
Keziah married Henry Martin (1809-bef 1872). They lived along Fields Creek and at Independence, Preston County, WV. Because the Preston County Courthouse burned in the late 1860s, many records containing the details of their lives are lost forever.
The Martins' seven known children were Rebecca "Catherine" Johnson Moore, Presley Martin, John Martin, William Martin, Ignatius G. Martin, Sylvester Monroe Martin and Marcellus Martin. They also had a daughter or granddaughter, Phoebe Jane Martin.
When daughter Rebecca Catherine was married, to Adrian Johnson in 1853, the ceremony was held at Henry and Keziah's home in Preston Glades near Independence. Then, when daughter Catherine gave birth in 1856, Keziah helped with the delivery, and later testified to this fact when it became an important detail.
Henry and Keziah owned a hilly 200-acre tract, upon which they resided for a number of years, along Fields Creek and the Ices Ferry and Tunnelton Pike. Over time, Henry mortgaged pieces of the property to his brother in law, John Smart Murdock, and to others such as John J. Brown and John A. Dille. In February 1857, Henry and Keziah sold the tract to Larkin Stone, at which time the real estate was found to contain 160 acres. The deed for this transaction was not filed until 1874, fortunately after the courthouse had burned, so the record has survived to today.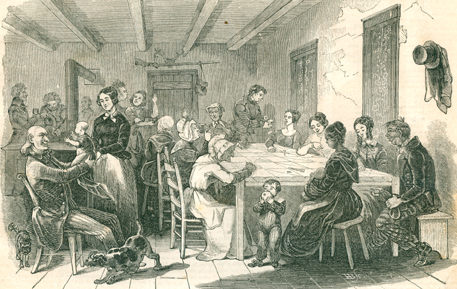 Keziah may have been talented with a needle and thread. Seen here, an engraving from Gleason's Pictorial Drawing-Room Companion of the era, captioned "A quilting party in Western Virginia."
During the Civil War, in the spring of 1863, Independence and nearby communities in Preston County came under the threat of attack from Confederate forces led by General William E. Jones, part of the famed Jones-Imboden raids. The goal of this campaign was to "destroy the B and O Railroad from Oakland, Maryland, to Grafton; defeat the enemy at Beverly, Philippi and Buckhannon; recruit for the Confederate army and control the northwest part of the state to enable the people to take part in the Virginia state elections in May," writes Stan Cohen in his book, The Civil War in West Virginia. While Jones attacked nearby Rowlesburg, Preston County on April 26, he was repulsed and unable to "destroy the B and O Railroad trestles across the Cheat River." Jones and his army moved on to the next county, Monongalia, and thence to Fairmont, Marion County.
During this time of great fear and turmoil, it is believed that the Martins' sons and sons in law were divided in their loyalties. Two of them -- Sylvester Monroe Martin and Adrian Johnson -- joined the Union army. At least one other -- Presley Martin -- enlisted in the Confederate Army on May 1, just four days after the Jones raid into Preston County. The evidence for this is strong, but the fascinating question needs to be answered with precision and currently is being researched.
Tragedy rocked the family during the war, at Christmas 1863, when soldier/son-in-law Adrian Johnson drowned while he and his fellow cavalrymen were crossing a river in Virginia. Keziah's daughter Catherine was thus widowed with five young children to raise. Keziah must have watched with continuing heartbreak as the destitute Catherine placed the children into orphanages in Pittsburgh, Allegheny County, PA and Phillipsburg (Monaca), Beaver County, PA. Keziah later signed affidavits on Catherine's behalf, attesting to the legitimate births of the children, and signed her name with an "X."
Independence of the 1870s was a bustling and prosperous village. A report in the Jan. 31, 1874 issue of the Preston County Journal reported the following:
Independence contains about forty-five dwelling houses; one church building, which is occupied by several denominations; one school-house, containing two rooms, three stores all doing a lively business; three grist mills -- one with steam; one carding mill; two blacksmith shops; one shoe shop; three tailor shops; and two Hotels. There is also a R.R. depot, with arrangements for shipping cattle and horses. Also, an Express Office, and Post Office. The location is healthy, the lands around are fertile in soil, and rich in minerals, containing iron ore, coal, limestone, and good sandstone for building purposes, and flagstone, for pavements. Those of our citizens who are industrious and economical, are prosperous; while those who spend their time in loafing, and their money for strong drink, are likely to see hard times. At the time of the location of the B. & O. R.R. [in 1848] what is now Independence was an immense laurel thicket.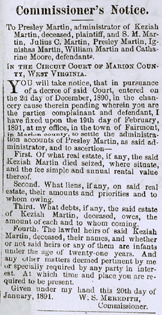 Newspaper notice of Keziah's estate
Henry is thought to have died in about 1871 or 1872. In 1872, Keziah paid $275 to purchase a house and town lot in Independence, Lyon Township, Preston County, from Bennett and Mary M. Weaver. The land sat along the Morgantown and Beverly Pike, and after her death some years later, became part of a legal dispute involving her son Presley.
Daughter or granddaughter Phoebe J. Martin (1847-1874) apparently never married. She resided in Independence. Sadly, at the age of 27, she contracted a fatal case of tuberculosis, or "consumption" as it was then known. She never recovered, and tragically died on Feb. 16, 1874.
In 1879, Keziah was named as "widow of the late Henry Martin" in a legal document. That year, she sold her interest in a 30-acre tract that was occupied by William H. Brand and had been sold to Brand by William B. Zinn.
In 1880, when the federal census was taken, the widowed "Kizie" headed her own household. Living under her roof were son "Marcellas" and his wife "Addie." She was marked as being unable to read or write.
After the death of her brother in law Hiram Hanshaw, in 1870, Keziah often visited her widowed sister Catherine Hanshaw, who ran the Hanshaw House hotel in Independence. In about 1881, after Catherine passed away, Keziah testified that:
…I have lived in Independence for about eleven years and during this time up to the death of [my sister], I was on very intimate terms with my said sister, often visiting each other often every week…. From personal observation I am well acquainted with how things were managed at the hotel which she kept during these said eleven years…. [She] would often be up to my house and remain to near supper time when I would ask her to remain and I would get supper for and for her to stay for supper but she would always refuse and say that she must go home as there was no on e there but the girls … so that they could be free for awhile during the evening, as she wanted to give them a little pleasure so that they would still remain with her as she couldn't get along with out them.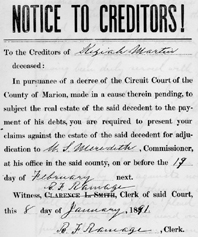 Document from Keziah's estate
As she entered her final years, Keziah moved into the residence of her married son Presley in 1884 in Rivesville, near Fairmont, Marion County. She rented out her old house in Independence, and remained with Presley for about five years. During that time, recalled neighbor M. B. Thorn, Presley "took care of her and boarded and clothed her. She was a very old woman and cripled, when she cam to my house I had to lead her and help her down the steps." Another neighbor, E.M. Satterfield, said that "She was a very old woman, not able to do any work to help maintain herself, she also was cripled in some way." Neighbor M.V.B. Knight noted that she was "an old decrepid woman not able to work."
Presley collected no rent from his mother, or inherited any of her estate during the time she lived there.
Keziah died at Presley's home in either February or April 1890 (records differ). The specifics are lost to history, but newspapers of that time will be researched for an obituary. Her burial place is unknown.
After Keziah's death, Presley was only able to collect a small amount for rent of her Independence tract, and applied the funds he did receive to repairing a fence around the lot. He sued his siblings, asking for the sum of $100 per year for the five years Keziah had lived with him. A special commissioner assigned to the case ruled that Keziah's house and lot should be sold. Legal advertisements were placed in the weekly West Virginian newspaper in Marion County, and Notice to Creditors handbills were posted on the Preston County Courthouse and other public places. The house and lot in Independence were auctioned off for $200, won by top bidder Z.G. Morgan, and Presley was able to keep the amount, minus an administrative fee.
Henry and Keziah were mentioned many years later in Morton's 1914 book, History of Preston County, West Virginia.
Copyright © 2001, 2006, 2008-2009, 2019, 2021 Mark A. Miner