Phoebe Jane Martin
(1847-1874)
Phoebe Jane Martin was born in about 1847 in Preston County, WV, the daughter or granddaughter of Henry and Keziah (Miner) Martin. She may have been the daughter of Rebecca Catherine (Martin) Moore, but this is not yet proven.
She grew up in the Tunnelton and Independence communities of the county, but met with an untimely demise at the age of 27.
Well known in the region, she was said by the local newspaper to be "an obedient child, revering father and mother, fulfilling the commandment, 'Honor they father and thy mother.' with delight. Truly, if the discharge of filial duties is the mark of a noble and generous nature, then she possessed that priceless treasure. She was esteemed by every one that can appreciate true nobility of nature and purity of heart."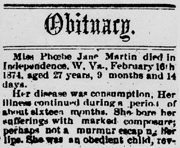 Preston County Journal, 1874
Phoebe emerged into womanhood as a Christian, receiving a conversion experience at the age of 20. She was a church-goer and faithful attendee of the Methodist Episcopal congregation. Said the Preston County Journal, "Her social life was marked by genuine feminine modesty. Her piety was solid and deep. Her Christian character was uniform, full-orbed, and characterized by a broad Christian charity for all who love our common redeemer."
Her end began in the late months of 1872, at the age of 25, when she contracted a fatal case of tuberculosis (or "consumption" as it was then known). She battled the illness for 16 months and "bore her sufferings with marked composure; perhaps not a murmur escaping her lips," said the Journal. She "remained a constant member [of her church] until bourne aloft on Angels snowy wings, beyond the stars, to the evergreen shore." In describing her final moments, leading to her death at age 27 on Feb. 16, 1874, friend T.R. Faulkner wrote:
Her last hours were hours of tranquility. Her last moments were moments of Christian triumph. The Master called her to labor in a higher and more exalted sphere. Now she lives a nobler life. Now she mingles in pure society. Now she associated with more exalted beings. She has entered the golden gates and is safe within the vale.
Phoebe was laid to rest presumably in a local cemetery in the Independence or Newburg areas, but the details are lost to history for now. The Journal carried the obituary as front page news in its March 14, 1874 edition, almost a month after her passing. A record of her death is still on file today at the Preston County Courthouse in Kingwood.
Copyright © 2008, 2019 Mark A. Miner