Louisa Jane 'Lucy'
(Minard) Clark
(1862-1916)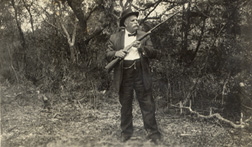 Samuel Clark brandishing a favorite weapon
Louisa Jane "Lucy" (Minard) Clark was born on July 22, 1862 near Gambier, Knox County, OH, the daughter of Thomas G. and Elizabeth (Glasner) Minard.
She was active in Minard family reunions in the late 1890s and early 1900s, and her husband was the founder of a three-generation contracting business.
While we do not yet have any photographs of Lucy, the image seen here shows her husband Samuel with a favorite firearm.
When Lucy was age two, her father went off to serve in the Civil War. Sadly, while he survived the war, he never recovered from its effects, and died in 1868, when Lucy was but a girl of six. Despite the fact that she only had wisps of memories of her father, her love for the Minard family was strong, and she maintained contact with many of her Minard cousins during her lifetime.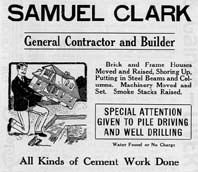 Ad for Samuel's business, 1909
On April 15, 1879, at the age of 17, Lucy 20-year-old married Samuel Clark (1859-1930). The ceremony was performed by Fleming James, pastor of the Church of the Holy Spirit. On the application for the marriage license, her name was spelled "Lou Minor."
Samuel was the son of Maria (Swallow) Jacques and an unknown father is believed to have been born in Huron County, Ontario, Canada under the name "Samuel Jacques." He was a six-year-old when his mother married again to Fred Clark in Canada, and the boy apparently then took on the "Clark" surname, either officially or otherwise. They all relocated in about 1878 to the United States, settling in Knox County, OH.
The Clarks had five children: Alberta Catherine Atherton, twins Clarence Ray Clark and Herbert A. Clark, Amos Bartholomew "A.B." Clark and Martha Clark. Sadly, daughter Martha apparently died young.
The Clarks resided for a time at Levering, OH, where at least one of their children were born. They later moved to Mt. Vernon.
Samuel was a prominent general contractor in Mt. Vernon for many years. As a young man, he learned the trades of carpentry and stone masonry with his step-father. Early in his career, he worked for the C.A. & C. Railroad, and later moved to Waterford, OH where he engaged in the contracting business. He moved again, to Mt. Vernon, in about 1892, with his office located at 907 West Gambier Street. He specialized in house moving, well drilling, machinery movement and erection, and "all kinds" of cement work.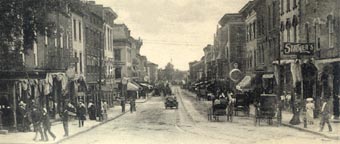 A rare old postcard of Mt. Vernon's South Main Street, 1905
He was profiled in volume II of the 1912 book Past and Present of Knox County, Ohio, edited by Albert B. Williams and published by B.F. Bowen & Company of Indianapolis. The biography reported that:
His work in this line has taken him into eighteen states and also into most of the provinces of Canada; he has been especially busy in British Columbia. He recently performed a task never before attempted in the United States, that of moving some glass furnaces at Barnesville, Ohio, and the work was successfully accomplished, as have been all of his undertakings in this line. Few men are better known in this special work and none are better equipped for the same. His services are in constant and ever-increasing demand. he is a man of energy and push, few propositions are too difficult for him and he never "starts anything he can't finish."
Annually, Samuel placed large advertisements in the Mount Vernon City Directory. Copies of the directory today are on file at the Public Library of Mount Vernon and Knox County. Said the Mt. Vernon Republican News, he also was "active in the affairs of the Moose and Modern Woodmen lodges and was active in community projects."

Samuel's profile in the 1912 Past and Present of Knox County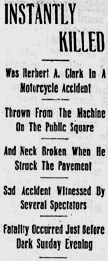 Obituary, 1912
In 1895, after her mother passed away, Lucy received a bequest from the estate of $25.00. She was especially close with one of her second cousins, Amos Bartholomew Minard, of near Cadiz, Harrison County -- she thought so much of Amos that named one of her sons after him, and the son later received funds from Amos Minard's estate.
Lucy and Samuel also served as organizers of the annual Minard Reunion in Mt. Vernon in the early 1900s. The event was covered by a local newspaper.
Tragically, in the fall of 1912, the Clarks suffered the death of their married son Herbert when he broke his neck in motorcycle accident in Mt. Vernon's public square. The senseless death left Herbert's wife Florence L. (Shaffer) Clark as a young widow.
George was "very well known in Mt. Vernon," reported the Democratic Banner, "and had been for the past several years been connected with his father's business of building, moving and contracting. [He] was known throughout Ohio as an expert erector." Added the Republican News, he "had charge of many of the larger pieces of work contracted for by the senior Mr. Clark, and was gaining a wide reputation for his ability in his profession." He also was a member of the Moose Lodge, the Modern Woodmen of America, the Knights of the Golden Eagle, and a charter member of the Hiawatha Lodge, L.O.O.M. The accident occurred when Herbert's motorcycle:
... struck the street car track switch on the west side of the public square... He was guiding his machine between the rails of the car track and attempted to turn out to the side of the track when directly east of the Lawler drug store. His neck was broken when he was hurled to the pavement. He was carried to the grass plot on the square a few feet away and Dr. S.E. Deeley was summoned. Life was extinct when he arrived. The witnesses to the affair said that Clark neither spoke or moved after he was thrown.
The square in Mt. Vernon, where son Herbert was killed in 1912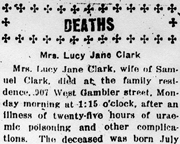 Democratic Banner, 1916
At age 54, on Jan. 24, 1916, Lucy passed away at home of uremic poisoning "and other complications," said the Democratic Banner. She was buried in Mound View Cemetery in Mt. Vernon, in either Section D.
Samuel survived Lucy by 14 years. He later married Clara (Bose) Isennagle (1869-1950), widow of Albert Isennagle. They dwelled at 907 West Gambier Street in Mt. Vernon.
The 1912 Past and Present of Knox County book also said this of Samuel:
Among the citizens of Knox county whose lives have been led along such worthy lines of endeavor that they have endeared themselves to their fellow citizens, thereby being eligible for representation in a volume of this nature, is the gentleman whose name appears above. He is one of the coterie of enterprising citizens who have come to us from the Empire state and have done so much in forwarding our interests along material and civic lines.

Republican News, 1930
He suffered from organic heart disease and chronic kidney ailments ("nephritis"). At the age of 71, on June 1, 1930, he died of their effects at the home of his son Clarence in Mt. Vernon. Reported the Republican News in an obituary, Samuel had:
... been in ill health the last several days but was feeling better yesterday. He accompanied his son on a motor trip in the afternoon and returned home at about 7 o'clock. He walked to the bathroom and collapsed.
Samuel and Lucy were reunited in burial at Mound View Cemetery in Mount Vernon.
Clara lived for another 21 years after Samuel's passing. She succumbed on Jan. 22, 1950. Her remains were placed into rest beside her first husband, Albert J. Isennagle (1861-1912), in Greenlawn Cemetery in Columbus, Franklin County, OH.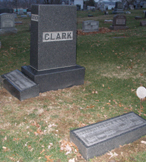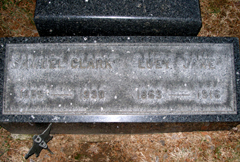 The Clark graves at Mound View Cemetery
~ Daughter Catherine Alberta (Clark) Atherton ~
Daughter Catherine Alberta Clark (1880-1937) was born in about 1880.
On Nov. 1, 1902, in Knox County, the 21-year-old Catherine was united in the bonds of matrimony with 27-year-old Lewis Edward Atherton (1874-1956). He was the son of Rufus and Julia (Brentlinger) Atherton. On their marriage license, Catherine mistakenly gave her mother's maiden name as "Glasner" instead of "Minard."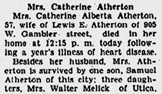 Republican News, 1937
They had five children -- Lucy Emma Cline, Daisy Melick, Catherine Malony, Mabel Atherton and Samuel Lewis Atherton.
Lewis was a longtime serviceman for the Cooper-Bessemer Corporation. They were members of the Vine Street Church of Christ. In February 1921, the gossip columns of the Mt. Vernon Democratic Banner reported that Lewis and his father in law and brother in law Clarence Clark traveled to Utica, OH to attend the funeral of cousin Louise (Davidson) Minard, wife of Earl Minard.
The Athertons endured the untimely death of married, 26-year-old daughter Lucy Emma Cline in 1932, due to an incurable case of tuberculosis.

Mound View Cemetery
Catherine suffered from kidney failure and died on May 21, 1937 "following a year's illness of heart disease," said the Republican News.
Lewis later resided in St. Louisville, OH, and passed away on Feb. 16, 1956 in Newark, OH.
The Athertons are buried together at Mound View Cemetery. They rest under the Samuel and Lucy Clark monument, as the "ATHERTON" name appears on the back side of the Clarks' dark upright stone. The marker is seen here as photographed in January 2006 by the founder of this website.
Son Samuel Lewis Atherton (1903-1943) was born on Aug. 6, 1903 in Mt. Vernon. He learned the trade of printing and secured a job with the Mt. Vernon Republican News. At the age of 31, on May 18, 1935, Samuel married 23-year-old telephone operator Jessie Florence Dawdy (1911- ? ), daughter of Orton and Mabel (Linstead) Dawdy. Rev. W. Stanley Smith performed the ceremony. They made their home at 607 North Mulberry in Mt. Vernon. In 1940, having not reproduced, the Athertons provided a home for his sister Mabel and Jessie's father and mother. Sadly, their married life together only lasted for about eight years. In the 1940s, still employed as a foreman in the composing room of the Mt. Vernon Republic News newspaper, Samuel contracted bowel cancer . He suffered for three years and succumbed at the age of 39 on May 30, 1943. His remains were lowered into repose in Mound View Cemetery. Jessie's fate is not yet known, but she is not buried beside her husband.
Daughter Lucy Emma Atherton (1905-1932) was born on July 1, 1905 in Mt. Vernon. She was united in holy matrimony at age 19 with 23-year-old Clarence W. Cline (1903- ? ) in about 1924. They made their residence at 702 West Burgess Street in Mt. Vernon. They had at least one son, Clarence R. Cline. Clarence in 1930 worked as a cranesman for a local foundry. During the winter of 1932, Lucy tragically contracted pulmonary tuberculosis, and was admitted for treatment to Mt. Vernon Hospital-Sanitarium. Unable to rally, she died at the age of 26 years, five months on Feb. 1, 1932. She was interred in Mound View Cemetery. Clarence's fate is not known.
Daughter Daisy Atherton (1909- ? ) was born on Nov. 2, 1909 in Mt. Vernon. On April 10, 1937, when she was 27 years of age, she was wedded to 22-year-old Walter Melick (1915- ? ), son of Floyd and Bess (Fowler) Melick. Officiating at the nuptials was Rev. A.W. Clutch, minister of the United Brethren Church. At the time, Walter resided in Utica, Licking County, OH and was a farmer. They had at least one son, Samuel Lee Melick. The 1940 federal census enumeration shows the Melicks living in Wayne, Knox County, with Walter employed as a farm hand.
Daughter Catherine Atherton (1914- ? ) was born on Oct. 9, 1914. On Oct. 30, 1937, at age 23, she was joined in marriage with 33-year-old Matthew William Maloney (1904- ? ), son of William and Catherine (Dennie) Maloney. Rev. J.E. Huston officiated at the wedding held in Knox County. Matthew earned a living at the time of marriage as a drill press operator. They produced at least two daughters, Catherine E. Maloney and Marjorie Ellen Maloney. When the federal census was taken in 1940, the Maloneys lived under the roof of Catherine's widowed father in Mt. Vernon, with Matthew working as a sorter for the Shellman Company.
Daughter Mabel Atherton (1922-2002) was born in about 1922. At the age of 18, in 1940, she made her home with her married brother and sister in law, Samuel and Jessie Atherton, in Mt. Vernon. She never married. Mabel died in 2002 at the age of 80. Burial was in the Atherton family plot at Mound View Cemetery.
~ Son Clarence Ray Clark ~
Son Clarence Ray Clark (1887-1953) was born in 1887.
He was united in holy wedlock with Mabel M. Cline (1891-1938).
They had a son, Samuel Clark, and a stepson, Ned Cochran.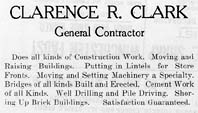 Ad for Clarence's contracting business
They resided on West Gambier Street in Mt. Vernon. Following in his father's footsteps, Clarence also worked in the general contracting business, with offices at 310 Ridgewood Avenue. In an advertisement that he placed in the 1922-1923 edition of Walsh's Mt. Vernon Directory, Clarence stated that he:
Does all kinds of Construction Work. Moving and Raising Buildings. Putting in Lintels for Store Fronts. Moving and Setting Machinery a Specialty. Bridges of all kinds Built and Erected. Cement Work of all Kinds. Well Drilling and Pile Driving. Shoring Up Brick Buildings. Satisfaction Guaranteed.
Clarence and his son Samuel worked together in the family firm. They were members of the Gay Street Methodist Church, and Clarence served as a trustee of the Monroe Grange.
Sadly, Mabel died an untimely death at age 47, after suffering from cirrhosis of the liver for six months, on Aug. 8, 1938. Clarence outlived her by 15 years.
In June 1953, at the age of 71, Clarence had prostate surgery at Mercy Hospital. He had "apparently been recovering nicely," said the Mt. Vernon News, "and was able to be out of bed yesterday when he died suddenly [on June 19] as a result of a blood clot." Clarence was laid to rest in Mound View.
Son Samuel A. Clark (1914-1984) was born in 1914. He succeeded his father Clarence as owner/operator of Clarence Clark & Sons Housemovers and Riggers, involving three decades of work. He married Ruth Basnett (1914-2001) on July 15, 1936. She was the daughter of W.R. and Elizabeth (Harlan) Basnett. They were members of the Gay Street Methodist Church, and he belonged to the Knox County Historical Society. Ruth belonged to the United Methodist Women and the CCL Mother's Club. They had one son and one daughter.
~ Son Amos Bartholomew "A.B." Clark ~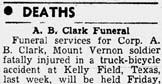 Wartime obituary, 1942
Son Amos Bartholomew "A.B." Clark (1900-1942) was born in about 1900.
As an adult, he was employed as a bus driver and is mentioned in Frederick N. Lorey's book, History of Knox County, Ohio, 1876-1976. The book states that in 1923, "a bus station was opened on Public Square in the quarters now occupied by the Knox County Auto Club, and at that time the location of the Chamber of Commerce office as well as of the Auto Club... A.B. Clark was for several years the local bus driver and agent."
A.B. also served in World War I and as a corporal in World War II.
Tragically, in November 1942, while stationed at Kelly Field in Texas, he was "fatally injured in a truck-bicycle accident." His remains were brought back to Mt. Vernon for the funeral at the Vine Street Church of Christ.
Copyright © 2002-2003, 2005-2006, 2016, 2019 Mark A. Miner