Clyde Calvin Miner
(1875-1934)

Clyde C. Miner
Clyde Calvin Miner was born on March 5, 1875 at Kirkersville, Licking County, OH, the only son of Frederick and Emma (Moore) Miner Jr.
He was a successful business executive in Ohio and St. Louis. A history book said he was "one of Dayton's substantial and thoroughly capable men of affairs … well known in business circles, and particularly among credit men, this being a branch of business work in which he has had wide experience, and for which he is well fitted."
As the youngest child of two marriages, Clyde grew up with several half-siblings. There was a 27-year difference between him and his eldest brother, John "Gilbert" Miner.
Early in his adult life, Clyde resided in Greenville, Darke County, OH and was a newspaper carrier for the Greenville Tribune. He also taught school at Washington Court House, Fayette County, OH.
While in Washington Court House, he presumably met his wife, Bertha Smith (1879-1961). She was a native of the town and the daughter of Hamlin and Catherine (Foster) Smith.
The Miners produced a family of four children -- Marie Violet Horn, Frederick Foster Miner, Sarah Elizabeth "Betty" Harrison Taussig, and Richard Smith Miner.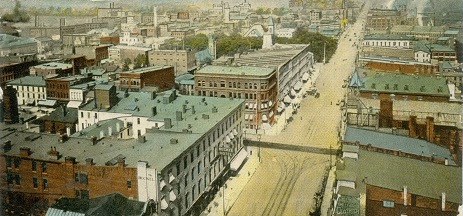 Dayton circa 1910, about the time the Miners moved there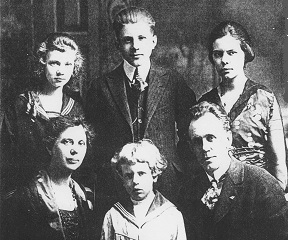 Front, L-R: Bertha, Richard, Clyde. Back, L-R: Betty, Frederick, Marie
Clyde got his start with the Steely Millinery Company. He then moved to Springfield to accept a position with Robbins and Meyers, a fan company which later reorganized in Dayton under the name Dayton Fan Motor Company (nicknamed "Day-Fan."). With this change, Clyde moved his family to Dayton.
He is named among others involved in the formation of Day-Fan, capitalized at $700,000, in the Department Reports of the State of Ohio, Volume X, in 1919. The other investors were E.O. Waymire, Lee Warren James, J.E. Coolidge and E.D. Moore.
In 1916, Clyde made an investment in Lucas Pump Company. It was a small manufacturer of "pumps for general service and fire protection, compressors, tools, dies and jigs," said Hover's 1919 Memoirs of the Miami Valley. After Clyde's investment, the company was renamed Lucas-Miner Pump Company, and he was elected president of the firm.
Active in the profession, he was a member of the Commission on Standardized Accounting of Electrical Industries. He also was a guest speaker at the annual convention of the National Association of Credit Men in Kansas City, "on the subject of the war and its effect on our industries," reported the association's Bulletin. In June 1919, the Bulletin printed his comments regarding "trade acceptance," an effort to avoid issues with slow and troublesome accounts by writing certain clauses into every contract.
Clyde also belonged to the Dayton and Osage Country Clubs, Horace A. Irvin Lodge of the Masons and the Ancient and Accepted Scottish Rite.
Though also serving Day-Fan as secretary-treasurer, according to family stories, his honesty and guilelessness caused him to be railroaded out of the company.
In 1921, Clyde relocated to St. Louis to become treasurer of the Wagner Electric Company, which eventually was acquired by General Electric Company and operated as a division. He also served as President of Victor X-Ray Corporation, another GE subsidiary. One of these subsidiary businesses may also have been known as Inland Products Company.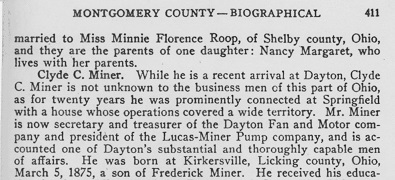 Clyde's profile in the Memoirs of the Miami Valley, Ohio

Company logo
In 1921, his first year with Wagner Electric, he wrote a Christmas letter to employees. This excerpt gives a sense of his optimism and energy:
The year 1921 closes with hopes for a better 1922 -- better because we have all planned to make it better -- because every sign points to better conditions. What will be our share, what is your share, what is my share? We all know it will be hard work, requiring the best of management, the best of salesmanship, the best of PRODUCT and SERVICE. Can we not approach the New Year with determined minds, aggressive spirits and the knowledge gained from experience that our efforts properly applied will bring the results we most desire?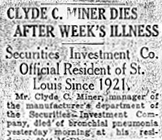 Obituary, 1934
Clyde's tenure as president and general manager of Inland Products came to an end in 1924, when he resigned. He commented that he "has no plans for the immediate future," and the remarks were printed in The Commercial Car Journal.
At some point he joined Securities Investment Company as manager of the manufacturers department. The federal census enumeration of 1930 shows the family making their home at 6044 McPherson Avenue in St. Louis. Clyde's occupation was marked as "salesman - investments." Living under their roof were their newlywed son and daughter-in-law, Fred and Eleanor Miner.
Anxiety and grief descended upon the family in the spring of 1934 when Clyde contracted a case of bronchial pneumonia. He suffered for a week before the Angel of Death carried him away at the age of 59 on April 7, 1934. Funeral services were held at the Grace Methodist Episcopal Church at the corner of Skinner Boulevard and Waterman Avenue. He is buried at Oak Grove Cemetery in St. Louis.
Bertha outlived him by more than a quarter of a century and moved to 5653 Clemens Avenue. As her health failed, she became a resident of the Kirkwood Old Folks Home in Kirkwood, MO. There, after a stay of 16 months, she passed away of heart problems leading to a cerebral hemorrhage and death at the age of 82 on Aug. 31, 1961. She is buried with her husband.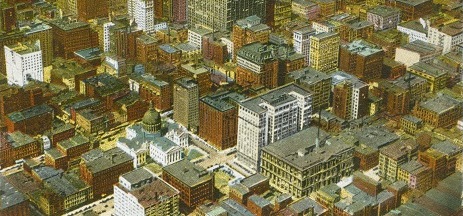 Bird's eye view of downtown St. Louis
~ Daughter Marie Violet (Miner) Horn ~
Daughter Marie Violet Miner (1901-1988) was born on Feb. 26, 1901.
She was united in matrimony with Albert Horn ( ? - ? ).
They were the parents of an only daughter, Barbara Pappas.
The family belonged to Grace Methodist Church, as had Marie's parents.
The Horns eventually divorced.
Marie never remarried. She died on June 7, 1988 in Columbia, MO. An obituary in the St. Louis Post-Dispatch noted that among her survivors were dear friends Alfred Marshall and Virginia Spates.
Daughter Barbara Horn (1925-2015) was born in about 1925. When she was age 24, on July 1, 1950, in nuptials held in Grace United Methodist Church, she married her high school sweetheart, Leon George "Babe" Pappas (July 9, 1925-2015). Their relationship endured for 72 years. The couple's two children were George Pappas and Andrea Jackson. Grief blanketed the family when son George died at birth on June 9, 1952, and was placed into eternal repose in St. Matthew Cemetery in St. Louis. During his years at Soldan High School in St. Louis, Leon was a standout lineman, was named a 1942 Quarterback Club's All-Star. Said the St. Louis Post-Dispatch in an article in which he was pictured, Leon's selection as first team captain "will come as a surprise to those who know the Tiger guard as quiet and reserved off the gridiron." He then played football for the University of Missouri in the fall of 1943, in matchups against Minnesota, Ohio State, Nebraska and Iowa State. But with World War II aflame, he left school in November to join the U.S. Marine Corps. As a Marine he was deployed in the Pacific Theater, attaining the rank of corporal. After the war's end, he enrolled and played guard for St. Louis University's football squad, obtaining his bachelor's degree in 1949. At some point he became employed with CIT Corporation, where he rose to become president of the company. Leon proudly belonged to the St. Nicholas Greek Orthodox Church. Said the Post-Dispatch, "People gravitated to him for counsel, guidance and leadership recognizing his wisdom and integrity. Babe took joy in seeing others succeed. He brought humor to all, was a proud Marine and embraced all aspects of his life with enthusiasm." Barbara had "exceptional beauty" which was " revealed at first sight and was made even more evident by the way she treated each and every person she encountered, with gracious, sincere warmth, and love," said the Post-Dispatch. "She was treasured by countless friends, both newfound and those that spanned a lifetime. Each valued Barbara for the qualities she exemplified: genuine kindness, compassion, and joie de vivre!" Sadly, Leon died at the age of 89 on Feb. 15, 2015. Interment of the remains was in Jefferson Barracks National Cemetery. Barbara only outlived her husband by nine months. At the age of 90, she was carried away by the Angel of Death on Nov. 23, 2015. Funeral services were held in her family church. She rests with her husband in Section 1P, Site 83 at the national cemetery. Inscribed on her marker are the words "Our beloved Calla lily forever in bloom."
Daughter Andrea Pappas married William Devereaux Jackson. They have resided in Overland Park, KS and are the parents of Alexander Devereaux "Sasha" Jackson and Anee-Sophia Jackson, MD. Anee-Sophia received her bachelor's degree from the University of Notre Dame and her medical degree from the University of Kansas. She served as a postdoctoral fellow in thoracic surgery with the Swedish Medical Center in Seattle, where she co-authored "Endoscopic Approaches to Cricopharyngeal Myotomy and Pyloromyotomy." More recently, she has been affiliated with Medstar Georgetown University Hospital in Washington, DC.
~ Son Frederick Foster Miner ~
Son Frederick Foster Miner (1902-1959) was born on Aug. 28, 1902 in Springfield, OH.
When he was 26 years of age, on April 25, 1929, he was joined in marriage with Eleanor "Bootie" Heindel ( ? - ? ), daughter of Eleanor M. Heindel of Gettysburg, PA. The couple did not reproduce.
The newlyweds made their first home in St. Louis with Frederick's parents, as shown in the United States Census of 1930. He earned a living that year as a radio salesman. Fred, as he was known, was stricken with tuberculosis and remained a semi invalid for the remainder of his life.
Not long into the marriage, the couple relocated to St. Petersburg, FL, and remained for the balance of their lives. Frederick was employed as a manager with Dun & Bradstreet in St. Petersburg and later owned and operated Bay Pines Trailer Park. They belonged to Christ Methodist Church, St. Petersburg Yacht Club and Bath Club of Redington Beach. Their address in the 1950s was 10005 Bay Pines Boulevard.
Sadly, Frederick died in a St. Pete hospital on April 8, 1959, at the age of 55. Rev. Dr. Paul R. Hortin officiated at the funeral service. An obituary was published in the Tampa Bay Times and in the St. Louis Post-Dispatch. Burial was in St. Petersburg.
After Frederick's death, Eleanor married a second time to Joseph Elton Marsh ( ? -1988), a native of Wheeling, WV and St. Pete resident. He had come to Florida via Nebraska in 1937 and made a career constructing apartments and homes, "a large and very lovely site" for permanent residents in mobile homes, recalled a niece. His children to an earlier marriage were Joanne Hockensmith, Dorothy Rowley and Margaret Newell. Eleanor and Joseph made a home at 267 Rafael Boulevard Northeast in St. Pete. He died in St. Anthony's Hospital on Nov. 14, 1988. The Times printed an obituary.
Eleanor's final fate is not yet known.
Betty (Miner) Taussig

Courtesy Mary Michele Miner
~ Daughter Sarah Elizabeth "Betty" (Miner) Harrison Taussig ~
Daughter Sarah Elizabeth "Betty" Miner (1906-1981) was born on June 27, 1906.
She was twice married. Her first spouse was Donald "Lewis" Harrison ( ? -1942), son of Cora Harrison.
The couple produced two offspring -- Robert Louis Harrison Jr. and Sarah Miner "Sally" Harrison.
Heartache cascaded over the family when their son Robert Jr. contracted bronchial pneumonia and died on Oct. 10, 1934 at the age of only four.
Donald may have died in 1942 -- this needs to be confirmed.
She eventually wedded a second time to William H. Taussig ( ? -1989). A broker in later life, Bill was a naval officer in World War II, and among the friends he served with and enjoyed recalling was the future novelist Robert Ruark.

Betty was the family's blithe spirit. She loved art, painted all her life, worked successfully in the fashion industry for Lilly Dache Hats, and had a delightful story of calling on an out-of-town customer who was staying in a St. Louis hotel. Betty refused to go to his hotel room, because nice women did not do such a thing, so made the man come into the lobby to see her presentation and order hats. Betty was a grand master as a bridge player and insisted on playing up to her death.
Betty died on Sept. 15, 1981. In an obituary, the family asked that any memorial donations be made to the Deaconess Hospital Memorial Fund.
William is believed to have outlived his wife by eight years, and to have passed into eternity on Aug. 11, 1989. A brief death notice was published in the St. Louis Post-Dispatch.
Daughter Sarah Miner "Sally" Harrison (1933-1961) was born on Aug. 25, 1933 in St. Louis. Born with serious mental deficiencies, she did not marry. When she was about age 17, Sally was admitted to the Marshall State School and Hospital, where she spent the rest of life, some 12 years. At the age of 29, she suffered a massive cerebral hemorrhage and passed away on April 13, 1961. Interment of the remains was in Oak Grove Cemetery.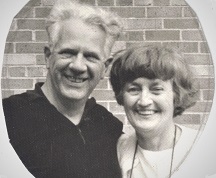 Richard and Carol Miner

Courtesy Dixie McIlwraith
~ Son Richard Smith "Dick" Miner ~
Son Richard Smith "Dick" Miner (1913-1976) was born on March 2, 1913 in Springfield OH.
On Oct. 22, 1936, when he was 23 years of age, Richard was united in the bonds of holy wedlock with 23-year-old Elizabeth Caroline "Carol" Matthey (Aug. 12, 1913-2004).
They became the parents of five children-- Dixie Carol McIlwraith, Michael Richard Miner, Peter Matthey Miner, Clyde Leon Miner and Mary "Michele" Miner.
Richard joined the Wabash Railroad and worked as a claims agent in Detroit. The family relocated to Canada, where he was employed as a district claims agent for the Canadian Pacific Railroad, in Sudbury, Ontario. The job required that he travel into the wilderness of northern Ontario often for days and weeks at a time. He loved the work.
Richard and Carol.
Courtesy Mary Michele Miner
During that time period, both Richard and Carol acted in local theater productions, and he enjoyed photography and writing.
In 1955, they moved back to St. Louis to become part of McDonnell Douglas' involvement with the United States space program. During that time, they dwelled at 408 West Argonne Drive in Kirkwood, MO.
In 1961, the Miners moved once more to Glendale, MO, with an address of 8 Highland Place.
Richard's passion was golf, his ambition was to become a professional golfer, and he was thrilled to play in the Missouri Pro Am tournament only a few months before he died.

Sadly, Richard died on Nov. 1, 1976, at the age of 63 of cancer, only two months after giving away his oldest daughter in marriage.
Carol outlived her husband by nearly three decades. A newspaper said that when she died, "she'd been living in the same Glendale house her family moved into when she was four years old. Yet there was little of the world she didn't see. 'My travel dreams began in my teens when I read about Easter Island, ' she wrote in a notebook of reminiscences she began keeping a few years ago. She spent nine days on Easter Island, climbed China's Great Wall, sailed on Bolivia's Lake Titicaca, retraced the Oregon Trail, visited the Taj Mahal, King Tut's tomb, Persepolis, and Stonehenge."
She succumbed to death on Oct. 17, 2004. An obituary was published in the St. Louis Post-Dispatch.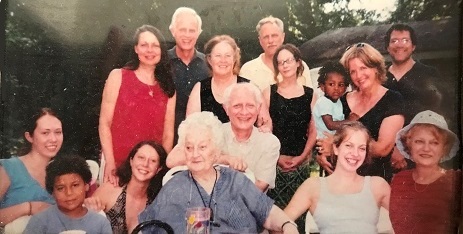 Carol (Matthey) Miner and her offspring. Front, L-R: Jake, Carol, Tiffany, Dixie. Middle, L-R: Joanna, Laura, Mike. Back, L-R: Joyce, Betsy, Molly and Michele holding Justine. Back, L-R: Peter, Clyde, Paul.
Courtesy Mary Michele Miner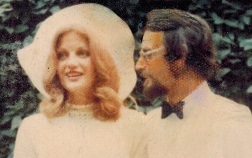 Wedding day, Dixie and John McIlwraith

Courtesy Dixie (Miner) McIlwraith
Daughter Dixie Carol Miner (1941-living) was born in 1941. Dixie worked in sales, first as a travel agent and then as an account executive with AT&T. In 1976, having met in Seattle, the 35-year-old Dixie was joined in wedlock with John McIlwraith (Sept. 4, 1926-2006), a native of Glascow, Scotland and the son of Lily McIlwraith. Their nuptials were held in the Miner family home in St. Louis. The couple lived for a time in Southern Ontario, moved to Chicago and eventually purchased a 50 foot boat and lived on the water in Seattle and later in Los Angeles for many years. John lived a most extraordinary life, spanning three nations, condensed here for brevity. As a boy during the World War II years, he helped the Allies as a "bomb spotter" -- watching for where enemy bombs had fallen -- and was a bricklayer who helped construct chimneys in a Rolls Royce factory. Afterward he became a salesman and with his first wife and family migrated to Canada. Upon arrival, John's first job was stoking coal on Canadian Pacific Railroad's ferries after which he returned to the realm of sales in the printing business. John was hired to manage sales for Evergreen Press and was tapped to be president of Economy Printers and Mailers. Interested in politics, he helped manage the campaigns of several candidates in British Columbia and in Washington State in the United States. At one point he jointly purchased ownership in a restaurant, La Colombe, which became one of the finest French cuisine spots in Vancouver. As a restaurateur, said the Vancouver Sun, he "became good friends with many of Vancouver's media elite, including Jack Wasserman and Jack Webster, whom he claimed had given him elocution lessons." John also acquired Reading Dynamics' operations in Western Canada, but lost his investment during an extended newspaper strike. He went back into sales for CKNW-AM Radio in Vancouver before moving across the U.S. border to accept an offer host a radio talk show on KTW. It was during this period of time that he met Dixie, and they married.
John generated additional income writing a syndicated weekly news column for the Bassett Newspapers chain as well as freelance stories for magazines. In time he became well-known as a commentator on the National Public Radio program All Things Considered, plying his craft there between 1990 and 2001. NPR once said that "Listeners may recall McIlwraith's deep Scottish accent and wit, which he applied to subjects ranging from insomnia to a childhood bout with what was thought to be tuberculosis.... Charming to be sure, [he] was crusty and willing to tweak convention -- like he did when he raised the hackles of his countrymen." He liked to end his broadcasts by telling listeners that he lived on a houseboat in Los Angeles Harbor. The couple moved back to Vancouver in 1998. Sadly, stricken from Lewy Body Disease, a type of dementia, John passed away on the Fourth of July 2006. An obituary was printed in the Vancouver Sun, which noted that "John's genius at storytelling, his love of bad puns, his unfettered intelligence and curiousity were equaled by his capacity for friendship." As a widow, Dixie relocated to New Orleans, remaining there for five years until another relocation, this time to San Isidro, Costa Rica. She has authored two books. The first, The Secret Under the Bed, was written for a young audience. More recently, her book Stages: A Collection of Short Stories with People and, Sometimes, Dogs, represents her Vancouver years with "honest, raw, and unique" stories which appeal to the truth of the human condition. She has self-published The Cereal Killer, authored by her late husband and written while they were living in their boat.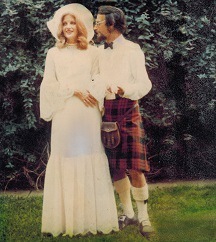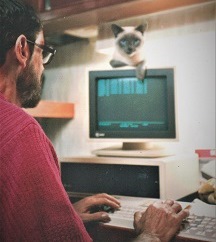 Left: Dixie and John's wedding, with him in his traditional Scottish kilt. Right: while their pet cat looks on, John composes an All Things Considered script on their houseboat in Los Angeles Harbor. Below: Dixie's and John's trio of e-books.
Courtesy Dixie (Miner) McIlwraith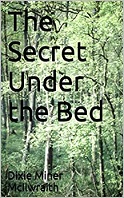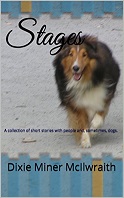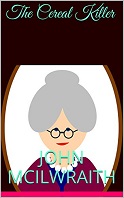 Step-grandson Gordon McIlwraith
Michael and Betsy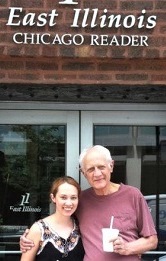 Michael and daughter Joanna
Son Michael Richard Miner (1943-living) was born in 1943. He graduated from the University of Missouri School of Journalism when he was just age 19. Michael joined the U.S. Navy for a term of two years and served on an ammunition ship and an aircraft carrier off the coast of Vietnam as the war broke out. In about 1970, when he would have been 27 years of age, Michael moved to Chicago, where he began working as a journalist. He married Betsy Nore ( ? -living), a teacher and entrepreneur who owned a popular boutique in Chicago, "Presence." The couple produced a family of three daughters -- Molly Ann Nore Miner, Joanna Caroline Nore Miner and Laura Miner. He spent eight years writing for the Chicago Sun-Times and then several months of travel in Europe before joining the Chicago Reader in 1979, a media company generating cultural and political content by and for Chicagoans, with a focus on underrepresented communities and stories. He has spent the balance of his lengthy career as a writer, editor and columnist with the Reader, where his media criticism has garnered three Lisagor Awards from the Chicago Headline Club. The Reader's online profile of Michael says that "One column close to his heart, though appropriately unrewarded, reflected on the nature of column writing and concluded that admiring readers are the scourge of the upright pundit. Another noteworthy article was a personal history of the Reader written for last October's 40th anniversary issue." Michael has authored Reader articles about his brother-in-law John McIlwraith, entitled "On David Sedaris, John McIlwraith, and NPR Monologues" -- and brother Peter, headlined "One Life, Lived."
Granddaughter Molly Ann Nore Miner was joined in matrimony with Alex Rosenthal. They live in Chicago and have two offspring, Solomon Richard Miner Rosenthal and Neva Nore Miner Rosenthal. Molly has devoted her career to teaching in the Montessori School System.
Granddaughter Joanna Caroline Nore Miner wedded Daniel Thomas. Their two children are Elise Catherine Thomas and Jesse Thomas.Joanna took over her mother's business, Presence, after graduating from Vassar College, and is currently a stay-at-home mother in Chicago.

Peter Miner
Son Peter Matthey Miner (1945- ? ) was born in 1945, a twin with his brother Clyde. Peter is a graduate of the University of Kansas and has a master's degree in education from City College of New York. He joined the Peace Corps in 1966 and worked for two years in Nigeria teaching English, mathematics and teaching methods at a five-year secondary school, preparing young men to teach in Nigeria's primary schools. He is single and has made his career as an actor and educator. Most of his acting has been on stage. For about eight or nine months in 1980-1981, using the stage name "Peter Matthey," he played the part of Luther Jackson on the hit daytime soap opera One Life to Live. The character was a crazed ex-convict who pursues his ex-wife to the fictional town of Llanville, PA. Once, while in the studio, Peter crossed paths with Sammy Davis Jr., who said "Man, I really like what you're doing with your character." Peter wished he had asked Davis at the time, "What exactly am I doing that you like?" In time, his character was written off the show. After leaving the field of acting, Peter was employed to teach English and drama at Eleanor Roosevelt Junior High School on West 182nd Street in Manhattan, NY, where he spent 25 years. In 2011, he was featured in a Chicago Reader article written by his brother Michael, entitled "One Life, Lived." He is now retired, living in New York City and still assisting some of his students in becoming the first person in their families to attend college.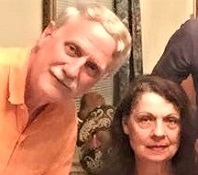 Clyde and Joyce Miner
Son Clyde Leon Miner (1945-living) was born in 1945, a twin with his brother Peter. Clyde ran track both in high school and college and has run a number of marathons, including the Boston Marathon, his entire adult life. He graduated from Southeast Missouri State University, and taught high school mathematics and coached for a year but was drafted into the U.S. Army. Clyde's math skills resulted in his being conscripted into the Army's new computer division, and he spent his military service in Colorado Springs learning computer programing. He was united in matrimony with Joyce Taucher ( ? -living), a teacher. They produced two children -- Aaron Richard Miner and Tiffany Ann Miner. Clyde was asked to head a McDonnel Douglas project to provide a computer network for the Saudi Arabian government, and he and Joyce and their toddler son, Aaron, and newborn daughter, Tiffany, spent two and a half years in Riyadh living in the compound for Americans and other expats. While Joyce was restricted to a narrow life style, Clyde was able to take his young son into the desert to spend time with the locals, ride camels and have the adventure of a life time. The Miners eventually moved from St. Louis to Friendswood, TX, where Clyde was a senior manager in Computer networking for the University of Texas/MD Anderson Cancer Center. He then worked as part of a city wide project for the City of Houston, and finally, on retirement, has returned to his early love, teaching math. Clyde sings regularly as a cantor and in the choir in their local Catholic church.
Granddaughter Tiffany Miner and her husband, Palani Rajan Palanisamy Kuppuraj, are parents of Priya Marie and Ethan Leonardo. Currently, the family lives in Fort Wayne, IN, where Palani is a vice president with Franklin Electric. The family travels regularly to India to spend time with Palani's parents.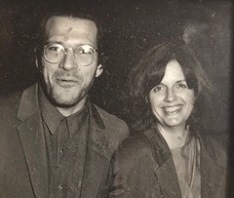 Paul Perri and Michele Miner
Daughter Mary "Michele" Miner (1950-living) was born in 1950. She wedded Paul Perri (1953-living), a native of New Haven, CT. The two children born to this union are Giacomo "Jake" Miner Perri and Justine Miner Perri. Michele spent years as a freelance theatrical production stage manager, logging such Broadway credits as Division Street (1980) and Burn This (1987, starring John Malkovich). From there she became a production manager at Pomona College where she also taught for six years. In 2020, she published her first work of fiction, Their Moon Was Cardboard, with the plot revolving around "Matthey Cole, successful freelance production stage manager, currently working at the Parkinson Hopkins Theatre on a world premiere, [who] becomes involved in murder, the NSA, sex and maybe drug trafficking while trying to get her show open. Just part of the job for a stage manager in Los Angeles."
Paul is a noted Broadway, Off Broadway, film and television actor -- his Wikipedia page says he is "best known for portraying Edwards and Skinless Parker in Hellraiser: Bloodline, Harry Hume from Chaos, and as Dr. Sidney Bloom from Manhunter." He's also played parts in episodes of Seinfeld, ER, Frasier, NYPD Blue, The West Wing and Grey's Anatomy. His Broadway credits also include Burn This, A View From the Bridge, Macbeth and The Bacchae. His Los Angeles regional credits range from God's Man In Texas, True West and Hitler's Head to Ivanov, Golden Boy, Hurlyburly, Counselor-At-Law, Day and Nights Within, Much Ado About Nothing and Love's Labours Lost. Paul has performed for the Pittsburgh Public Theatre, Denver Center for the Performing Arts, Yale Repertory and Cohoes Music Hall. His film credits include The Insider, Freeway, Gathering Evidence, Demolition Man, Memoirs of An Invisible Man and Delta Force II, while his television credits include Battlestar Gallactica, Killer Instinct, CSI: New York, Smallville, Dark Angel, The Twilight Zone. Today, Paul is a member of, and Michele a volunteer with, Parson's Nose Theater in Pasadena, a company which is known for performing professional, 90 minute adaptations of classics that present the language, characters, plot and spirit of the world's greatest writers in an intimate, accessible way. Since 2011, he has served on the faculty of the American Musical and Dramatic Academy college of the Performing Arts in Los Angeles. Paul holds a conservatory diploma in drama from the Juilliard School. Michele graciously has shared content and family photographs for this biography.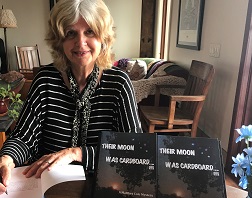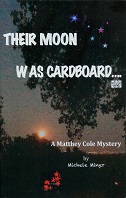 Michele Miner signing her book, available on Amazon.com
Copyright © 2001, 2009, 2020 Mark A. Miner