Frederick Miner Jr.
(1825-1907)
Hebron Cemetery
Frederick Miner Jr. was born on Dec. 11, 1825 near Sego, Perry County, OH, the son of Frederick and Jane (Richardson) Miner Sr. He was a veteran of the Civil War who was seriously injured in battle.
Frederick stood 5 feet, 11 inches tall, with dark hair and grey eyes.
In 1847, at the age of 22, he was united in marriage with Catherine Miller ( ? -1873).
Their family of four known children were John "Gilbert" Miner, Thomas Albert Minor, William Frederick Miner and Della Avery Stream.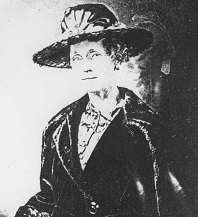 Emma (Moore Miner,
Frederick's 2nd wife
The Miners moved to Hebron, Licking County, OH in about 1852. They resided "at Jacksontown, four miles east of Hebron," recalled friend George M. Williams. During that time, he worked as a cooper and beef butcher. Friend Smith Wharton (also spelled Worden) said he "used to work with [Frederick] harvesting. He was a good cradler."
After the Civil War broke out, Frederick enlisted in the 10th Ohio Cavalry on Oct. 6, 1862 and was assigned to Company A. His brothers Andrew and Thomas also served in the Union Army during the war, both with the 90th Ohio Infantry. Tragically, Andrew would go on to die of disease in the service. Their second cousin Daniel L. Minor also was a member of the 10th Ohio Cavalry.
Frederick eventually served as commissary sergeant, whose duty it was to issue rations and move with the regiment. He suffered from hemorrhoids, and said he once "went to Dr. Valentine for treatment but he asked me impertinent questions as to whether I had any private disease and I went back to my quarters and wouldn't take his medicine; he afterwards told me he was only joking."
At Jonesborough, GA, in 1864, Frederick took part in General William Tecumseh Sherman's Atlanta campaign. Frederick's horse was shot down from under him in battle on Aug. 20. Frederick later wrote that he:
Our Co. was in the advance at Jonesboro. I was acting as Orderly Sergt. and sometime after night between 8 and 11 o'clock we ran right up on the enemy. They were on a knoll from the flash of their guns and at the first fire Lt. Winters of Co. C in command of the Squadron was killed. He was on my left at the time. My horse's fore leg was shot, he jumped forward and fell throwing me over. I fell I think on my face. I lay there some little time before I recovered my wind. By that time the Co. was scattered and I got away as quick as I could.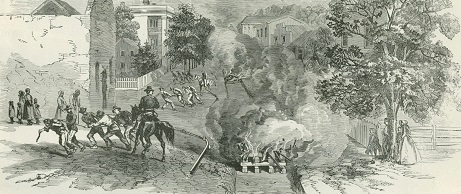 Union troops destroy the Macon Railroad at Jonesboro, where Fred was injured
J.F. Vinal, the 2nd lieutenant of the regiment, recalled that the battle occurred as "a surprise in the night. We ran upon the enemy unexpected. It produced a panic and every man was for himself." After his fall, Frederick said that:
I was numb ... but as soon as I started to walk on after the Regt. I found that [the hernia] troubled me and I had to hold my hand on it to keep it back... About daylight next morning [Wesley Harmon] overtook me as I was getting along as fast as I could after the Regt... he asked me why I held my hand there and I told him I thought I was ruptured and showed him -- while he was looking at it Dave Ewing came along and saw it too -- we had got to Hd. Qrs. by that time and Capt. Hayes gave me an old mare to ride.
After Frederick returned to his regiment, the unit rode "to Owl Rock Church where they remained a short time." Suffering from his injury, he said, "I got a piece of sole leather and wrapped it with cloth and fastened it round me, suspending it over my shoulder with a strap and passing it under my crotch." Frederick during that time tented with Jesse Viall, Thomas Clark, McCullouch and Matt Miner (who was of the English family of Miner-Minor and not related to Fred).
Later, in about September 1864, a friend said the regiment "left that place on the Rear move after [Confederate General John B.] Hood. [He] was on account of his rupture unable to ride on horseback and he with a number of other dismounted men were sent to Maryetta [Georgia] where he remained about a month before he rejoined his command."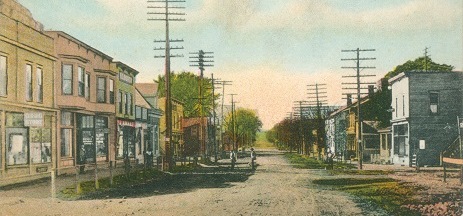 Hebron's dirt-paved Main Street
Frederick was discharged at Lexington, NC, on July 24, 1865. He returned home and worked as a butcher at Hebron and Etna, OH. A friend recalled that he "butchered some. He took contracts to make shingle and employed others to do the most of it. He done some trading in produce." His sons assisted him in the butcher shop.
In the years after the war, Frederick suffered terribly from his wartime hernia and also from bleeding hemorrhoids. He estimated that the effected space in his abdomen and groin measured 5 inches by 7 inches. He purchased a truss from a druggist in Newark, OH, but it was not effective.
In the fall of 1865, he worked with Smith Wharton doing farm labor, but, recalled Wharton:
... I was getting out Plain Stocks with the said Frederick Miner for George Bowns -- I complained of him not chopping as much as I did -- when he explained the reason why he could not do so much, that he was ruptured and then and there exhibited to me the Hernia which he had complained of... I worked with him butchering some, same winter.
According to another friend, Philip S. Smith, Frederick became very ill while swimming with several friends:
I remember being down at the mill dam one day, one or two miles below Hebron, and I think it was John Oldaker jumped into the water and ducked Miner, and he strangled and made a great effort, we put him on the bank. He was very sick. We took him in a buggy to the house and sent for Dr. Ewing....
He took off his truss and after a little exercise his entrails came down, and so sickned him that he had to lay down and push them back from the effects of which he was very mutch exausted.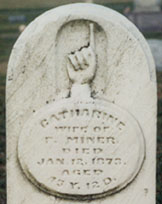 Catherine's upright grave
marker at Hebron, 1873
Hebron blacksmith John Oldaker testified that:
... the winter after [Frederick] came home from the army, he brought his horse to the shop to be shod. The horse was ugly to shoe. Miner was holding the horse while I was setting the shoes. he said he would have to get someone else to hold him as he could not be jerked around. He was ruptured. He went and got someone to come to the shop and hold the horse.
Merchant Ira Kelsey of Hebron said Frederick's "general reputation was fair. I had a number of business transactions with him and found him honest." Kelsey also said that Frederick "made shingles. His brother helped."
Frederick applied to the federal government to receive a pension for his wartime injury. Special examiner Charles P. Mays was assigned to the case. He interviewed Frederick and many witnesses, and in his final report stated: "[Frederick] does not look like a man who has been an habitual drinker, but admits that he is not an advocate of total abstinence; he told his story and replied to questions in a straightforward manner without hesitation or preparation and impressed me favorably as to his honesty."
Sadly, Catherine died shortly after her 45th birthday on Jan. 12, 1873.
The following year, Frederick married Emma Elizabeth Moore, and they resided at Hebron, Licking County, OH and at Kirkersville, Licking County, where he ran a hotel and bar. They had one son, Clyde Calvin Miner.
By 1882, the Miners had moved to Greenfield, Hancock County, IN, where Frederick's sister Elizabeth Bush lived. They spent a year there, with Frederick working as a butcher.
A year later, in April 1883, they moved to Dayton, Montgomery County, OH. They resided there at 63 and 139 Jones Street, 418 Jackson Street and 634 North Main Street, and Frederick worked as a butcher.
Hebron's dirt-paved Main Street
In 1883, P.P. Althoff of Dayton employed Frederick " making roads, excavating and other work of like character.... He was not considered a stout man -- after he had been working for some little time he asked me if it was all the same to me, to give him some lighter work -- that he was not able to do heavy work."
Frederick also was a traveling salesman. They lived in Arcanum, Darke County, OH, in 1888 but within a few years were back in Dayton. In 1888, Frederick complained that in addition to his hernia, he also had "heart trouble, nearvious prostratioin [sic] and general debility. [My] truss will no longer confine [my] hernia and almost total disability is the result."
Despite his advanced age, Frederick occasionally traveled to visit relatives. The Newark (OH) Daily Advocate reported in July 1900 that he had spent time at the home of his son John Gilbert Miner at Hebron, but had returned home to Dayton.
In his elderly years, Frederick was an invalid. He resided in the National Military Home in Dayton circa 1904. He died at home on 175 South Warren Street in Dayton on Dec. 17, 1907. His remains were returned to Hebron for burial near his first wife Catherine at Hebron Cemetery.

Rail depot, Hebron, where Frederick's remains arrived for burial
Widow Emma lived above a grocery store and was a fine seamstress. On Dec. 9, 1911, she married Aaron B. Trumbull ( ? - ? ).
They eventually moved to Jensen and Vernal, UT and later to Denver, CO, where she died in 1932. She was buried in St. Louis, MO, at the request of her son Clyde.
In Dayton in the early 1900s, son Clyde emerged as a rising businessman. He went on to become president of the Lucas-Miner Pump Co. in Dayton (1917-1919), one of the earliest businesses to carry the family name.
Fred is mentioned in a lavishly illustrated, 2011 book about one of his cousins who also was a Civil War veteran -- entitled Well At This Time: the Civil War Diaries and Army Convalescence Saga of Farmboy Ephraim Miner.
~ Son William Frederick Miner ~
Son William Frederick Miner (1856- ? ) was born in 1856 in Ohio.
At the age of 14, he resided with his parents in Etna, Licking County, OH, and earned some income for the family as a laborer.
He was alive in 1907, when named as a surviving son in the newspaper obituary of his father, at a time he was 51 years of age.
He is not the same man as "William D. Minor" (born in April 1857, died Nov. 1932) who was the son of John and ? (Denman) Minor of Hanover, OH. William D. married Emily Jane Feasel (1861- ? ) in Franklin County on July 18, 1880. This couple had at least nine children -- Elmer O. Minor, Maria D. Minor, Wiley F. Minor, Gertrude L. Minor, Marvin L. Minor, Harold E. Miner, Russell Carl Minor and Mamie O. Minor. The federal censuses of 1900 and 1910 show this family living as farmers in Etna, Licking County. By 1920, they had moved to a farm in Reynoldsburg, Franklin County, OH, where they remained until at least 1930.
Copyright © 1994, 2000-2005, 2007, 2011, 2020 Mark A. Miner