Home

Daniel L. Minor
(1835-1909)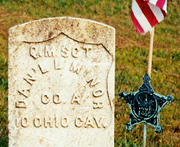 Shawnee Cemetery
Daniel L. Minor was born on Dec. 20, 1835 near Somerset, Perry County, OH, son of Jacob and Mary (Ferguson) Miner.
A veteran of the Civil War, Daniel was wounded in battle during General Sherman's famous "March to the Sea" in North Carolina and Georgia and is profiled in a well-known history book about Perry County. He also was an early coal miner of the county.
On Dec. 14, 1865, when he was age 30, Daniel married 21-year-old Frances Vreeland (1844-1915) at Linville (or "Lindville"), OH. Rev. J.M. Woodward performing the ceremony. A record of the marital union was recorded in the family Bible of Daniel's parents that was published in 1851.
Their three children were Maude Rhoads, Charles Claudius Minor and Mary "Mayme" Daugherty.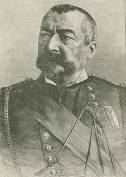 Gen. Phil Sheridan
Daniel was raised on a farm near Somerset. He added the middle initial "L" to his name after reaching manhood, but it's not known whether the letter stood for another name or whether it simply helped to differentiate him from someone else by the same name.
At age 16 or 17, Daniel moved with his parents to Brownsville, Licking County, OH. As an adult, he stood 5 feet, 10 inches with dark brown hair and blue-grey eyes. He learned the cooper trade, serving with his brother for one year, after which he did journey work until the Civil War began.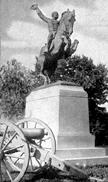 Sheridan Statue
Daniel enlisted in Company C of the 27th Ohio Infantry on July 18, 1861. He was 25 years of age at the time. He served under Capt. Nichols.
He was about the same age as another young man who grew up in Somerset and later went on to great fame in the Civil War -- General Philip Henry "Little Phil" Sheridan -- whose portrait is seen here. Sheridan, four years older than Daniel, is said to have "carried water for the workmen and afterwards drove a cart in the construction of the Zanesville and Maysville pike, the line of which passed through the town of his boyhood home and on which has father had a contract." In 1905, a statue of Sheridan on horseback was unveiled in the square in the center of Somerset, and stands there today.
After serving for seven months, Daniel was discharged at 4th Street Hospital in St. Louis, Missouri, in January 1862, due to disability from a buildup of fluids.
Returning home to Brownsville, he worked as a journeyman for about two months. When his health returned he re-enlisted in Co. A of the 10th Ohio Cavalry with his second cousin, Frederick Miner Jr. (An interesting note is that a "Matthew Miner" was a corporal in the regiment, but was a member of the unrelated English family of Miner.)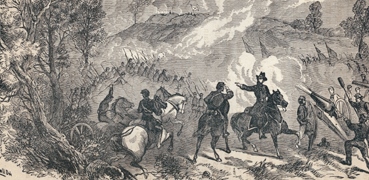 Above: Battle of Resaca, GA, where Daniel was wounded.
Below: Gen. Sherman's wagon train passing through Resaca at night.
In September 1863, Daniel came down with a bad case of hemorrhoids while at Bridgeport, Alabama. Later, he was promoted to quartermaster sergeant and saw service in battle at Athens, North Carolina. He took part of the infamous "March to the Sea" under William Tecumseh Sherman (also known as the "March on Atlanta"). On that offensive, at Resaca, Georgia in May 1864, Daniel was shot in the left thigh. The ball entered the front of the thigh, 8½ inches above the knee joint, and then exited from the inner side of the thigh. He was hospitalized for two months at the general hospital in Chattanooga, Tennessee.
Daniel was discharged on July 24, 1865 at Lexington, North Carolina. He returned home and later that year married Frances.

Atlas map of Brownsville, 1875, with a red dot marking Daniel's residence along the National Road, otherwise known as U.S. Route 40. The residence was just a few blocks west from where his parents and brother James had lived in 1866.
For next three years, Daniel labored as a cooper in winter and as a farmer in summer. The 1875 Atlas of Licking County shows the precise location of their home west of Brownsville, along Main Street, otherwise known as the National Road and U.S. Route 40.
In 1872, Daniel and Frances moved from Brownsville to the booming coal town of Shawnee, Perry County, OH. He lived and worked for many years in Shawnee as a coal miner.
Shawnee was known for its coal mining and clay brick making, and gained fame in the 1870s as the site of the formation of the Knights of Labor. Seen here is a rare pen and ink sketch of a Shawnee coal mine of the era.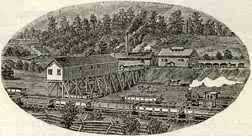 Coal works in Shawnee, Ohio, 1870s
The issue of organized labor conflict throughout the Ohio coal region was of national importance. When miners in the Hocking Valley region went out on strike in 1884, the work stoppage was summarized in Frank Leslie's Illustrated Newspaper on Feb. 14, 1885:
The troubles in the Hocking Valley mining regions are not yet adjusted. Hundreds of men still remain idle, and as the contributions in aid of the strikers have largely fallen off, the outlook is anything but favorable. The officers of the Miners' Union last week issued a pronunciamento, recommending that all of the coal miners in the State accept a reduction of ten cents per ton, which makes the rate fifty cents per ton, but this rate has not been generally accepted. The rate demanded in the Hocking Valley is sixty cents per ton, the same as was offered by the operators in that region eight months ago. It is predicted by some that the men will accept the fifty cents, and get work while they can, while others believe that the strikers, maddened by defeat after a struggle of eight months, will be led by the lawless and reckless element to acts of violence and incendiarism. Mine No. 35, which was fired a fortnight ago, is still burning furiously, and all hopes of saving it have been abandoned.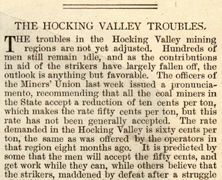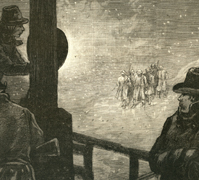 National news coverage of the plight of striking coal miners in Frank Leslie's Illustrated Newspaper, including a sketch of a patrol making its snowy nighttime rounds to relieve armed strikers in the dead of winter, 1885.

Town sign
As he aged, Daniel complained that his old war wound "afflicts him and especially on change of weather from fair to inclement, and causes him more or less misery." He also claimed that his hemorrhoids left him "really not able to perform manual labor ... which is growing worse continually causing him much misery and inconvenience." A physician noted in 1889 that "There is much depression along course of wound, the result no doubt of sloughing. The muscles above and below the wound are knotted and irregular."
When the Minors' marriage records were burned in the Licking County Courthouse fire of April 2, 1875, they had to rely on family Bible records as proof that their marriage was legal.
During this time, Daniel's nephew, James E. Johnston, began his law practice in Shawnee before moving to nearby New Lexington, Perry County, and later becoming a judge. In 1889, James signed his name as a witness to paperwork Daniel filed to obtain a Civil War veterans pension. Among the other witnesses signing Daniel's military pension petitions were his nephew-in-law Alva L. Cooperrider and sister and brother in law, Elizabeth and Seth R. Johnston. In the document, Seth disclosed that he had known Daniel and Frances since the time they had been married, and "resided in the immediate neighborhood" where the marriage had taken place.

Daniel's profile, 1883 History
of Fairfield and Perry Counties
Friends Jacob C. Weaver and Thomas McLane gave testimony in 1890 that they had worked with Daniel during the previous two years, and that he was unable to work about one third of the time. Other friends providing affidavits of having known Daniel and Frances were Lee W. Brown and John Baker of Shawnee.
Daniel died on May 18, 1909, at the age of 73. The cause of death was hardening of the arteries, and organic heart disease, of several years' duration. He was laid to rest in the Shawnee Cemetery. His obituary was published in the Somerset (OH) Press.
Frances outlived him by six years. She began receiving monthly military pension payments of $12, as was her right as Daniel's widow. She passed away at age 71 on June 21, 1915. She also rests for eternity at Shawnee Cemetery, but has no grave marker today.
Somerset Press, 1909
Daniel's biography appears in the 1883 History of Fairfield and Perry Counties. He also is mentioned in the 1881 History of Licking County.
Many years later, in the 1970s, Daniel's Kansas City cousin, J. Blanche (Clark) Tarter, tried in vain to prove a connection to Daniel, amassing a meaningful paper trail of his life. Her records today are preserved in our Minerd-Minard-Miner-Minor archives.
Daniel is mentioned in a lavishly illustrated, 2011 book about one of his cousins who also served in the Civil War -- entitled Well At This Time: the Civil War Diaries and Army Convalescence Saga of Farmboy Ephraim Miner. The book is authored by the founder of this website. [More]
Copyright © 2000, 2002, 2005, 2010, 2013 Mark A. Miner
Resaca battle sketch from Life and Deeds of General Sherman, F.F. Spyer & Co., Brooklyn, NY. "Hocking Valley Troubles" article and sketch from Frank Leslie's Illustrated Newspaper, Feb. 14, 1885.