Maude (Minor) Rhoads
(1866-1961)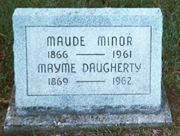 Shawnee Cemetery
Maude (Minor) Rhoads was born on Oct. 3, 1866 in Brownsville, Licking County, OH, the daughter of Daniel L. and Frances (Vreeland) Minor.
Little is known of her life. When Maude was about six, she and her parents moved to the coal and clay mining town of Shawnee, Perry County, OH.
On April 3, 1890, at the age of 24, Maude married Chester B. Rhoads ( ? - ? ), by the hand of Thomas P. Jones in Perry County.
They had no children. The Rhoads marriage apparently did not last long, and they divorced.
Maude took back back her name by 1900 and lived that year with her parents, employed as a "milliner." Chesterís fate is unknown.
The 1910 census shows Maude and her widowed mother living in Shawnee, with neither of them gainfully working.
"For many years she worked as a seamstress," said the Perry County Tribune. "[She] was a member of the Methodist Church."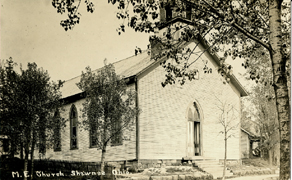 Methodist-Episcopal Church, Shawnee, Ohio.
Records of the Perry County courts show that in 1922, Maude sued her brother Claude and sister Mayme Daugherty, perhaps involving the division of property after the death of their mother. The case was settled.
In June 1961, Maude was unable to care for herself, and was admitted to the Perry County Home, where her sister Mayme also resided.
Maude died in the home on Oct. 6, 1961, at the age of 95. Her funeral arrangements were handled by the J.E. Humphrey Funeral Home. She was buried in the Shawnee Cemetery.
Copyright © 2002, 2008 Mark A. Miner