Elizabeth 'Libby' (Minor)
Wilson Armstrong
(1825-1893)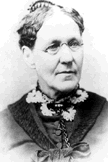 Libby Armstrong
Elizabeth A. "Libby" (Minor) Wilson Armstrong was born on July 30, 1825 near Sego, Perry County, OH, the daughter of Daniel and Peggy (Fluckey) Minor Sr.
As a 10-year-old, in 1835, Libby moved with her parents to Cardington, Morrow County, OH.
On Nov. 18, 1845, when she was 20, Libby married Sanford H. Wilson (1822- ? ).
The couple bore one daughter, Emily Alice Williams.
The marriage was troubled, and only lasted for seven years. In the summer of 1852, Libby sued for divorce. In her petition, on file today at the Morrow County courthouse, her lawyer wrote out her side of the story:
...soon after their marriage ... they commenced keeping house and living together in Westfield township now in Morrow County, where they resided together about 19 months when they removed to Middletown now in said Marion County, where they resided about 5 months, when they returned to said Westfield township, where they resided, kept house and lived together until in the month of November A.D. 1847 (about 3 months), making in all about two years, during which time and ever since [she] has discharged the duties of a wife to [her husband], and [conducted] herself in a kind and affectionate manner toward him.

Libby's signature
Libby's complaint went on to say that in November 1847, Sanford "wrongfully, willfully, without cause and against [her] consent" moved out, and went to Kentucky. After that time, he continued to "refuse to live with, or provide for, and take care of" Libby and their daughter, and she was "compelled to support [herself] by her own labor and industry."
The divorce was finally granted, one of the earliest in the known family annals.
On June 8, 1857, now age 32, Libby married a second time to 38-year-old widower William "Forster" Armstrong (1819-1881), son of Joshua and Phoebe (Stearns) Armstrong. He was a native of Pittsford, Monroe County, NY and worked as a clerk in Cardington.
He had been married twice before. His first wife was Mary Denmon ( ? - ? ), and they were wed on Oct. 26, 1837. During their brief married lives, they bore two children, Clarinda Maria Wells and Joshua V. Armstrong. Mary's precise fate is not known. His second bride was Clarissa Orilla (Conklin) White (1820-1856), with their wedding taking place on Dec. 7, 1847. The pair produced three more children, all sons Philander Armstrong, Philemon D. Armstrong and Matthew Leroy Armstrong. Sadly, the son Philander, born in about 1849, is believed to have died at a very young age.
The federal census enumeration of 1860 shows the blended family in Cardington, with Forster employed as a shingle maker.
Libby and Forster went on to have one son of their own, William Henry Armstrong.
Piqua's bustling Market Square, early 1900s
The Armstrongs first lived at Cardington, where Forster was City Treasurer in 1860. In July 1861, he and Morgan Payne jointly obtained a U.S. Patent for an improved churn.
When the Civil War broke out, they worried as all similar parents did when Forster's sons Joshua and Philemon served in the Army. Grief cascaded over the family when they learned that son Joshua had lost his life in battle at Antietam.
In 1871, Libby and Forster relocated to Piqua, Miami County, OH, where they raised their son William.The family is enumerated in Piqua in the 1880 United States Census. That year, the census-taker recorded that Forster's occupation was commercial agent and Libby's as dressmaker, but that he suffered from "nervous prostration."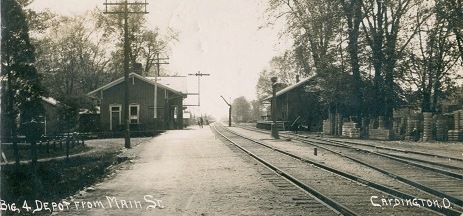 Above: Cardington's railroad depot. Below: the Armstrongs' grave markers.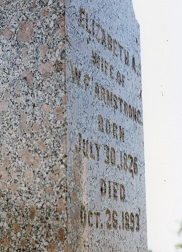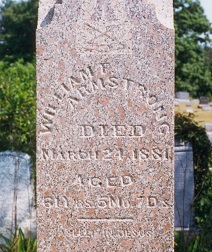 Forster passed away in Piqua on March 24, 1881, "of paralysis, after a long and painful illness." His remains were transported back to Cardington for burial, with the funeral sermon preached by Rev. Canfield. In its printed obituary, the Cardington Independent added that he:
...died, as he had lived, a strong believer in Universalism. He said he was ready and willing to go, the sooner it was over the sooner he would be at home.... He will be greatly missed by all of us, but we feel that it is the Lord's will and we must submit. It is only a short me till we will meet beyond the river.
Libby lived for another 12 years and appears to have moved again, to Terre Haute, Vigo County, IN. She died of heart failure on Oct. 26, 1893 at the home of her son William in Dana, Vermillion County, IN.
Her remains were returned to her hometown. Cardington's "Big 4" railroad depot, where her casket would have arrived, is seen here.
Libby's funeral was held at the home of her sister Margaret Maxwell. She was buried beside her husband at Bethel Cemetery.
In looking through an old family photo album in the early 1970s, Libby's grand-niece, Jeanette "Blanche" (Clark) Tarter, commented on a memory: "Aunt Lib the fussy one."
Libby is mentioned in a 2011 book about one of her cousins who served in the Civil War -- Well At This Time: the Civil War Diaries and Army Convalescence Saga of Farmboy Ephraim Miner. [More]
~ Daughter Emily (Wilson) Williams ~
Daughter Emily Alice Wilson (1848- ? ) was born in 1848. She was very young when her parents divorced.
At the age of 12, in 1860, she lived with her mother, stepfather and stepbrothers in Cardington.
She was joined in marriage with (?) Williams.
She resided in Louisburg, Miami County, KS at the time of her mother's death in 1893.
Her fate after that is unknown.
~ Stepdaughter Clarinda Mariah (Armstrong) Wells ~
Stepdaughter Clarinda Mariah Armstrong Wells (1841-1922) was born in 1841.
On April 4, 1858, she wedded Richard Wells (1836-1908).
Their 10 known children were John Loren Wells, Addie Eudora Wells, Marie Ellen Wells, George Wesley Wells, Mary Susan Wells, William D. Wells, Rosa Alice Wells, James A. Wells, Laura Alvira Wells and Susan Wells.
During the Civil War, Richard joined the Union Army and served with the 25th Iowa Volunteers, Company H.
The family eventually relocated to Bethany, MO.
Richard was gathered in by the Angel of Death on Oct. 11, 1908.
Clarinda lived as a widow for 14 years. She died on Oct. 19, 1922.
~ Stepson Joshua V. Armstrong ~
Stepson Joshua V. Armstrong (1843- ? ) was born in 1843 in Ohio. He grew up in Cardington.
He was but a boy when his mother died, followed by the death of his stepmother Clarissa in 1856 when he was age 13. In 1857, when he was age 14, his father married a third time, to Elizabeth (Miner) Wilson.
The federal census enumeration of 1860 shows that he lived under the roof of carriage maker G.R. Cunningham in Cardington, where he was one of four apprentices.
Upon the eruption of the Civil War, Joshua joined the Union Army. Not much is known of his service other than he reputedly was killed in action at Antietam. Research is underway to determine whether or not he served in the 23rd Ohio Infantry, Company F.
~ Stepson Philemon D. Armstrong ~
Stepson Philemon D. Armstrong (1849-1910) was born in 1849 in Ohio. He was age seven when his mother died and age eight a year later when his father married Elizabeth (Miner) Wilson.
He married Lucinda Jane "Jennie" Gollada (1853-1920).
They produced a family of children -- Charles Forrester Armstrong, Matthew Philemon Armstrong, Ida Estella Wright, Lilly May Bush, Elizabeth Adaline Holstein and Inez Alice Wilson.
During the Civil War, Philemon joined the Union Army. He was placed within the 18th U.S. Infantry, Company F and later the 27th U.S. Infantry, Company F. After the end of the war, he was assigned to military duty along the famed Bozeman Trail and at Fort Phil Kearney in Wyoming, in a mission to neutralize Red Cloud and Crazy Horse. In diong so, he traveled with scout Jim Bridger.
The Armstrongs migrated to Nebraska and were there in 1890.
Philemon was awarded a pension as compensation for his wartime service. [Invalid App. #(?) - Cert. #(?)]
Later, the couple relocated again to the Pacific Northwest, settling in Yakima, Yakima County, WA.
He passed away in Yakima on July 17, 1910. Burial was in Tahoma Cemetery in Yakima.
Jennie was awarded her late husband's soldier pension. [Widow App. #950.567 - Cert. 712.848.]
In 2006, Philemon's story was featured in depth in an article by his great-grandson, Dr. Robert E. Armstrong, DVM, MS, entitled "The Armstrong Family - Always to the West." The story was published in the Washington State Genealogist.
~ Stepson Matthew Leroy Armstrong ~
Stepson Matthew Leroy Armstrong (1851-1923) was born on Aug. 25, 1851 in Ohio.
Three days after Christmas 1873, in nuptials held in Marion, Armstrong County, OH, he married Anna Priscilla "Annie" Baughman (Dec. 7, 1851-1908) of Prospect, OH.
The pair bore two daughters -- Elsie Chronister and Mamie Blackburn.
Unfortunately, the couple separated, and Matthew is believed to have borne a son with another woman, in 1884, Harry Leroy Armstrong. Matthew and Anna divorced in 1886 in Marion County, with her charging "gross neglect of duty and wilful absence from her for more than three years." The case was published in the Marion Daily Star.
As with his brother Philemon, Matthew too relocated to Washington State and lived in Yamika.
On July 5, 1907, in Seattle, Matthew married again to Jean "Jennie" Jefferies ( ? - ? ).
He succumbed to death in Yakima at age 73 on Dec. 6, 1923.
Ex-wife Annie remarried to John Blackburn. She died in July 1908.
Copyright © 2000-2004, 2020 Mark A. Miner