Elizabeth (Minor)
Wilson Armstrong
(1825-1893)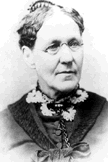 Elizabeth A. "Libby" (Minor) Wilson Armstrong was born on July 30, 1825 near Sego, Perry County, OH, the daughter of Daniel and Peggy (Fluckey) Minor Sr.
As a 10-year-old, in 1835, Libby moved with her parents to Cardington, Morrow County, OH.
On No. 18, 1845, when she was 20, Libby married Sanford H. Wilson. They had one daughter, Emily Alice Williams.
The marriage was troubled, and only lasted for seven years. In the summer of 1852, Libby sued for divorce. In her petition, now on file at the Morrow County courthouse, her lawyer wrote out her side of the story:
...soon after their marriage ... they commenced keeping house and living together in Westfield township now in Morrow County, where they resided together about 19 months when they removed to Middletown now in said Marion County, where they resided about 5 months, when they returned to said Westfield township, where they resided, kept house and lived together until in the month of November A.D. 1847 (about 3 months), making in all about two years, during which time and ever since [she] has discharged the duties of a wife to [her husband], and [conducted] herself in a kind and affectionate manner toward him.
Libby's complaint went on to say that in November 1847, Sanford "wrongfully, willfully, without cause and against [her] consent" moved out, and went to Kentucky. After that time, he continued to "refuse to live with, or provide for, and take care of" Libby and their daughter, and she was "compelled to support [herself] by her own labor and industry."

The divorce was finally granted, one of the earliest in the family annals.
On June 8, 1857, Libby married widower William "Forster" Armstrong (1819-1881). He was a New York native, and worked as a clerk in Cardington. He had been married before, and brought five children to the marriage -- Clarinda Maria Wells, Joshua V. Armstrong, Philander Armstrong, Philemon D. Armstrong and Matthew Armstrong.
Libby and William had one child of their own, William Henry Armstrong.
The Armstrongs first lived at Cardington, where Forster was City Treasurer in 1860. When the Civil War broke out, they worried as all similar parents did when Forster's son Philemon served in the Army.
In 1871, Libby and Forster relocated to Piqua, Miami County, OH, where they raised their son William. Piqua's bustling Market Square -- filled with a trolley, horse drawn carts and pedestrians -- is seen here in a rare, vintage postcard photograph dated 1907. Later, the Armstrongs moved again, to Terre Haute, IN.

Forster passed away in Piqua on March 24, 1881, "of paralysis, after a long and painful illness." In its printed obituary, the Cardington Independent added that he:
...died, as he had lived, a strong believer in Universalism. he said he was ready and willing to go, the sooner it was over the sooner he would be at home.... He will be greatly missed by all of us, but we feel that it is the Lord's will and we must submit. It is only a short me till we will meet beyond the river.
Libby lived for another 12 years. She died of heart failure on Oct. 26, 1893 at the home of her son William in Dana, Vermillion County, IN.

Her remains were returned to her hometown. Cardington's "Big 4" railroad depot, where her casket would have arrived, is seen at left in a view from Main Street.
Libby's funeral was held at the home of her sister Margaret Maxwell. She was buried beside her husband at Bethel Cemetery.
Libby is mentioned in a 2011 book about one of her cousins who served in the Civil War -- Well At This Time: the Civil War Diaries and Army Convalescence Saga of Farmboy Ephraim Miner. [More]
In looking through an old family photo album in the early 1970s, Libby's grand-niece, Jeanette "Blanche" (Clark) Tarter, commented on her memory of her: "Aunt Lib the fussy one."
~ Daughter Emily (Wilson) Williams ~
Daughter Emily married a man named Williams. She resided in Louisburg, KS at the time of her mother's death in 1893. Her fate after that is unknown.
Copyright © 2000-2004 Mark A. Miner