Margaret (Miner) Sloan Maxwell
(1827-1912)
Margaret Maxwell
Margaret (Miner) Sloan-Maxwell was born on June 18, 1827 near Sego, Perry County, OH, the daughter of Daniel and Peggy (Fluckey) Minor Sr.
As an eight-year-old, Margaret moved with her parents to Cardington, Morrow County, OH. Said the Morrow County Independent:
The Minor family came to Morrow county and settled on the farm now owned by Harry Long when Margaret was a young girl, since which she has resided in this vicinity. She was converted under the pastorate of Rev. Graham and joined the Bethel society Jan. 29, 1867, which relation she sustained [the rest of her life].
A rendering of the Bethel church building, closed in 1969 and later demolished, is seen here.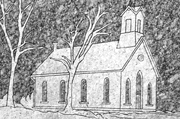 Bethel Church, Cardington
On April 18, 1848, at the age of 21, Margaret married 23-year-old New York native Harvey Sloan Jr. (1825- ? ) of Cardington. H.G. Dubois performed the nuptials.
The Sloans produced one daughter, Minerva Sloan, born in 1856.
Harvey was a carpenter by trade, perhaps learned from his father, who helped construct the Bethel church. He also farmed, and in 1852, at the death of his brother in law George S. Miner, he purchased a pitchfork at the estate auction for 50 cents.
When the federal censuses were enumerated in 1850 and 1860, the Sloans resided in Cardington, with Harvey engaged in carpentry. In 1850, three other carpenters boarded under their roof, including Margaret's 16-year-old brother Henry. The census of 1860 shows the family continuing to keep boarders, including Henry Minor as well as 17-year-old students Charles Benedict and L.B. Westbrook.
A few years later, when George's wife died, leaving their daughter an orphan, Harvey also appointed legal guardian of the girl , also named Margaret. The Independent later said that the aunt Margaret "was a real mother to ... [the] niece who was left an orphan at the age of three years and was taken into her home and reared to womanhood." (Later in life, the niece would take her own grandchildren to see the log cabin where she had been raised by "Aunt Mag Maxwell.")

Maxwell farm, 1857, west of Cardington in Section 19. Courtesy Library of Congress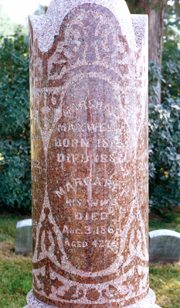 Marshall's grave
In 1854, after his father in law (Daniel Miner Sr.) died, Harvey purchased the Miners' home farm near Cardington, totaling 64 acres. When Daniel's estate was divided among heirs in 1857, Harvey signed for his wife's share.
For reasons not yet known, the marriage between Margaret and Harvey ended. It is also a mystery of whatever became of their daughter Minerva, but she is thought to have died young, sometime after 1860.
On June 16, 1870, at the age of 43, Margaret married her second spouse, 59-year-old J. Marshall Maxwell (1811-1887), a Cardington resident, and the son of Franklin W. Maxwell. J.W. Buxton officiated at the ceremony. There was a difference in their ages of 16 years.
A native of West Virginia, Marshall came into the marriage already having been twice widowed. His first wife, Margaret Johnson, died in 1861 after 23 years of matrimony, leaving him with eight children, five of whom lived to adulthood. His second bride, Amanda Dillingham (sometimes misspelled "Dilenbaugh"), had died in 1867, after five years of marriage, leaving him with two more young children.
Thus Margaret became a stepmother to a mixed brood of nine offspring -- Sherman Marshall Maxwell, Melville Maxwell, Minerva Shaw, Johnson Maxwell, Levi Vaughan Maxwell, Melissa Roby, Catherine Scribner, Estella Gruber Paste and Olive "Ollie" Shaw.
The Independent said that she "had no children of her own, but was a real mother to her step-children," and that "As a neighbor she was kind and willing to lend a helping hand to all. Her life will linger in the memory of those who know her as one full of good works."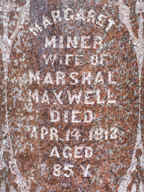 Margaret's grave
Marshall was a prosperous farmer and stock raiser and an Ohio pioneer in his own right, as described by the Independent, showing how transient Ohio settlers were in the early 1800s:
He first came to Marion county, Ohio, in the fall of 1831, but returned to [West] Virginia in the fall of 1832. He again came to Ohio, and in January, 1834, entered the land on which he afterward spent his life. After securing his land he returned to West Virginia and remained there until the fall of 1836, when he again came to Ohio and settled on the land which he had previously entered.
The 1857 Atlas of Morrow County shows that Marshall's farm comprised of 65½ acres was west of Cardington, in Section 19.
The 1870 U.S. census shows a household headed by Marshall and Margaret with his daughters Catharine, Mary E. and Olive, and son Marshall, and her niece Margaret Miner. Living next door was Marshall's 26-year-old son Johnson and his family.
The Morrow County Independent said that Marshall "in long years of residence had gained the acquaintance and by his genial nature and upright character, earned the friendship and esteem of a large circle." He was a 50-year member of the Bethel Methodist Episcopal Church.
By 1880, all of the Maxwell children had moved out of the family home except for 16-year-old stepdaughter Olive and 14-year-old stepson Sherman.
After 17 years of marriage, Marshall died at the age of 76, in 1887. He was laid to rest in the Bethel Cemetery in Cardington with his first wife, Margaret (Johnson) Maxwell. In 1895, when the Memorial Record of the Counties of Delaware, Union and Morrow was published, Marshall and his first wife were mentioned in a feature paragraph about their son Johnson.
Margaret lived alone as a widow for another quarter-century.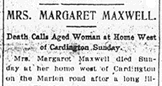 Newspaper obituary, 1912
She died at age 85 on April 14, 1912, and is buried beside her husband. Their grave is marked by a red, cylindrical granite shaft in the Bethel Cemetery near Cardington.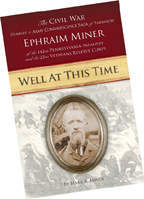 Book mentioning Margaret
The couple is mentioned in the chapter on "The Maxwells" in the typed booklet, The Clines, by Jane and Russell Fisher (Galion, OH: 1976).
Margaret also is named in a lavishly illustrated, 2011 book about one of her cousins who was a veteran of the Civil War -- entitled Well At This Time: the Civil War Diaries and Army Convalescence Saga of Farmboy Ephraim Miner. The book, authored by the founder of this website, is seen here. [More]
~ Stepson Johnson Maxwell ~
Stepson Johnson Maxwell (1844- ? ), also spelled "Johnston," was born on April 26, 1844 in Marion County, OH.
He married twice. His first marriage was on May 29, 1862, at the age of 17 to 18-year-old Nancy Stanton (1843- ? ), also a Marion County native. W.H. Poorman officiated. Because he legally was underage, Johnson had to secure his father's consent to marry.
They had three children -- Clara A. Cline, Rolvin Curtis Maxwell and Harley Johnson Maxwell.
Tragically, Nancy died as a young wife and mother. Details are not yet known.
Johnson lived in widowerhood for a period of time. At the age of 25, he married again, in December 1869, to 17-year-old Viola Scribner (1852-1918), daughter of William and Susan Sophia (Newberry) Scribner.
When the federal census count was made in 1870, Johnson, Viola and their daughter Clara resided next door to his parents' farm in Cardington, Morrow County. Johnson's occupation was listed as "cattle broker." The 1880 census simply listed him as a "farmer."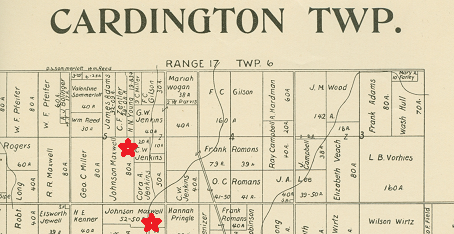 Johnson's farms, northwest of Cardington, 1901 Atlas of Morrow County
Johnson was profiled in the 1895 book, Memorial Record of the Counties of Delaware, Union and Morrow.
Johnson's fate is not known.
Viola passed away in Cardington at the age of 66 on Dec. 15, 1918.
Son Rolvin Curtis Maxwell (1864-1948) was born on May 2, 1864. He was a longtime farmer in Cardington, and later was involved with real estate. he kept a home at 223 Railroad Street in Cardington. He married Melvina E. (?). He died of chronic heart disease and hardening of the arteries at the age of 84, in Cardington, on May 10, 1948. Burial was in Cardington's Glendale Cemetery.
Daughter Clara A. Maxwell (1864-1942) was born on Sept. 25, 1862 or in 1864. She was united in matrimony with Jerome N. Cline ( ? - ? ). Jerome preceeded her in death. As a widow, she lived in Marion, Marion County, OH at 131 N. Seffner. Suffering from chronic endocarditis, she was stricken with heart failure and died at the age of 79 on May 17, 1942. Burial was in Claridon Cemetery, with Mrs. Bert Cline of Marion serving as the informant for the Ohio death certificate.
Son Harley Johnson Maxwell (1866-1939) was born on May 11, 1866 in Cardington. He wed Rose Kreis ( ? - ? ) of Paulding County, OH. Harley was a salesman and resided at 288 East Center in Marion, Marion County. Suffering from acute heart disease and cancer of the gastric area, he died at the age of 72 on Feb. 12, 1939. Burial was in Forest Glen Cemetery. Mrs. Mary Thorpe provided details for the official Ohio death certificate.
~ Stepson Melville Maxwell ~
Stepson Melville Maxwell ( ? - ? ) was born in (?).
He was wedded to Hettie (?) ( ? - ? ).
They made their home in Cardington over the years.
The couple produced had at least one son, Marshall Rudolph Maxwell.
Son Marshall Rudolph Maxwell (1864-1927) was born in about 1864. He married Josephine. His home circa 1927 was in Haviland, Paulding County, OH. Stricken with heart disease, he died at age 63 on June 8, 1927. Interment was in Blue Creek Cemetery.
An old bird's eye view of sleepy Cardington, looking north
~ Stepdaughter Minerva Maxwell ~
Stepdaughter Minerva Maxwell died young, but details are not yet known.
~ Stepdaughter Melissa (Maxwell) Roby ~
Stepdaughter Melissa Maxwell married (?) Roby and were pioneers of Kansas, living there circa 1895.
~ Stepson Levi Maxwell ~
Stepson Levi Maxwell died young. More will be described here when learned.
~ Stepdaughter Catherine (Maxwell) Scribner ~
Stepdaughter Catherine Maxwell (1854- ? ) was born in about 1854.
At the age of 17, on May 11, 1871, she was joined in matrimony with George W. Scribner ( ? - ? ). She was underage at the time, so her brother Johnson, authorized by their father, appeared in county court to give consent.
The Scribners migrated westward to Missouri.
~ Stepdaughter Mary "Estella" (Maxwell) Gruber Paste ~
Stepdaughter Mary "Estella" Maxwell (1857-1940) was born on Feb. 6, 1857 in Marion County, OH, the daughter of Marshall and Margaret (Johnson) Maxwell.
She married (?) Gruber. They resided in Cardington.
Later, she wed Englishman Samuel H. Paste (1858-1936), who had been born in England, the son of Charles and Hannah (Little) Paste. Samuel was a coal dealer. In their later years, they made their home on North Marion Street in Cardington.
Samuel passed away at the age of 78 on Aug. 11, 1936.
Estella outlived him by four years. Afflicted with hardening of the arteries, she died in Cardington, at the age of 83, on July 10, 1940. Burial was in Marion County. Florence Sellars of Cardington was the informant for her official Ohio death certificate.

Another bird's eye view of Cardington, looking north from the school
~ Stepdaughter Olive "Ollie" (Maxwell) Shaw ~
Stepdaughter Olive "Ollie" Maxwell (1864- ? ) was born in about 1864.
She married (?) Shaw.
Nothing more is known.
~ Stepson Sherman Maxwell ~
Stepson Sherman Maxwell (1866-1933) was born on March 6, 1866.
He married Etta Celinda Shaw (1865-1940), the daughter of Henry J. and Caroline (Lewis) Shaw.
They had at least one son, Nathan "Minor" Maxwell.
In retirement, the Maxwells made their home on West Main Street in Cardington. In December 1933, they resided in Richland Township, Marion County.
Glendale Cemetery
Suffering from diabetes and pulmonary tuberculosis, Sherman died in Richland at the age of 67 on Dec. 5, 1933. Burial was in Glendale Cemetery in Cardington.
Etta survived her husband by almost seven years. She died in Cardington at age 75 on Oct. 25, 1940.
Son Nathan "Minor" Maxwell (1887-1956) married Mrs. Cecil C. Rose and had two children, Martha Maxwell and Marshall Maxwell. Minor made a living as a livestock buyer. He passed away on Nov. 21, 1956, at the age of 69. He was laid to rest in the Glendale Cemetery in Cardington. As of November 1973, Minor's married daughter, Martha Armstrong, still made her home in Cardington.
Copyright © 2000-2001, 2004, 2010, 2014, 2017 Mark A. Miner