Home

George S. Miner
(1819-1852)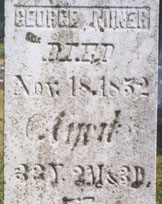 Bethel Cemetery, Cardington
George S. Miner was probably born at Sego, Perry County, OH, on Sept. 15, 1819, the son of Daniel and Peggy (Fluckey) Minor Sr. A farmer, he and 3 of his children tragically died within a short time of each other in the early 1850s.
As a 16-year-old, George moved with his parents to Cardington, Morrow County, OH.
On Aug. 24, 1847, he married Cynthia Johnson (1818-1855?), by the hand of H.G. Dubois. They lived on a farm at Cardington.
He also owned an 80-acre tract of land in Greenbush Township, Clinton County, MI, which was sold after his death. It is not known how he came to acquire the Michigan property, or if he went there to use the site.
They raised potatoes, hay, wheat and corn on their Ohio farm. They also kept pigs, a horse and a cow, as well as bees for making honey.
Of their four children, only one lived to adulthood -- Margaret Jane Sherwood Miller. The three offspring who died young were Julia (age 4); Lucy A. (age 2, on Oct. 16, 1852); and Anson L. (age 27 days, in Sept. 1851).
George had a line of credit with Armstrong & Bro., a general store in Cardington, and amassed a debt of $49.83 between October 1851 and November 1852. The purchases were for household good , ranging from sewing materials to soap, sugar and coffee. The list of items is 3 pages long, and is found in the records of Morrow County, providing a glimpse into the material needs of a farming family in rural Ohio prior to the Civil War.
In late 1851, George also made purchases of hoes, shoes and potatoes at the store of M. Brockway in Cardington. These debts were unpaid the following year, and Brockway filed a lawsuit to collect a total of $18.28. The judge ruled in favor of Brockway, and George was ordered to pay. His signature on an IOU is seen here.
George's signature on an IOU
George must not have been a well man, for records show that in the summer of 1850, at age 30, he began to take medication for "ague" -- an outdated term meaning a fever with chills and sweating. This treatment continued for more than two years, under the direction of Dr. Miller, until George's untimely death.
In September 1851, heartache struck when infant son Anson died at about 1 month of age.
The following year -- 1852 -- took a huge, tragic toll on the family. Cynthia was pregnant with their fourth child, and was due in autumn. Just as she came to term, George and young daughters Lucy and Julia became very ill. They were treated on a daily basis by Dr. M.C. Miller (at the cost of $1.00 per housecall). Cynthia gave birth to a daughter -- Margaret -- on Oct. 11th, only to have Lucy pass away five days later, on Oct. 16th. Julia then died, on Nov. 5th, and George himself succumbed to the Angel of Death, on Nov. 18th, at age 33.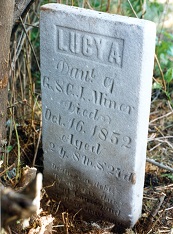 Graves of children Anson and Lucy Miner, Bethel Cemetery
George was buried with his young children in the Miner family plot at Bethel Cemetery. Local man Edbert Payne billed the estate $10 "For making coffin, also two small coffins made in the early part of same month..."
The grave markers for Anson and Lucy in Bethel Cemetery are among the oldest family markers found in Morrow County. The epitaphs at their respective bases read as follows::
Anson's Grave

Lucy's Grave

Sleep on sweet babe,

And take thy rest,

In Jesus' arms,

Forever blest.

Death is a debt

To nature due.

That I have paid

And so must you.
Because of the heavy family debts, many of the widow's possessions were auctioned to raise funds to pay creditors. George's brother in law, Luther White, was appointed an appraiser to aid in the process. However, as widow, Cynthia was allowed to keep the following:
...one cooking stove, one Family Bible, one cow, six sheep, 30 lb. wool, 2 beds, bedsteads & beding, [three] pots, kettles, and other cooking utensils ... being necessary for the use of the family, the clothing and wearing apparel of the family & of the deceased, 1 table, 6 chairs, 6 knives & forms, six plates, six teacups & saucers, one sugar dish, one milk pot, one teapot and twelve spoons.
Widowed and with a newborn baby, Cynthia married again within about a year of George's death, to Aaron Stocker ( ? - ? ). The ceremony took place on May 31, 1853, according to records at the Morrow County Courthouse.
Her fate, and that of her new husband, are not known after that. However, it is thought that Cynthia died in about 1855, as their only surviving daughter was considered an "orphan" in that year.
Copyright © 2000-2001, 2020 Mark A. Miner