Margaret (Miner)
Sherwood Miller
(1852-1931)

Margaret Sherwood Miller
Margaret (Miner) Sherwood Miller was born near Cardington, Morrow County, OH on Oct. 11, 1852, the daughter of George S. and Cynthia (Johnson) Miner.
Maggie's father died when she was just over a month old, and her mother remarried. Her uncle Harvey Sloan Jr. (husband of Margaret Sloan-Maxwell) was appointed legal guardian, and it's thought that Maggie may have been raised in small or large part by the couple. When the girl's grandfather (Daniel Miner Sr.) died in 1854, she received a share of the estate, signed by the uncle.
On March 27, 1873, at the age of 20, Maggie married farmer Lester E. Sherwood (1853-1904), the son of David and Emeline Sherwood of Cardington. The ceremony took place in Cardington, by the hand of Rev. L.B. Gurley.
The Sherwoods produced a family of three children -- Ella Smith, Harry "Glen" Sherwood and Minor L. Sherwood Sr.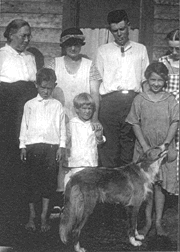 Maggie (left) and her family
In the image seen here, Maggie (standing at left) poses with her family, back row, left to right: Edna and Minor Sherwood, Ella Smith; front row, l-r: Minor Sherwood Jr., Wilfred Sherwood and Liana Peak.
The Morrow County Independent once said that Lester had "a large circle of friends" and was "converted and joined the Methodist church at Bethel under the ministry of Rev. Gurley."
Lester stood 5 feet, 9 inches, with a swarthy complexion, gray eyes and brown hair. As America's entry in the Spanish-American War loomed in the winter of 1898, 45-year-old Lester left home. He was not heard from and was considered lost. But then in March 1898, events transpired to show that he had arrived at a hotel in Tennessee and registered there as "L.E. Sherwood, Cardington, Ohio." The alert hotel-keeper, who had seen a news article about Lester's disappearance, then wrote to a contact in Cardington, stating that Lester intended to go on to Knoxville, TN. This event made news in the Marion (OH) Star.
When the war broke out, he enlisted in the U.S. Army while in Little Rock, AR. He appears to have continued to not tell his wife or family of his plans.
He was placed within the 2nd Arkansas Infantry, Company H, and was a musician. During his military service, Lester suffered with acute diarrhea, but little else is known.
During Lester's absence, Maggie and the children moved into the home of her aunt Margaret Maxwell, who "resides in Marion county, near the Joseph Mervis farm" reported the Star.
After the war, Lester wrote to Maggie to let her know his whereabouts and then made plans to return to Cardington. The Star said on March 10, 1899 that "Lester Sherwood, who so mysteriously disappeared more than a year ago, has returned. He went south and enlisted in an Arkansas regiment. Before he returned he corresponded with his wife. They live on the Marion road about three miles from this place."
Back in Cardington, Lester labored as a carpenter, farmer, house painter, stationary engineer and musician. About that time, he purchased "a little home" for $270, with a $25 down payment. Maggie is known to have paid a visit in May 1900 to her aunt Margaret Maxwell, who was residing in Richland Township.
Tragedy struck, however, in early 1904, when Lester suffered a series of strokes, causing paralysis. He died on March 27, 1904, at age 50, and was buried in Glendale Cemetery in Cardington. The physician attending Lester at death was Dr. C.H. Neal of Cardington.
On New Year's Eve, 1905, Maggie married George Clancey Miller (1852-1928), the son of George and Rebecca Miller. Among those present was Maggie's son Minor. George had been married (and widowed) twice before, to Mary L. Barnes and Isolina (Rogers) Duncan.
Maggie thus became a step-mother of sorts to George's children -- those from his first marriage were Charles R. Miller, Carrie Sackman and Abraham Miller, and from his second marriage were Harry Duncan Miller, Frank Lawrence Miller and Carlos Doyle Miller.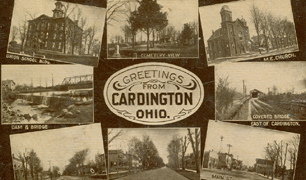 Old postcard showing eight views of Cardington
Obituary, 1904
George was a rural mail carrier for 18 years until his retirement. In the early 1920s, Maggie suffered some sort of debilitating illness, and George "had to give his entire time to his wife who is more or less an invalid," reported the Morrow County Sentinel.
They resided at 124 William Street in Cardington. Among their longtime friends and neighbors were Wily and Weltha R. Sellars, H.D. Curl, S.C. Bennett, and O.H. and Kate Shaw.
They were married for exactly 23 years. George died of a stroke on New Year's Eve 1928. The Morrow County Sentinel said that he had been:
...feeling as well as usual Tuesday evening, also on Monday morning when he did the morning work and had been down street. He suddenly took ill and summoned a doctor and after he was put to bed his right side became paralyzed. He never spoke a word but grew weaker and finally passed away.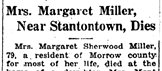 Obituary, 1931
As the years passed, the memory of Lester Sherwood faded. In 1929, when the federal government asked for a copy of Lester's signature, the family could not find one. In a letter, son Minor wrote: "I have made diligent search of all effects remaining in the possession of [my mother], but cannot locate anything bearing his signature. It has been 25 years since his death, and all records and papers have been lost or destroyed."
Widowed and helpless, Maggie moved to Stantontown, OH, to the home of her daughter Ella Smith. She suffered a stroke in about 1927, and never recovered. During that time, she was awarded a pension for her first husband's military service, and received $30 a month.
Maggie died four years after her stroke, on July 18, 1931, and was buried beside Lester in Cardington. At her death, she carried life insurance policies with the Metropolitan Insurance Company. Daughter Ella wrote several letters to the US Pension Commissioner for reimbursement of Maggie's funeral expenses. Wrote Ella: "We tried to make the funeral expences as cheap as possible by paying cash. We had to get every dollar we could to pay..."
Copyright © 2001-2002, 2008, 2020 Mark A. Miner
The Sherwoods' great-granddaughter Doris Christian graciously has provided content for this biography.