Minor Leslie Sherwood, Sr.
(1883-1950)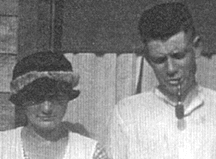 Edna and Minor Sherwood
Minor Leslie Sherwood Sr. was born on Aug. 2, 1883 at Cardington, Morrow County, OH, the son of Lester and Margaret (Miner) Sherwood.
When he was age 26 and still a bachelor in 1910, Minor lived at home with his mother and stepfather in Cardington and was employed as an insurance agent. He was 5 feet, 11½ inches tall and weighed 165 lbs.
Minor was united in matrimony with Edna Belle (Lust) Peake (June 9, 1889-1933), the widow of Emlin Everett Peake (1881-1914). She was the daughter of German immigrants Valentine and Lena (Hurt) Lust. Minor was six years older than his bride.
Edna brought two children into the union from her previous marriage to Elmin Peake -- Lana Welch and George Valentine Peake.
Minor and Edna went on to produce two sons of their own -- Minor Leslie Sherwood, Jr. and Wilford Clarence Sherwood.
Minor's employer circa 1911 was Metropolitan Insurance Company. His work was questioned when he was accused of embezzling $69.51 of company money. Reported the Mansfield News-Journal: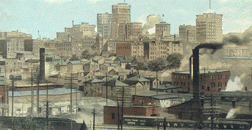 Bird's-eye view of Columbus, Ohio
Chief Feeney had gone to the home of a brother-in-law who lives in the country near Mt. Gilead. Accordingly the head of the police department there telephoned to the sheriff at Mt. Gilead, stating that he held a warrant for Sherwood's arrest and asking him to apprehend and hold him. The sheriff made the trip into the country near Mt. Gilead but on his arrival at the house was informed that the man wanted had left there and gone to Akron. The chief upon receiving this report got into communication with the Akron police department and inside of a couple of hours word came back that Sherwood was under arrest there.
Minor was indicted by a grand jury on charges that he actually had converted $215.43 in Metropolitan funds for his own use. The case went to trial in May 1911 during the criminal term of the Richland County (OH) Court of Common Pleas. The News-Journal reported that a "large number of witnesses have been subpoenaed in this case, about 35 in all so far, of whom 21 are for the state. It is expected that this criminal case will occupy the balance of the week." The case came to an early and unexpected end when he changed his plea to "guilty" and was sentenced to a year at hard labor in the Ohio Penitentiary.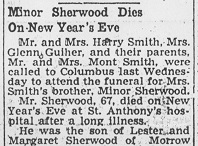 Morrow County Independent
Apparently having served his term, Minor was released from prison, and the family relocated by 1920 to Springfield, Summit County, OH. There, Minor was able to re-enter the life insurance business as an agent.
The Sherwoods were back in Cardington circa 1931.
Stricken with a serious inflammation of the inner lining of her uterus and gallbladder at the age of 43, Edna was admitted to Mt. Carmel Hospital in Columbus. She underwent a hysterectonomy but developed a post-operative obstruction. She died on Jan. 18, 1933, at the young age of 44. She was buried at the Green Lawn Cemetery in Columbus.
Minor outlived his wife by 17 years. He eventually relocated into the state capitol city of Columbus, Franklin County, OH, with an address of 770 Bellows Avenue. He was employed there during the World War II years as an employee of Schiff Shoe Copmany at 33 North Fourth Street. Later, having moved to 318 East Broad Street, he was a machinist with Curtiss-Wright, a manufacturer of airplane components.
He suffered from prostate cancer, and was admitted to St. Anthony's Hospital in Columbus. There, he succumbed to the Angel of Death on New Year's Eve 1950, at the age of 67. An obituary was published in the Morrow County Independent. He is buried beside his wife in Columbus.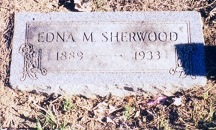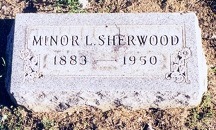 Greenlawn Cemetery, Columbus, OH
~ Son Minor Leslie Sherwood Jr. ~
Son Minor Leslie Sherwood Jr. (1917-1967) was born on Nov. 19, 1917 in Akron, Summit County, OH.
As a young man, Minor was employed as a waiter. He stood 6 feet, 2 inches tall and weighed 150 lbs., with blue eyes and brown hair.
On Nov. 19, 1939, when he would have been age 21, Minore was united in wedlock with 19-year-old waitress Jean Teeple (Aug. 18, 1920- ? ), daughter of J.A. and Nellie (Bell) Teeple of Mt. Gilead, Morrow County. Rev. L. Eugene Rush, pastor of the Trinity Methodist Church of Mt. Gilead, led their wedding ceremony.
The newlyweds first lived with Jean's widowed sister Alice Dix, as per the 1940 U.S. Census. At that time, their address was 28 East High Street, Mt. Gilead. He was employed as a machinist for Westinghouse Electric Company in Mansfield, and she as a hotel waitress.
But the marriage was troubled. In February 1941, Jean filed for divorce, claiming her husband with "gross neglect of duty and cruelty," reported the Galion (OH) Inquirer.
Minor served in the U.S. Army Air Forces during World War II with the 322nd Bomb Training Group.
After the war, circa 1950, Minor was institutionalized in a mental ward of the Veterans Administration Hospital in Ross County, OH. Little else about his life is known.
He died at the age of 49 on Aug. 5, 1967. Interment was in the Dayton National Cemetery.
~ Son Wilford Clarence Sherwood ~
Son Wilford Sherwood (1924-1986) was born on May 22, 1924 in Akron.
He attended school through the eighth grade.
When required in 1942 to register for the military draft during World War II, Wilford dwelled in Columbus, the state capitol of Ohio. At that time he worked for a defense plant of the National Youth Administration (NYA), a federal agency created as part of President Franklin Delano Roosevelt's "New Deal" to create work and education opportunities for young American adults.
Wilford earned a living as a taxi driver in Columbus for many years. He also was well known as a square dance "caller" including events held in and around the city.
Wilford was married at least thrice. When he was 26 years of age, on Jan. 22, 1951, he entered into marriage with Elizabeth Collins ( ? - ? ), also of Columbus. The wedding ceremony took place in Indiana, and the news of their marriage license was printed in the Richmond (IN) Palladium-Item.
The identity of the second wife is not yet known.
Then on July 2, 1975, at the age of 51, he was joined in wedlock with his third spouse, 33-year-old Pamela Asbury (March 3, 1942- ? ), daughter of Robert Lee and Josephine P. (Gardner) Asbury. Their nuptials were held in Wise, VA, by the hand of justice of the peace E.D. Mullins. Yet this union did not last long, and they divorced in Columbus on Jan. 26, 1976.
As Wilford's health failed, he became a resident of a long-term care facility in Columbus. He died there at the age of 61 on April 16, 1986.
~ Stepdaughter Lana (Peake) Welch ~
Stepdaughter Lana Peake (1909- ? ) was born on May 29, 1909 in Columbus, OH.
She dwelled in Westerville, OH as a young woman.
On Feb. 25, 1930, in Franklin County, OH, the 21-year-old Lana was joined in marriage with 22-year-old operator Ned Ross Welch (Aug. 13, 1907- ? ), son of Edgar and Lillian (Cheek) Welch. Rev. J.C. Bickel officiated.
The couple appears to have divorced, and Ned married a second time to Ruby Bolte ( ? - ? ). He died in Columbus on July 6, 1967.
Lana's address in 1933 was 191 Orchard Lane in Columbus. Then in the 1940s, she lived at 985 Veron Road in Bexley, OH.
~ Stepson George Valentine Peake ~
Stepson George Valentine Peake (1913-1979) was born on June 22, 1913 in Columbus.
George stood 5 feet, 10½ inches tall and weighed 165 lbs.
He was joined in wedlock with Lucille M. (1919- ? ), an Ohio native.
Their two offspring were Patricia E. Peake and Lloyd E. Peake.
George was required to register for the military draft during World War II. At the time, he and Patricia resided at 604 South Dartmouth in Albuquerque, NM, and, as a contractor, he was assigned to a project site in Lynwood, CA.
The Peakes remained in New Mexico in 1941 at the birth of their daughter.
During World War II, George served in the U.S. Navy.
After the war, in 1950, the family made its residence in South Gate, Los Angeles County, CA, with George employed as a manager in a foundry and pattern plant.
Later, they made a home in Oregon. He succumbed there on July 11, 1979. His remains are in eternal repose in Eagle Point National Cemetery in Jackson County, OR.
Daughter Patricia E. Peake (1941- ? ) was born in about 1941 in New Mexico.
Son Lloyd E. Peake (1947- ? ) was born in about 1947 in California.
Copyright © 2001-2002, 2020, 2023 Mark A. Miner