Sarah S. (Miner) Boyd
(1834-1860)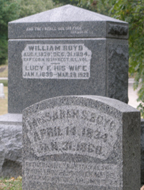 Oak Hill Cemetery
Sarah S. (Miner) Boyd was born on April 13, 1834 in Columbus, Franklin County, OH, the daughter of Francis and Myra (Jordan) Miner. She was a pioneer settler of Illinois, and her husband served as a captain during the Civil War.
Sarah married immigrant William Boyd (1830-1894) in Columbus in March 1852. He was the son of John and Ann (Taggert) Boyd, both natives of County Antrim, Ireland, who had emigrated to the United States in 1842. William as a boy had resided in Wooster, Wayne County, OH, where he learned the trade of making shoes from Jacob Metz during the winter of 1848-1849. In 1849, he moved to the state capitol city of Columbus, Franklin County. In adulthood, he stood five feet, nine inches tall, and weighed about 135 lbs.
As a 10-year-old in Ireland, in about 1840, William accidentally was hit in the left eye by a stone. Their sister Jane Woods wrote that "They were digging potatoes at the time and the younger brother [James] picked up a stone thinking it was a potato then flung it over his shoulder behind him and it struck my brother William in the eye." While the injury did not destroy his eye or eyesight, it did impair some of his vision, and later in life this led to the removal of the eyeball.
Of their early years in Ohio, William's sister Jane also recalled:
My brother Wm. lived in Wooster, working at his trade shoemaking but we would see each other every Sabbath. Well we were together that way till my brother went to Columbus Ohio. Well my brother lived in Columbus and worked at his trade for 2 or 3 years then he got married. He came home for a couple of weeks when my mother died and she died the year before I was married and I was married the same month my brother was. I was married at Wooster O. March 10th, 1852.
Following their marriage, in 1857, the Boyds migrated westward to Illinois, settling in Lewistown, Fulton County. Others making the same move were Sarah's father, Francis Miner, and her sisters Lucinda, Salina and Ellen. In February 1858, William and his father in law jointly purchased six town lots in Lewistown on Feb. 24, 1858. For the record, they numbered lots 189, 190, 191, 222, 223 and 224. The deed is still on file in the Fulton County courthouse in Lewistown.
The Boyds produced two children -- Carrie Frances Wetherill and Ida Platt Stipp.
Fulton County Ledger, 1860
Tragedy struck this young family in the winter of 1860. After suffering from a "protracted and painful illness of consumption," said the Fulton County (IL) Ledger, the 26-year-old wife and mother Sarah died, on Jan. 31, 1860. She was laid to rest in the Oak Hill Cemetery in Lewistown, one of the earliest burials in the yard. Among those friends who attended her viewing and funeral were Nancy E. Campbell and Elizabeth Henderson of Lewistown.
Widowed at age 30, and laboring as a shoemaker, William and their seven-year-old daughter Carrie moved into the home of marble cutter Robert Manly in Lewistown. Their three-year-old daughter Ida was taken into the home of her 78-year-old maternal grandfather, Joseph Jordan, in nearby Elmwood, Peoria County, IL. The 1860 census shows Ida, and her eight-year-old aunt Ellen Miner, among others, making their home in the Jordan household. The daughters of Sarah and William were provided for financially by their grandfather, Francis Miner. He died in 1864, and left funds for them as per the instructions in his will.
On Sept. 4, 1861, William married his second wife, Lucy Foote (1839-1928). The ceremony was performed by Rev. Milton L. Haney. She was the daughter of Francis and Hannah B. (Miles) Foote, and was a native of Iowa. With this marriage, William was able to reunite with his daughters together under one roof. The Boyds went on to have two children of their own -- Willard A. Boyd and Grace G. Lilly.
With the Civil War in full blaze, William enlisted in the U.S. Army on Aug. 9, 1862, and was a member of Company H of the 103rd Illinois Infantry. Initially serving as a first lieutenant, he was promoted to captain and served for two and a half years. He is known to have been at Bolivar, TN in 1862 and at Vicksburg, MS in 1863.
During the Atlanta campaign during the war, in July 1864, William and his regiment were on a forced march from Fort Nickajack on the Chattahoochee River through Marietta and thence to Rosswell's Mills in Georgia. In his words, he stated:
I was compelled to fall out of the marching column on account of exhaustion, having become overheated to such a degree that sunstroke was threatened, recovering from this in a few hours sufficiently to join the command, which had halted for the night. On the second day after this (I think about the 15th day of July 1864), we crossed the Chattahoochee River at Rosswell Mills, and after crossing the River, I was exposed to a very severe Rain Storm, from which I took a cold, and upon the following day my left eye became inflamed to such a degree that I was unable to perform my duty in the field, and continued so until in November of that year, at which time my resignation was tendered and accepted upon the Surgeons Certificate of Disability. My case was brought before the Surgeons of the 15th Army Corps sometime in July, and upon their making an examination of the Eye, They agreed that nothing could be done for it, and that it would be better to puncture the eye and let the fluids out, but this I resisted and it was not done, and I have been saved from that disfigurement.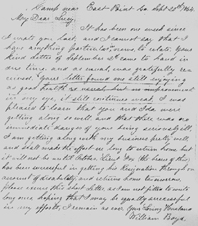 William's wartime letter home
During his convalescence in the Army, William wrote many letters home to his bride. She lovingly preserved these, but later turned several over to the U.S. Bureau of Pensions as proof of his eye illnesses. These letters are found today in William's pension file in the National Archives. Click to read the full text of all the letters in the Archives collection.
In a letter penned at the field hospital near Atlanta in Aug. 8, 1864, he writes: "... you need have no delicacy, or hesitancy, in writing to me the actual state of your feelings on any subject, or at any time, I would rather know the actual state of your feelings, and your condition, than otherwise, there is nothing between us that we should withhold from each other. I am truly sorry to know that you are still so weak, and so poorly fitted physically to perform all the duties of your household." In another (datelined East Point, GA, Sept. 20, 1864), he writes: "I was pleased to learn that you and Ida were getting alone so well, and that there was no immediate danger of your being seriously ill."
Lucy sent him salve to use on the eye, and he was "blistered" on the back of his neck for the purpose of drawing the inflammation away. Completely unable to perform his military duties, William resigned his commission and was discharged from the Army on Nov. 11, 1864. He returned home to his wife and children.
In the early years after the war, William learned the tragic news that his younger brother James Boyd, who had served in the Union Army and had returned home intact, was killed by lightning.
The Boyds were members of the First Presbyterian Church of Lewistown. When the 1870 federal census was taken, William was listed as working at a Lewistown hardware store. He referred to his own work as "of a clerical character." Circa 1894, he was employed as an insurance agent.
William traveled to Dutch Creek Township, Washington County, Iowa in 1876 to visit his sister Jane Woods. Remembering this event later in life, in February 1886, she wrote:
I next saw my brother when we were moving to Iowa 31 years ago [1855] next fall. No I did not see my brother again until 10 years ago last June when he came here to see me. He came Friday and started back Monday. I have not seen him since.
In 1879, when the History of Fulton County, Illinois, was published by Chas. C. Chapman & Co., of Peoria, William and his first wife Sarah and their children were mentioned in the book.

From the History of Fulton County, Illinois, 1879
Sadness rocked the family when daughter Ida Stipp passed away, sometime before 1894, leaving behind a husband and four daughters. William later provided funds for the grandchildren in his will.
The chronic eye problems plagued William throughout the rest of his life. Writing in 1884, he said his eye was covered by a cataract, and was as if blind, and subject to sudden attacks of inflammation. When the flareups would occur, his right eye also would become somewhat blinded, rendering him unable to work. He applied for, and received, a federal pension for his wartime illness. As time went on, and the condition not improving, William consulted with "eminent specialists" of Chicago three or four times. They all agreed that the matter could not be cured.
Writing to the federal government on his behalf during that time period was William's sister Jane Woods, of Dutch Creek, Iowa.
On Oct. 14, 1892, when William was age 62, the left eye was removed all together by Dr. E.L. Holmes of Chicago. The hope was that the surgery would slow the deterioration of the right eyeball. The effort was not successful. In William's words, the following August, "The inflammation and cataract [in the surviving eyeball] having steadily increased until the present time. The loss of sight through these causes is so great that for the last eight months I have been unable to attend to business of any kind and for the last six months have had to be led from place to place."
Also suffering from cancer of the liver, William passed away in Lewistown on New Year's Eve 1894. He was age 64. He was not buried for three weeks, until Jan. 23, 1895, presumably because of winter weather and frozen ground. He was placed beside his first wife in Oak Hill Cemetery, where second wife Lucy later would join them. No newspaper obituary was found in Fulton County libraries during an October 2007 search..
In his will, he left $150 each to his daughter Carrie and children of his late daughter Ida from the first marriage; and $150 each to son Willard and daughter Grace Lilly from the second marriage. He also left $100 to son in law Fayette Lilly "as a token of my appreciation of his kindness in aiding me in the management of my business matters." Lucy received a $4,000 payout on his life insurance, and then loaned that amount to Harry M. Waggoner of Lewistown at seven percent interest, with that interest as her only ongoing income. She testified that her home was worth about $900 or $1,000 and that she had a "small amount" of household furniture.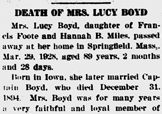 Fulton Democrat, 1928
Records show that in October 1916, Lucy moved to Pomona, Los Angeles County, CA, and resided at 402 McKinley Street and later at 663 North Gibbs Street. She likely was living there with her children or grandchildren. She apparently returned to Lewistown at some point in time.
In 1925, Lucy left Lewistown after having lived there for decades. She moved east to Massachusetts, and made her home with her son Willard in Springfield, Hampden County. Their address was 102 Dartmouth Street in Springfield. There, she joined the Congregational Church of Springfield. During these later years, Lucy applied to receive her late husband's Army pension, and enlisted the help of Senator McComas.
In March 1928, at the age of 89, Lucy was "stricken ... with paralysis, later followed by pneumonia, which soon took the weakened life," reported the Fulton Democrat. "The body was shipped to this city, arriving here Sunday evening. Funeral services were held in the Presbyterian church on Monday afternoon, and were in charge of Rev. W.A. Stockwell." She was laid to rest beside her husband, and his first wife, in Oak Hill Cemetery.
~ Daughter Carrie Frances (Boyd) Wetherill ~
Daughter Carrie Frances Boyd (1853- ? ) was born in 1853.
She married (?) Wetherill.
It's possible her husband was Alexander Wetherill, and that they moved to Bath Township, Allen County, OH, where he was a turnpike contractor when the federal census was taken in 1880.
~ Children from William Boyd's Second Marriage ~
Willard A. Boyd ( ? - ? ) is believed to have married Louise Burnette ( ? - ? ). In 1908, they resided in New Brighton, Richmond County, NY. By 1928, they made their home in Staten Island, Richmond County.
Grace G. Boyd (1865- ? ) married Fayette L. Lilly (1859- ? ) on Oct. 14, 1884. They initially lived in Lewistown. Circa 1928, they were making their home in Eustis, Lake County, FL.
This biography, with photographs and print images, was reprinted with permission, in the Fall 2008 edition of the Illinois State Genealogical Society Bulletin (Volume 40: Number 3).
Copyright © 2007-2008, 2019 Mark A. Miner