George Elmer Minerd
(1899-1967)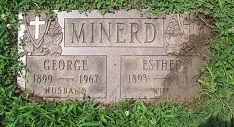 Calvary Catholic Cemetery
, Hazelwood
George Elmer Minerd was born on March 21, 1899 in Coalbrook, Fayette County, PA, the son of James and Emma (Meyers) Minerd Jr.
When George was 10 years of age, in 1909, his father died. George then began receiving his late father's federal pension payments and was assigned to a legal guardian, J.M. Burhans, a leading citizen of Dunbar.
The boy was sent to soldiers orphans schools at Chester Springs, Chester County, PA (circa 1910). By 1911, he had been transferred to another soldiers orphans school, at Scotland, Franklin County. While there, George received a postcard in July of that year from his former instructor in Chester Springs, Major Beckman. In the card, Beckman wrote:
Dean Mosier is keeping the boys from starvation at your old post at my table. He also prevents that extra piece of toast from going to waste. Do you know of any of the lads on the other side?
In March 1915, when George was 15, and after his mother had remarried, he was adopted by Marple S. and Ida Morris. His name was legally changed to "George Elmer Morris." It's not known whether the Morrises were relatives, or why George's mother allowed this to happen. For reasons that are unclear, George changed his name back to Minerd after only a few years. Perhaps this occurred after his mother divorced her second husband. However, George did not see his mother for nearly 20 years after his adoption.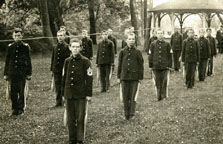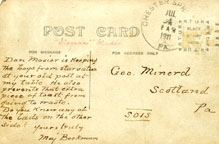 Postcard sent to George in 1911 at the Scotland (PA) Soldiers' Orphans School, from his former instructor at the Chester Springs Soldiers' Orphans School. George may well be one of the boys in the photograph, taken by the Sigman Studio.
George had brown eyes and fair hair. Evidence suggests that he served in the military during World War I, but this has not been proven. A niece recalled that he had the top of his hip shot off. A story in the Connellsville Daily Courier (Aug. 6, 1918) stated that his mother had "received word from the War Department of the death of her son, George E. Minerd of Vanderbilt, who was in the U.S. Navy. The information was brief, telling her that her son was killed instantly." Other newspaper reports published elsewhere in the country, including in Fort Wayne, Indiana, listed him as a private from Pitcairn, Pa., and "killed in action" in mid-July 1918. However, these reports were premature. Unfortunately, the erroneous news was promulgated further, and was published as fact in 1995 in a centennial history of the Scotland School for Veterans' Children. (See below for more.)
~ Marriage to Virginia Maud Fawcett ~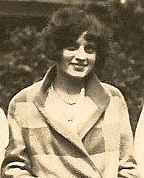 Virginia Maud Fawcett
On May 26, 1920, George eloped with the 17-year-old, dark-haired beauty, Virginia Maud Fawcett (1903-1988), the daughter of Harry A. Fawcett. The wedding took place in Wellsburg, Brooke County, WV, by the hand of Rev. E.E. Barcus of the Methodist Episcopal Church. At that time, George was working as a shipping clerk at the Westinghouse Machine Company in East Pittsburgh, and Virginia was a stenographer for the Westinghouse Airbrake Company.
They initially resided in her parents' home on Highland Avenue Extension in Turtle Creek, near Pittsburgh. A month after marriage, the Minerds moved to the home of George's aunt in Pitcairn, staying about two months. But he had a special girlfriend on the side, and Virginia witnessed the two together out in public. She later told a divorce master that:
...every night that we were there he was out every night until one and two o'clock, and tell me about other girls and I knew he was with other girls because I had went with him one night -- I mean, not with him, but on the same car, and got off the street car and met the girl he had been going with a couple of months and was living in Pitcairn. And besides that he always was telling me he never loved me and he never bought me anything.... I was standing there between the two of them and he said, "Oh, you might as well go on home." He said, "This is the girl I love," and he pointed to that other girl. He says, "This is the girl I love," and emphasized it.
Then, in September, after only three months of marriage, Virginia left her husband and moved back in with her parents, and then soonafter went to her sister's home in Cleveland.
Apparently they reconciled, and Virginia relocated back to Western Pennsylvania. Over the course of the next two years, they lived in Vanderbilt, Fayette County and on the South Side of Pittsburgh, including with George's sister, Mary Eicher at the corner of 25th Street and Carson Street. Their last addresses were at 2728 Larkins Way, in a single furnished room, in a furnished room at 27th and Carson, and finally at 165 South 17th Street.

Westinghouse Machine, East Pittsburgh, where George worked circa 1920.
Virginia got a new job as a cashier selling tickets at the Liberty Theatre, owned by the Mishel Brothers.
George and Virginia separated for good in May 1922. She soonafter filed for divorce. In her legal complaint, she said that he "hadn't been doing anything for almost a year and a half, but at the time I left him he was working in the United States glass house, just worked there a couple of weeks.... [He would] sit and play cards and read and sit around and smoke as much as I could see." She also documented other matters of infidelity and physical abuse, as well as his arrest for carrying a concealed weapon, and his threats to kill her. She claimed he even paid a detective $40 "to try to frame us up."
She gave testimony in a hearing before court-appointed divorce master George W. Brawner Jr., of the 1215 Park Building in Pittsburgh, in May 1924. Testifying on her behalf were family, neighbors and friends, including her father Harry A. Fawcett, aunt Eva Wehrle, landlord Elvera Depp and theatre co-worker Celesta Leiler.

Bird's eye view of crowded Wilkinsburg
They were divorced on June 21, 1924, by order of the Allegheny County Court of Common Pleas. At the time, George was age 25 and had just moved from 522 Wallace Street in Wilkinsburg to 556 Oakwood Street in Pittsburgh, while Virginia made her home at 1103˝ Sarah Street in the city's South Side.
Virginia remarried seven years after the divorce, in 1931, and bore two daughters. She passed away in Fairmont, Marion County, WV in 1988 at the age of 85.
~ Second Marriage, to Esther Marie Bader~
On Nov. 5, 1924, George married Esther Marie Bader (July 22, 1900-1964), the daughter of Mathias and Mary (Donovan) Bader. She was a native of Martins Ferry, OH and was working as a cashier in Pittsburgh. A niece remembered that she was "so tiny."
In the 1930 Pittsburgh City Directory, George is listed as a clerk at the Gulf Refining Co., residing at 7058 Monticello.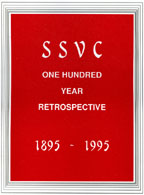 Book naming George
In 1934, George reconciled with his mother, whom he had not seen for two decades. He wrote in August 1934, "I have never saw my mother for almost twenty years until just about a month ago, and I was fortunate enough to find out just where she was, and of course I went to see her."
By 1938, George worked as a clerk with the Works Progress Administration's Liquid Fuels Survey, and living at 6217 Frankstown Avenue. The WPA was one of the ways President Franklin Delano Roosevelt and the federal government tried to overcome unemployment and is widely considered one of the Roosevelt's largest and most ambitious undertakings of his "New Deal" to get the nation back on sound economic footing. Over the years, the WPA hired millions of out-of-work individuals to build public works projects, such as roads, bridges, retaining walls and buildings.
George and Esther relocated to Philadelphia by 1942, where he obtained work in the U.S. Navy shipyard. Their address was 2030 North Broad Street. When required to register for the World War II military draft, George disclosed that he had a gunshot wound in his left foot.
In the 1960s, the Minerds dwelled at 620 Rebecca Avenue in Wilkinsburg. George's employment at that time was as a government chauffeur.
Esther suffered a massive heart attack in Pittsburgh at age 64 and was hospitalized at Columbia Hospital. She died there at the age of 64 on Sept. 6, 1964. She was laid to rest in the Bader family plot at Calvary Catholic Cemetery in the Hazelwood section of Pittsburgh, maintained by the Catholic Diocese.
George died just three years later. Suffering from hardening of the arteries, he succumbed at home on Jan. 5, 1967, at the age of 68.
Neither had an obituary published in the Pittsburgh newspapers. They sleep together side by side at Calvary Cemetery.
George is mentioned in the 1995 booklet, SSVC – One Hundred Year Retrospective, a centennial history of the Scotland School for Veterans' Children.
Copyright © 2002, 2007, 2010, 2012 Mark A. Miner