John Albert 'Bert' Minerd
(1881-1944)
John Albert "Bert" Minerd was born on July 22 (or 4), 1881 in Dunbar, Fayette County, PA, the son of James Valentine and Nancy (Warman) Fuller Minerd. A machinist by trade, he lost his life in a tragic automobile accident.
As a young man, Bert worked as a boilerman at the coal mines of Keister, Fayette County. He may be the same man pictured in Morrison's 1983 book, Dunbar: The Furnace Town. In the photo, circa early 1920s, he stands among a group of more than 40 laborers at the old American Manganese Manufacturing Company, and was labeled as a "boilers water tender."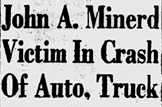 Obituary, 1944

Bert registered for the World War I military draft in 1918, and stated his occupation as machinist with the West Penn Power Company in Connellsville. On the registration card, he stated that he had lost his right hand, to causes unknown.

On July 20, 1910, at the age of 30, Bert wed 24-year-old Nancy Eliza "Bess" (Cosgrave) Yauger (1886-1933), a native of Cumberland, Guernsey County, OH and the daughter of John W. and Mary (Marquino) Cosgrave, then living at Dunbar. Fayette County records show that they united themselves in marriage, in Uniontown.

He became an instant step-father to Bess's children Lavina (Yauger) Ruffcorn Baugh and David M. Yauger, who were adopted during her previous marriage.

The Minerds lived at the Thompson No. 1 mine in Luzerne Township, Fayette County, in the early 1930s. The 1930 federal census shows Bert, Nancy, David and Lavina living in the household. Bert's occupation was listed as night watchman in the local coal mine -- his brother Harry Minerd also is known to have worked at Thompson around this time. In late 1933, the Minerds resided at House 179 in Thompson No. 2.

Sadly, Bessie died of a heart attack or stroke on Nov. 25, 1933, at the age of 47. Her remains were transported back to her hometown of Cumberland, OH, for burial. Officiating at the funeral was Bert's cousin, famed "blacksmith preacher" Rev. David Ewing Minerd.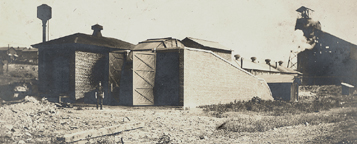 Republic's fan house and coal tipple (far right)
Bert outlived his wife by 11 years. Circa 1939, at the death of his brother Harry, he lived at Republic, Fayette County. There, he was a boiler fireman operating a steam shovel at the Thompson No. 1 mine and resided in company house 119.
Tragically, on March 23, 1944, he was killed in an automobile accident. Reported the Uniontown Evening Standard, "his car and a coal truck collided at the Gaddis intersection on the Connellsville road." Added the article, "he was found dead after his body was removed from 8 tons of coal and debris that buried him..."
He was buried at Mt. Auburn Cemetery in Dunbar.
~ Stepdaughter Lavina (Yauger) Ruffcorn Baugh ~
Stepdaughter Lavina Yauger ( ? - ? ) married Raymond D. Ruffcorn (1906-1953), the son of Albert G. and Sara Ruffcorn.
The couple was wed on June 17, 1931, in a quiet ceremony officiated by Rev. R.C. Van Eman of the Hopewell Presbyterian Church.
They resided at Thompson 1 and Republic, both of which were coal mining towns near Uniontown. Raymond was a member of the Franklin Grange.
The Ruffcorns had three children -- Sara Bess "Sally" Pegg, Donald Ruffcorn and Charlotte M. Swaney.
Sadly, Raymond died at age 47 on May 5, 1953, in Brownsville Hospital, following "a lingering illness," reported the Uniontown Morning Herald.
A year after his death, Lavina purchased a classified advertisement in the Morning Herald, with a poem dedicated in his memory. She is known to have made a living for herself at the Fairbank Knitting Mills, and to have vacationed in Florida in the late summer of 1958.
Lavina married again, on July 9, 1960, to Harry Baugh. They were wed in the family church in Merrittstown, with Mr. and Mrs. John Eslinger of Scottdale as the only witnesses. They made their home at 170 Dixon Boulevard in Uniontown. Harry was an assistant mine foreman at Palmer near Uniontown, and retired when it closed.
Stepdaughter Sara Bess "Sally" Ruffcorn (1932-2013) was born on Sept. 22, 1932 at Thompson 1. She married Howard "Dude" Pegg (1926-2007). They had three children -- David Pegg, Ryan Pegg and Larae Angel. The family lived in Uniontown and were members of the Walnut Hill United Methodist Church. Sally "enjoyed square dancing, golfing, bowling and spending time with many friends," said the Uniontown Herald Standard. Howard died on Aug. 25, 2007, just six days after his 81st birthday. Sally outlived him by a little more than five years. She passed away at the age of 80 on Jan. 16, 2013. Burial was in Walnut Hill Cemetery.
Stepdaughter Charlotte M. Ruffcorn married Thomas Swaney, son of Lester Swaney of Penn Craft, Fayette County. They were wed on Nov. 29, 1958 at the Hopewell Presbyterian Church of Merrittstown, Fayette County. At the time Charlotte worked at Rockwell Meters Inc., and Thomas was employed by Penn Craft Co-Op.
Copyright © 2000-2004, 2007, 2010, 2013, 2018 Mark A. Miner