Elizabeth 'Jennie'
(Murdock) Ehrlich
(1848-1930)
Elizabeth Jane "Jennie" (Murdock) Ehrlich was born on April 14, 1848 (or 1850) in Kingwood, Preston County, WV, the daughter of John S. and Rebecca (Miner) Murdock.
When Jennie was age six, her mother died. Then, at age 17, in 1865, she moved to Ironton, Lawrence County, OH, where she resided with her brother Thomas. Many of her siblings also moved to Ironton.
On Sept. 30, 1886, at the age of 38, Jennie married 31-year-old Frederick W. Ehrlich Sr. (1855-1945), who was seven years younger than she. Fred was a native of Germany, having been born in Wahlershausen, and emigrated to the United States in 1870, when he was age 15.
They produced one son, Phillip Henry Ehrlich.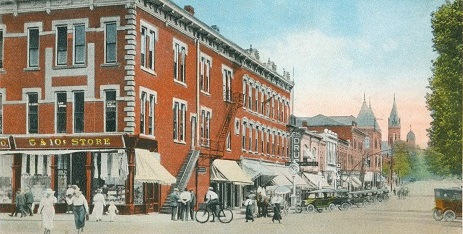 Ironton's Third Street, 1923
The Ironton Evening Tribune said that as a girl in Ironton, Jennie attended:
... Kingsbury school, with Mrs. H.C. Buhr as teacher, and in the same year, 1865, she united with the Spencer M.E. church to remain a faithful, devout member until attendance was curtailed by failing health three months ago. During her long term of membership at church she was always in her place at service, ever a willing worker for the congregation and always a devout Christian, wife and mother…. Mrs. Ehrlich loved home and church above everything else and her aim in life seemed to be to make things more pleasant for beloved members of her family, friends and neighbors. She was a beloved, devout mother and wife and her death will be felt keenly…

Ironton Evening Tribune
, 1930
The Evening Tribune added that her marriage "was a happy and ideal one, abounding in that admirable companionship and devotion that follows righteous living and high ideals."
Fred was the proprietor of a "notion store" in Ironton when the federal census was taken in 1900. That year, Jennie's married sister Mary Peters lived next door. Later in life, the Ehrlichs resided at 1908 South Sixth Street in Ironton. The town's 5 & 10 store, on Center Street from Third Street, is seen here circa 1923.
Jennie was diagnosed with cancer of the intestines, stomach and liver. At the age of 80, she died on Dec. 11, 1930. She was buried at Woodland Cemetery in Ironton.
Fred outlived his wife by 15 years. Circa 1940, when the federal census enumeration was made, he conntinued to dwell in Ironton, with his divorced son Philip and grandson Fred in the household.
He had heart disease, and died from its effect on April 27, 1945, at the age of 89. He was laid to rest beside his wife.
~ Son Phillip Henry Ehrlich ~
Son Phillip Henry Ehrlich (1888-1974) was born on July 18, 1888 in Ironton, Lawrence County.
He learned the science of mechanical engineering. When he was age 28, and filled out a military draft registration during World War I, he stated that he was a designer, employed by Ironton Punch and Shear, a manufacturer of munitions machinery. He claimed to have had two years of military service in a type of military school and at Ohio State University.
On Jan. 23, 1923, at the age of 33, he was united in holy matrimony with 16-year-old Cleo Eubank (May 10, 1907-1989), daughter of James and Alice Eubank of Edray, Pocahontas County, WV. The nuptials were held in Lawrence County, with Rev. W.T. Blume officiating.
The couple bore one known son, Frederick W. Ehrlich II.
At some point during the 1920s, the marriage fell apart, and the pair eventually divorced. Cleo lived for another seven decades after her marriage ended.
The 1930 United States Census shows Phillip at age 41 living with his son in the home of his parents in Ironton. His work at that time was "mechanic - odd jobs."
Phillip earned a living in the late 1930s as a draftsman with the Works Progress Administration, focusing on building construction projects. The WPA was one of the ways President Franklin Delano Roosevelt and the federal government tried to overcome unemployment and is widely considered one of the Roosevelt's largest and most ambitious undertakings of his "New Deal" to get the nation back on sound economic footing. Over the years, the WPA hired millions of out-of-work individuals to build public works projects, such as roads, bridges, retaining walls and buildings.
Phillip and his son made a home with Phillip's elderly father in Ironton in the 1935 to 1945 timeframe. Circa 1942, he was employed as Lawrence County Engineer, with his office in the county courthouse in Ironton.
Former wife Cleo dwelled in Ashland, Boyd County, KY in 1940, making a living as a cosmetics sales lady. Her son alternatively dwelled under her roof at that time. She wedded again to (?) Stambaugh ( ? - ? ). Her final home was in Ironton. She succumbed to death across the river in Fayette County, KY on Oct. 11, 1989, at the age of 82.
Sadly, Phillip passed away in Ironton at the age of about 86 on Sept. 6, 1974.
Son Frederick William Ehrlich II (1923-1998) was born on March 20, 1923 in Ironton, Lawrence County, OH. In young manhood he was unemployed and resided with his father at 1908 South 6th Street in Ironton, and also got his mail on 55th Street in Ashland, KY. He is known to have borne a long star on his lower right leg. Frederick served as a private in the U.S. Army during World War II. In later years he dwelled in South Point, Lawrence County. Death enveloped him at the age of 75, in Huntington, Cabell County, WV on Dec. 3, 1998. Burial of the remains was in Woodland Cemetery in Ironton.
More will be added here when learned.
Copyright © 2001, 2005, 2008, 2019, 2021 Mark A. Miner