Home

Mary (Murdock) Peters
(1847-1929)
Mary Adaline (Murdock) Peters was born on Sept. 8, 1847 in Kingwood, Preston County, WV, the daughter of John Smart and Rebecca (Miner) Murdock.
When Mary was seven years of age, in 1854, her mother died. Ten years later, at age 17, she moved to Ironton, Lawrence County, OH, to join her brother Thomas.
On Oct. 12, 1868, in Ironton, Mary was joined in the bonds of wedlock with William H. Peters (1848-1906), son of John and Mary C. (Duduit) Peters of Lawrence County. She was age 21, and he 20, at the time of their marriage.

William's profile in the 1882 Atlas of Lawrence County, Ohio
The Peterses did not reproduce. The Ironton Evening Tribune once said that "their union was ideal and one of complete happiness."
William was profiled in Hardesty's 1882 book, Atlas of Lawrence County, Ohio. Said the entry, "Mr. Peters came to this county in 1848, and he is engaged in general merchandising in Texas Hollow."
In mid-July 1889, Mary and her brother Israel B. Murdock traveled from Ironton to Kingwood to visit their father. The Preston County Journal reported the visit in its July 18, 1889 issue, and in describing Israel, said he "has been in the wharf boat business at Ironton for a number of years, and is a pleasant and well informed gentleman."
A view of Ironton's Center Street, near the post office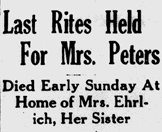 Obituary, 1929
When the federal census was taken in 1900, the Peters' made their home as next door neighbors to Mary's married sister Jennie Ehrlich. That year, William was employed as a furnace manager, presumably at a local iron manufacturing works.
William died in 1906. He was age 68 at the time. No details are known. His newspaper obituary has not been located.
Afterward, Mary moved directly into the residence of her sister Jennie Ehrlich, at 1908 South Sixth Street in Ironton.
During her final years, she suffered with chronic heart disease ("myocarditis")..
Mary passed away just a week shy of her 82nd birthday on Sept. 1, 1929. Pall bearers at her funeral were Will Mittendorf, Fred A. Ross, Brook Capper, George W. Fritz, Joseph Raine and Andew Karreman.
Copyright © 2001, 2008, 2021 Mark A. Miner