Capt. Israel B. Murdock
(1833-1890)
Israel B. Murdock was born in 1833 in Preston County, WV, the son of John Smart and Rebecca (Miner) Murdock. He was a veteran of the Civil War.
As a teenager, Israel worked as a clerk in Kingwood, Preston County. He and his brother William B. Murdock are known to have been charter members and teachers of the first Sunday School class organized at their growing house of worship, the Kingwood Methodist Church. On Oct. 22, 1850, the brothers attended an organizational meeting of the Sunday School, with William named as a teacher, and Israel as his alternate. In a statement prepared by the committee, they urged prompt attendance of the Sabbath School at the hour of two o'clock on each Sabbath ... and that the time of the exercises be limited as nearly as possible to one hour and a half..."
In 1854, when Israel was 21, tragedy struck twice. In May of that year, his mother died, and then just five months later, in October, his brother William passed away at age 23 of tuberculosis, or "consumption" as it was then known.
At some point, most likely that same year (or possibly a decade later, as sources differ), he moved to Ironton, Lawrence County, OH. How or why he went to Ironton is unknown, though his uncle "W.A. Murdock" was a grocer who had come to the town a year earlier, and may have drawn other family members to join him there.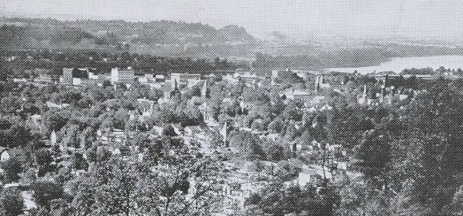 A bird's eye view of Ironton, from a rare postcard
At the time Israel moved there, Ironton was a boom town, enjoying a location along the Ohio River. Said Hardesty's 1882 Atlas of Lawrence County, Ohio, it was "in the center of the iron and coal region of this section of the State and of Kentucky, being surrounded by several score of blast furnaces, a large number of which make the city their shipping point…"
Just two weeks after the Civil War erupted, on April 22, 1861, Israel joined Company C of the 18th Ohio Volunteer Infantry. He served for three months, until Aug. 28, 1861. Just a few days after leaving the 18th Ohio, he re-joined the army, assigned to Company B of the 2nd West Virginia Cavalry, as a private. He later was promoted to sergeant major and thence to captain.
One of Israel's Civil War letters
Israel penned letters home from various camps and stations. One of them (seen here), dated Feb. 5, 1863, is now in the custody of the National Archives
In the winter of 1862-1863, Israel was stationed at Fayetteville, WV. A friend recalled that Israel "caught a severe cold while on duty, which resulted in enlargement of the glands of the neck and throat, rendering him unfit for duty." He suffered from rheumatism so much that other friends, David and Howell Hopkins, "made him crutches to walk on." Yet another friend, Howell G. Hopkins, recalled that Israel "did not stay with us in the quarters and I had the impression that he was either at the hospital of the 9th Va. Infantry or at some private house. We were on detached duty at that time and had no regimental hospital of our own.... One night during a ride to Raleigh Courthouse I remember he complained of severe pains brought on by the unusually cold and wet weather."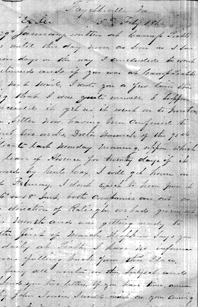 Israel's letter to brother Thomas
During that time, he is known to have written a letter to his brother Thomas, describing his sickness. Thomas later forwarded the letter to his wife, who returned it to Israel's wife, who in turn submitted it to the federal government as proof of his ailment. The letter is seen here.
In May 1863, Israel was stationed at Camp Piatt, located on the farm of Baylis G. and Helen (Huff) Farley in Malden, Kanawha County, WV. He held the rank of first lieutenant. While in camp, Israel met the Farleys' daughter, Saline (1837-1925). He was smitten with her, and in her words, "Our acquaintance resulted in a courtship and the courtship into marriage." She added that:
The way I came to be married in Cincinnati was this. In company with my father about Feb. 15, 1864 went to Cincinnati to make preparation for my wedding to come off some time later. But Mr. Murdock who was at home at the time in Ironton O. on sick leave ... hearing of me being in Cincinnati, came down and proposed immediate marriage. His proposition being accepted, and approved by my father, we were married.
The wedding took place on Feb. 25, 1864, performed by Rev. Maxwell P. Gaddis, a Methodist clergyman. Afterward, Saline later recalled:
After marriage we returned to Camp Piatt. I remained with my parents and Mr. Murdock upon his discharge came to our house at Camp Piatt, remained until the spring of 1865 when he came to Ironton, O., where we lived...
Israel later was promoted to captain. He was honorably discharged on Nov. 29, 1864. His name appears in a chapter on the 2nd WV Cavalry in the 1895 book, Official Roster of the Soldiers of the State of Ohio in the War of the Rebellion, 1861-1866, and in the War with Mexico, 1846-1848.
He returned home to Ironton, where he spent the remainder of his life. As the years progressed, he suffered from rheumatism as a result of exposure to extremely bad weather conditions. Saline recalled that "I well remember his head was drawed over to one side, and had treatment for it." During the winter of 1864-1865, she said, "he had rheumatism all over his body, and had to be waited on the same as a child, by myself & mother."
The Murdocks went on to bear three children together -- William F. "Billy" Murdock, Thomas Hutson Murdock and Almeda Thomas.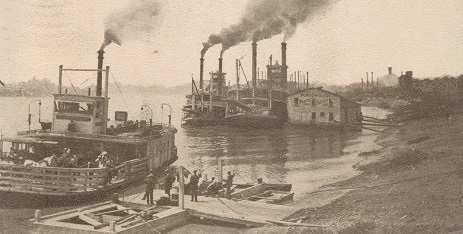 Everyday wharf scene on the Ohio River in Ironton, circa 1911
Israel and at least one son were employed in the wharf boating industry in the river town. He also worked as a merchant.
The Ironton Daily Register said that "'Aunt Saline' as she was known to everyone in the neighborhood at Sixth and Lawrence Streets, where she has resided for the past fifty years, was a true Christian character, always lending a helping hand to any in distress or trouble…. She was a devoted member of the First M.E. church always taking an active part in all the affairs of the church…"
Israel suffered from heart disease for the rest of his life. His physician for more than a quarter-century, Dr. Jonathan Morris, himself a Civil War veteran, testified that:
He was certainly a great sufferer from rheumatism sometimes confined to his room and bed for days and weeks at a time. Then for a time would hobble around with a cane appearantly comfortable, but as he always said suffering more or less and I think during all these years he was totally unable to perform manual labor. He had also several severe spell [sic] of palpitation and fluttering of the heart, with smothering.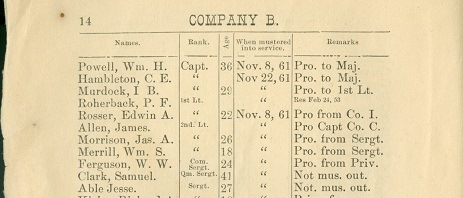 Page naming Israel in a history of his Civil War regiment
In mid-July 1889, Israel and his sister Mary Adaline Peters traveled from Ironton to Kingwood to visit their father. The Preston County Journal reported the visit in its July 18, 1889 issue, and said: "Mr. Murdock has been in the wharf boat business at Ironton for a number of years, and is a pleasant and well informed gentleman."
Israel died suddenly in Ironton on April 11, 1890. He was age 58. His physician later attributed the death to rheumatism contracted while in the Army.
During the 1890s, Israel was mentioned in a book authored by J.J. Sutton of his former Civil War regiment. Entitled History of the Second Regiment Cavalry, West Virginia, 1861-1865, it describes the battles in which the regiment saw action.
Saline's obituary in Ironton
Saline lived in her later years at 221 North Sixth Street in Ironton. Suffering from senility in her 88th year, she passed away on July 25, 1925, and was buried at Woodland Cemetery. An obituary in the Portsmouth (OH) Daily Times noted that "She had been in failing health for some time, but wasn ot in a serious condition until but recently... She spent all her married life in Ironton, her husband preceding her in death years ago."
The pioneering Sunday School work by Israel and his brother William was cited in the Preston County Journal circa 1922, some 32 years after Israel's death. The material later was republished in the 1950 booklet, Through the Years: A History of Methodism in Kingwood, West Virginia, author Ethel Peaslee Beerbower. An original copy of the booklet is preserved in the Minerd.com Archives.
~ Son William F. "Billy" Murdock ~
Son William F. "Billy" Murdock (1864-1914) was born on Dec. 8, 1864 in West Virginia.

Billy's Ironton obituary
He relocated to Ironton, Lawrence County, OH and never married. He earned a living as a clerk in a steamboat company.
William was said by the Morning Irontonian to have been a close friend of Col. Dick Pritchard, "on account of being raised from boyhood with him and the best part of their careers was devoted to the grand Ohio river…"
When the federal census enumeration was made in 1900, the 35-year-old Willliam and his 25-year-old brother Thomas resided with their widowed mother in Ironton. His employment that year was marked simply as "clerk."
Again in 1910, the bachelor brothers William and Thomas shared their residence in Ironton with their mother. His occupation in 1910 was listed as "shipping clerk - wharf boat."
His residence in 1916 was at the corner of 6th and Lawrence Streets.
Sadly, Billy contracted a serious uremic infection, and died on May 12, 1914, at the age of 49. He was buried in Woodland Cemetery.
~ Daughter Almeda "Alme" (Murdock) Thomas ~
Daughter Almeda "Alme" Murdock (1866-1887) was born in about 1866 in West Virginia.
She moved with her parents to Ironton, Lawrence County, OH and grew there to womanhood.
On Dec. 16, 1886, when she was 20 years of age, she married 19-year-old Frank M. Thomas (1867- ? ). James Hill performed the ceremony in Lawrence County.
The Thomases resided in Ironton for the brief time that their marriage lasted.
She passed away in 1887. Burial was in the Murdock family plot in Woodland Cemetery in Ironton. Her name was inscribed on the face of the grave marker was simply "Alme."
In July 1889, the widowed Frank returned to Preston County, WV. That month and year, Almeda was mentioned as "the deceased wife of Mr. F.M. Thomas, of Kingwood," in an article in the Preston County Journal.
Nothing more is known.
~ Son Thomas Hutson Murdock ~
Son Thomas Hutson Murdock (1875-1927) was born on Jan. 4, 1875 in Ironton, Lawrence County, OH.
He was just 15 years old when his father died. In adulthood he stood 5 feet, 6 inches tall and sported grey eyes and dark brown hair.
At the outbreak of the Spanish-American War, he joined the 7th Regiment of the Ohio Volunteer Infantry, Company I. He was promoted to corporal on July 1, 1898. He was treated in the Division Hospital from Sept. 11 to Sept. 14, 1898 and then was on a sick furlough from Sept. 15 to Sept. 23, 1898. Once recovered, he reported for duty on Sept. 23, 1898 in Columbus, OH. Upon the war's end, he was discharged in November 1898 and returned to his hometown.
The United States Census for 1900 shows the 25-year-old Thomas and his bachelor brother William making a home with their widowed mother in Ironton, Lawrence County, OH. His work at that time was as a hot blast furnace tender. He appears also to have served as a first sergeant in his old regiment in the Ohio National Guard, enlisting on July 6, 1903.
In 1910, the unmarried 35-year-old Thomas earned a living as a storekeeper for a coal company in Ironton, and dwelled with his mother and brother at 221 North 6th Street. He also appears to have earned additional income at that time as a meat-cutter.
But later that winter, in March 1910, he re-enlisted in the Army. His term lasted for three years. He was discharged on April 1, 1913 at Fort Terry, NY.
Thomas changed jobs during the decade of the 1910s. By 1918, he was employed as a clerk and weighmaster for the Chesapeake and Ohio Railroad's operations in Ironton. He was required to register for the military draft during World War I.
He and his mother continued to live in the same house in 1920. She passed away in July 1925, and her Portsmouth (OH) Daily Times obituary named Thomas as her only living son..
About a year after his mother's death, Thomas in 1926 appears to have wedded a widow, Jessie (Cox) Canterbury ( ? - ? ). The couple made a home in Portsmouth, OH.
Thomas was diagnosed within a year of marriage with chronic tuberculosis and pulmonary problems. As his illness worsened, he was sent to North Carolina to be treated at the Veterans Administration Hospital in Oteen, Buncomne County, NC. Just three days after his admittance, he died at the age of 52 on June 12, 1927. The body was shipped back to Ohio for interment in Ironton's Woodland Cemetery.
Copyright © 2001-2002, 2008, 2012, 2019, 2021-2022 Mark A. Miner