(We are trying to determine if Clyde may have been married twice, first to "Mary L." who lived in Greensburg in 1911, the same year Clyde is known to have resided there. That year, Mary L. sent a postcard to Clyde's sister Lula Swift, saying "They are on a strike here at Heste. To-day is the first... I remain with Love your sister.")
Clyde was employed as a surveyor in Westmoreland County coal mines for about two decades (1930s and '40s), and later suffered from black lung. He also may have been involved with early coal mine unionizing activities. In August of 1910 or 1911, Clyde's sister Bess sent a card to their sister Lula, saying: "Jess Evans, Clyde's boss, says that it is a Bluff. Papa says that they ought to treat you mean so that you can't follow them over some half acre."
In January 1909, Clyde sent Lula a card (seen here), saying "I got to Jones [Mills] at 11:30. I will be home at 5 o'clock if nothing happens." In 1911, he sent Lula another postcard, saying "Got here OK. Going to Johnstown Wed." The cards today are preserved in the Minerd.com Archives.
At the age of 23, in about 1916, Clyde married 21-year-old Sarah "Bessie" Swink (1895-1944), the daughter of Allen David and Susan (Ulery) Swink of Bullskin Township/Mount Pleasant.
Their children were Betty Jean Stairs and Susan Jane Bratcher.
When the federal census was taken in 1920, Clyde and Bessie made their home in Mount Pleasant, on Smithfield Street. His employment was shown as "stationery engineer" at a local coal works.
Circa 1927, Clyde at age 34 was employed at the Standard Coal Mine in Mount Pleasant. While standing on a scaffold, working on a steam pipe, he fell and was injured. Reported the Connellsville Daily Courier, "He suffered a laceration below the right eye and contusions of the body. He was taken to the Memorial Hospital."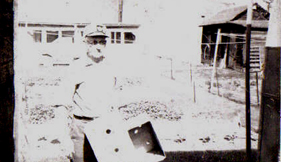 Clyde working outdoors, early 1970s
Talented with needle and thread, Bessie enjoyed making colorful quilts for her family. Seen here is one such creation that she made for her daughter sometime in the late 1930s or early '40s. It has been a beloved and well-used heirloom over the years and today is in the hands of a granddaughter. Click for an enlarged version of this image in our Online Quilt Museum.
Clyde had an interest in raising flowers, and circa 1936 was employed by Mount Pleasant Floral Company. In the late 1940s, he grafted a rose in a florist shop, and apparently exhibited it at a county fair or other community event. Even in such a relatively genteel business, he was injured in August 1936 when overcome by heat, and falling on a pair of shears he was holding, causing a deep laceration on his hand.
The Stairses enjoyed visiting with family in the area. In November 1941, they attended a 75th birthday party for Sarah's mother, Susan Swink. The Courier said that the party "was planned by her children and was a complete surprise. A delicious lunch was served by the daughters. The honor guest received many lovely and useful gifts." In late January 1942, they went to a birthday party in Youngwood for Clyde's sister, Lula Swift. Among the other attendees were Mr. and Mrs. A.C. Leeper and daughters Betty Jean and Venetta of Mount Pleasant; Ruth Crosby, Pearl Stairs and Edward Stairs of Mount Pleasant; Myrtle Stairs and son Donald of Tarrs; Mr. and Mrs. J.G. Watson and son Jack of Greensburg; Jemima Clark and Mrs. Luther Rodehaver of Greensburg; Kathleen Dell of Youngwood; Mr. and Mrs. B.J. Bartlow and sons Sammy and Leslie of Norvelt; and Jane Swift and Glenn Swift of Youngwood.
In 1930, when the census again was enumerated, Clyde, Bessie and three-year-old daughter Betty were listed in their residence on Smithfield Street in Mount Pleasant. That year, Clyde worked as a hoisting engineer in a coal mine. By 1935, with coal mine jobs scarce during the grip of the Great Depression, they had moved to Main Street in Mount Pleasant, and in 1938 lived on North Diamond Street.
Mount Pleasant's Main Street looking eastward, 1930s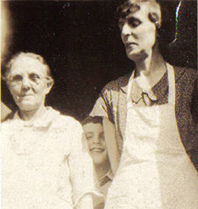 Bessie (left) and her sister Lucy
Bessie (far left) and her sister Lucy Echard are seen here, with an unknown boy peeking from behind.
Sadly, Bessie was stricken in about June 1943 with breast cancer and suffered for 18 months. She became deathly ill in October 1944, and went to stay at the home of her mother on South Diamond Street in Mount Pleasant. She died on Dec. 18, 1944, only 49 years of age at her passing. The Courier said she had been "at Frick Memorial Hospital where she was a patient for treatment."
The funeral was held at the home of her mother. In addition to her immediate family she was survived by five sisters and one brother -- Mrs. J.L. Williams of Connellsville; Lucy Echard and Mrs. Orrin Kalp of Mount Pleasant; Mary Wingrove of Sharpsville; Mrs. Russell Kuhns of Everson, PA; and Edwin A. Swink of Mount Pleasant.
Widowed for more than 30 years, Clyde remained in Mount Pleasant for a number of years.
In 1951, he received a head injury in a highway accident when his automobile was struck by another vehicle on Route 119 near Youngwood. He was treated and released from Westmoreland Hospital.
Later in life, by 1969, he had moved to a new residence at 11 North Hickory Street in Scottdale. Clyde continued working for Mount Pleasant Floral, and was a member of the Christ United Methodist Church of Scottdale, and belonged to the Elks Club.
In and out of hospitals during his final years, Clyde died in Mount Pleasant on March 7, 1975, at the age of 82. He was buried at Mount Pleasant Cemetery. In a card of thanks published in the Courier, daughters Betty Jean and Susan expressed their thanks to friends for their kindness and sympathy, especially Rev. Edward E. Donner, Claudia Stahl, Violet McCloy "and all who in any way assisted us." His name was read aloud, followed by a moment of silence, at a May 1975 memorial service at Christ Church.
Betty Jean Stairs
~ Daughter Betty Jean Stairs ~
Daughter Betty Jean Stairs (1927-2011) was born on Jan. 7, 1927.
She never married.
She is known to have undergone throat surgery in 1932, when she was age five. Her poor health continuing over the years, she was admitted to Memorial Hospital in Mount Pleasant again in 1935, when she was age eight.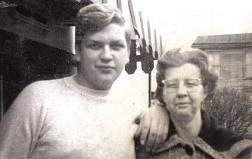 Betty with brother-in-law
Paul Snyder, Scottdale, 1967
She made her home in Scottdale, Westmoreland County as an adult, and was a women's circle leader at the First Evangelical United Brethren Church.
In early September 1970, Betty Jean at age 43 and her 77-year-old father were hurt in an automobile accident. She suffered injuries of the right shoulder and leg.
Betty Jean spent her final years in West Leisenring near Uniontown, Fayette County.
Sadly, she passed away on Aug. 23, 2011, the same year as her sister.
~ Daughter Susan Jane (Stairs) Snyder Bonds Bratcher White ~


Susan and Paul Snyder
Daughter Susan Jane Stairs (1932-2011) was born on Jan. 2, 1932.
She was plagued by the same type of throat problems as her older sister Betty. Susan underwent surgery at Frick Memorial Hospital at the age of six, in February 1938.
Susan's first husband was Paul Snyder ( ? - ? ).
The couple made a home in Mount Pleasant and were the parents of Paul Lawrence Snyder Sr. and Georgette "Susan" Bratscher Tischer.
She relocated to Central Florida in about 1960, more than a decade before Disney World was constructed and changed the entire region. She established a home in Orlando, Orange County.
She married again to (?) Bonds ( ? - ?). The marriage ended by 1971.
On May 22, 1971, at the age of about 39 under the name "Bonds," she wedded again to William Terrell Bratcher (1933-1994), the son of John Bratcher and a native of Alma, GA who had moved to Central Florida. Their nuptials were held in the Church of God in Kissimmee, FL, with the news printed in the Orlando Sentinel.
The Bratchers made a home in Intercession City. Five more children were in this family -- Linda Barbee, Brenda Greenwood, Annette Folsom Talmadge, Ann Bratcher and William Terrell Bratcher Jr.
William earned a living over the years as a truck driver for Orlando Utilities. Their address in 1972 was 1825 Barksdale Drive and in the 1990s was on 10th Street in Orlando. He was a member of Storehouse Ministries Church.
Sadly, at the age of 62, William passed away on June 17, 1994. An Orlando Sentinel obituary reported that his survivors included 23 grandchildren and four great-grandchildren.
Susan survived William by 17 years. She married a third time to (?) White. Toward the end of her life, Susan was admitted to Vista Manor in Titusville, FL. She passed away there on March 9, 2011, at the age of 79.
Son Paul Lawrence Snyder Sr. (1953-2000) was born in about 1953 in Mount Pleasant, Westmoreland County, PA. As a boy of seven, he relocated with his parents to Central Florida in about 1960. In 1972, Paul served in the U.S. Army and underwent basic training at Fort Jackson, SC. He was married and had a son, Paul Lawrence Snyder Jr. He was a self-employed automotive mechanic and attended the Baptist Church. Paul dwelled in Orlando in 1994. Sadly, at the age of 47, Paul passed away on July 5, 2000. The Orlando Sentinel printed an obituary.
Daughter Georgette "Susan" grew up in Bithlo, FL. She wedded (?) Stenger and they had sons Samuel C. Stenger and Daniel Raymond Stenger. Sadly, their son Daniel passed away at the age of 2 months, 8 days on Sept. 22, 1979. Later, Susan was married to (?) Tischer. Their children are Chris Tischer and Michael Tischer.
Daughter Linda Bratcher was joined in matrimony with (?) Barbee. They lived in 1994-2000 in Stigler, OK.
Daughter Brenda Bratcher was united in wedlock with (?) Greenwood and made a home in Orlando.
Daughter Annette Bratcher married (?) Folsom and (?) Talmadge. She resided in the mid-1990s in Orlando.
Daughter Mary "Ann" Bratcher dwelled in Orlando in 2000.
Son William "Bill" Bratcher ( ? - ? ) was born in (?) . He lived in Orlando in 2000.
Son William Clyde Bratcher (1872- ? ) was born in 1972. News of his birth was printed in the Orlando Evening Star. He has made a home in Orlando.
Copyright © 2001, 2005-2007, 2010-2012, 2018 Mark A. Miner