Anna (Swearingen) McReynolds
(1870-1918)
Anna Morris (Swearingen) McReynolds was born on March 7, 1870 in Tarlton, Pickaway County, OH, the daughter of John S. and Eliza J. (Miner) Swearingen.
In about 1884, when she was age 14, Anna moved with her parents and siblings to Missouri, residing in Carlton and later in Butler, Bates County.
Anna married George Edward McReynolds (1859-1929), a native of Iroquois, Iroquois County, IL, and the son of Henry and Mary (Morgan) McReynolds. George was 11 years older than Anna.
Their four children were Edward Harlan "E.H." McReynolds, Helen McReynolds, Glenwood E. "Pete" McReynolds and Frances "Josephine" Klumpp.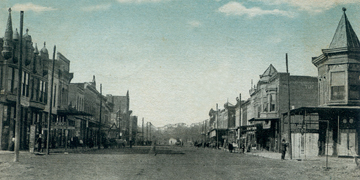 Rich Hill's Park Avenue looking west
When the federal census was taken in 1900, Anna and George and their family lived on Walnut Street in Rich Hill, Osage Township, Bates County, MO. George made a living that year as a house painter. Anna's unmarried sister, Mamie Swearingen, lived under their roof as shown by the census-taker.
In March 1903, Anna received a letter from her brother Harley Swearingen, stating that their mother, who lived with Harley, was "up and around the house." To everyone's surprise, though, Eliza slipped away quickly, dying on March 11, 1903 at the age of 71. Anna received word of the passing via telegraph, and despite such short notice and inclement weather, Anna took the afternoon train to Butler for the burial.
Circa May 1904, George was employed by the Rich Hill School District as a custodian at the West Side School. Among other projects, he was assigned the task of making a count of "the number of children in the district of school age," reported the Rich Hill Tribune. He enumerated 616 white males, 635 white females, 6 "colored" males and two "colored" females, for a grand total of 1,256. He was re-elected to this position in May 1904, as were his counterparts at the South Side School (George Lawson) and East Side School (Peter Haley). Teaching that year at West Side were Bertha Marsh, Marguerite Embree and Josie Steele. Again he was re-elected to the janitor's position in May 1909, in a meeting held at the office of Stonebraker & Son.
The family resided at Rich Hill in 1910, when the census was taken. That year, George was employed as a store clerk and later as a blacksmith and carpenter/woodworker.
In October 1918, Anna came down with a perforated intestinal ulcer, called "acute indigestion," and 10 days later she was dead, at the age of 48. Her passing occurred on Nov. 2, 1918. The local newspaper eulogized that "She was a most excellent woman and had a large circle of friends who regret her death."
George outlived her by 11 years. The 1920 lists him as widowed, continuing to reside on Walnut Street in Rich Hill. Also living with him that year were son Glenwood (age 25) and daughter Frances Josephine (23). He made a living that year as a clerk in a hardware store, while Frances was a clerk in a store, and Glenwood a shoe store clerk.
Suffering from kidney disease, he died on Jan. 3, 1929, as he neared his 70th birthday. They are buried in the McReynolds family plot at the Oak Hill Cemetery in Mt. Pleasant Township east of Butler, MO.
~ Son Glenwood E. "Pete" McReynolds ~
Son Glenwood E. "Pete" McReynolds (1894-1940) was born on Aug. 20, 1895 at Sprague near Butler, Bates County, MO.
As a young adult, when he registered for the military draft during World War I, he described himself as short and slender, with grey eyes and brown hair. At the time, he was employed as a clerk for C.W. Orris in Rich Hill. He told draft officials that his mother was dependent upon him for support.
Glenwood went on to serve with the US Army during World War I and was stationed among others at Camp McArthur, TX. After the war, he returned home and established a residence in Rich Hill, Bates County.
Glenwood married Irene Benz (1903- ? ).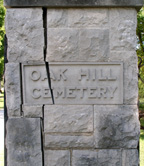 Butler, MO

They bore one son, Robert McReynolds.

At some point they moved to St. Joseph, Buchanan County, and made their home at 2807 Francis Street.

Glenwood served for many years as secretary for the Associated Grocers Warehouse of St. Joseph and "was quite prominent in business circles," reported the Bates County Democrat. Poor health forced him to retire in his mid-40s, which must have left him deeply depressed and despondent. He sought treatment at the famed Mayo Clinic in Rochester, MN, but without success.

Perhaps haunted by the memory of his brother Edward's suicide three years earlier, Pete made careful arrangements to end his own life. He penned a note to his wife saying "You will hear from me tomorrow." Then he drove to Butler from their home in St. Joseph and parked his automobile near the golf course, where he inhaled exhaust fumes from his vehicle. He thus died at the age of 45 on June 27, 1940. Burial was in Oak Hill Cemetery in Butler. The grave is not believed to be marked today.

Son Robert McReynolds ( ? - ? )

~ Daughter Helen (McReynolds) Klumpp ~

Daughter Helen McReynolds (1892- ? ) was born in December 1892 near Butler, Bates County, MO. In 1915, when she was age 23, Helen married John (or "Joe") P. Klumpp (1891- ? ), a Missourian whose parents were natives of Germany.

They had at least three children -- Jack Klumpp, Josephine Klumpp and Katherine Ann Klumpp.

In 1920 and 1930, the censuses show that the Klumpps made their home in Rich Hill. In 1930, Helen's 31-year-old unmarried sister Josephine McReynolds lived under their roof that year.

John's occupation was as a retail merchant in a hardware store.

Later, they settled at Beatrice, Gage County, NE. They have faded into history for now.

Son Jack Klumpp ( ? - ? )

Daughter Josephine Klumpp ( ? - ? )

Daughter Katherine Ann Klumpp ( ? - ? )

~ Daughter Frances "Josephine" McReynolds ~

Daughter Frances "Josephine" McReynolds (1896- ? ) was born in April 1896 near Butler, Bates County, MO. She apparently did not marry.

In 1930 and 1934, she made her home in Rich Hill, Bates County, apparently living under the roof of her married sister Helen Klumpp.

Circa 1937-1940, she resided in Warrensburg, Johnson County, MO.

Copyright © 2000, 2002, 2008-2009 Mark A. Miner