James 'Loren' Thurston
(1899-1952)
James "Loren" Thurston was born on Feb. 2, 1899 in Mount Pleasant, Westmoreland County, PA, the son of Charles W. and Emma (Minerd) Thurston.
During World War I, Loren served with the US Army in France. He was a supply company wagoner with the 110th Infantry, 28th Division. Sadly, he was still in Europe when his mother died at home in 1919, and was unable to get home for the funeral. A short profile of his military career later was published in the book, Westmoreland Towns in the World War.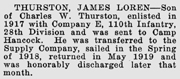 Westmoreland Towns
in the World War
On Sept. 26, 1906, when he was 17 years of age, Loren married 19-year-old Ellen Ahlborn (1897-1976), sometimes known as "Helen."
They together bore at least four children -- Jay Thurston, Blanche Jean Thurston, Pearl Stewart and Betty Mattey.
The census of 1920 shows Loren and Ellen and eldest daughter Pearl living in the Strohms District of East Huntington Township, Westmoreland County. Loren's widowed father made his home with them that year. Loren's occupation was listed as fireman in a coal mine.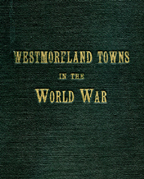 Book naming Loren
When the federal census of Westmoreland County was enumerated in 1930, the Thurstons lived in Standard (Spring Garden) near Mount Pleasant. That year, Loren labored as a miner in a local coal mine. His widowed father lived under their roof.
In September 1931, Loren is known to have resided in Mount Pleasant, and that month attended a 25th wedding anniversary reception for his brother Alvin Thurston.
Loren made his home in 1942 in Grindstone, Fayette County, likely working in local coal mines there.
By 1945, the Thurstons had moved to Detroit, where they remained at least through the early 1950s, likely with or near their married daughter Pearl Stewart.
Loren passed away at the age of 53 on May 2, 1952, at the Veterans Hospital in Dearborn, MI. His remains were returned to Mount Pleasant for burial in the Mount Pleasant Cemetery.
Ellen outlived him by almost a quarter-century and returned to Pennsylvania. She made her home at 231 Lynn Road in Brownsville.
At the age of 78, she died in Brownsville General Hospital on March 3, 1976. Rev. Donald J. Dilley officiated at the funeral, with burial following in Mount Pleasant Cemetery. A death notice was published in the Uniontown Morning Herald.
~ Daughter Pearl Odella (Thurston) Stewart ~
Daughter Pearl Odella Thurston (1916-2006) was born on April 4, 1916 in Mount Pleasant.
On Oct. 31, 1938, Pearl eloped to be joined in wedlock with Donald William Stewart (Jan. 9, 1917-1997), son of Jane E. (Eicher) Bakewell of Brownsville, Fayette County. The nuptials were held in Cumberland, MD, officiated by Rev. Flora. The news was printed in the Connellsville Daily Courier. At the time of marriage, Pearl was employed with the Union Supply Company store in the Grindstone mining town near Brownsville, while Donald worked for the H.C. Frick Coke Company of United States Steel.
They did not reproduce.
The couple made their home in 1940 in Grindstone, Jefferson Township, Fayette County, where Donald continued to labor as a coal miner. Donald served at some point with the U.S. Army.
Later, by 1952, the Stewarts resided in Detroit.
At the death of her mother in 1976, Pearl lived in Arcadia, CA and later in Santa Ana. Sadly, Donald died in Santa Ana on April 11, 1997. His remains were returned to Fayette County for burial.
Pearl was employed as a bank savings counselor at Mutual Savings Bank in Pasadena. She eventually returned by 2000 to North Belle Vernon, Fayette County.
With her health failing, Pearl was admitted to Mon Valley Hospital in Carroll Township. She died there at the age of 90 on Sept. 15, 2006. Burial was in Lafayette Memorial Park. The Valley Independent printed an obituary.
~ Son Jay L. Thurston ~
Son Jay L. Thurston (1920-1995) was born on Christmas Eve 1920.
On Aug. 13, 1941, in an elopement in a Presbyterian church in Winchester, VA, Jay was united in holy matrimony with Dorothy Barnes (Dec. 11, 1921-2011), daughter of Charles and Martha (Jenkins) Barnes of Fayette City. News of the union was printed in the Uniontown Morning Herald. The couple made their first home in an apartment in Brownsville.
They are believed to have been the parents of George Mattey and Steve Mattey.
Jay and Dorothy resided in Belle Vernon, PA in 1952 and in Uniontown, Fayette County in the 1990s.
Jay died on April 19, 1995 at the age of 74.
Dorothy outlived him by 16 years and spent her final years in Uniontown. She joined him in death on Sept. 6, 2011. They rest together in the mausoleum at Lafayette Memorial Park in Brier Hill. [Find-a-Grave]
Son George Mattey married Joyce and lives in Brownsville.
Son Steve Mattey wedded Dee. They reside in California.
~ Daughter Betty (Thurston) Mattey ~
Daughter Betty Thurston (1922-2013) was born on June 23, 1922 in Southwest, Westmoreland County..
She was united in holy wedlock with World War II veteran Joseph E. Mattey Sr., a.k.a. "Mattey" (Aug. 15, 1921-1957), son of George and Marie (Komar) Mattey of Coal Hill near Brownsville, Fayette County. The couple made their home in Coal Hill.
They were the parents of Joseph Mattey Jr.
During the war, Joseph had served as a second lieutenant with the 48th Reinforcement Battalion, 17th Replacement Depot.
Joseph was employed as a machine operator at the Maxwell Mine of the H.C. Frick Coke Company, a division of United States Steel. He belonged to the Maxwell Local of the United Mine Workers of America. They were members of St. Mary's Roman Catholic Church of Brownsville and its Holy Name Society.
On the fateful day of June 7, 1957, while at work, the 36-year-old Joseph was caught between a loading machine and a post and suffered terrible internal injuries. He was rushed to Brownsville General Hospital where he succumbed just 30 minutes after arrival. His remains were placed into eternal repose in the St. Mary's church cemetery. News of the fatal accident was published in the Uniontown Evening Standard.
Joseph is one of far too many cousins in the extended Minerd-Minard-Miner-Minor family to lose his life in a coal mining or industrial accident in the workplace.
Betty lived for decades and continued to make her home in Brownsville. She was employed for more than a quarter of a decade by Robertshaw Controls in Youngwood. In 2006, at the death of her sister Pearl, she lived in Belle Vernon, Fayette County. Her final years were spent in Stockdale.
She died at the age of 91 on Oct. 31, 2013. A funeral mass was sung at St. Sebastian Roman Catholic Church, with Rev. Msgr. Roger A. Statnick officiating. An obituary appeared in the Valley Independent. She rests beside her husband in St. Mary's Cemetery in Brownsville.
Son Joseph E. "Buddy" Mattey Jr. (1948-2006) was born on Jan. 19, 1948 in Brownsville. He was just nine years old when his father was killed. He married Catherine "Sue" Liston ( ? - ? ), daughter of Ethel M. (Dolan) Liston. Their union lasted for 39 years, with homes in Belle Vernon and Brownsville. The couple produced these children -- Steven Mattey, Joseph E. Mattey, Joann Mattey and Jason Mattey. Buddy was employed as a modular manager by H.J. Heinz Co. They were members of St. Michael the Archangel Roman Catholic Church in Fredericktown. Sadly, Buddy died at the age of 58, in Jefferson Regional Medical Center, on Aug. 26, 2006. A funeral mass was held in the family church, with Rev. Paul Grunebach officiating. The Valley Independent printed an obituary. Sue remarried to (?) Lowman and made her home in 2018 in Belle Vernon.
Grandson Joseph E. Mattey III ( ? - ? ) was born in (?). He married Eleasha Burke ( ? - ? ), daughter of Barry and Linda A. Burke. They bore two known sons, Levi J. Mattey and Kaleb Mattey. Other children in this family were Joshua Burke, Monica Pinotek and Brianna Piontek. the couple eventually divorced. Joseph went to live in Fayette County, while Eleasha wedded again to David Piontek and made their home in Charleroi. Tragedy visited this family on Oct. 17, 2018 when their 26-year-old son Levi, a water transfer technician for Platinum Fluid Solutions, was killed in an all-terrain vehicle (ATV) accident. Funeral services were led by Rev. Charles House of the First Christian Church of Republic.
Copyright © 2001, 2003, 2008-2009, 2011, 2018 Mark A. Miner