Eleanor 'Nellie' (Younkin) Wiltrout
(1821-1840s)
Eleanor "Nellie" (Younkin) Wiltrout was born on July 19, 1821 in Somerset County, PA, the daughter of Charles and Jane (Johnson) Younkin.
Nellie grew up in Somerset County and possibly across the county line after her parents moved to nearby Fayette County, PA.
She was united in the bonds of holy matrimony with James Wiltrout Sr. (March 28, 1819-1887), said to have been the son of Johannes Gottfried "John Godfrey" and Margareta "Margaret" (Dietrich) Wiltrout of Summit Township, Somerset County.
James was said to have been a German immigrant, as shown on at least one document many years later. Even if not, he would have spoken the German tongue and continued German cultural practices.
Four known children were born to the couple, among them Adam A. Wiltrout, Samuel Denton Wiltrout and two others who appear to have died young.
During the initial years of their marriage, They were in Summit Mills, Somerset County, about three miles west of Meyersdale. Then in the early 1840s, the family migrated west into Indiana. There, the two sons were born, although one of them thought he had been born in Somerset County in 1846.
For reasons not yet known, Nellie's health declined. Grief blanketed the young family when she died after the birth of her youngest son, in the timeframe 1846 to 1848. Her final resting place is lost to history.
At the age of 29, on Nov. 4, 1848, the widowed James was joined in wedlock with 22-year-old Susannah Knable (1826- ? ), also a Pennsylvanian by birth. The wedding was held in Clinton County, IN. Susan was unable to read or write, and her maiden name was pronounced with the hard "K" as shown by a misspelling some years later as "Canable." She reputedly was baptized in Somerset County on June 5, 1835.
The federal census enumeration of 1850 shows the couple living on a farm in Honey Creek, Clinton County, IN.
These additional seven offspring were produced by the second marriage -- Caroline Amanda Mainard, John Irvin Wiltrout, Sarah Margaret Wiltrout, Mary Ellen Ewing, James M. Wiltrout, Elizabeth Bersheba Molle and Laura Jane France.
During the window of time in 1855-1857, the Wiltrouts relocated northward into Wisconsin. One source gives the year of migration as early as 1853.
The census of 1860 lists the combined family on a farm in Bloom, Richland County, WI.
During the Civil War, their sons Adam and Samuel both served in the Union Army from Wisconsin regiments. Both soldiers drew pensions later as compensation for illnesses/injuries during the war.


Location of the Wiltrout farm along Camp Creek east of Viola in 1874


Atlas of Richland Co. Wisconsin, published by Harrison & Warner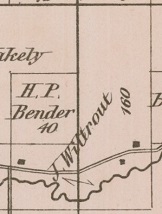 Detail of the Wiltrout farm, directly south of his son Samuel's farm
In 1870, the federal census indicates that the Wiltrouts had moved again within Richland County to a 160-acre farm in Forest Township. The tract sat east of the village of Viola, along what today is Route 56, straddling Sections 20 and 21. The acreage included a stretch of Camp Creek near to where it feeds into the Kickapoo River.
A horrible fire destroyed the Wiltrout residence in about 1873. Their son Samuel recalled that "all records of the family was destroyed..."
This farm in 1874 was marked on a Forest Township map published in the Atlas of Richland Co. Wisconsin, published by Harrison & Warner.
James and Susan pulled up stakes again during the 1870s and migrated south into Iowa. Their farm in 1880 was located in Greenbrier Township, Greene County, IA.
The angel of death swept away James at the age of 67 on Feb. 2, 1887. Interment of the remains was in Greenbrier Cemetery in Cooper, IA. [Find-a-Grave]
After James' death, the widowed Susan remained in Greenbrier Township and resided with her married daughter Mary Ellen Ewing.
Evidence exists showing that one of James' sons from the first marriage was estranged by his half-siblings from the second marriage.
The family is discussed in the 2008 book, The Kickapoo Quintet: The Children of Russell and Alice Williams, co-authored by Russell Ambrose Williams and Alice Williams.


~ James Wiltrout's Children from His Second Marriage ~
Daughter Mary Ellen Wiltrout (1851- ? ) of the second marriage was born in March 1851. In about 1871, at the age of 20, she was joined in wedlock with Sylvester Ewing (Feb. 1849- ? ). They made a home in Greenbrier Township, Greene County, IA. The children born to this union were James W. Ewing, Laura M. Ewing, Warren Ewing, Lena Ewing, Alfred Ewing, Edith E. Ewing, Mabel E. Ewing, Hazel Ewing and Cora R. Ewing. Circa 1900, they provided a home for Mary Ellen's widowed mother and Sylvester's 14-year-old nephew Roland Farthing.
Daughter Caroline Amanda Wiltrout (1851-1923) from the second marriage was born in 1851. She married (?) Mainard.
Son John Irvin Wiltrout (1854-1936) from the second marriage was born in about 1854. He may be the same "John Wiltrout" who dwelled in young manhood in Orange Township, Guthrie County, IA. On Feb. 9, 1883, this John was joined in marriage with 18-year-old Anna Bell Faber ( ? - ? ), daughter of William and Mariah (Miller) Faber. The couple tied the knot in Guthrie County, IA, officiated by justice of the peace N. Hellyer, and witnessed by Lyman Porter.
Daughter Sarah Margaret Wiltrout (1859-1942) from the second marriage was born in 1859.
Son James M. Wiltrout Jr. ( ? - ? ) from the second marriage was born in Dec. 1856 in Wisconsin. He wedded Frances W. (July 1860- ? ). They were the parents of Goldie B. Wiltrout and twins Elsie and Ethel Wiltrout plus two others who died very young. Their home in 1900 was on a farm in Driftwood, Woods County, OK.
Daughter Elizabeth Bersheba "Lizzie" Wiltrout (1863-1912) from the second marriage was born in 1863 in Wisconsin. On March 3, 1885, in a wedding held in Jefferson, Greene County, IA, the 22-year-old entered into marriage with 24-year-old farmer T. Molle ( ? - ? ), son of Joseph and Annie Molle. The wedding was presided over by justice of the peace I.D. Howard, with Elizabeth's father and R.G. Howard serving as witnesses.
Daughter Laura Jane France (1863-1942) from the second marriage was born in 1863 in Walworth County, WI. In young womanhood she resided in Greenbrier Township, Greene County, IA. On April 13, 1883, when she was about age 19 or 20, she wedded 23-year-old Henry D. France ( ? - ? ). He was the son of D.J. and Julia M. (Pronner) France of Walworth County, WI. The wedding ceremony was held in Jefferson, Greene County, by the hand of justice of the peace Harvey Potter. Willie France and Laura Jane's sister Elizabeth served as witnesses. At the time of marriage, Henry was a carpenter residing in Begley, Guthrie County, IA.
Copyright © 2021-2022 Mark A. Miner
Karole (Bertram) Carroll graciously has contributed content for this biography.