Home

Charles Younkin
(1795-1861)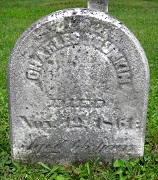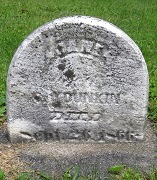 L-R: graves of Charles (1861) and Jane (1866), still
legible when photographed at Imel Cemetery in 2013
Charles Younkin (1795-1861) was born "Carl Philipp Joungken" on Oct. 6 or 10, 1795 in or near Lovettsville, Loudoun County, in the Shenandoah Valley of Virginia.
He was the son of Somerset County pioneers Johannes "John" and Catharina (Dorscheimer) Younkin and the grandson of German immigrants Johannes Heinrich "Henry" and Catharina (Scherer) Junghen of Bucks County, PA.
When he was less than a month old, Charles was baptized in the family's place of worship, the New Jerusalem Lutheran Church in Lovesttsville. His sponsors were Carl and Catharine Dorshimer, presumably his maternal grandparents.
This event is chronicled in the 1995 book, Early Church Records of Loudoun County, Virginia, 1745-1800, by Marty Hiatt.
Charles' six brothers and sisters were "Yankee John" Younkin, Jacob "of John" Younkin, Henry Younkin, Mary Hartzell, Catherine Minerd and George Younken. As a boy, he migrated with his parents and siblings to near Kingwood, Turkeyfoot Township, Somerset County, PA, where they put down roots for good.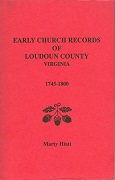 Book citing Charles'
baptism, 1795
On Christmas Day 1814, when he was age 19, Charles married 17-year-old Jane Johnston (1797-1866). She was the daughter of William and Mary Johnston. The two clans were close, and Charles' brother George wed Jane's sister Nancy.
Together, the couple produced a brood of nine children -- Rebecca "Becky" Imel, Catherine Christner, Mary "Polly" Pyle Bridget, Eleanor "Nellie" Wiltrout, Elizabeth Wiltrout, Charlotta (Younkin) Younkin, Nancy Jane Johnson Rowan, Freeman Younkin and Franklin B. "Frank" Younkin.
The eight children living to adulthood eventually produced 34 grandchildren.
Of their years in Somerset, the couple was said to have been "well known residents of that county."
Sadly, son Freeman, born on July 16, 1835, died in childhood, at the age of six, on Feb. 8, 1842. He rests for eternity in Imel Cemetery, one of the earliest burials in the picturesque hillside graveyard near Clay Run.
When the United States Census was taken in 1830, Charles was among 13 Younkin families who were counted in Turkeyfoot Township.
Charles became indebted at some point in time and was forced via sheriff's sale to give up his inheritance of farm property to a neighbor, Michael Sanner Jr. The purchaser, Sanner, later asked the Court of Common Pleas of Somerset County to determine whether the farm could be subdivided to him and to Charles' siblings without damaging its value.
By 1840, the Younkins had moved westward across the mountainous Somerset/Fayette County line and established a farm at the base of the Laurel Mountains in the vicinity of Clay Run, east of Normalville (then known as Springfield and later as Elm). Charles is listed in the 1840 census of Saltlick (later Springfield) Township, next to the dwellings of Thomas Parker and Henry Imel Sr. and Jr., with three youngsters and three adults under their roof.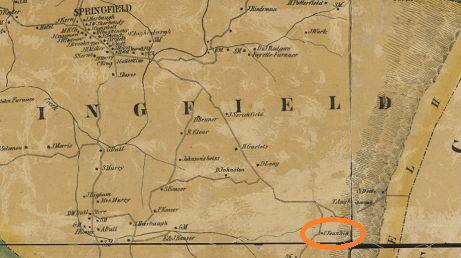 Above: location of the Younkin farm, southeast of Springfield (Normalville, very close to the Fayette/Somserset County border, 1858. Below: entries from the Younkin family Bible, retyped by Nellie (Younkin) Wiley, with misspellings included.

Courtesy Daughters of the American Revolution and Karole Carole.
FAMILY RECORD
Charles Younkin, Born Oct. 10, 1875
Jane Johnston, Born May 9, 1797
Charles Johnson [Younkin?] United in Holy Matrimony 25th day of December, 1814
Charles Younkin Died Nov. 12, 1861
Jane Younkin Died Sept. 26, 1866
Childrens Names.
Rebecca Younkin, Born 25th July, 1815
Cathrien Younkin, Born 26th June, 1817
Mary Younkin, Born August 12, 1819
Ellen Younkin, Born July 19, 1821
Elisabeth Younkin, Born September 12, 1823
Sharlotty Younkin, Born October 18, 1826
Nansy Jain Younkin, Born August 18, 1831
Freeman Younkin, Born July 16, 1835
Franklin Younkin, Born July 20, 1838.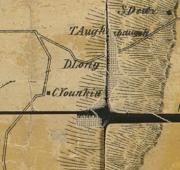 Detail of the 1858 map
When the federal census enumeration was made in 1850, the family was shown in Springfield Township, with Charles working as a farmer. That year, his 76-year-old mother-in-law Mary Johnston dwelled in the household. Their next-door neighbors were Henry and Anna Immell/Imel.
Charles was said to be the "earliest progenitor of record ... [and] an early settler of Fayette county. He was a prosperous farmer, the Younkins usually being tillers of the soil." This description was printed in the book Genealogical and Personal History of Fayette County, Volume 1.
The Younkin farm is shown on a hand-colored map of Fayette County produced by William J. Barker in 1858 from actual property surveys. His son George later inherited the property, which was then handed down in the family to grandson William Dayton Younkin and thence to his daughter Laura Belle Shroyer and her husband Jacob. The founder of this website visited with the Shroyers on this property in the early 1990s.
Charles and Jane remained on the Springfield Township farm during the next decade, as shown on the 1860 United States Census. In 1860, their offspring still in the residence were daughter Nancy (age 28), son Franklin (22) and William Lorence (age 14, connection unknown).
With his health in decline at the age of 66, Charles dictated his last will and testament on Nov. 9, 1861, witnessed by neighbors John W. Sherbondy and David Nicola. Three days later, on Nov. 12, 1861, he was dead.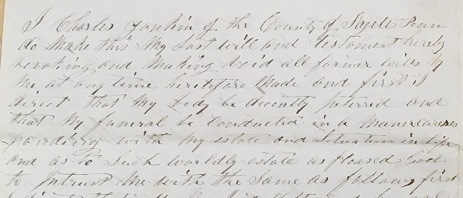 Original copy of Charles' last will and testament, written 3 days before his death in 1861, on file today in the Fayette County Courthouse in Uniontown, PA.

The text began by saying that he was "sick and weak in but of sound mind and memory and understanding considering the certainty of death and the unceretainty of the time thereof. And to the end I may be the better prepared to this would whenever it shall please God to call me home, do therefore make and declare this to be my last will and testament..." He bequeathed their 100-acre farm to son Franklin and directed that the son pay to the widow $50 each year. Daughter Nancy Jane was to inherit $250 along with a mare, cow and bedding. Daughters Rebecca, Catherine, Eleanor, Mary, Charlotte and Elizabeth each was to receive $50, in annual $10 payments, to commence eight years after his death. He stated that his "beloved wife" could remain on the home farm with their son and to possess one good bed and bedding, chest, side saddle and three sheep.
Jane outlived her husband by five years. She passed away on Sept. 26, 1866, age 68.
They are buried together in the Imel Cemetery near Clay Run, Fayette County.
Circa December 1975, the family of Charles and Jane was being researched by Robert Slagle. The grave markers on this page were photographed in August 2013 by the founder of this website.

Broken condition of Jane and Charles Younkin's grave markers, early 1990s, as photographed by the late Donna (Younkin) Logan. Below: Picturesque Imel Cemetery in Clay Run, Fayette County, where the dust of the Younkins rests.

~ Civil War Soldiers Among Charles' Offspring ~
Samuel H. Imel - 14th Pennsylvania Cavalry

and 2nd U.S. Cavalry, Co. B

Franklin B. Younkin - 6th Pennsylvania Heavy Artillery, Co. K

Samuel Knable - 51st Indiana Infantry, Co. F
~ Daughter Mary "Polly" (Younkin) Pyle Bridget ~
Daughter Mary "Polly" Younkin (1819-1880) was born on Aug. 12, 1819. She never learned to read or write.
She was twice married. Her first spouse was (?) Pyle.
The couple together bore one daughter, Catherine A. "Katie" Knable.
Two other children were involved -- Sylvester Bridget (born 1843) and Aden Bridget (born 1845).
Polly and presumably her first husband migrated to Indiana, settling on a farm in or near Middlefork, Washington Township, Clinton County. [Younkin cousins who also migrated to Clinton County in the 19th century were Isaac and Rebecca (Walter) Younkin.]
Her second spouse was (?) Bridget ( ? - ? ). In 1860, Polly headed a household in Washington Township, with sons Sylvester and Aden in the household as well as 21-year-old Nancy J. Idol and her young son William H.
Polly's father died back in Pennsylvania on Nov. 12, 1861. Under the terms of his will, she was bequeathed the sum of $50, to be made in annual $10 payments, to commence eight years after his death. Thus in about 1869 or 1870 she would have begun receiving the cash inheritance.
At the age of 51, in 1870, and then again at 60 in 1880, federal census records show Polly residing in Warren, Clinton County, IN in the home of her married daughter and son in law, Catherine and Samuel Knable. In 1880, the census-taker recorded that she was suffering from "consumption" today known as "tuberculosis."
Polly is reputed to have died at the age of 61 on Oct. 25, 1880.
Daughter Catherine A. "Katie" Pyle (1839-1919) was born in 1839 in Somerset County, PA. On May 18, 1854, when she was 15 years of age, Katie married 26-year-old Samuel Knable (1828-1880), who was 11 years older and a fellow native of Somerset County. The ceremony was performed by Rev. Ambrose Shear at the house of John Knable near Middlefork, Clinton County. Among those in attendance were Harvey Nicholas and Harrison Walter. Samuel stood five feet, eight inches tall, weighed 150 lbs. with grey eyes, dark hair and a fair complexion. He could neither read nor write. The couple relocated to Indiana and resided on a farm in Warren Township, Clinton County. They produced four known children -- Eliza J. Knable, Franklin Knable, Warren C. Knable and Daisy May Knable. They may also have had two other offspring who died young -- Sarah (died in infancy in 1857) and John Grant (died at age six in 1869), both of whom are buried in the same cemetery as Samuel. At the births of her youngest two children, Katie was assisted by friends Harriet Baber and Phoebe Baker and by Dr. M.L. Martin. When the federal census was taken in 1860, the Knables made their home in Middlefork, just a few farms away from the family of 54-year-old widower Samuel Knable. During the Civil War, Samuel was drafted into the Union Army and was assigned to the 51st Indiana Infantry, Company F. He was wounded in battle at Nashville, TN on Dec. 16, 1864, receiving a gunshot in the lower half of his upper left arm. On Sept. 11, 1865, he was awarded an invalid pension by the federal government. [Invalid App. 88.340 - Cert. #79.434] The wound left him "unable to perform manual labor without great pain + inconvenience," he later wrote. Over the years, the wound would ooze as small particles of bones worked their way out of the skin. The 1870 and 1880 censuses show the family in Warren Township, with Katie's aged mother living under their roof over that decade. As Samuel neared death in September 1880, a physician was requested to come. "Was called the morning he died," wrote Valentine Bowers, M.D. "Found him dying when I reached the house. I made no examination for he died in five minutetts after I reached the house. The family told me he had been suffering for a number of days with the wounded arm which was verry much swolen and inflamed." He died at the age of 52 on Sept. 20, 1880, with burial in Stringer Cemetery in Forest, Clinton County. [Find-a-Grave] Catherine then applied for and began receiving his pension payments of $25 per month. [Widow App. #295.041 - Cert. #221.192] An atlas map of Warren Township published in 1878 shows a 20-acre farm belonging to "J. Knable" adjacent to the 40-acres farms of distant cousins John F. Younkin and Harrison Wigle, of the family of Isaac Younkin. Of Katie, Charles Arthur Younkin, co- founder of the Younkin National Home-coming Reunions of the 1930s and early '40s, wrote that "have saw her often, now dead. Dr. Noble [Younkin] knew her and knows her children. He has written me of it." Katie died on July 12, 1919.
Granddaughter Eliza J. Knable (1856- ? ) was born in 1856 in Middlefork in Warren Township, Clinton County, IN.
Grandson Warren C. Knable (1872- ? ) was born on Aug. 20, 1872. M.L. Martin, M.D., was present and helped with the delivery.
Granddaughter Daisy May Knable (1875- ? ) was born on Nov. 19, 1875. Friends Harriet Baber and Phoebe Baker assisted in the birth.
Copyright © 2013, 2016, 2021 Mark A. Miner
Research for this page graciously shared by Karole (Bertram) Carroll, the late Olive (Rowan) Duff and the late Donna (Younkin) Logan.