Missouri Pacific Lines Magazine
Edited by Edward Harlan "E.H." McReynolds,
Special Assistant to the President
Edward Harlan "E.H." McReynolds (1890-1937) was an early Missouri newspaperman who rose to become a prominent public relations and advertising executive with the Missouri Pacific Lines railroad in St. Louis in the 1920s and '30s. During his years with the Missouri Pacific, from 1923 to 1937, he served as editor of the Missouri Pacific Lines Magazine, chronicling the people, places and events of the growing company. His name graced the masthead of each and every issue.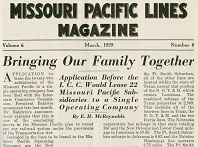 McReynolds' guest column, 1929
The magazine was a substantial production of work, sometimes totaling as many as 88 pages. It carried articles about the company's financial performance, operations and personnel as well as reports from its individual sections, from St. Louis, Kansas City and Omaha to Memphis and Houston, and many smaller towns in between.
The first edition was produced in July 1923. Inside the front cover was a message to all employees: "The Missouri Pacific Magazine is yours! We need your help to make it the best of its kind in America… We want lots of pictures!" It included a letter to all employees by new President L.W. Baldwin and a history of the railroad by Edward J. White.
Political cartoon, 1922
Included over the years were pieces on charitable organizations such as the Boy Scouts and apple blossom festival organized by the Missouri River Apple Growers. The railroad's booster clubs all along the rail lines contributed articles, and there were numerous photographs of employee sports teams, children's photos and various special interest groups. Stories promoted safety, chess tips and an honor roll of deceased employees. The inaugural issue also contained a political cartoon showing a snake -- labeled "Bolshevism" -- threatening "your liberty" - "your home" - "your job" - "your money."
Unlike corporate magazines of today, the publication carried third-party advertising targeting the MOPAC's thousands of employees. The June 1929 edition, for example, contained advertisements from Illinois Watch, Chrysler Motors, Edgeworth Tobacco and International Correspondence Schools.
Occasionally, McReynolds himself would write by-lined pieces about major corporate developments. In March 1929, for example, he authored "Bringing Our Family Together: Application Before the I.C.C. Would Lease 22 Missouri Pacific Subsidiaries to a Single Operating Company."
This page provides a summary of the original editions of the magazine preserved today in the Minerd.com Archives.
| | | |
| --- | --- | --- |
| | | |
| July 1923 | June 1924 | February 1926 |
| | | |
| | | |
| | | |
| March 1926 | June 1926 | August 1926 |
| | | |
| | | |
| | | |
| November 1926 | December 1926 | March 1927 |
| | | |
| | | |
| | | |
| August 1927 | September 1927 | December 1927 |
| | | |
| | | |
| March 1928 | June 1928 | July 1928 |
| | | |
| | | |
| | | |
| September 1928 | October 1928 | November 1928 |
| | | |
| | | |
| February 1929 | March 1929 | April 1929 |
| | | |
| | | |
| | | |
| May 1929 | June 1929 | September 1929 |
| | | |
| | | |
| | | |
| September 1930 | February 1931 | September 1931 |
| | | |
| | | |
| | | |
| November 1931 | November 1933 | May 1934 |
| | | |
| | | |
| | | |
| August-September 1934 | Dec. 1934-Jan. 1935 | August-September 1935 |
| | | |
| | | |
| | | |
| October-November 1935 | February-March 1936 | October-November 1936 |
| | | |
| | | |
| | | |
| Dec. 1936-Jan. 1937 | February-March 1937 | April-May 1937 |
| | | |
| | | |
| June-July 1937 | | |
Copyright © 2010-2016 Mark A. Miner
March 1928 issue courtesy of Lillian Moffeit and Barbara Boren