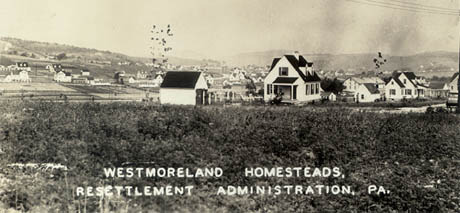 Another remarkable story told on Minerd.com is of Ralph and Violet (Summy) Minerd who in the 1930s were among the first families to be accepted to live in a pioneering new type of community known as "Westmoreland Homesteads" in Western Pennsylvania. This town later was renamed "Norvelt" in honor of its political sponsor, First Lady Eleanor Roosevelt, wife of President Franklin Delano Roosevelt.
During the Great Depression, the federal government created and financed the development of Norvelt to provide private home ownership opportunities for unemployed families. Violet Minerd was a member of the Norvelt Women's Club, which invited Mrs. Roosevelt to attend community fairs and building dedications.
On May 21 1937, the First Lady actually visited the community. She drove her own car, and later mentioned the visit in her popular coast-to-coast newspaper column, "My Day." The Connellsville Daily Courier said that "Mrs. Henry Morgenthau, wife of the Secretary of the Treasury, sat with Mrs. Roosevelt in the front seat of the sedan when the party went through..." Copies of documents showing Mrs. Roosevelt's personal interest in Norvelt are housed in our family archive, provided courtesy of the FDR Presidential Library in Hyde Park, NY.
The Minerds' grandson, Eugene Podraza, is a leading researcher of the Minerd-Miner-Minor family and has spearheaded efforts to dig deeper into our German roots.
Copyright © 2005 Mark A. Miner