Home

Among the more well-known branches of our family in southwestern Pennsylvania was the Rev. David Ewing and Sarah Catherine (Williams) Minerd clan of Dunbar, Fayette County. Nicknamed the "Blacksmith Preacher," David spent 60 years as a Methodist minister, overseeing 6,500 funerals and 3,500 weddings and planting several churches which still exist today. Enjoying tremendously positive press coverage, he once was praised by the Connellsville Daily Courier as "a very useful man, especially among the poor and working classes, and he enjoys the respect of everybody in the community." He is is one of the very few of our cousins living outside of the New York City area to have an obituary published in the New York Times.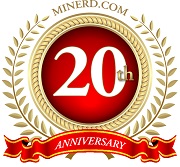 In a tragic twist of irony, David's first marriage to Emma Speer ended in heartbreak when she and their two young children died within just nine months. His second marriage, to Sarah, resulted in the large family seen in this portrait. Their brood's collective record of providing public service is remarkable.
David and Catherine are seated at center. The standing adults, left to right: Dr. Harold "Daniel" Minerd, a popular dentist and World War I veteran who served two terms as Mayor of Connellsville and one as Fayette County Treasurer and whose classmate Dr. John Bain "Jock" Sutherland coached the University of Pittsburgh football team to five national championships -- Ewing David Minerd, World War I veteran and postmaster of the town of Dunbar -- Bess (Minerd) Lemon, postmistress of the town of Youngwood, Westmoreland County, PA and Westmoreland County Institution District official -- Edward Eugene Minerd, World War I veteran and founder of the Minerd Funeral Home of Uniontown -- Edna (Minerd) Wagner -- William Alfred Minerd, Assistant Fayette County Treasurer and Connellsville Airport timekeeper -- and Marybelle (Minerd) and John Scott Riley holding baby Virginia, he a longtime conductor with the Pennsylvania Railroad. The other children, left to right: Boydell Lemon, Catherine Driscoll, Mary Lou Lloyd and Markle Riley.
See pages from David's prayer book and Bible artifacts and the Hart Moore poem, "Looking Backward."


VisitPITTSBURGH is the promotional sponsor of this page. Be sure to get a copy of the Greater Pittsburgh Convention & Visitors Bureau's Official Visitor's Guide, a 25-page workbook to help event organizers stay on track, no matter what type of reunion or meeting they are planning to hold. The booklet features a page of ideas by the founder of this website, headlined "Take It from a Professional."
Full text>>>
Copyright © 2020 Mark A. Miner