Sylvia (Dillow) Delamere West
(1879-1966)

Sylvia Dillow
Sylvia Clara (Dillow) Delamere West was born in 1879 in or near Madison County, OH, the daughter of William and Elizabeth (Houser) Dillow.
As a girl, sometime prior to 1881, Sylvia and her parents and siblings migrated westward to Central Illinois. They settled in the town of Weldon near Clinton, DeWitt County.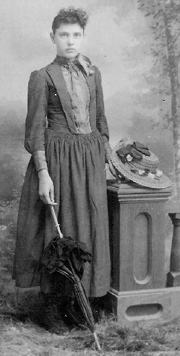 Sylvia
On Aug. 30, 1899, when Sylvia was age 20, she married 23-year-old Charles Edward Delamere (1875-1933), a native of Deland, Piatt County, IL and the son of John and Euphemia Delamere. The ceremony was performed by Rev. D. Mac Arthur, a Baptist minister. Edward's occupation at the time was livery (horses).
Sylvia's husband sometimes went by "Charles" and other times by "Ed." They had four daughters -- Ethel Lucille Sheridan, Opal Euphemia Parker and twins Doris Livonia Walker and Dorothy Elizabeth Dalton.
They made their initial home in Nixon Township, DeWitt County, where Charles worked as a farm laborer circa 1900.
By 1910, the Delameres had migrated to Iowa, where they lived in Gilmore City, Lake Township, Pocahontas County. Their home was on View Street, and Charles was employed as a laborer in odd jobs. Sylvia's married sister Livona Bothwell also resided in Gilmore City.
The family returned to the Clinton area by 1920, when the federal census was taken. Charles was a farmer "working out" at others' farms. In 1930, the Delamere home was on East Washington Street in Clinton.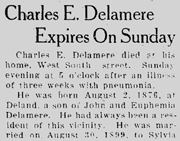 Obituary, 1933
By 1933, when Charles became deathly ill with pneumonia, they lived on West South Street.
Sadly, Charles passed away at home at the age of 58 on Feb. 26, 1933. He was laid to rest in Woodlawn Cemetery. Pallbearers at the funeral were George Walrod, Tom Crang, Ray Hoff, Elzie Isaac, Ross Wardell and V.L. Zimmerman.
After four years as a widow, the 59-year-old Sylvia married again. On Nov. 21, 1937, she wed her second husband, 69-year-old William A. West (1869-1954). He was the brother of David Monroe West (1860-1938), who had married Sylvia's sister Susan Clara Dillow.
William earned a living as a janitor at Lincoln Grade School in Clinton.
Sylvia and William were together for 17 years until his passing in 1954. She was a member of the First Christian Church of Clinton and the WBA Lodge.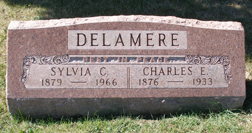 Woodlawn Cemetery in Clinton, October 2007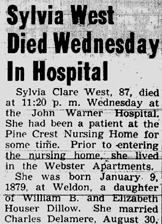 Obituary, 1966
Sylvia remained in the Clinton area for the remainder of her life. She lived in the Webster Apartments, and when she could no longer remain in her home, went to the Pine Crest Nursing Home.
She died at the age of 87 at the John Warner Hospital in 1966. At the time of her passing, she had five grandchildren and 17 great-grandchildren. Her remains were placed into eternal repose in Woodlawn Cemetery.
~ Daughter Ethel Lucille (Delamere) Sheridan ~
Daughter Ethel Lucille Delamere (1901- ? ) was born in 1901.
She married John Sheridan (1896- ? ), the son of John and Ollie Belle (Brown) Sheridan, on May 16, 1922 in Clinton.
She lived in Mattoon, Coles County, IL circa 1966.
Ethel provided family history information for a researcher in January 1973, some of which has been used for this biography.
~ Daughter Opal Euphemia (Delamere) Parker ~
Daughter Opal Euphemia Delamere (1904- ? ) was born in 1904.
She wedded Ernest C. Parker ( ? - ? ) on June 22, 1925.
Their residence in 1966 was South Bend, IN.
~ Daughter Doria Livonia (Delamere) Fenner Walker ~
Daughter Doris Livonia Delamere (1910- ? ) was born in 1910.
She was married twice, first to Gerald Fenner ( ? - ? ) and second to Jeffrey Walker ( ? - ? ).
She made her home in Madison, Madison County, IL in the 1960s.
~ Daughter Dorothy Elizabeth (Delamere) Dalton ~
Daughter Dorothy Elizabeth Delamere (1910- ? ) was born in 1910.
She was joined in wedlock with Roy "Bud" Dalton ( ? - ? ).
They had two children, James and Beverly, and lived in Clinton in 1966.
Copyright © 2000, 2007, 2008, 2019 Mark A. Miner