Sylvia (Dillow) Delamere West
(1879-1966)

Sylvia Dillow
Sylvia Clara (Dillow) Delamere West was born in 1879 in or near Madison County, OH, the daughter of William and Elizabeth (Houser) Dillow.
As a girl, sometime prior to 1881, Sylvia and her parents and siblings migrated westward to Central Illinois. They settled in the town of Weldon near Clinton, DeWitt County.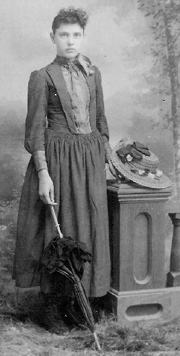 Sylvia Delamere West
On Aug. 30, 1899, when Sylvia was age 20, she married 23-year-old Charles Edward Delamere (1875-1933), a native of Deland, Piatt County, IL and the son of John and Euphemia Delamere. The ceremony was performed by Rev. D. Mac Arthur, a Baptist minister.
Edward's occupation at the time of marriage was working at a livery (horse stable). He sometimes went by the name "Charles" and other times by "Ed."
Together, the Delameres produced a family of four daughters -- Ethel Lucille Sheridan, Opal Euphemia Parker and twins Doris Livonia Walker and Dorothy Elizabeth Dalton.
They made their initial home in Nixon Township, DeWitt County, where Charles worked as a farm laborer circa 1900.
By 1910, the Delameres had migrated to Iowa, where they lived in Gilmore City, Lake Township, Pocahontas County. Their home was on View Street, and Charles was employed as a laborer in odd jobs. Sylvia's married sister Livona Bothwell also resided in Gilmore City.
The family returned to the Clinton area by 1920, when the federal census was taken. Charles was a farmer "working out" at others' farms. In 1930, the Delamere home was on East Washington Street in Clinton.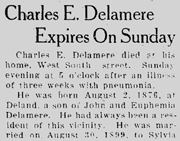 Obituary, 1933
By 1933, when Charles became deathly ill with pneumonia, they lived on West South Street.
Sadly, Charles passed away at home at the age of 58 on Feb. 26, 1933. He was laid to rest in Woodlawn Cemetery. Pallbearers at the funeral were George Walrod, Tom Crang, Ray Hoff, Elzie Isaac, Ross Wardell and V.L. Zimmerman.
After four years as a widow, the 59-year-old Sylvia married again. On Nov. 21, 1937, she wed her second husband, 69-year-old widower William A. West (1869-1954). He was the brother of her brother-in-law David Monroe West (1860-1938), who had married Sylvia's sister Susan Clara Dillow.
From his earlier marriage, William brought two adult children to the second union, Mrs. E.E. Adams and Carl West.
William earned a living as a janitor at Lincoln Grade School in Clinton. Sylvia was a member of the First Christian Church of Clinton and the WBA Lodge.
The federal census enumeration of 1940 shows the couple in Clinton, with William working at the school, and 24-year-old grandson Dale E. West in their household. The grandson was employed at the time as a salesman in a local clothing store.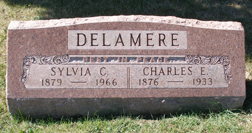 Woodlawn Cemetery in Clinton, October 2007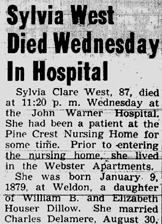 Obituary, 1966
The Wests remained together for 17 years. Their final address was at 503 South Grant Avenue in Clinton.
At the age of 84, William passed away into eternity as a patient in John Warner Hospital on Feb. 6, 1954, "where he had been under treatment for about a week," said the Clinton Daily Journal and Public.
Sylvia remained in the Clinton area for the remainder of her life. She moved to the Webster Apartments, and when she could no longer stay safely in her home, became a resident of the Pine Crest Nursing Home.
Sadly, she endured the untimely death of her son-in-law Jeff C. Walker on the second day of the new year in 1961.
She died at the age of 87 at the John Warner Hospital in 1966. At the time of her passing, she was survived by five grandchildren and 17 great-grandchildren. Her remains were placed into eternal repose in Woodlawn Cemetery, reunited with her first husband after a separation of more than three decades.
~ Daughter Ethel Lucille (Delamere) Sheridan ~
Daughter Ethel Lucille Delamere (1901- ? ) was born on May 21, 1901 in Weldon, IL.
On May 16, 1922, less than a week before her 21st birthday, she married John Sheridan (1896-1997), the son of John and Ollie Belle (Brown) Sheridan, in Clinton.
The couple were the parents of two sons, Donald E. Sheridan and one who died young.
She lived in Mattoon, Coles County, IL circa 1966. Active in the community, she served for 25 years as president of United Charities of Mattoon and was a member of the Order of Eastern Star and White Shrine of Jerusalem. They belonged to the First Christian Church.
Ethel furnished family history information for a Dillow family researcher in January 1973, some of which has been used for this biography.
Sadly, John died on Oct. 29, 1977.
She passed away four days after Christmas 1985, at the age of 84, as a patient in Sarah Bush Lincoln Health Center. Rev. Robert Clark led the funeral service, with burial in Resthaven Memorial Gardens. An obituary was published in the Mattoon Journal Gazette, with the family asking that any memorial donations be made to Shriners' Crippled Children's Hospital in St. Louis.
Son Donald E. Sheridan made his residence in 1985 in Madera, CA.
~ Daughter Opal Euphemia (Delamere) Parker ~
Daughter Opal Euphemia Delamere (1904-1998) -- also spelled "Opel" -- was born on March 4, 1904.
On June 22, 1925, Opal wedded Ernest C. Parker ( ? - ? ).
They are believed to have been the parents of Robert E. "Colonel" Parker.
Their residence in 1927 was in Kenosha, WI and in 1966-1985 in South Bend, IN. She endured the death of her son in 1997.
On April 6, 1998, she appeared in a five-generation photograph published in the South Bend Tribune, also showing her with daughter-in-law Ida, granddaughter Doris Sparks, great-grandson and wife Kenneth and Holly Sparks, and infant great-great granddaughter Madison Kay Sparks.
Evidence suggests that Opal died two months after her picture appeared in the newspaper, on June 10, 1998.
Son Robert E. "Colonel" Parker (1927-1997) was born on March 13, 1927. He married Ida L. ( ? - ? ). The couple's four children were Doris Sparks, David Parker, Frank Parker and Edward Parker. The family lived in South Bend on South Albert Street. In 1993, Robert was named in the obituary of his aunt, Doris Walker. He died in Hospice House of St. Joseph County at age 70 on May 1, 1997. His obituary appeared in the South Bend Tribune.
Granddaughter

Doris Parker wed (?) Sparks

. She made a home in 1997 in Brown County, IN.
Grands

on David Parker

lived in the 1990s in Granger, IN.
Grands

on

Frank Parker

resided in South Bend in 1997.
Grands

on

Edward Parker

dwelled in Mishawaka, IN.
~ Daughter Doris Livonia (Delamere) Fenner Walker ~
Daughter Doris Livonia Delamere (1908-1993) was born on Nov. 3, 1908 in Gilmore City, IA, a twin with her sister Dorothy.
She was married twice, first to carpenter Gerald "Jerry" Fenner ( ? - ? ), son of Frank Fenner of South Grant Avenue. Their wedding was held on Nov. 10, 1928 in Mattoon, IL, by the hand of Rev. J.H. McMahan of the Christian Church. Doris' sister and brother-in-law, Ethel and John Sheridan, were witnesses. An article in the Clinton Daily Journal and Public said they were a "well known Clinton young couple... Mr. Fenner is associated with his father in the contracting business and for the present they will make their home with his parents."
The pair did not reproduce. They divorced in April 1936 in Circuit Court in Clinton, with Doris charging her spouse with desertion. Stories about the matter in the Decatur Daily Review and the Daily Journal and Public said that her request was granted to return to her maiden name.
Doris' second husband was Jeff C. Walker (1894-1961). They tied the knot in Clinton in 1936, when she was 28 years of age.
The couple resided in Matteson, IL and did not have children.
Jeff was employed by the Illinois Central Railroad Company as a flagman. At one time he was assigned to a freight service route between Clinton and Chicago. Later he was transferred to a passenger service route from Chicago to Centralia.
Sadly, Jeff became seriously ill in the waning days of 1960. After suffering for several days, he was taken by ambulance to a nearby hospital but died en route at the age of 66 on Jan. 2, 1961. His funeral service was held in Chicago. Obituaries were printed in the Daily Journal and Public and in the Decatur Herald and Review. Burial was in Memorial Park Cemetery in Clinton.
The widowed Doris continued to make her home in Matteson until moving to South Bend, IN in 1965. She was employed as a nurse's aide by Memorial Hospital and worked at one time at Stable Antique Shop in Mishawaka, IN. She remained in South Bend for good, with an address in 1993 of Sunnymede Avenue.
On the fateful and tragic day of Feb. 10, 1993, at the age of 84, Doris suffered massive head and internal injuries when the automobile she was driving "collided with the car driven by a 15-year-old unlicensed driver," said the South Bend Tribune. The accident occured as she was turning left from Cleveland Road onto Parkview Street. Her vehicle "spun around and ended up in a ditch," and not wearing a seat belt, she was "ejected from her car." She was rushed to Memorial Hospital and died shortly afterward. Burial was in Clinton. She was survived by her sister Opal Parker, four nephews, 18 great-nieces and nephews, and 22 great-great nieces and nephews.
~ Daughter Dorothy "Elizabeth" (Delamere) Dalton ~
Daughter Dorothy "Elizabeth" Delamere (1908-1985) was born on Nov. 3, 1908 in Gilmore City, IA, a twin with her sister Doris.
At the age of 18, on Nov. 27, 1928, she was joined in wedlock with Roy "Bud" Dalton (Sept. 14, 1905-1962), son of Thomas and Lizzie (Youngblood) Dalton and a native of Sidney, IL. Their nuptials were held in Clinton, IL in the parsonage of the Methodist Church, led by Rev. Virgil Thompson. Dorothy's twin Doris and her husband Jerry Fenner were witnesses to the event.
In announcing the marriage, the Clinton Daily Journal and Public reported that the groom had "been employed here for some time in the Kroger store" while the bride was working "at the Ballard & Johnson cafe." They honeymooned in Kenosha, WI and made their first home with Elizabeth's parents.
The Daltons produced five children together -- James C. Dalton, Beverly Corty, Charles T. Dalton and William Delmar Dalton. Another daughter was born on March 18, 1935 in John Warner Hospital, but her identity is not known.
The Daltons' residence in the early years was in Clinton. He is known to have been a custodian at the DeWitt County Courthouse in 1940 at the time of the federal census enumeration. Then in 1949 they moved to Mishawaka near South Bend, IN, where he obtained employment with Bendix Aviation Corporation.
Sadly, at the age of 56, Roy died in Memorial Hospital in South Bend on Feb. 9, 1962. His remains were shipped to Clinton for burial in Memorial Park Cemetery. His obituary appeared in the Daily Journal and Public.
As a widow, Elizabeth survived for another 23 years. Her final years were spent in 100 Center High Rise in Mishawaka. Death swept her away in St. Joseph's Medical Center at the age of 77 on Dec. 11, 1985. An obituary was printed in the South Bend Tribune. The headcount of her survivors included a dozen grandchildren and 11 great-grandchildren.
Daughter Beverly Dalton (1929-1962) was born on Aug. 21, 1929 in Mattoon, IL. Her birth was announced in the Clinton Daily Journal and Public. Beverly was united in matrimony with Charles E. Corty ( ? - ? ). The couple resided in South Bend, IN at 744 South Fairway Avenue. They were the parents of two children. The pair divorced and then remarried on Dec. 18, 1959, but separated again on June 15, 1961, with Beverly filing for divorce. The case was covered in the South Bend Tribune. Beverly supported herself making a living through her work for Bendix Corporation, and resided at 27901 North Road. Tragedy shook the family in the wee hours of the morning of Oct. 3, 1962. Having finished her shift at Bendix at midnight, she was driving along U.S. Route 20 near Poppy Road, about two-and-a-half miles west of South Bend. She lost control of the vehicle along a slight grade when unable to navigate a curve to the left. Her car "rolled over three times, throwing her out," reported the Tribune.
The accident occured on a stretch of road where three persons have been killed in two accidents this year... The car ran off the north side of the two-lane highway and mowed down a highway sign n the berm located about 142 feet from where the auto first left the road. Then the car dropped in a small ditch and glanced off a tree 146 feet farther west. The car continued on, rolling sideways twice before it flipped end-for-end and came to res tupside down, according to Trooper [James] Falls. Mrs. Corty was thrown through the roof of the convertible and was found lying about 40 feet away from where her mangled car came to a half. The car came to a rest 600 feet away from where it left the road. Pieces of the auto were strewn along its path and the car was so badly wrecked that it could not be towed away. It took three wreckers more than two hours to remove the 1961 automobile.
Son James C. "Jim" Dalton (1933- ? ) was born in about 1933. He served in the U.S. Army in 1962 during the early years of the Vietnam War. He was assigned to Germany at that time. After his tour of duty ended, he returned home. James was united in matrimony with Gloria ( ? - ? ). Circa 1985, they were in California and in 2004 in Rancho Cucamonga, CA.
Son Charles T. Dalton (1937-2004) was born in about 1937. Charles was joined into the bond of marriage with Dorothy Stuenkel ( ? - ? ). Two children in this family were Beth Dalton and Craig Dalton. They established a home in Chicago as of 1962 and moved to Matteson, IL by 1985. For 45 years, he was employed in Frankfort, IL with Joseph A. Schudt & Associates, a surveying and engineering firm. He surrendered to the angel of death at age 68, on Aug. 21, 2004, as a patient in St. James Hospital in Olympia Fields, IL. Interment was in the Abraham Lincoln National Cemetery in Elwood, IL. An obituary appeared in the Tinley Park (IL) Southtown Star, in which the family requested that any memorial donations be made to the University of Chicago Melanoma Research.
Granddaughter

Beth Dalton

lived in Barrington, IL in 2004.
Grandson Craig Dalton

wed Maureen. They have resided in Minocqua, WI.
Son William Delmar "Bill" Dalton Sr. (1939-2013) was born on Jan. 11, 1939 in Clinton, IL. He began driving trucks at the age of 18 in about 1957. When he was 19 years of age, on June 21, 1958, William entered into wedlock with Judith "Judie" Zalas ( ? - ? ). Together, the pair bore a family of five -- William D. "Bill" Dalton Jr., Lorrie Shaw, Julie Lytle, Roy Dalton and Angel Dalton. The family is known to have dwelled in 1962 in South Bend, IN and moved in about 1973 to Granger, IN, remaining for the balance of their lives together spanning four decades. William continud his truck-driving career for 51 years, employed by Holland Motor Freight and holding a membership in the Teamsters Local 364. In his retirement years, he assisted his son Roy at Innovative Powder Coaters in South Bend. With a special love for motor vehicles and movement, he liked to ride his snowmobile and motorcycle and work in his garage. Sadly, although considered a "man of good health for the majority of his life," said the South Bend Tribune, he died without warning on Nov. 27, 2013. He was survived by 14 grandchildren and three great-grandchildren. An obituary in the Tribune said that he was "always willing to drop anything he was doing to be there for anyone who needed him. No matter if there was snow to be plowed, manual labor to be done, or one of his grandchildren's sporting events to attend, he was always there for his friends and family. He provided such a loving, peaceful embrace to anyone who needed it, which is sure to not son be forgotten." His funeral mass was led by Msgr. William Schooler.
Grandson

William D. "Bill" Dalton Jr. wed Kim and lived in Elkhart, IN.
Granddaughter Lorrie Dalton married Kevin Shaw

. They put down roots in South Bend, IN.
Granddaughter

Julie Dalton was joined in matrimony with Al Lytle

. They migrated to Michigan, settling in Niles, MI.
Grandson Roy Dalton

was united in wedlock with Kim. They dwelled in 2013 in South Bend. He and his father worked together at Innovative Powder Coaters in South Bend.
Granddaughter

Angel Dalton

resided in Granger, IN in 2013.
Copyright © 2000, 2007, 2008, 2019, 2021 Mark A. Miner
Research by the late Ethel Lucille (Delamere) Sheridan has been incorporated into this biography.