Carrie 'Livona' (Dillow) Bothwell
(1876-1966)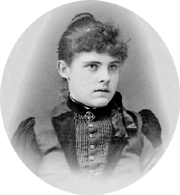 Carrie Livona Bothwell
Carrie "Livona" (Dillow) Bothwell was born on Jan. 28, 1876, in or near Madison County, OH, the daughter of William and Elizabeth (Houser) Dillow.
As a girl, sometime prior to 1881, Livonia and her parents and siblings migrated westward to Central Illinois. They settled in the town of Weldon near Clinton, DeWitt County.
On Sept. 22, 1897, when Livona was age 21, she married 25-year-old John Edward Bothwell (1871- ? ), the son of James and Margaret (Rice) Bothwell, and a native of Montreal, Quebec Province, Canada. The wedding ceremony was performed by B.F. Shipp, pastor of the Methodist Episcopal Church of LeRoy, McLean County, IL, just a few miles north of the DeWitt/McLean County border. Witnesses to the marriage included Livona's brother David Alfred Dillow and sister Sylvia C. Dillow.
At the time of marriage, Livona was residing at Solomon, DeWitt County, and John was a farmer residing in Iowa, making his home in Gilmore City,
According to a Bothwell family website, John "was born in Canada and traveled with his parents as a baby to Iowa in 1873. After staying a few years in Fort Dodge, his Father 'Jim' moved to the prairie and bought the land to farm, where eventually Gilmore City would be founded."
Gilmore Street looking north in Gilmore City. Note the unpaved streets and newly erected telephone pole and wires.
John and Livona had five children -- Gerald Bothwell, Jessie Bothwell, Merle Bothwell, Rollin Bothwell and Irma Potter. Sadly, daughter Jessie died as a young girl, sometime during the decade of the 1910s, and is buried north of Gilmore City.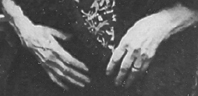 Livona's weathered hands
Seen here, a close up of Livona's hands, reflecting a lifetime of difficult farm labor.
When the federal census was taken in 1910, the Bothwells made their home in Lake Township, Pocahontas County, IA. That year, John's occupation was listed as "farmer." A decade later, in 1920, their situation was much the same, living in the same locale and laboring as farmers.
The family has not yet been located on the 1930 census.
John's fate is unknown.
By 1958, Livona was residing in Tacoma, Pierce County, WA, apparently to be near one of her adult children who had migrated there.
Livona passed away at the age of 90 on July 15, 1966, in Tacoma. Her first name, as spelled in the Social Security Death Index, is "Livonne." They are buried at Marble Valley Cemetery, Gilmore City.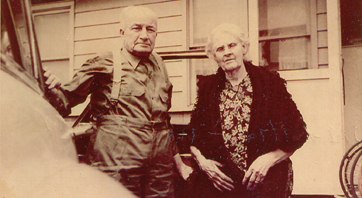 John and Livona, summer of 1954
~ Son Gerald E. Bothwell ~
Son Gerald E. Bothwell (1900- ? )
~ Son Merle E. Bothwell ~
Son Merle E. Bothwell (1907- ? )
~ Son Rollin E. Bothwell ~
Son Rollin E. Bothwell (1912- ? )
~ Daughter Irma (Bothwell) Potter ~
Daughter Irma Bothwell (1917-1993) was close with her cousin Marion (Bothwell) Bracht.
Irma married (?) Potter. They are said to have lived in the "south." Their two sons were James Edward Potter and Garry Rollin Potter.
Irma was afflicted with lung cancer. She passed away on Dec. 21, 1993.
Grandson James Edward Potter (1941?-1989) is believed to have been born on April 16, 1941 and to have resided in Longwood, Seminole County, FL. He died on March 4, 1989.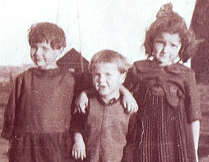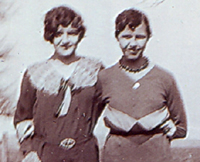 Left: Irma (at right) with her cousins Marion and Robert, circa 1923. Right: Irma and cousin Marion, in about 1935.
Copyright © 2000, 2007, 2008, 2011, 2014 Mark A. Miner