David 'Alfred' Dillow
(1871-1953)
David "Alfred" (or "Alpha") Dillow was born Dec. 27 or 29, 1871 in or near Madison County, OH, the son of of William and Elizabeth (Houser) Dillow.
As a boy, sometime prior to 1881, Alfred and his parents and siblings migrated westward to Central Illinois. They settled in the town of Weldon near Clinton, DeWitt County.
On Sept. 22, 1897, he and his sister Sylvia were witnesses to the marriage of their sister Livona to John Edward Bothwell. The wedding ceremony was performed at the Methodist Episcopal Church of LeRoy, McLean County, IL, just a few miles north of the DeWitt/McLean County border.
When the federal census was enumerated in 1900, the 28-year-old Alfred was a farm laborer, residing under his parents' roof in Clintonia Township, DeWitt County.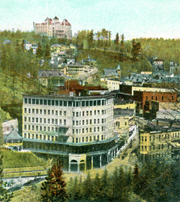 Eureka Springs, Arkansas
Alfred migrated to Arkansas in the early 1900s, and began renting a farm.
On Christmas Eve 1905, Alfred married Lissie Mae Russell (1886-1953), the daughter of William A. and Frances Russell. The wedding took place in Green Forest, Carroll County, AR.
The Dillows went on to bear seven children together -- Tina Venita Jackson, Jessie Augusta Brady, Ethel Marie Pendergraft, Gladys Valo Wright, Frances "Nadine" Goins, David R. Dillow and N. Maxine Kistner Thelander. Sadly, son David died in infancy on Jan. 31, 1919, presumably in Missouri, where he had been born.
Their children were born in a variety of places in Arkansas, including Green Forest (1906), Grandview (1908) Berryville (1909) and Eureka Springs (1925), as well as in other states such as Arkansas City, KS (1912-1914) and Golden, MO (1918).
Eureka Springs was built on the steep side of the Ozark Mountains and famed for mineral waters believed to possess miraculous curing powers. Why the family moved around so often is unknown, and can only be imagined.
The federal census of 1910 shows the family living in Kings River Township, Carroll County, AR. That year, David was listed as a farmer. Residing next door to the Dillows was Alfred's 73-year-old mother, and her 12-year-old granddaughter, who must have resided there for a short time before returning to Illinois.
Alfred's brother William Watson Dillow also was in Arkansas in 1928, but the specifics are not known.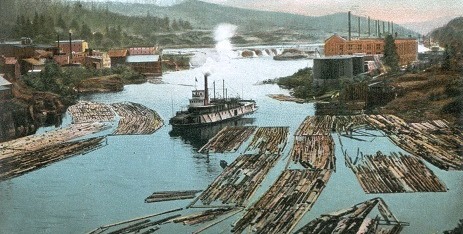 Logging operations in Oregon City, Oregon
At some point in time, the Dillows migrated to the West Coast, and settled in Oregon. When Alfred's half brother James Madison Dillow died in 1943, Alfred was named in the obituary in the Clinton Daily Journal & Public, which noted that his home was in Willamette, OR.
Circa 1953, the couple made a residence in Oregon City, OR. He appears to have worked as a carpenter up to his retirement in a region where lumbering was a major contributor to the economy. They belonged to the Oregon City Christian Church.
Threefold tragedy wiped out this family on Oct. 3, 1953, when 83-year-old Alfred, 67-year-old Lissie and their 50-year-old daughter Tina Jackson were passengers in an automobile driven by their nephew Rollin Bothwell alongside his wife Eva. They were headed to a family gathering in Tacoma. In a split second, their vehicle collided head-on with another on the Mt. Rainier Highway at Spanaway, four miles south of Tacoma, at the intersection of 145th and Pacific Avenue. Tina, in the back seat behind the driver, was critically injured and died shortly after arrival at the Pierce County Hospital. Alfred was thrown from the car and landed head-first on the road gravel. The remaining injured passengers were rushed to a Tacoma hospital, where Alfred passed that night and Lissie the next day. The Bothwells fortunately survived. The other driver, a 20-year-old man, was jailed. An investigation found that the other driver had blacked out some 100 blocks before reaching the site. At the point of impact, his car had veered into the oncoming lane and striking the Bothwell vehicle even though Bothwell had "pulled his car partly off the pavement to the extreme right," reported the Tacoma News-Tribune. They were laid to rest in Mountain View Cemetery, Oregon City, OR.
~ Daughter Tina Venita (Dillow) Jackson ~
Daughter Tina Venita Dillow (1906-1953) was born on Oct. 23, 1906 in Green Forest, AR.
On May 9, 1925, in Arkansas, she married Russell Maynard Jackson (1898-1965), a native of Eureka Springsk AR.
Three children born to this marriage were Bill Gene Jackson, Dorothy Lewis and Geraldine Marie "Jeri" Bingaman.
The Jacksons migrated to Oregon in 1941 and settled in Oregon City. Russell was employed by the Oregon Journal, the daily afternoon newspaper in Portland.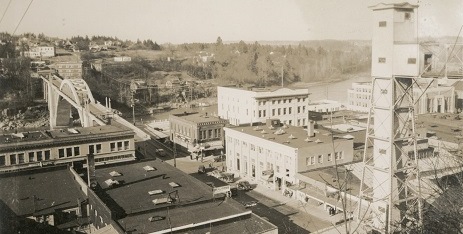 Oregon City, OR townscape and elevator connecting two neighborhoods and the only outdoor municipal elevator in the nation.
The couple's residence was in Oregon City, at the address of 540 Logus Street. They held a membership in the Oregon City Christian Church.
Tina tragically died with her parents in the tragic Oct. 3, 1953 automobile accident in Tacoma. Russell was away on a hunting trip in southern Oregon and did not receive word for several days.
Russell outlived his wife by a dozen years and remained in Oregon City. Death enveloped him in a hospital on Sept. 9, 1965. Rev. Leo Woodruff preached the funeral.
John Bingaman received a Purple Heart, WWII
Daughter Geraldine Marie "Jeri" Jackson (1926-2008) was born on April 19, 1926 in Eureka Springs, AR. She was age 15 when relocating to Oregon with her parents. She married John Calvin Bingaman (Sept. 25, 1923-2016). They were the parents of Sheri L. Rogers and Michael J. Bingman. John was a U.S. Army veteran of World War II and sustained a wound of some sort, for which he was awarded the Purple Heart medal. The Bingamans established a residence in Willamette, OR. Geraldine died on June 3, 2008 in Oregon City. Her ashes were interred in Portland's Willamette National Cemetery. John lived as a widower for another eight years. He passed into eternity on April 22, 2016.
Granddaughter

Sheri L. Bingaman ( ? - ? ) married (?) Rogers.
Grandson Michael J. Bingaman

( ? - ? )
Son Bill Gene Jackson (1930-1999) was born on June 13, 1930 in Eureka Springs, AR. At age 11, he migrated to Oregon with his family. At the age of 23, on Oct. 25, 1953, Bill was united in holy matrimony with Marjorie Rae Mestek (Aug. 30, 1928-2018), daughter of Joseph and Josephine Mestek. Their nuptials were held just three weeks after the tragic death of Bill's mother and grandparents. The Jacksons together produced a daughter, Gail Jackson. They lived in Oregon City for decades. Bill was employed for more than 40 years with the City of Oregon City. Sadly, Bill passed away in Oregon City on July 16, 1999 at the age of 69. His funeral mass was sung at St. John the Apostle Catholic Church in Oregon City. Burial was in Mountain View Cemetery's mausoleum. Marjorie continued on for 19 years as a widow, continuing to make her residence in Oregon City. The spirit of death whisked her away on Aug. 18, 2018. An obituary appeared in the Portland Oregionian.
Daughter Dorothy Maye Jackson ( ? - ? ) was wed at least three times in her life. Her first spouse was (?) Lewis. In time she entered into marriage with (?) Boehly. Then in 2009, her husband was (?) Krueger. Her home in the early 1950s-1965 was in Oregon City and was still alive in 2017.
~ Daughter Jessie Augusta (Dillow) Brady ~
Daughter Jessie Augusta Dillow (1908-1999) was born on Feb. 2, 1908 in Grandview, Carroll County, AR.
When she was 32 years of age, on Dec. 30, 1940, she married Walter Brady (1905-1987), in nuptials held in Vancouver, WA.
At least one son was born to this union, James Edward Brady.
Their home in 1953-1993 was in Gladstone, OR, about a dozen miles south of Portland. They were affiliated with the Elks lodge.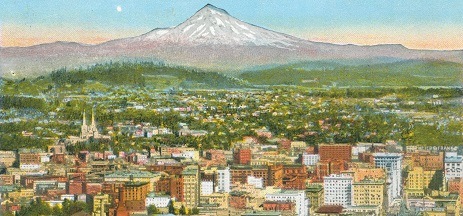 Portland, Oregon, with Mt. Hood in the distance
Walt surrendered to death in 1987, at the age of about 83. Burial was in Mountain View Cemetery in Oregon City.
Jessie lived on for another dozen years and toward the end of her life moved to be near her son in Madras, OR. At the age of 91, she died in Madras on Dec. 12, 1999. Her remains were cremated.
Son James Edward Brady (1943-2003) ws born on Nov. 6, 1943 in Gladstone. On Oct. 29, 1966, he and Connie Sabin ( ? - ? ) were wed in Reno, NV. Together, they bore two daughters, Jennifer Brady and Shannon Woodcock. Over the years, James was employed as an insurance agent. They resided in Madras, OR. He was a passionate follower of the Oregon State University Beavers sports teams and liked to camp, fish, hunt and ride snowmobiles. Said the John Day (OR) Blue Mountain Eagle, He possessed "a contagious laugh who could always tell a good story and bring a smile to your face."
Granddaughter

Jennifer Brady

lived in Bend, OR.
Granddaughter Shannon Brady married (?) Woodcock

. She resided in John Day, OR in 2003.
~ Daughter Ethel Marie (Dillow) Pendergraft ~
Daughter Ethel "Marie" Dillow (1909-2008) was born on Nov. 23, 1909 in Berryville, Carroll County, AR.
At the age of 18, on Jan. 21, 1928, she wedded Glen Gifford Pendergraft (July 8, 1903-1965), a native of Seligmna, MO and the son of Robert Lafayette and Minnie Josephine (Babb) Pendergraft.
The pair bore three offspring -- Doris Lucas, Donald Glen Pendergraft and Dixie Louise Pendergraft. Sadnesss cascaded over the family at the infant death of daughter Dixie in Tulsa, OK in 1934.
The couple resided in Cleveland, OK in 1934. They moved to Oregon in about 1946 and settled in Willamette, OR and were there in 1953. In the mid-1960s, they dwelled in West Linn, OR. Glen earned a living through his work as a steam turbine operator for Crown-Zellerbach in West Linn.
Sadly, Glen died on May 7, 1965. His obituary was published in the Enterprise-Courier.
Ethel survived her spouse by more than four decades. By 1993, she moved to Milwaukie, Clackamas County, OR. Her final years were in Paris, TN.
At the age of 98, Ethel died in Springville, TN on April 2, 2008. Her remains were transported back to Oregon to be reunited for all time with her spouse in Mountain View Cemetery.
Daughter Doris Pendergraft was joined in wedlock with (?) Wolfenberger and made a home in Lake Oswego. By 2008 she hae married again to (?) Lucas.
Son Donald Glen Pendergraft ( ? - ? ) lived in Oregon City in 1965.
~ Daughter Gladys Valo (Dillow) Wright ~
Daughter Gladys Valo Dillow (1912-2004) was born on March 25, 1912 in Arkansas City, KS.
On Oct. 11, 1931, at the age of 19, she was joined in holy matrimony with Harold Wayne Wright (Nov. 25, 1912-2006), the son of Ben H. and Grace Alice (Ledbetter) Wright.
The couple did not reproduce.
The Wrights made their residence in the early 1950s in West Linn, OR. They eventually relocated by 1993 to Milwaukie, Clackamas County, OR. He was employed by Publishers Paper and retired from the company as a superintendent.
Gladys succumbed to the spectre of death at age 91, as a patient at Willamette Falls Hospital in Oregon City, on Feb. 20, 2004. Burial was in Mountain View Cemetery.
Harold lived for another two years. He died at age 93, on Oct. 8, 2006. The Portland Oregonian printed an obituary.
~ Daughter Frances "Nadine" (Dillow) Goins ~
Daughter Frances "Nadine" Dillow (1914-1993) was born on Oct. 12, 1914 in Arkansas City, KS.
She was united in wedlock with Absolem "Ab" Goins (June 24, 1909-1986) on April 28, 1934, in a ceremony held in Eureka Springs, AR. Ab was a native of Ontario, OR, the son of John Allen and Villa May (Walden) Goins, with his name misspelled at times as "Gains" and "Goin."
Two sons born to this marriage were David Allen Goins and Charles Edward "Chuck" Goins.
Their sons were born in Eureka Springs in the 1930s. After a move to Oregon in 1941, the family was in Woodburn, OR in 1953 and in West Linn, OR in 1986.
Ab earned a living for years as a millwright for Crown Zellerbach, a large wood pulp and papermaking company. Socially, he belonged to the Elks lodge in Oregon City. The couple also owned and operated their own business, Goins Nursery.
At the age of 77, Ab died in Oregon City, OR on July 31, 1986. The remains were interred in the mausoleum of Mountain View Cemetery. An obituary was published in the Enterprise-Courier.
Nadine outlived her husband by seven years. She succumbed to the spectre of death, in an Oregon City hospital, on March 18, 1993.
Son David Allen Goins dwelled in West Linn, OR.
Son Charles Edward "Chuck" Goins (1938-1991) was born on Jan. 19, 1938 in Eureka Springs, AR. He put down roots in Arlington, OR. Charles tied the knot with Carol ( ? - ? ). Their two daughters were Tammy Bennett and Francie Bailey. Charles earned income as a ranch hand. They belonged to the Gladstone Church of the Nazarene. He died in Clackamas, OR at the age of 53 on April 22, 1991. Pastor James Healy led the funeral service. The Enterprise-Courier printed an obituary.
Granddaughter

Tammy Goins was joined in wedlock with (?) Bennett. She was in Portland in 1991.
Granddaughter Francie Goins was united in matrimony with (?) Bailey

. She too made a residence in Portland.
~ Daughter N. Maxine (Dillow) Kistner Thelander ~
Daughter N. Maxine Marion Dillow (1925- ? ) was born on Oct. 24, 1925.
On Aug. 6, 1945, she married Karl A. Kistner (Jan. 4, 1920-2003).
During World War II, Karl had served in the U.S. Army, attaining the rank of sergeant.
Four children believed to have been borne by this couple were Christine Hentges, Patricia "Pat" Long, Daniel Kistner and Karla Friday.
The Kistners dwelled in Woodburn, OR in 1953. They eventually divorced.
In 1988, when she was 63 years of age, Maxine wed a second time to Wallace Thelander (Dec. 10, 1922-2005), born in Kanorado, KS. He too was a World War II veteran of the Army and had raised a nephew Thomas. Wallace spent his working career as a woodworker with B.P. John Furniture. Their residence in 1993 was in Ocean Park, WA.
Wallace was stricken by a heart attack and passed into eternity at age 82, in Portland, on Aug. 15, 2005. His memorial service was held in Tri City Baptist Temple in Gladstone, OR, and an obituary printed in the Portland Oregonian.
The angel of death spirited Maxine away at age 89 on Jan. 2, 2015. Her remains sleep in eternal repose in the Mountain View Cemetery mausoleum. In an obituary in the Oregonian, the family asked that any memorial donations be made to the Sherie Hildreth Ovarian Cancer Foundation.
Ex-husband Karl died at age 83 on April 12, 2003. Burial was in St. Luke's Cemetery in Woodburn, OR.
Daughter Christine Kistner married (?) Hentges.
Daughter Patricia "Pat" Kistner wed (?) Long
Son Daniel Kistner ( ? - ? )
Daughter Karla Kistner (1950-2006) was born on Aug. 13, 1950. She was joined in marriage with (?) Friday. She surrendered to death in Portland on Jan. 12, 2006.
Copyright © 2000-2001, 2007, 2021 Mark A. Miner