David 'Alfred' Dillow
(1871-1953)
David Alfred Dillow was born Dec. 27, 1871 in or near Madison County, OH, the son of of William and Elizabeth (Houser) Dillow.
As a boy, sometime prior to 1881, Alfred and his parents and siblings migrated westward to Central Illinois. They settled in the town of Weldon near Clinton, DeWitt County.
On Sept. 22, 1897, he and his sister Sylvia C. Dillow witnessed to the marriage of their sister Livona to John Edward Bothwell. The wedding ceremony was performed at the Methodist Episcopal Church of LeRoy, McLean County, IL, just a few miles north of the DeWitt/McLean County border.
When the federal census was enumerated in 1900, the 28-year-old Alfred was a farm laborer, residing under his parents' roof in Clintonia Township, DeWitt County.
Alfred migrated to Arkansas in the early 1900s, and began renting a farm.
Alfred married Lissie Russell (1886-1953), the daughter of William A. and Frances Russell. The wedding took place on Christmas Eve 1905 in Green Forest, Carroll County, AR. The Dillows had seven children -- Tina V. Jackson, Jessie Augusta Brady, Ethel Marie Pendergraft, Gladys V. Wright, Nadine Gains, David R. Dillow and N. Maxine Kistner. Sadly, son David died in infancy on Jan. 31, 1919, presumably in Missouri, where he had been born.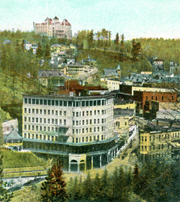 Eureka Springs, Arkansas
Their children were born in a variety of places in Arkansas, including Green Forest (1906), Grandview (1908) Berryville (1909) and Eureka Springs (1925), as well as in other states such as Arkansas City, Kansas (1912-1914) and Golden, Missouri (1918).
Eureka Springs was built on the steep side of the Ozark Mountains and famed for mineral waters believed to possess miraculous curing powers. Why the family moved around so often is unknown, and can only be imagined.
The federal census of 1910 shows the family living in Kings River Township, Carroll County, AR. That year, David was listed as a farmer. Residing next door to the Dillows was Alfred's 73-year-old mother, and her 12-year-old granddaughter, who must have resided there for a short time before returning to Illinois.
Alfred's brother William Watson Dillow was in Arkansas in 1928, but the specifics are not known.
At some point in time, the Dillows migrated to the West Coast, and settled in Oregon. When Alfred's half brother James Madison Dillow died in 1943, Alfred was named in the obituary in the Clinton Daily Journal & Public, and it said his home was in Wilmete ("Willamette"?), OR.
Threefold tragedy rocked this family on Oct. 3, 1953, when Alfred, Lissie and their daughter Tina Jackson were killed together in an automobile accident in Tacoma, WA. Details are not yet known, but they were laid to rest in Mountain View Cemetery, Oregon City, OR.
~ Daughter Tina V. (Dillow) Jackson ~
Daughter Tina V. Dillow (1906-1953) married Russell Jackson on May 9, 1925.
Tina died with her parents in the tragic 1953 automobile accident in Tacoma.
~ Daughter Jessie Augusta (Dillow) Brady ~
Daughter Jessie Augusta Dillow (1908- ? ) was born in 1908.
She married Walter Brady (1905- ? ) on Dec. 30, 1940, in Vancouver, WA.
~ Daughter Ethel Marie (Dillow) Prendergaft ~
Daughter Ethel "Marie" Dillow (1909- ? ) was born in 1909.
She wedded Glen Pendergraft ( ? - ? ) on Jan. 21, 1928.
Nothing further is known.
~ Daughter Gladys V. (Dillow) Wright ~
Daughter Gladys V. Dillow (1912 - ? ) was born in 1912.
She was joined in holy matrimony with Harold Wright ( ? - ? ) on Oct. 11, 1931.
~ Daughter Nadine (Dillow) Gains ~
Daughter Nadine Dillow (1914- ? ) was born in 1914.
She was united in wedlock with Ab Gains ( ? - ? ) on April 28, 1934.
~ Daughter N. Maxine (Dillow) Kistner ~
Daughter N. Maxine Dillow (1925- ? ) was born in 1925.
She married Karl Kistner ( ? - ? ) on Aug. 6, 1945.
Copyright © 2000-2001, 2007 Mark A. Miner