William Watson Dillow, Sr.
(1868-1962)
William Watson Dillow was born on Dec. 11, 1868 in or near Madison County, OH, the son of of William and Elizabeth (Houser) Dillow.
As a boy, sometime prior to 1881, William and his parents and siblings migrated westward to Central Illinois. They settled in the town of Weldon near Clinton, DeWitt County.
William's rare signature
William is known to have signed his name in the autograph book of his new brother-in-law, John Perron Shinneman, sometime in the early 1880s.
In about 1890, when William was 22, he was united in matrimony with 16-year-old Caroline "Lena" Wandschneider (1874-1910), daughter of German immigrants Henry J. and Minnie (Rohn) Wandschneider and a native of Bloomington, McLean County, IL.
The Dillows produced a family of eight children, born over a 17-year span from 1891 to 1908 -- Florence Klingman, William Watson Dillow Jr., William Roy Dillow Sr., Harvey B. Dillow, Willis Elmer Dillow, Gladys Bridges, Helen May Swanson Hausmann and Robert Eugene Dillow.
Sadly, young William Jr. is believed to have died as a boy, or in infancy.
When the federal census was taken in 1900, the Dillows lived in East St. Louis, St. Clair County, IL. They boarded with the family of Juan and Nancy Rugg on Fifth Street. That year, William was employed as a carpenter.
Kansas City, early 1900s
The Dillows moved in about 1905 to Kansas City, Jackson County, MO. William found work in the bustling midwestern city as a carpenter and builder, and they resided in their own home. The census shows that boarding under their roof in 1910 was Fred Wandschneider, apparently Lena's brother. Their last two children were born in Missouri.
Tragedy struck when the Dillows' youngest baby was two years old. Lena contracted peritonitis, and died at the age of 36, on May 17, 1910. Her weary remains were laid to eternal rest in Mt. Washington Cemetery, Independence, MO.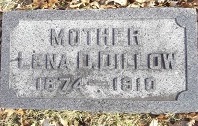 Mt. Washington Cemetery.
Find-a-Grave
Left alone to raise his brood of children, William's burden was heavy. He remained in Kansas City, and was there when his mother died in 1917.
By 1928, when his father passed, William was in Arkansas, as were his brother David Alfred Dillow and older half brother George Wesley Baker.The federal census enumeration of 1930 lists William and Lena in Hittle Township, Hazewell County, IL, having no occupation.
When brother George died suddenly from a heart attack in May 1933, in Higden, Cleburne County, AR, William was the informant on the death certificate. Then at the death of William's half brother James Madison Dillow in 1943, William was named in the obituary in the Clinton Daily Journal & Public, which said his home was "address unknown."
He made his way to Texas and died on April 11, 1962 in Kerrville, Kerr County, TX .
~ Daughter Florence (Dillow) Klingman ~
Daughter Florence Dillow (1893-1923) was born on March 1, 1893 in Chicago.
She married Delbert Charles Klingman (Oct. 16, 1889-1979), a native of Pleasant Hope, MO, the son of Edwin Thomas and Sarah Jane (Teeters) Klingman.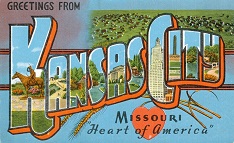 Homeplace of Florence and Delbert Klingman
They initially dwelled on East 12th Street in Kansas City, MO, with Delbert earning a living as a rug weaver in a rug factory. He was of medium height and build, with blue eyes and brown hair.
They together bore three children -- Virgil C. Klingman, Dorothy "Genevieve" Klingman and Maxine Elizabeth Klingman. The family grieved when son Virgil died at about age one in 1910.
One of the daughters was born in St. Louis in 1911.
Delbert earned income as a chauffeur in Kansas City 1917.
The Klingmans' address in 1920 was on Park Avenue in Kansas City and then in 1923 at 2007 North 9th Street in Kansas City, KS. Delbert's occupation as shown in the federal census of 1920 was "Manufacturer - Rug Factory."
Sadly, Florence at age 30 tried to self-induce an abortion in early 1923. In doing so, she contracted a septic infection of her intestines ("peritonitis"), and was admitted to St. Joseph's Hospital. She underewent surgery, but nothing more could be done. She died there at age 30 on May 8, 1923. Florence's remains were laid to rest in the Mt. Washington Cemetery in Independence, MO, in the same resting grounds as her mother.
Delbert outlived his wife by 56 years and wed again twice, first to Verna Dembow ( ? - ? ) and then to "Lottie" Robinson (1889- ? ). He and Lottie were together in 1940 in Kansas City at the time of the U.S. Census, with him working as a laborer for a retail rug firm.
Eventually he relocated Arcadia, Los Angeles County, CA, where his daughter Genevieve is known to have been living. There, at the age of 89, he died on St. Patrick's Day 1979. A memorial service was held in Lansing, MI, and an obituary published in the Lansing State Journal. His remains were transported to Independence to sleep for all time beside his first wife, the mother of his children, after a separation of 56 years.
Daughter Dorothy "Genevieve" Klingman (1911-1989) was born on Jan. 29, 1911 in St. Louis, MO. She was united in wedlock with Joseph M. Hicks (1908-1989), a native of Ascension Parish, LA. During World War II, Joseph served in the U.S. Army. The pair relocated to California. Dorothy died in Arcadia, Los Angeles County, CA on Sept. 16, 1989. Burial was in Rose Hills Memorial Park in Whittier, CA. Just 16 days later, Joseph followed her to into eternity. His remains also were laid to rest in Rose Hills.
Daughter Maxine Elizabeth "Micki" Klingman (1921-1999) was born on Dec. 4, 1921. She married (?) Pruitt ( ? - ? ) and in 1979 resided in Lansing, MI. She was an employee of the State of Michigan. Micki surrendered to the angel of death on Oct. 8, 1999 at the age of 77. Her remains were placed into the slumber of the ages in Rose Hills. A brief death notice was printed in the Lansing State Journal.
~ Son William Roy Dillow Sr. ~
Son William Roy Dillow Sr. (1895-1963) was born on March 25, 1895 in Bloomington, IL.
He wedded Alta E. Lund (1900-1970), a native of Utah.
They together were the parents of one son, William Roy Dillow Jr.
William was a career Navy officer, rising from electrician to lieutenant commander, and was a veteran of both World War I and World War II. He joined the Navy circa 1913 and, for the first eight years until 1921, served aboard nine vessels, among them the USS Glacier, USS Chattanooga, USS Pueblo and USS Lawrence. Among his posts was in 1918 in Cristobal in the Panama Canal Zone. During his career he also served on submarines, battleships and auxiliary vessels.
Circa 1920, they dwelled in San Pedro, CA, and he applied to the Port of Los Angeles for a license to operate motor boats.
When the federal census enumeration was made in 1940, William and Alta lived along Highway 40 in Parks Auto Court in Vallejo, Solano CA.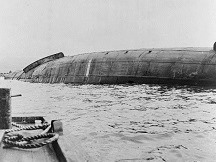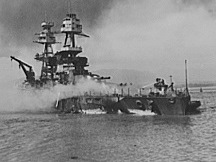 Wrecks of the capsized Utah (left) and beached Nevada, aided by the Medusa (below) after the Japanese attack on Pearl Harbor on Dec. 7, 1941.
Library of Congress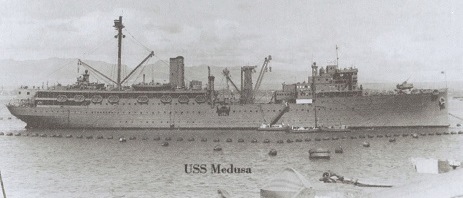 He is said to have been aboard the USS Medusa in Pearl Harbor during the attack of Dec. 7, 1941. The Medusa, the Navy's first repair ship built for the purpose of major repairs, fired on a Japanese midget submarine and shot down two dive bombers during the action. In the aftermath, the Medusa provided rescue services for the men trapped in the capsized Utah, machine gun ammunition to the damaged and beached battleship Nevada and rifles to troops at Schofield Barracks.
Upon his retirement from the Navy in 1946, after 33 years of service, the couple relocated to Santa Rosa, CA. He earned income as a real estate agent, radio technician and bookkeeper. He held membershiops in the Major General Henry Knox lodge of the Masons in Boston, the Aahmes Temple, Sonoma County Shrine Club and Retired Officers Association. Their last address together was at 2020 Spring Creek Drive.
William passed away in a hospital in Santa Rosa, CA on Aug. 20, 1962, following what the Santa Rosa Press Democrat called "a long illness." His ashes were placed into rest in the Chapel of the Chimes.
Alta outlived her spouse by eight years. Death swept her away in Long Beach on July 11, 1970.
Son William Roy Dillow Jr. (1926-2011) was born in 1926. His home in 1962 was in Alameda, CA. He died in Martinez, CA at age 85 on Oct. 6, 2011.
~ Son Harvey B. Dillow ~
Son Harvey B. Dillow (1897-1973) was born in 1897.
He never married.
Harvey resided in Arizona (1962) and in the early 1970s in Bakersfield, Kern County, CA.
He died two days after Christmas in 1973, in Bakersfield, and is buried there.
~ Son Willis Elmer Dillow ~
Son Willis Elmer Dillow (1900-1987) was born in 1900.
He never married and is known to have made his home for years in Long Beach.
Evidence suggests that he may have joined Sears, Roebuck & Co. in San Francisco in 1933 and transferred in 1936 to its Long Beach store. If so, he became head of the bedding department and retired in August 1957, with an article and his photograph appearing in the Long Beach Independent.
He died in Long Beach at the age of 87 on May 27, 1987. His ashes are said to be scattered at sea.
~ Daughter Gladys (Dillow) Bridges ~
Daughter Gladys Dillow (1902-1992) was born on Dec. 30, 1902 in Decatur, IL.
She was united in matrimony with Marvin Roy Bridges Sr. (April 14, 1900-1950), a native of Calhoun County, WV and the son of Martin P. and Nancy (Lyncicome) Bridges.
Marvin was a U.S. Army veteran of World War I and spent a year in France. After his discharge, he established his home in Kansas City in 1919 and entered the dry cleaning industry.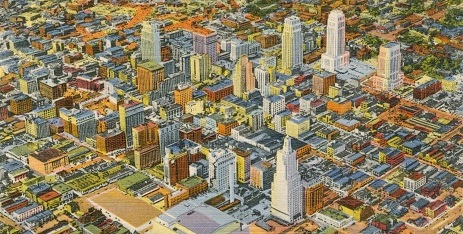 Downtown Kansas City
The couple's only child was Marvin Roy Bridges Jr.
When the federal census enumeration was made in 1940, the family lived with Marvin's brother T.S. Bridges in Kansas City, MO. Marvin worked as a spotter in a cleaning and pressing business, while Gladys was employed as a bookkeeper with a finance company.
Their address in 1942 was 3008 East 69th Street and in 1950 at 1607 West 37th Street.
Marvin purchased Roanoke Cleaners in about 1945. He held a membership in the Kansas City Cleaning Plant Owners' Association. He operated Roanoke for four years until his health began to fail in Octobere 1949.
Sadly, Marvin appears to have suffered two heart attacks, the first on May 30, 1945, and the second and final one on March 21, 1950. He lingered after the second attack and released from St. Joseph Hospital but passed away on April 25, 1950. Burial was in Kansas City's Greenlawn Cemetery. He was pictured in an obituary in the Kansas City Star.
At some point Gladys was employed by Skelly Oil Company, supporting herself as a widow. Then in 1977, upon retirement, she moved to Oklahoma. She resided in Bethany, OK in 1978 and in 1992 in Jay, OK.
Gladys died in a hospital in Grove, OK on March 8, 1992, at the age of 89. Interment was in Greenlawn Cemetery, with an obituary appearing in the Star. She was survived by four grandchildren and eight great-grandchildren.
Son Marvin Roy Bridges Jr. (1922-2010) was born in 1922 in Missouri. During World War II, he served with the U.S. Marine Corps as a dive bomber in the South Pacific. After the war, circa 1948, he was united in wedlock with Velma ( ? - ? ). Their union endured for an extraordinary 63 years. Four children were born to the couple -- Joyce Cooper, Donna Morris, Terri Stevens and Roy Bridges. The family made a home at 6806 Laurel Boulevard in Jackson County, MO in 1950, with Marvin serving in the reserves. When the Korean War erupted, he went back to active duty as a pilot. He continued in the reserves for several years afterward and retired with the rank of major. In his day-to-day business, he was a salesman in the drycleaning and laundry business, following in his father's footsteps. By 1992, they had relocated to Eucha, OK. His outside interests included playing golf and following the fortunes of Tiger Woods and rooting for the Oklahoma University Sooners sports teams. Sadly, at the age of 88, Marvin died on Sept. 5, 2010. An obituary was printed in the Oklahoma City Daily Oklahoman, which said he was survived by eight grandchildren and nine great-grandchildren.
Granddaughter

Joyce Bridges wed (?) Cooper

.
Granddaughter Donna Bridges married (?) Morris

.
Granddaughter Terri Bridges entered into marriage with (?) Stevens

.
~ Daughter Helen May (Dillow) Swanson Hausmann ~
Daughter Helen May Dillow (1905-1995) was born in 1905.
At the age of 14, she made a home with her married sister Florence Klingman in Kansas City, MO and worked as an "office girl" in a dressmaking business.
She was married twice. Her first husband, whom she wed on Sept. 13, 1923 in Kansas City, was Harold Theodore Swanson (March 13, 1901-1954). He was a native of Kansas City and the son of Olaf and Mary (Johnson) Swanson.
The only child born to the couple was Mary Carolyn Engel.
The Swansons lived at 1021 East 76th Street in Kansas City in 1937 and by 1943 at 8328 Meadow Lane in Leawood, MO. Harold was employed in accounting by Sinclair Refining Company. He was with the company for 28 years and rose to the position of accounting supervisor.
During the World War II years, in May 1943, they received a visit from their nephew Marvin R. Bridges Jr., who was serving in a Marine Corps reserve unit, as reported in the gossip columns of the Kansas City Times.
On the fateful day of June 22, 1954, at age 53, Harold called off work and drove into Kansas City to see his physician in Kansas City's Argyle Building. While in the office, he suffered a massive heart attack and died . His remains are buried at Forest Hills Cemetery in Kansas City.
Helen married her second husband, Paul Hausmann ( ? -1977) on June 27, 1973, when she was age 68.
Paul died after five years of marriage, on March 19, 1977.
Helen at some point moved to Lenexa, Johnson County, KS, where she is knwn to have been in 1992.
She died on May 28, 1995. Her remains were brought back to Kansas City for interment beside her first husband.
Daughter Mary Carolyn Swanson ( ? - ? ) was born in (?). She studied at the University of Kansas and was a member of the honorary music sorority, Mu Phi Epsilon. On March 24, 1951, she was joined in matrimony with fellow UK student Dale Lee Engel ( ? -2011), son of Harry Ellis and Shirley Katherine (Jones) Engel of Salina, KS. Officiating was Rev. Dr. R. Loftus Hudson, with the wedding held in the Wornall Road Baptist Church. In announcing the marriage, the Kansas City Star said that she wore "a gown of frost white satin styled with a sheer yoke outlined with a narrow fold of satin and a circular bertha of Swiss lace. The fitted bodice, which fastened down the back with satin covered buttons, had long sleeves tapered at the wrists and the full skirt lengthened into an aisle-wide train. her veil of illusion was held in place by a satin bonnet and she carried a colonial bouquet of stephanotis and white feathered carnations centered with white orchids." Their marriage survived the ups and downs of an extraordinary six decades. Together, the pair bore two children -- Stephen L. Engel and Carol Poppe. Dale earned his bachelor's degree in business and accounting from Kansas and played varsity Jayhawks basketball in 1949, 1950 and 1951 under legendary Forrest Clare "Phog" Allen, the winningest head coach in university history. The Engels dwelled in 1954 in Lyndon, KS. Dale is known to have been employed for four years in the Auditor General Section of the U.S. Air Force. He went on to a 33-year career with Seidlitz Paint and Varnish Company, later absorbed tinto ConChemCo, Inc., where he was named chief financial officer. The couple lived briefly in Rockport, TX. In his free time, he played golf and was elected president of Blue Hills Country Club. He helped coach his children's youth sports teams and was an assistant scout master for the Boy Scouts. He liked to boat and fish in the Lake of the Ozarks. For the last 18 years of his life, Dale was burdened with a serious vascular ailment, and underwent amputation of one of his limbs. They retired to the Village of Four Seasons, in the Ozarks, where he was served as mayor. Sadly, Dale died on Dec. 30, 2011, while a patient in the Missouri Veterans Home in Cameron, MO. The remains were cremated, and a memorial service was held at the Village Presbyterian Church of Prairie Village, KS. In an obituary in the Star, the family asked that any memorial donations be made to the Williams Educational Fund of his alma mater, the University of Kansas.
Grandson

Stephen L. Engel

( ? - ? ) was born in (?).
Granddaughter Carol Lynn Engel ( ? - ? ) was born in (?). In 1982, she wed Thomas Vernon Poppe

( ? -2017), son of Vernon William and Ruth Poppe. The three offspring born to this union were Kevin Thomas Poppe, David Lee Poppe and Katherine Ruth Tarr. He attended the University of Kansas on a Summerfield Scholarship and received his bachelor of science degree in accounting,

summa cum laude

. His professional career was spent in the tax accounting specialty in Kansas City. He is said to have had a "great sense of humor and an infectious laugh." Following what the

Marion Record

called "a short illness," he passed away at age 67, on Oct. 7, 2017, in the UK Hospital. Funeral services were held in St. Johl's Lutheran Church, and interment in Lincolnville Cemetery.
Great-grandson Kevin Thomas Poppe was united in wedlock with Jen.
Great-grandson David Lee Poppe married Sarah. Their two children are Abigail Poppe and Owen Poppe.
Great-granddaughter Katherine Ruth Poppe wed Will Tarr.
~ Son Robert Eugene Dillow ~
Son Robert Eugene Dillow (1908-1978) was born on April 19, 1908 in Missouri.
His mother died when Robert was age two, and evidence suggests that he was taken in by his uncle and aunt, James Madison and Amanda (Williams) Dillow. He considered his cousins in this family as his own siblings.
On June 3, 1934, when he was 26 years of age, Robert was joined in wedlock with Pauline Mae Chrisman (1914-1970), daughter of Frank and Jessie (Parr) Crisman of Decatur. The nuptials were held in Maroa/Decatur, Macon County, IL and announced in the Decatur Herald Review, which included Pauline's wedding photograph portrait.
The Dillows made a home in Decatur and produced three children, Robert Eugene Dillow Jr., Nancy D. Dillow and Sharon Dillow.
Grief blanketed the family when their young son Robert died at home on April 5, 1938. An obituary in the Decatur Daily Review said he "had been ill since his birth on Oct. 12, 1936." The baby's remains were lowered into eternal repose in Deland, IL.
The younger daughter Sharon also died young.
The federal census enumation of 1940 shows the Dillows in Decatur, with Robert earning a living with a truck freight line as a driver.
Robert was declared legally bankrupt in April 1942. Notices to his creditors were printed in the Herald and Review.
By 1957, they relocated to Fort Worth, TX, making a home at 9001 Weatherford Highway. He earned a living as a mechanic and shop foreman in the auto transportation industry. The couple held a membership in King's Highway Baptist Church.
Pauline died in El Paso's Providence Memorial Hospital at the age of 55 on Feb. 16, 1970. Her obituary appeared in her hometown newspaper, the Herald and Review.
Robert survived her by eight years and endured lung cancer. As his health failed, he was admitted to Hill Haven Nursing Home in Dallas, and died four days later at the age of 70 on July 31, 1978. The Bloomington (IL) Pantagraph printed an obituary. Rev. Bill Stone led the funeral service, and burial was in Deland Cemetery, Piatt County, IL.
Daughter Nancy D. Dillow (1939-2020) was born on March 15, 1939 in Decatur, IL. She was a member of the 1957 graduating class of Carter Riverside High School in Fort Worth, TX. She entered into wedlock with (?) Denton ( ? - ? ). By 1978, she had married again to (?) Edwards ( ? - ? ). Nancy's four children included Mark Denton Sr., Eugenia Dean, Melanie Layland and April Edwards. Her home circa 1970 was in Fort Worth -- in 1978 in Andrews, TX -- and in 2020 in Cleburne, TX. For half a century, she was self-employed as a bookkeeper. She belonged to Calvary Baptist Church of Grandview, TX. Sadly, she died at the age of 81 on Dec. 10, 2020 in Fort Worth. Co-officiating her funeral were Rev. Todd Ledbetter, Rev. Charles Payne and Rev. Don Wills. The remains were placed into the sleep of ages in the mausoleum of Greenacres Memorial Park.
Grandson Mark Denton Sr. ( ? - ? ) was born in (?). He was deceased by 2020.
Granddaughter Eugenia Dean ( ? - ? ) was born in (?).

In 2020, she was in Haltom City, TX.
Granddaughter Melanie Layland ( ? - ? ) was born in (?).

She has dwelled in Cleburne, TX.
Granddaughter April Edwards

( ? - ? ) was born in (?). Her home in 2020 was in Cleburne, TX.
Copyright © 2007, 2019, 2021 Mark A. Miner