Foster Kemble Everly
(1884-1963)
Foster Kemble Everly was born on Dec. 20, 1884 in or near Kingwood, Preston County, WV, the son of Absalom and Sarah (Carroll) Everly.
In about 1903, when he was age 19, Foster married 21-year-old Gay V. Bunner (1882- ? ) of Monongalia County, WV.
They relocated to Pittsburgh as early as 1908. Federal census records show Foster's occupation in 1910 as "Marine Engineer - Steam Boat" and that in 1920, still working on steam boats, his employer was a coal company.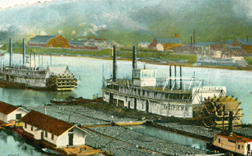 Steamboats on Pittsburgh's Mon River
The couple bore one known son, but sadly the baby died at birth on April 2, 1918. The infant's remains were cremated. The examining physician observed that Gay's womb was "not properly developed."
Foster is mentioned in a profile of his brother J. Ami Everly in The History of West Virginia, Old and New, published in 1923 by the American Historical Society, Inc. (vol. II. page 412). The profile calls Foster "a steamboat engineer out of Pittsburgh."
By 1918, they had moved to 4100 Lydia Street, and Foster's employment given as "marine eng'r - coal co." In 1930, they were still making their home on Lydia Street, but he had changed his employment to "Proprietor - Confectionary Store."
Foster and Gay were politically active and in 1922 were appointed precinct chairmen in the 15th Ward.
His is known in 1921 to have been marine engineer on the steamer Resolute, owned by Equitable Towing and Transportation Company. Then in 1924, he was stationed at the helm of the Clyde and in 1927 of the Crucible and the Morgan Davis.
Periodically, Foster's vessels were inspected by officials from the U.S. Steamboat Inspectors. A story in the Pittsburgh Daily Post said that his license had been renewed in February 1924 as a "high pressure engineer."
Circa 1930, Foster was among those arrested in a liquor raid. The Pittsburgh Post-Gazette reported that the saloon was in the rear of a store at 5430 Second Avenue and that 20 gallons of wine and 76 gallons of whiskey had been confiscated. The news was published in newspapers across the state. In 1935, he appeared in the Western District Court of Appeals regarding a 1934 seizure of three one-gallon jug of moonshine whiskey and was found guilty, ordered to serve 30 days in jail. In April 1935, state revenue agents found a four-gallon container of whiskey in a refrigerator in his basement, and he again was convicted, ordered to pay a $100 fine and sentenced to a year's term in the workhouse.
Gay must have had enough of her husband's bootlegging, as she filed for divorce in Allegheny County in August 1935. Apparently the case did not move forward, and again in March 1939 she sued to end the marriage. The divorce was granted in November 1939 and reported in the Post-Gazette.
Foster lived for another 27 years after the divorce. Continuing his longtime work, he was an assistant engineer on the William B. Rodgers in 1944. His home in the later 1940s was 324 Penn Avenue.
In 1958, Foster was mentioned in the newspaper obituary of his sister May McCreery. He thus was the last surviving member of his immediate family.
Later in life, he moved into the Gateway Hotel located at 129 Fourth Avenue in Pittsburgh. He contracted tongue cancer in late 1962. As his health plummeted, he was admitted to Allegheny General Hospital, where he succumbed at the age of 78 on March 11, 1963. Interment was in Pittsburgh's Calvary Cemetery.
Copyright © 2002-2009, 2019 Mark A. Miner