John C. Gorsuch
(1879-1962)

John C. Gorsuch was born on May 13, 1879, at Bidwell, Fayette County, PA, the eldest son of Richard M. and Martha (Minerd) Gorsuch. He was raised in Maple Summit, Fayette County, and is thought to have been named after his father's brother.
In the 1910s John purchased an 18-acre farm near the family home. He and later deeded it to his widowed mother. She once described the farm as "rough, there is a couple acres of it can be farmed but we have no way to farm it."
John married Carrie Dawson (1882-1967), daughter of Lee and Elizabeth (Stillwagon) Dawson. The wedding was held on July 26, 1905, in the parsonage of the Greensburg Methodist Church. led by Rev. J.B. Knox. She was born on August 16, 1882, and spent most of her life in the Connellsville area.
They had four children -- Roger Lee Gorsuch, Margaret Lohr, Elizabeth Hamman and Ruth Buttermore.
John's parents often fought and his father frequently left home for long periods of time. Nonetheless, John recalled, "He was friendly with me up to the last time I saw him."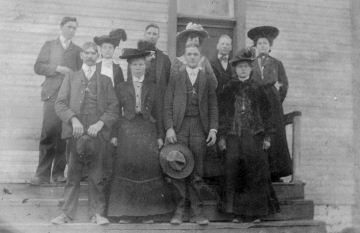 John and Carrie at far left in the back row, with relatives and friends at the Maple Summit Church. Cousin Marshall "Ellsworth" Rowan stands in the front row, 2nd from right.
In the fall of 1911, John went to Edwardsburg, MI to get work. He received one letter from his estranged father, and replied, "and that was the end of our exchange of letters," he later recalled. John's father disappeared in the spring of 1912, never to be seen again. Over the years John tried to locate his father, and even was interviewed at length by a government investigator. A copy of the transcript, found in the National Archives in Washington, DC, is now in the Minerd-Miner-Minor Archives.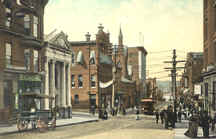 John returned to Western Pennsylvania in mid-June 1920, and settled in Connellsville, PA, where he worked as a laborer in a foundry. In 1921, he resided at 238 East Fairview Avenue in Connellsville. The city's Main Street is seen here in a rare postcard photograph.
One of John's granddaughters reports that "he was a very kind, gentle man. He was the male figure that I looked up to as a child. He was a farmer and in later years, janitor in a church."
Circa 1938-1940, they made their home on Blackstone Avenue in Connellsville. By 1955, they had moved to 426 North Pittsburgh Street. They also resided in Greensburg for a short time. He spent eight years as custodian of the Central Methodist Church in Connellsville, and previously for 17 years as custodian of the First Evangelical United Brethren Church. He also was employed by Boyts, Porter & Company. He retired on Nov. 21, 1961.
He was a member of the E.U.B. Church and its Men's Bible Class. Carrie belonged to the church's Women's Society of World Service and the Royal Circle Bible Class.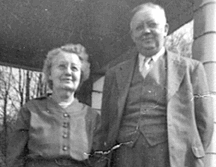 In July 1955, John and Carrie celebrated their golden wedding anniversary with two surprise dinners, one at their home, and the other at the residence of Silas May. The event at the Mays' involved a ham supper and golden frosted wedding cake. They received many floral bouquets and gifts. During one of the events, the couple's dear friends, Mr. and Mrs. Donald Lowe of Youngwood, called to offer their congratulations. John's aged mother, living in Somerset, was unable to attend, but sent a note with her sentiments. John and Carrie were pictured in a related article in the Daily Courier.
John died of a stroke on April 5, 1962. At the time of death, he had 10 grandchildren and two great-grandchildren.
Carrie outlived her husband by five years. She passed away on June 26, 1967, at the age of 84, in the Emerson Nursing home in Dunbar. The Connellsville Daily Courier said she had suffered "a lingering illness." They are buried at Green Ridge Memorial Park near Connellsville.
~ Son Roger Lee Gorsuch ~
Son Roger Lee Gorsuch married Ruth Imogene Brownlee, daughter of Rev. J.S. Brownlee. The ceremony, in May 1938, was led by the bride's father at the First Baptist Church of Connellsville. Roger studied divinity at Shenandoah College, and Ruth was a graduate of the Franklin Business College. At the time of marriage, Roger was employed at a J.G. McCrory store in Connellsville.
They lived in Chattanooga, TN circa 1962.
~ Daughter Margaret (Gorsuch) Lohr ~
Daughter Margaret Gorsuch was married to Louis Lohr and circa 1967 resided in Brunswick, OH.
~ Daughter Elizabeth (Gorsuch) Hamman ~
Daughter Elizabeth Gorsuch married John G. Hamman, son of M.A. Hamman, on Sept. 20, 1939. The nuptials were held at the First United Brethren Church, officiated by Rev. E.A. Schultz. At the time, John was employed with the Munson Heater Company.
They lived in Connellsville.
~ Daughter Ruth (Gorsuch) Buttermore ~
Daughter Ruth Gorsuch married Kenneth L. Buttermore (1913-1973), the son of Karl K. and Lula (White) Buttermore of Connellsville. They resided in Scottdale, Westmoreland County, and had four children -- Karl K. Buttermore, Nancy Tzan, Susan Horton and Elizabeth King.
Kenneth was employed for four decades by Columbia Gas Company, in Uniontown, primarily as a utility inspector. He belonged to the Christ United Methodist Church of Scottdale and was active with United Methodist Men and the church's Berean Bible Class. He was a member of Columbia Gas's Quarter Century Club.
Sadly, their son Karl died in 1946.
Kenneth died in Westmoreland Hospital in Greensburg at age 60 on May 17, 1973. He was laid to rest in Green Ridge Memorial Park near Connellsville.
Daughter Nancy Buttermore married Gus Tzan and lived in Wheaton, MD circa 1973.
Daughter Susan Buttermore wed Douglas Horton and made their home in Rockville, MD.
Daughter Elizabeth Buttermore married David King and lived in Beltsville, MD.
Copyright © 2000, 2002, 2006, 2011, 2017 Mark A. Miner