Home

Ulysses 'Grant' Harbaugh
(1865-1888)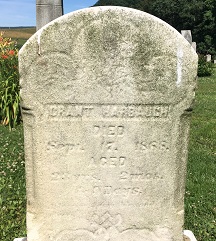 Indian Creek Baptist Church
Ulysses "Grant" Harbaugh was born under the name "Samuel Martin" on July 8, 1865, in New Creek, Mineral County, WV, the son of Samuel and Sarah Ann (also known as "Mary") Martin.
Grant's birth occurred just three months after the Civil War ended, but a few months earlier, his father apparently died while the mother was pregnant. "His mother escaped a Confederate raid, when her husband was captured in her home, taken away and never seen by her again," said the 1947 book, Harbaugh History, A Directory, Genealogy and Source Book of Family Records, by Cora Bell (Harbaugh) Cooprider and J.L. Cooprider.
Shortly afterward, the widowed mother gave the boy to Leonard and Maria (Eicher) Harbaugh Jr., residents of Mill Run, Fayette County, PA. "The boy never saw his mother...," wrote the Coopriders. He was given the new name, and raised as a full son of the Harbaughs. It is not known if Samuel was a member of the family of Kesiah (Miner) Martin of nearby Preston County, WV, who was Leonard's first cousin.
In June 1875, when the boy neared his 10th birthday, he was legally adopted by Leonard and Maria by decree of the Court of Common Pleas of Fayette County. As he grew, Grant apparently was the envy of his brother Allen, who was 16 years older, and up to the time of the adoption had been the Harbaughs' only son. Allen later often referred to himself as his parents' only natural-born son.
Grant was talented and popular. An article in the Uniontown (PA) Genius of Liberty, written by family friend Andrew J. Colborn, said of him:
At an early age the boy evinced a strong character with an eminent degree of self reliance. He grew to be respected and loved by all his acquaintances and enjoyed their perfect confidence. Important trusts placed in his hands were performed with fidelity and prompitude. Aptness for business always secured him a good position and during his later years he was identified with the mercantile house of C. Stickel, of this place. [In 1884] he gave his heart to God and his name to the church of the United Brethren in Christ. He was Superintendent of the Sabbath School and Steward of the church... He was also a leader in society; a member of the General Worth Lodge, I.O.O.F., of Connellsville, and the Jr. Order United American Mechanics. of which he was a councilor...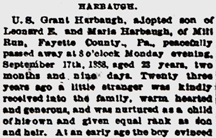 Uniontown Genius of Liberty, 1888
Tragedy struck in the summer of 1888, when Grant was 23 years of age, with a seemingly bright future. He had been clerking in the Stickel store for three years, recently had been elected a local school director and was engaged to be married to "one of the most refined and respected ladies of Mill Run," said the Connellsville (PA) Courier.
However, he came down with a deadly case of typhoid fever. Physicians diagnosed contributing problems with his kidney and heart. Said the Genius,
Dr. Shupe as well as the young man's friends, stood nobly by him, offering every comfort and care; hearts could devise nothing to spare life; ministrations of love soothed his pillow, and a heavenly smile lighted his countenance. He sweetly fell asleep in Jesus. God called him home to forever enjoy the happiness of eternal life and the fullness of joy and glory which awaits the "Good and Faithful."
The funeral was held at the Indian Creek Baptist Church Cemetery, with the "handsome casket" surrounded by a "beautiful floral cross and wreath." Said the Genius, "After an appropriate sermon by Rev. L.R. Jones, of Mt. Pleasant, assisted by Revs. E. James and R.S. Pryor, the last and rites were performed, and all that was earthly of beloved Grant Harbaugh was laid in the tomb. The staff which aided the tottering steps of his foster parents is removed. The bereaved brother and family, and especially the betrothed one and the sorrowing parents receive the deepest sympathy of the community at large."
A large grave marker was erected on his final resting place, which still stands. Fellow members of two of his membership organizations, the Mill Run Council, No. 207, Junior Order United American Mechanics, and the General Worth Lodge, No. 386, I.O.O.F., published lengthy "Resolutions of Respect" in the Connellsville Courier. The former appeared on Sept. 28, 1888, authored by a committee consisting of A.J. Colborn, J.W. Sipe and D.E. Harbaugh; and the latter on Oct. 12, 1888, authored by Cyrus F. Critchfield, George B. Brown and R.B. Cox.
Some eight years later, at the death of Grant's father, he was buried beside Grant, and his mother likewise three years later. Their graves remain unmarked today.
Copyright © 2006, 2019 Mark A. Miner