Home

Caroline (Kincaid) Wilson
(1873-1938)
Caroline Louise "Carrie" (Kincaid) Wilson was born on April 4, 1873 near Champion, Trumbull County, OH, the only child of Thomas and Lucy (Miner) Kincaid.
Her mother died when Carrie was but a baby, and she was taken into the home of her maternal grandparents, Joseph and Elizabeth (Forney) Miner, in Champion. She is shown in the Miner household in the 1880 census, with her uncle Cornelius Miner and aunt Ellen Miner [Eliza Ella Guessman] living there too. Residing next-door was Carrie's distant cousin, Eliza Miner Mathany and her husband James.
After a few years as a widower, Carrie's father remarried to Mary A. (?) and it appears that Carrie never lived in their household for any period of time.
At the age of 18, in about 1891, Carrie wed George T. Wilson (1862-1938), the son of Henry Wilson of Champion, Trumbull County. Their 10 children were Earle Wilson, Nettie Wilson, Henry Clifton Wilson, Elizabeth H. Wilson, George K. Wilson, Annie L. Wilson, Laura Wilson, Loran Wilson and two who have not yet been identified but died young, sometime before 1910. Adding to the heartbreak, son George died at the age of seven months, of bronchial pneumonia, on Nov. 7, 1911.
The federal census of 1900 shows the Wilson family residing near Warren, Trumbull County. George's occupation was listed as laborer in an iron mill (or mine).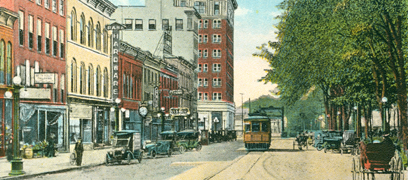 Warren's Market Street, looking west. Note the old trolley.
Their home in 1910-1911, as shown on the census and other papers, was along Leavittsburg Road in Leavittsburg, near Warren. Both George and eldest son Earl were marked as farmers. Interestingly, the census-taker marked Carrie's father as of German origin, and mother as of Irish heritage. This most likely was in reference to Carrie's grandmother Elizabeth Forney who married Joseph Miner (who was German).
By 1920, the Kincaids had moved to a house on Parkman Road in Champion, Trumbull County. George's occupation was recorded as farm laborer.
Relocating again, by 1930, George and Carrie established a new residence on North Tod Avenue in Warren Township. George continued his work as a farm laborer, while son Clifton (age 32) worked as a fireman in a power plant, while son Loren (20) was an inspector of automobile cable. Records made in 1938 show their home that year in Cortland, Trumbull County, and/or in Warren, at Phalanx Station.
Both George and Carrie became deathly ill in the spring of 1938. George suffered from cystitis and an enlarged prostate, and died from their effects, at the age of 75, on April 23, 1938. Carrie developed acute bronchial pneumonia and also did not recover. She died as a result, at age 66, on May 15, 1938. They were laid to rest at Champion. Her death certificate listed her parents as Thomas Kincaid and Lucy Ann Miner, and it was signed by informant Mrs. Ray Livingston.
Copyright © 2009 Mark A. Miner