Dr. Paul David Luckey Sr.
(1894-1954)
Dr. Paul Luckey
Dr. Paul David Luckey Sr. was born on Nov. 3, 1894 in Laurel Hill near Dawson, Fayette County, PA, the son of Joseph M. and Sarah Catherine (Minerd) Luckey. He was a World War I veteran, noted physician, member of the Connellsville City Planning Commission and a co-inventor of an iron-lung respirator at Connellsville State Hospital.
During the First World War, Paul was a member of the American Expeditionary Forces (AEF) and was sent to England with the 318th Aero Squadron. Following his honorable discharge, he attended West Virginia University and graduated from there in 1924 with a bachelor of science.
When Paul desired to pursue a medical school education, their millionaire neighbor Sarah B. Cochran, owner of the famed Linden Hall estate, offered to underwrite his tuition. Paul gave it serious consideration, but ultimately respectfully declined, as he calculated that his and Olive's joint income would be sufficient.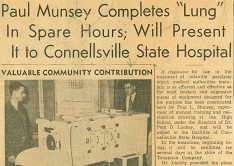 Paul pictured in the Connellsville Daily
Courier about an iron lung invention
to combat "infantile paralysis"
He then enrolled in Jefferson Medical College in Philadelphia, and received his M.D. degree in 1926. The 1926 Clinic yearbook of Jefferson Medical College had this to say of Paul:
A quiet studious chap who attends classes day after day and has very little to say except a "good morning" to a few friends who may happen to be near him. Paul's one hobby is reading and almost any vacant period he may be seen in the library, poring over the latest theories and experiments of medical science, which he loves to spring on his friends who have not been so fortunate to acquire such knowledge We predict for him a bright future.
At the age of 27, in Grafton, Taylor County, WV, he married 22-year-old Olive Brown (1899-1985), on Christmas Day 1921. She was the daughter of Columbus Brown. The ceremony took place in the First Baptist Church, with Paul's brother George and Olive's sister Mary as the only immediate family members witnessing the event, officiated by Rev. J.W. Brown.
The couple met while Paul was attending West Virginia University.
They had three sons, Paul "David" Luckey Jr., Kenneth Edward Luckey and Robert Allen Luckey.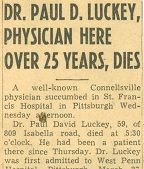 Obituary, 1954
Paul served his medical internship in Pittsburgh at West Penn Hospital, followed by several years of practice in Welch, West Virginia. He earned extra income as a mechanic on Ford automobiles. He came to Connellsville and set up a solo practice in 1928. Among his duties was to regularly examine old Civil War veterans as part of their qualification for military pensions.
During the 1920s and early '30s, Paul occasionally went with his parents and siblings to the annual Minerd-Miner Reunions held in Fayette and Somerset Counties. At the 1930 reunion, held on August 9 at Shady Grove Park in Uniontown, he served as chair of the sports committee. Other relatives helping to organize that year's event were Arnold Overholt, president; Ernest E. Minerd, secretary; sister Mary Adaline (Luckey) Malone and Frank Zearfoss, general committee; Bess (Minerd) Lemon, speakers committee; Edith (Erwin) Minerd, invitation committee; brother Andrew Luckey, refreshment committee; Frank Woodmancy, publicity committee; and Dr. Harold "Daniel" Minerd, transportation committee.
In December 1931, as a member of the Pennsylvania National Guard, Paul was appointed first lieutenant of the Medical Detachment of the 110th Pennsylvania Infantry. Reported the Connellsville Daily Courier, "The unit is now in full strength and is progressing rapidly. Members are striving to have the company ranked as one of the crack units of the 110th Regiment by the time of the Federal inspection sometime in January, 1932." In the 1930s, he was named to the Connellsville City Planning Commission.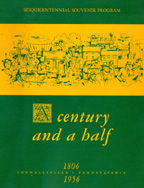 Book naming Paul
Olive was a teacher in 1921 at Morgantown High School in Monongalia County, WV. Later, she was active in public and civic affairs in the Connellsville region. In 1956, when Connellsville celebrated its sesquicentennial (150th) anniversary, she served on the Senior Citizens Committee and was named in the official program booklet, today preserved in the Minerd-Minard-Miner-Minor Archives. They were members of the Methodist church, and resided at 809 Isabella Drive in Connellsville.
Sadly, Paul became ill of blocked arteries in the early spring of 1954. He was treated at West Penn Hospital and St. Francis Hospital in Pittsburgh, but his health continued to decline. He died at the age of 59 on April 7, 1954. He was laid to rest in Green Ridge Memorial Park near Connellsville.
Paul's legacy is maintained in a feature profile in Lewis Walkinshaw's book, Annals of Southwestern Pennsylvania, Volume IV.
As a widow, Olive taught junior high English at Connellsville (PA) Joint High School System (1950s-60s). She later moved to St. Louis, MO, where she was a patient in St. Louis Geriatric Center. She died in St. Louis on Nov. 14, 1985, at the age of 86.
~ Son Paul "David" Luckey Jr. ~
Son Paul "David" Luckey Jr. (1928- ? ) was born in 1928.
He married Susan Anagnost ( ? - ? ).
Their children were Suzanna Luckey, Jonathan Luckey and Richard Robert Luckey.
Circa 1954, he was an atomic physicist at Cornell University. Later, he worked for the European Organization for Nuclear Research (CERN), the world's largest center for particle physics, in Switzerland.
Sadly, Susan is said to have died of a horse-related allergic reaction while touring the United Soviet Socialist Republic (USSR).
~ Son Kenneth Edward Luckey ~

Kenneth Luckey
Son Kenneth Edward Luckey (1931- ? ) was born on Sept. 17, 1931.
On March 5, 1953, at the age of 22, he married Sally Ann Neiman, daughter of Charles Neiman of Ashland, PA. The ceremony was held at the Zion Evangelical and Reformed Church of Ashland. Sally was a graduate of the Germantown Dispensary and Hospital School of Nursing in Philadelphia, and worked for Abington Memorial Hospital in Abington, PA.
Immediately after their honeymoon, the newlyweds settled in Laredo, TX, where Kenneth was a jet pilot with the U.S. Air Force.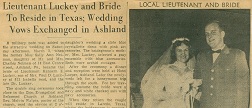 Connellsville Daily Courier, March 15, 1953
They had two children, Paula Louise Hand and Christopher Luckey.
Kenneth was one of the first known cousins to graduate from the U.S. Military Academy at West Point, in the Class of 1954. He was appointed to the academy by his sponsor, Rep. Anthony Cavalcante of Pennsylvania's 23rd District. While at West Point, he achieved making the dean's list.
Before enrolling the military academy, he attended the General Motors Institute in Flint, MI.
In 1955, he was assigned to Laredo Air Force Base in Texas, where he flew jet fighters. He eventually was promoted to lieutenant colonel, and retired from the U.S. Air Force after two decades of service. They made their retirement home in Fort Beal, CA.
While visiting his mother in St. Louis in the spring of 1974, who was being treated in a nursing home, Kenneth arranged to stay in a local motel. There, on the night of May 6, 1974, at the age of 44, he died, presumably of a heart attack. His remains were sent to Sally's hometown of Ashland for burial. The news was printed in the Connellsville Daily Courier.
~ Son Robert Allen Luckey ~
Son Robert Allen Luckey (1936- ? ) was born in 1936.
As a boy in February 1942, he and his parents were sickened by gas fumes in their Connellsville home, but recovered.
He wed Carol Hill ( ? - ? ).
They were the parents of Clifford Luckey, Dana Luckey and Laurel Luckey.
He lived in California, Washington County, PA in 1974 and later relocated to St. Louis.
Copyright © 2012, 2018 Mark A. Miner