Mary Adeline (Luckey) Malone
(1900-1993)

Mary Malone
Mary (Luckey) Malone was born on Sept. 8, 1900 in a two-story log cabin near Dawson, Fayette County, PA, the daughter of Joseph M. and Sara Catherine (Minerd) Luckey. She was named in part for her maternal grandmother, Adaline (Harbaugh) Minerd.
She attended school at Leisenring in Dunbar Township. In the afternoons, after school ended, she took a streetcar and, after getting off, walked across the Dunbar Bridge and thence along the Youghiogheny River for 1.5 miles to home.
Mary enjoyed stopping into a small general store at Dawson owned by Oliver F.M. Nicolay, a family friend who gave her candy. She later remarked: "He was like a grandfather to me." Nicolay once had been postmaster at the village of Nicolay and had turned it over to Mary's aunt, Martha (Minerd) Gorsuch.
As a young woman, Mary regularly attended Minerd-Miner Reunions with her parents. At the 1930 event, held at Shady Grove Park near Uniontown, she served on a general committee along with her cousin's husband Frank Zearfoss of Stoyestown. Other cousins helping to organize that year's event were Arnold Overholt, president; Ernest E. Minerd, secretary; Bess (Minerd) Lemon, speakers committee; brother Dr. Paul David Luckey, sports committee; Edith (Erwin) Minerd, invitation committee; brother Andrew Luckey, refreshment committee; Frank Woodmancy, publicity committee; and Dr. Harold "Daniel" Minerd, transportation committee.
Circa 1925, Mary was a senior at the California State Normal School. She taught in the St. James School near Dawson, and in Rostraver Township schools of Westmoreland County, PA.
When Mary bought her first automobile in 1929, she drove her mother and aunts Jennie Conley Woodmency and Allie Overholt to the old farm of her grandparents Charles and Adaline (Harbaugh) Minerd, later owned by Lawson Minerd, but who no longer resided there. They stayed a few days in Lawson's aging farmhouse, which he still used for farming and hunting purposes, even though his permanent home was in nearby Mill Run. Mary remembered that it was small and crudely built, with two rooms downstairs and two upstairs. Sadie and Mary scrubbed out the old spring house. Sadie and her sisters went to look for their childhood home, but the ground was all overgrown, and it was nowhere to be found.
Cochran Memorial Methodist Church in Dawson, where the Malones were united in matrimony.
Odger Wayne Miner archive
On May 18, 1933, at the age of 33, Mary married Walter Leon Malone, son of Mollie Malone of Ruffsdale, East Huntington Township, Westmoreland County. The simple ceremony, with no witnesses, was held in the Philip G. Cochran Memorial Methodist Episcopal Church in Dawson, officiated by Rev. William F. Seitter. The newlyweds "left immediately after the ceremony by motor for a honeymoon trip to the Shenandoah Valley and Washington," reported the Connellsville Daily Courier. Upon returning home, they established a residence in Ruffsdale.
They resided in Ruffsdale, Westmoreland County, PA, and had one daughter, Barbara Klingensmith.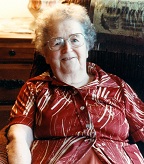 Mary, circa 1990
Walter was employed by the Pennsylvania Railroad shops at Elrama, Washington County, PA. His specialty was as a machinist. Mary was a member of the Daughters of the American Revolution, Dawson Grange and the Pennsylvania State Education Association.
In September 1937, when the husband of Mary's cousin Cecelia (Gorsuch) Zearfoss was killed in a Somerset County coal mine accident, Mary hosted some of the grieving relatives at her home, including Edward Williams of Allenport, Huntington County.
Sadly, Walter died in 1961 at the age of 63.
Mary survived him as his widow for a remarkable 32 years. She left Ruffsdale and moved to Sharon, Mercer County, where her daughter and family made their home.
Tragedy struck Mary and her family in December 1986 when daughter Barbara Klingensmith, who was married and had five children, passed away.
Mary then left Sharon and spent her final years residing in the Passavant Retirement and Health Center in Zelienople, Butler County, PA. One of her fellow residents at Passavant was her widowed sister in law, Grace (Strickler) Luckey.
In June 1987, Mary and Grace hosted a visit by the founder of this website, who asked many questions. They followed up by many letters and a repeat visits in February 1990 and December 1991. Mary was able to identify many faces in the Minerd Reunion photograph of 1920, an event which she attended, and provided a window of insight into many of the cousins' families in attendance.
Mary died on Jan. 28, 1993, at age 92. This website's founder was honored to attend her funeral service at the Seaman Memorial Chapel in Zelienople. At the service, her grandson Richard Klingensmith recited a poem by memory, which Mary also had learned at a young age, Elegy in a Country Churchyard, by Thomas Gray.
~ Daughter Barbara (Malone) Klingensmith ~
Daughter Barbara Malone (1935-1986) was born on Sept. 3, 1935 and grew up in Ruffs Dale. She attended Thiel College and in 1957 received her bachelor of science degree in education.
Barbara married Richard L. Klingensmith ( ? - ? ). They resided in Sharon, Mercer County, PA and had a family of five children -- Carol L. Hoffman, Richard L. Klingensmith Jr., Pamela McCann, Nancy L. Osborne and Mary C. Klingensmith.
Sadly, Barbara died at the age of 51 in January 1986.
Daughter Carol L. Klingensmith married (?) Hoffman and lived in Hermitage, Mercer County, PA in 1993.
Son Richard L. Klingensmith Jr. made his home in Sharon, PA.
Daughter Pamela Klingensmith was wedded to (?) McCann and in the early 1990s resided in Sharpsville, PA.
Daughter Nancy L. Klingensmith was joined in matrimony with (?) Osborne. Their home in 1993 was in Sharpsville, PA.
Daughter Mary C. Klingensmith dwelled in Sharon, PA in the early 1990s.
Copyright © 2012, 2017 Mark A. Miner