Home

Burkhard Meinert I
( ? - 1797)
Burkhard Meinert, the son of Friedrich and Eva Maria (Weber) Meinert, was born in the Oley Valley, Philadelphia County, later Berks County, PA. He was one of three brothers to serve in the American Revolution and take an oath of allegiance to the newly formed United States of America.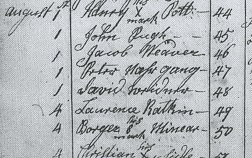 Record of "Borger's" oath of allegiance,
sworn to Jacob Weaver on Aug. 1, 1777
After spending his early years in Berks County, in the 1780s, he moved to Macungie Township, Northampton (now Lehigh) County, PA. Macungie Township, about 25 miles to the northeast of Oley. In the Native American tongue, "Macungie" meant "bear swamp" or "bear's feeding place," and site was rich in deposits of valuable flint and jasper used for weaponry.
Like his father, Burkhard not only owned land but also earned a living as a blacksmith. As with other Pennsylvania-Germans, his name went through various spellings in official documents: Meinder, Mieder, Meiner, Minear.
In 1774 at the Zion Lutheran Church in Alburtus, Lehigh County, PA, Burkhard and Maria Barbara Bader, a widow, were the sponsors at the baptism of his nephew and namesake, Burkhard Meinert (Burket Minerd), the son of his brother Jacob Minerd Sr.
Two years later, in 1776, his mother appointed Burkhard along with her good friend Jacob Roth to be the executors of her last will and testament, referring to him as "my loving son.".
Burkhard later married Maria Barbara Bader ( ? - ? ), the widow of George Bader (also spelled "Baader") of Salisbury Township. Maria's first husband is believed to have died in June or July 1771, and to have owned two properties at the time of his demise. The tracts included 120 acres in Macungie Township and 100 acres in Salisbury Township, with the latter property containing a gristmill and sawmill. Maria Barbara, along with Philip Buchecker, served as executors of her first husband's estate.
At the outbreak of the American Revolution, Burkhard joined the local militia. He was listed on the roll as "Bork Meiner," and served as a lieutenant in the Northampton home guard. Like his brother Friedrich Meinert Jr. (Frederick Meinder), who served in the Berks County militia, Burkhard was very responsible as seen by the fact that he was fined very few times for failing to report for training.
At war's end, on Aug. 1, 1777, as required by all adult males in the commonwealth of Pennsylvania, Burkhard signed the Oath of Allegiance to the new federal government. Since he was illiterate, someone else signed his name for him, spelled "Borger Minear." Burkhard wrote the letter "X" by his name. The original book containing this record is on file today at the Berks County Historical Society in Reading.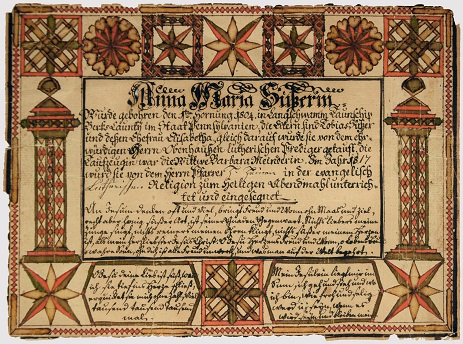 The 1804 birth and baptismal certificate ("taufschein") of Anna Maria Susserin, with Barbara named as the baptism sponsor.
Courtesy Reading Public Museum.

In his German-written will dated July 6, 1796, Burkhard wrote," It is my Will and order that my Worthy Wife, Maria Barbara, shall have uncontested right over all my estate..." He left some funds to his nephew Burkhard, son of brother Frederick, and to niece Elizabeth Deheven, daughter of his sister Catherine Eigner.
Burkhard died in 1797. His final resting place is unknown.
Barbara outlived her husband. In early 1804, she served as sponsor at the baptism of Anna Maria Susserin, daughter of Tobias Susser of Longswamp Township, Berks County, officiated by Lutheran pastor Rev. Obenhaussen. When Anna Maria turned 13, she received more formal religious instruction by Rev. F. Heissom of the Evangelical Lutheran congregation. Her parents marked the occasion by commissioning a local artist -- today known only as the "Wetzel-Geometric Artist" -- to decorate and inscribe a colorful birth and baptismal certificate, known in German as a "taufschein." Barbara is named as the baptism sponsor in the certificate, with her name spelled "Meinderin," the feminine form of the name, although by 1817 she may have been deceased.
Part of the taufschein, written entirely in German, contains a teaching:
To think about Jesus often and many times will give you joy and delight beyond all measure, like honey's sweet kind is the presence of his Grace. Nothing dearer does my voice sing, nothing sounds purer to my ears, and nothing is sweeter to my heart than my most beloved Jesus. Oh, jesus bosom friend and delight, Oh, love of life, Oh, true son, without you all joy and all that one years for on Earth is gone. Oh, Jesus our love is sweet and since I keep it in my heart it nourishes me many thousand, thousand, thousand times. My little Jesus is in my thoughts wherever I go, and I sing wherever I am. How glad and overjoyed I'll be when He'll be and stay mine.
The original Susser taufschein today is preserved in the Reading Public Museum and reproduced on Minerd.com with permission. Its formal description is: "Geburts und Taufschein (Birth and Baptismal Certificate), attributed to Wetzel-Geometric Artist (American [Berks County, PA], 1780 – 1816), made for Anna Maria Susser (American [Berks County, PA], b. 1804), c. 1817, iron gall ink and watercolors on laid paper, 7 ½ x 10 7/16 inches, Museum Purchase, 1935.193.5.2. Courtesy of the Reading Public Museum, Reading, Pennsylvania." [more]
Barbara's final fate may be entirely lost to history.
Several of Burkhard's nephews and grand-nephews appear to have been named in his memory -- Burkhard Meinder, Burget Miner, Burket and Frances (Skinner) Minerd and Burket and Susan (Hartzell) Minerd.
Copyright © 2000, 2011, 2013, 2019 Eugene F. Podraza and Mark A. Miner