Margaret (Miller) Stafford
(1855-1909)
Margaret E. "Maggie" (Miller) Stafford was born in 1855 in or near Kingwood, Preston County, WV, the daughter of Hezekiah and Keziah Ellen (Fawcett) Miller.
Margaret married John Wesley "J.W." Stafford (1856-1931), the son of Catherine Stafford, on Feb. 23, 1875, in Preston County. She was age 20, and he 19, at the time of marriage.
Together, the couple produced a family of four children -- Charles B. Stafford, Mary Ellen Erwin Deck, Dora Hustead and Ollie C. Stafford.
The federal census for 1880 shows the Staffords in the Lyon District of Preston County, where John labored as an ore miner. By 1891, when they signed legal documents on behalf of Maggie's mother, they had migrated to Athens County, OH.
Maggie apparently divorced or separated from John sometime in the 1890s and returned to West Virginia. She made her home in 1900 with her son and daughter-in-law Charles and Maud (Shrout) Stafford in Kingwood.
Sadly, Maggie passed away at the age of 55 on Dec. 13, 1909, at Victoria, Preston County. In her official Preston County record of death, she was listed as a "widow." The cause of her passing was listed as "dropsy" -- accumulation of fluids in the body. The site of her burial was not provided.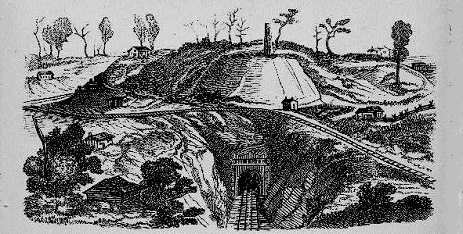 Kingwood tunnel, on the B&O Railroad, sketched by William Prescott Smith.
Library of Congress
When the federal census was taken in 1910, John made his home alone in Newburg as a 55-year-old widower. His married daughter Dora Hustead lived next door. That year, he continued his longtime work as a coal miner. Residing just several houses away were his wife's distant cousins Ruhama (Hanshaw) Menefee, Belle Menefee and Cordelia (Menefee) Frazier.
John died in Tunnelton on Sept. 2, 1931, at the age of 75, with burial at Campground Cemetery. No obituary for him -- or Maggie -- has been found in the extensive newspaper collection of West Virginia University.
Strangely, at the death of their daughter Dora Hustead in 1938, the Clarksburg (WV) Exponent said that Maggie and J.W. were still alive and residing in Tunnelton. More will be clarified here when known.
~ Son Charles Bailey Stafford ~
Son Charles Bailey Stafford (1876-1947) was born on Dec. 22, 1875 in Newburg, Preston County.
Circa 1899, when he was age 23 and she 22, Charles was joined in wedlock with Maude Anna Shrout (1877-1969). She was the daughter of Charles and Martha (Conner) Shrout. Performing the nuptials was Rev. C.W. Nestor of Tunnelton.
They produced no children.
The year after their wedding, the newlyweds lived in Kingwood. In their home that year were Charles' widowed mother Maggie and Maude's divorced father Charles W. Shrout, a Civil War veteran.
By 1910, the Staffords were still living in Kingwood, where Charles labored as a bridge carpenter. They resided in the Tunnel Hill (Tunnelton) section of town as shown on the 1920 census, and Charles was a farmer at that time. He also was a blacksmith in later years.
Charles died of a stroke on Nov. 26, 1947, at the age of 70. Burial was in Campground Cemetery near Tunnelton.
Maude outlived her husband by 22 years. She died at the age of 91 on June 25, 1969, at Hopemont Sanitarium.
~ Daughter Mary Ellen "Mollie" (Stafford) Erwin Deck ~
Daughter Mary Ellen "Mollie" Stafford (1877-1949) was born on Dec. 3, 1877 in the Irondale Furnace community of the Lyon District of Preston County. Her birthdate also has been given as Nov. 2, 1876.
She apparently moved as a girl with her parents to Athens County, OH, and remained there after her parents divorced and the mother returned to West Virginia.
On Oct. 7, 1894, when both were age 21, she wed John Jefferson Erwin (1877- ? ), a native of Athens County. The ceremony took place in Parkersburg, Wood County, WV, just across the Ohio River from Athens. Rev. H.H. Smith, of the Methodist Episcopal Church South in Parkersburg, performed the ceremony in his residence. They were married the same day they obtained their marriage license.
The federal census enumeration of 1900 shows the couple in Kingwood, Preston County. At that time, John toiled as a coal miner.
Her second husband was Harry Clyde Deck (Aug. 22, 1885-1940). He was a native of Newburg, Preston County and the son of James E. and Rebecca (Judkins) Deck. The bride was eight years older than the groom.
Circa 1914, the Decks established a home in Dawmont, Harrison County, and remained for the rest of their lives.
Harry earned a living as a coal miner in and around Harrison County, and worked in this occupation at the time of the 1920 census.
Having become an alcoholic and then suffering for years with a lesion on his heart valve, Harry succumbed to the angel of death at the age of 54 on April 20, 1940. Mrs. Mildred Frazier of Newburg signed the death certificate. Burial was in Newburg Cemetery.
At the age of 72, Mary Ellen was stricken by a cerebral hemmorhage and passed away 18 hours later on June 22, 1949. Lilleth Durr was the source of vital information for the West Virginia certificate of death. Interment of the remains was in the Knights of Pythias Cemetery.
~ Daughter Ollie C. Stafford ~
Daughter Ollie C. Stafford (1880- ? ) was born in 1880.
She has disappeared into history. More will be added here when learned.
~ Daughter Dora (Stafford) Hustead ~
Daughter Dora Stafford (1884-1938) was born on May 18, 1884 in Ohio.
She resided at the age of 16 with her married sister and brother-in-law, Mollie and John J. Erwin, in Kingwood.
At the age of 17, on May 8, 1901, Dora married 26-year-old George T. Hustead (1876-1919), an Ohio native. The ceremony took place in Irona, Preston County, by the hand of H.C. Howard. Because she was underage, her mother Maggie signed a consent letter.
The couple bore at least two children -- Frederick Hustead and Margaret Victoria Cralton.
The Husteads lived in the Lyon District of Preston County at the birth of son Fred in 1904.
When the federal census was taken in 1910, the family lived in Newburg, Preston County, where George owned his own restaurant. Their next door neighbors included Dora's widowed father and her distant and aged cousin, Ruhama (Hanshaw) Menefee.
The Husteads moved to Clarksburg, Harrison County during the 1910s, and apparently remained there for the remainder of their lives. Their residence was in the Lyon Stop section of the city.
Tragedy rocked the family in 1918, when 14-year-old son Frederick, a schoolboy, contracted a life-threatening case of Spanish influenza that was sweeping the nation. Unable to beat the deadly disease, the boy passed away on Dec. 30, 1918.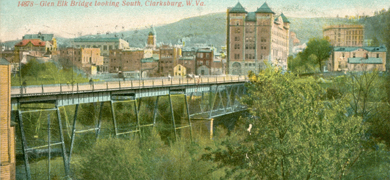 Glen Elk Bridge looking south in Clarksburg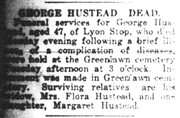 Clarksburg Exponent
In his last years, George's mind was affected by "paresis" which was a type of psychosis which led to impaired thinking, delusions and memory loss.
He died on Feb. 17, 1919, at age 47, just a month and a half after his son's passing. On his certificate of death, George was listed as "single," even though Dora signed his the document as the informant. He was buried at the Greenlawn Cemetery in Clarksburg. The Clarksburg Exponent obituary named his widow as "Flora" and daughter Margaret.
Dora outlived her husband by almost two decades.
The 1920 census lists Dora residing with her teenage daughter Margaret in Clarksburg. She had no occupation, but took in a boarder, Italian immigrant and coal miner Modesto Torrocci (1881-1954). He had come to the United States from Florence in 1906, and later became a naturalized citizen.
Clarksburg Exponent
By 1930, the census record shows 46-year-old Dora and 49-year-old Modesto residing together, in Dawmont, near Clarksburg, with him listed as the head of the household, and her as the servant. His continuing employment was as a coal miner. Modesto also was a member of the Clarksburg Moose Lodge.
Suffering from encephalitis, a swelling or inflammation of the brain, Dora passed away at the age of 54, in Dawmont, Harrison County, on Oct. 7, 1938. She was laid to rest in Clarksburg's Greenlawn Cemetery. Daughter Margaret Cralton was listed as the informant on her official certificate of death. A short obituary was published in the Exponent, noting she had passed of "a brief illness."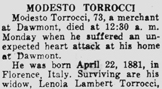 Clarksburg Exponent
Modesto outlived Dora by 16 years, and married again, to Lenola Lambert. He became a retail store merchant, and maintained his home in Dawmont. In his later years he was afflicted with endocarditis, the inflammation of the inside lining of the heart.
At the age of 73, he died suddenly of a heart attack, on Oct. 25, 1954, while sitting in a chair at home. He was buried in the Shinnston Masonic Cemetery, with a brief obituary appearing in the Exponent.
Daughter Margaret Victoria Hustead (1907-1971) was born on or about Feb. 10, 1907 in Preston County, WV. When she was 17 years of age, in about 1924, Margaret was united in holy matrimony with 26-year-old Floyd Cralton (Jan. 31, 1898-1988), a native of Deer Park, MD. Four known children born to this marriage were Margaret Virginia Cralton, Charles Modesto Cralton, Bernadine J. Cralton and Oneida H.J. Cralton. By 1929, the Craltons had relocated across the state line into southwestern Pennsylvania and were in the town of Finleyville, Washington County. There, Floyd earned wages as a coal miner. During their years in Finleyville, Margaret often traveled back to Clarksburg to visit with her mother, as chronicled in the gossip columns of the Monongahela (PA) Daily Republican. The mother at times accompanied Margaret back home to Finleyville. Their home in the 1935-1938 timeframe was in Morgantown, Monongalia County. By 1940, on the move again, they migrated back into Pennsylvania and lived in Mt. Morris, Perry Township, Greene County, with Floyd continuing to mine coal. They stayed in Mt. Morris for good. Margaret died at the age of 64 on Nov. 23, 1971. Her remains were placed into eternal rest in the mausoleum of East Oak Grove Cemetery in Morgantown. The widowed Floyd outlived his wife by 17 years. He passed away at the age of 90 on May 14, 1988.
Granddaughter

Margaret Virginia Cralton

(1926- ? ) was born on June 13, 1926 in Dawmont, Harrison County, WV.
Grandson Charles Modesto Cralton (1932- ? ) was born on June 19, 1932 in West Virginia.

He served in the U.S. Army during the Korean War. Upon his return home, he dwelled in Mt. Morris, Greene County, PA in 1954. Circa December 1954, he was joined in wedlock with 19-year-old Lou Ann Roberts (March 4, 1935-2013) of Jefferson, PA, the daughter of Frank David and Anna Mary (Greathouse) Roberts. Their wedding is believed to have been held in Oakland, Garrett County, MD. News of their marriage license was published in the

Cumberland (MD) Sunday Times

. Their union endured for a remarkable 56 years until cleaved apart by death. Together, the couple were the parents of four -- Deanna Prieto, Debra Shine, Charles Cralton Jr. and Richard Cralton. In addition to raising the children, Lou Ann earned a living for 10 years through her work at Mon Pointe Nursing Home. Their home in later years was in Maidsville, Monongalia County. Charles was swept away by the angel of death at the age of 77, in Monongalia County, WV, on Dec. 20, 2009. His remains lie in honored rest in Beverly Hills Memorial Park in Morgantown. Lou Ann outlived her husband by four years. At the age of 78, she surrendered to death on Aug. 9, 2013. She was survived by nine grandchildren and 11 great-grandchildren.
Great-granddaughter Deanna Cralton married Buck Prieto. They have dwelled in Morgantown.
Great-granddaughter Debra Cralton wedded Larry Shine. The pair has resided in the Westover section of Morgantown.
Great-grandson Charles Cralton Jr. was united in wedlock with Linda. They have called Morgantown their home.
Great-grandson Richard Cralton has lived in Morgantown.
Granddaughter Bernadine J. Cralton

(1936- ? ) was born in about 1936 in West Virginia.
Granddaughter Oneida H.J. Cralton

(1939- ? ) was born in 1939 in Perry Township, Greene County, PA. She entered into marriage with Lawrence Fredrick "Ted" Radcliff (May 30, 1934-2017), the son of William and Vinnie (Ott) Radcliff of Morgantown, Monongalia County, WV. The couple stayed together for nearly six decades. Their four offspring were Kimberly Jean Nuce, Kelly Kirkendall, Roy Wayne Radcliff and Floyd Lawrence "Lonnie" Radcliff. Following high school, Lawrence served in the U.S. Air Force. When his term of service ended, he returned home and earned a living with Rosedale Coal Company. In time he migrated to Florida to work with his brother, and then came back and drove a truck for L&J Equipment of Uniontown, PA. Circa 1960, at the birth of their son Floyd, they were in Euclid, OH. The couple made a home in the coal mining community of Bobtown, Greene County, PA. Later in life, Lawrence became certified as a nurse's aide and was employed at the Morgan Manor nursing home and in time as a private-duty nurse in the homes of families in the Morgantown region. Sadly, while visiting a granddaughter in Masontown, Preston County, Lawrence died without warning at the age of 82 on April 1, 2017.
Great-granddaughter Kimberly Jean Radcliff married Randy Nuce. In 2008-2017, they made their residence in Morgantown.
Great-granddaughter Kelly B. Radcliff wedded Rnald Kirkendall. They were in Mt. Morris circa 2008-2017.
Great-grandson Roy Wayne Radcliff was joined in marriage with Mary Jo. They relocated by 2008 to Cuyahoga Falls, OH.
Great-grandson Floyd Lawrence "Lonnie" Radcliff (1960-2008) was born on Jan. 25, 1960 in Euclid, OH. He is believed to have served in the U.S. Armed Forces. He was the father of three sons -- Steven H. Radcliff, Jessy L. Radcliff Sr. and Adam W. Radcliff. He made a home in adulthood in Bobtown, Greene County. When his health declined, he was admitted to Ruby Memorial Hospital at West Virginia University. Death claimed him there at the age of 48 on Aug. 19, 2008. Burial was in Fairview Cemetery in Dunkard/Taylortown, PA, with the funeral preached by Pastor Rick Myers. The Cumberland American Legion and Veterans of Foreign Wars provided military honors at the gravesite.
Copyright © 2008, 2010, 2021 Mark A. Miner