Home

Francis D. 'Frank' Minard
(1860-1937)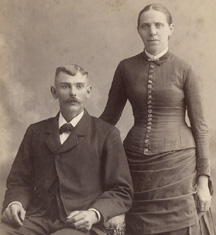 Frank and Lizzie
Francis D. "Frank" Minard was born in 1860 in or near Jelloway, Knox County, OH, the son of Clenon C. and Mary Ann (Kunkle) Minard. He was a farmer who helped organize large annual Minard Reunions in Ohio.
On Oct. 5, 1884, when they were both 24, Frank married Mary Elizabeth "Lizzie" Beam (1860-1917). The ceremony was performed by Samuel Schwank, pastor of the Evangelical Lutheran Church of Loudonville, Ashland County.
Their portrait, seen here, which may have been taken around the time of their wedding, was made at the studio of Theo H. Campbell in Mansfield, Richland County, OH.
The Minards produced a family of three sons -- twins Elva W. "Will" Minard and Alva Wilbert "Bert" Minard, and Frederick Rraymond "Fred" Minard.
Will and Bert were photographed as infants, seen here, in a portrait taken at T.H. Campbell's studio in nearby Mansfield, Richland County, OH.
The family resided in Pike Township, Knox County, OH. Later, they moved to a farm south of Nunda in Brown Township, Knox County, where they lived for many years.

Twins Will and Bert
When Frank's father died in 1912, Frank received 50 acres of the home farm and was to make a $100 payment from the farm to the children of his deceased sister, Samantha "Jennie" Armstrong.
At some point, most likely in the 1890s, Frank was elected president of the annual Minard Reunion. A newspaper clipping from a Mt. Vernon newspaper shows that the reunion lasted at least for eight years, and likely more. As this reunion clearly pre-dates the first annual Minerd reunion in Western Pennsylvania, it is the first organized reunion known in the family, and more research is being done to learn more about its origins. The newspaper article from the eighth reunion, states the following: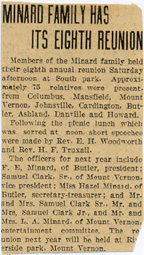 Undated news clipping
Members of the Minard family held their eighth annual reunion Saturday afternoon at South park. Approximately 75 relatives were present, from Columbus, Mansfield, Mount Vernon, Johnsville, Cardington, Butler, Ashland, Danville and Howard. Following the picnic lunch which was served at noon, short speeches were made by Rev. E.H. Woodworth and Rev. H.F. Truxall. The officers for next year include F.E. Minard, of Butler, president; Samuel Clark, Sr., of Mount Vernon, vice president; Miss Hazel Minard, of Butler, secretary-treasurer; and Mrs. and Mrs. Samuel Clark Sr., Mr. and Mrs. Samuel Clark Jr. and Mr. and Mrs. L.A. Minard, of Mount Vernon, entertainment committee. The reunion next year will be held at Riverside Park, Mount Vernon.
Sadly, Mary suffered from an incurable case of diabetes. She died on July 1, 1917, at the age of 57, at her home two miles east of North Liberty. She is buried at Zion Evangelical Lutheran Church about 1.5 miles southwest of the town of Jelloway. Rev. Burkholt preached the funeral sermon, and an obituary was published in the Mt. Vernon Democratic Banner.
A grand-niece fondly recalled that Frank:
...looked like Abraham Lincoln, the same dark hair and rugged features. I had great respect for him when I was a little girl. In front of his house at the bottom of a small hill ran a quiet, sparkling stream. It started at the spring under the spring house that sat there and was cool even on the hottest day. To a town girl this seemed most remarkable. However, the thing that thrilled me the most was the fact that a snake would lay on a big stone beside the little stream and sun itself on those hot days. It never bothered anyone and I just knew it was there to protect he crocks of butter, cream and other goodies that were there keeping cool in the water in the spring house. When someone said something about killing the snake, it was explained that the snake was to protect the food by killing the rodents that might have eaten the good things left there.

Above: Riverside Park in Mt. Vernon, site of Minard reunions. Below, left: Hazel Mumper, Lois Raymond and Mary Russell at the 1935 gathering. Right: Frank (center), Hugh Armstrong (left) and Elzie Minard.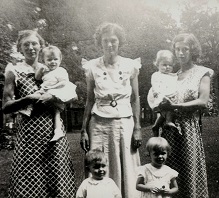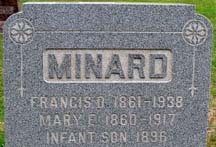 Zion Lutheran Church
Sadly, in January 1937, Frank died suddenly at home, at age 76.
He was buried with his wife at Zion Lutheran Church.
~ Son Alva "Bert" Minard ~
Son Alva "Bert" Minard (1885-1961) was born in 1885.
He resided in Butler, Richland County, OH.
On Nov. 4, 1906, he married Mary Josephine "Mae" Snively (1885-1962), the daughter of John and Mary (Reichert) Shively. They had four children -- Hazel Marie Mumper, Mary Turney, Lucille Sidle and John Minard.
Bert was a longtime farmer and, like brother Will, was a member of the Amity (OH) Grange.
Mary died at home at age 76 in 1961.
Later, Bert married Edith (Bumpus) Evans ( ? - ? ). He and Mae are buried at Zion Lutheran Church.

The Mumpers
Daughter Hazel Minard (1908-1994) was born in 1908. She married Irvin Mumper ( ? -1990). The nuptials took place on April 12, 1932, when she was 24 years of age. Together, they owned the Frigid Food Storage and the Red and White Supermarket in Loudonville, Ashland County, OH. Hazel was a member of the Zion Lutheran Church, Hanover Range, Homemakers Club and Professional Women's Club. They retired in 1963, and celebrated their golden wedding anniversary with an open house on April 12, 1982. They had five children -- Jean Kauffman, Joanne Utterback, Mary Lou Wachtel, Larry Mumper and Elaine Vostine -- with 17 grandchildren and five great-grandchildren circa 1982.
Daughter Lucille Minard ( ? - ? ) married (?) Sidle. Lucille died sometime prior to 1962.
Daughter Mary Minard ( ? - ? ) married Dwight Turney ( ? - ? ). They resided circa 1962 in Danville, Knox County.
Son John Minard (1914-2000) was born in 1914. He married Dorotha Wright (1916-1994). They resided in Mt. Vernon, and were married for 57 years. John he was employed with Cooper Energy Services in Mt. Vernon for 37 years. Dorotha was a member of Amity United Methodist Church, the Amity Grange and the Amity Garden Club. They had one son, Ralph Minard. Dorotha died at home on Jan. 31, 1994. John also passed away at home, on Sept. 19, 2000, and was buried in Amity Cemetery.
~ Son Elva "Will" Minard ~
Son Elva "Will" Minard (1885-1964) was born in 1885.
He married his first wife, Goldie Miller, on Christmas Day 1906. They had two children -- Raymond "Earl" Minard and Walter "Russell" Minard.
Will filed for divorce from Goldie in August 1922, charging her "with gross neglect and adultery," reported the Mt. Vernon Democratic Banner. "The plaintiff says the defendant has been guilty of gross neglect and that she refuses to cohabit with the plaintiff and to care for their children...."
Later, he wed his second wife, Priscilla (Twix) Wolford (1886-1959).
He lived near Mt. Vernon, Knox County, and was a member of the Amity (OH) Grange. He is buried with his second wife, Priscilla, at Zion Lutheran Church.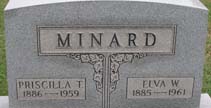 The twins' graves at Zion Lutheran Church near Jelloway
Son Earl Raymond Minard (1908-1985) was born in 1908. He "lived in the Mansfield area for a number of years before moving to Seattle," said an Ohio newspaper. He was "a former employee of Nisner Brothers and The Tappan Co." Earl was married several times, including to Edna Mae (?) and Marilyn (?). He and Edna Mae had two children -- Richard Minard, Donis Minard. He and another of his wives had a daughter, Doris Sturts.
Son Russell Minard (1910-2001) was born in 1910. He married Mary Elizabeth Hasenzahl (1913-2001), the daughter of William and Olive Hasenzahl. They resided in Lexington, Richland County, and had three children -- Ronald E. Minard, Larry R. Minard and Linda Jenkins. Russell "retired in 1972 following 32 years of service to the Tappan Company as a welder," said a local newspaper. Mary died in Lexington at age 87 on Feb. 17, 2001, and Russell passed away just a few months later in Lexington, at age 90, on May 11, 2001.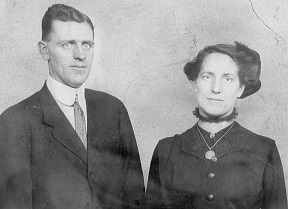 Wedding portrait, Frederick and Emma Mae
Courtesy Danny R. Minard
~ Son Frederick Raymond Minard ~
Frederick Raymond "Fred" Minard (1888-1975) was born in 1888 in Lexington, Richland County, OH, the son of Francis D. "Frank and Mary Elizabeth "Lizzie" (Beam) Minard.
As a boy, Frederick and his older twin brothers attended the Minard family reunions, of which their father served as president.
Frederick at the age of 23 years relocated to Akron, Summit County, OH in 1911 and obtained employment with the Goodyear Tire and Rubber Company. At the time, Goodyear was providing rubber tires for the booming automobile manufacturing industry, including furnishing Henry Ford with tires for the famed Model T vehicle.
He spent his entire working career in Goodyear's Plant 1 and retired in 1957, with 46 years of service.
On April 3, 1913, at the age of 24, Fred married 23-year-old Emma Mae Wilson (1889-1971), a native of Downington, OH. The wedding was held in Parkersburg, Wood County, WV, by the hand of Rev. Robert B. Smith. Their marriage endured for a remarkable 58 years. Many years later, the Akron Beacon Journal reported that the couple initially had planned to wed in Akron, but when a flood of historic proportions prevented her from returning from a visit to Parkersburg, he "went after her" and they tied the knot there.
Fred and Emma produced a family of three children -- Francis Raymond Minard Myrtle Mae Van Hollister and Robert W. Minard.
A few years into their marriage, the couple built a new home in October 1915. It was located at 1222 Collinwood Street on the north end of Akron, in an area of town known as North Hill. They remained at this address for decades.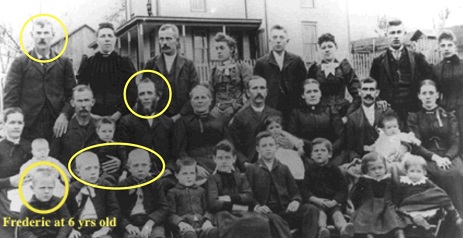 Above: circled in yellow, Fred (lower left) next to his twin brothers, father (upper left) and grandfather (middle row) at a Minard reunion, circa 1893-1895. Courtesy Danny R. Minard. Below: Frederick's workplace, Goodyear Tire and Rubber in Akron.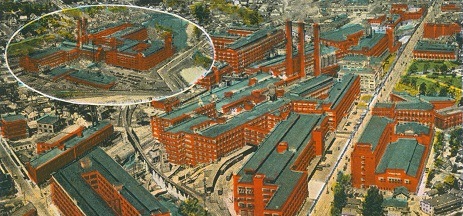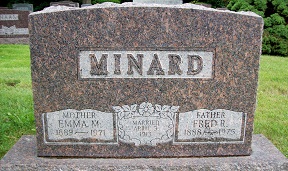 Rose Hill Burial Garden
Courtesy Danny R. Minard
When the federal census enumeration was made in 1920, Fred was shown as employed as an "inspector" for Goodyear. By 1930, census records again state that he had become a civil engineer for the company, and by 1940 his work at the factory was labeled as "steam man."
The Minards were charter members of the Redeemer United Methodist Church in Akron. All three of their children graduated from North High School.
Circa 1930, Emma and her son Francis are known to have presented special musical selections at worship servies of North Hill Evangelical Church, as reported in the Akron Beacon Journal.
Among Fred's hobbies was building steel and wire puzzles, which he had learned from his uncle W.E. Beam in Mansfield. He was pictured in the Beacon Journal edition of Aug. 20, 1957, saying the uncle "taught me years ago how to twist the rings and get them to dropin the right order off the steel spike and onto a lower bar." He entered the puzzles in that year's Hobby Show for Oldsters, and said he had "made out a typed list now of instructions describing each step in the process and says that with these instructions any visitor at the Hobby Show should be able to work it." The article referred to Fred as a "strapping 6 ft. 2 inch ex-Goodyear tire builder."
Obituary, 1975
Fred again was pictured in the Beacon Journal on Dec. 18, 1960 when he crafted and donated a "Tower of Hosanna" puzzle to the Goodwill Industries Gift Shop. He won a blue ribbon from the Oldsters.
Sadness blanketed the family when Emma died on Nov. 26, 1971. A short announcement of her passing was published in the local newspapere.
Fred outlived his wife by four years and made his home at 2319 Hoffman Drive.
The Angel of Death swept him away at the age of 87 on Nov. 2, 1975 at Green Cross Hospital in Cuyahoga Falls, Summit County, after a lengthy illness. His obituary was printed in the Beacon Journal, which noted that he "had lived in the Akron area for 67 years" and that the count of his survivors was nine grandchildren and 16 great-grandchildren. Funeral services were officiated by Rev. Robert M. Zinsmeister.
Fred and Emma's grave marker stands at Rose Hill Burial Garden located at 9999 Market Street in Akron.
Son Francis Raymond "Frank" Minard (1915-1994) was born on May 25, 1915 in Akron. Following in his father's footsteps, he secured a job as a rubber worker in Akron. His address circa 1937 was 1222 Collinwood Avenue. On March 27, 1937, in nuptials held in Summit, Cuyahoga County, OH, he was joined in matrimony with Myrtle Ruth Smith (Jan. 27, 1916-2013). She was the daughter of Daniel J. and Virgie (Milhorne) Smith. Officiating was Rev. H.I. Carmichael of the First Evangelical Congregational Church. Their union held fast over the span of 58 years. The couple went on to produce a family of these known offspring -- Penny Lou Hungerford Weeks, Danny Ray Minard, David Lee Minard, Lonnie Dale Minard and Cynthia Jo Crow Fox. Francis served for a term in the U.S. Army. Over the years, Francis earned a living through his work for B.F. Goodrich. In 1974, he retired after logging 38 years of employment. The family were members of the Cottage Grove Evangelical Congregational Church. Later, after Francis retired, he and Mabel joined the Akron Baptist Temple and became very active in the Temple's Golden Agers. Frank also was a member of the B.F. Goodrich 20-Year Club. He died at the age of 79 on Dec. 15, 1994. An obituary in the Akron Beacon Journal said he was survived by 19 grandchildren and 10 great-grandchildren. Rev. Howard Powell preached the funeral sermon, with burial of the remains in Greenlawn Memorial Park.
Granddaughter Penny Lou Minard (1942-2019) was born in 1942 in Akron. When she was age 23, she worked as an engraver in Barberton, OH. When she was 23 years of age, on Feb. 19, 1966, she was united in wedlock with 26-year-old machinist James Allen Hungerford (1939-2006), an Akron native and the son of Charles J. and Alice E. (Sowers). Hungerford. Rev. J. Alvin Richard officiated. Penny and James bore two daughters, Heidi Adams (born 1967) and Heather Webb (born 1969). The couple moved to Sarasota FL in 1971 but eventually divorced. Penny remarried to Carl Weeks ( ? - ? ). They went on to produce a daughter of their own, Martha Weeks, in 1977. James also remarried and had a daughter named Cindy Lynn Lloyd. Sadly, Penny passed away in Bradenton, FL in June 2019.
Danny Ray Minard of Akron, OH

Grandson Danny Ray Minard (1943-living) was born in 1943 in Akron. He lived in Barberton as a young man. On Feb. 5, 1966, he wedded Sharon Lynn Emery ( ? -living), daughter of Carl Reese and Marjorie (Dennis) Emery of Akron. Rev. David Burnham officiated, with the wedding held in the Chapel in University Park in Akron. Danny was employed as a machinist for Manchester Tools in Akron at the time of marriage, and Sharon as a telephone switchboard operator and typing clerk for the Ohio Edison Company. The three offspring born to this marriage were Kimberly Rae Seese (born in 1970), Michael Ray Minard (1971) and Aaron Mathew Minard (1975).

In 2013, Danny and Sharon traveled from their home in Canal Fulton, OH to attend the clan's national reunion, held in Indian Head, PA. He brought a number of old family photographs and certificates to display, and said he has at least one other document written in German, confirming this branch's connection.
Grandson David Lee Minard (1945-living) was born in 1945 in Akron. On Dec 19, 1963, when he was 18 years of age, he wedded Laura Rae Harvey/Messner born (1945-living), daughter of Vernard Ray Harvey and Cladys Posey (Harvey/Messner). David and Laura produced eight children -- David Lee Minard, Michelle Lynn Minard, Brenda Minard, Raymond Howard Minard, John Minard, Julie Minard, Philip Minard and April Minard.
Grandson Lonnie Dale Minard (1950-living) was born in 1950 in Green Cross Hospital in Akron. At the age of 22, he worked as a machinist in Akron. On May 19, 1973, the 22-year-old Lonnie was joined in marital union with 19-year old camera operator Linda Louise McElcar (1953- ? ), the daughter of Joseph Richard and Velma Louise (Sinkhorn) McElcar. Officiating at the ceremony was Rev. Robert Krasen. Lonnie and Linda bore two sons -- Lonnie Minard (in 1974) and Amos Minard (1976). The couple divorced in 1978. Two years later, in 1980, Lonnie remarried to Kathy Dills ( ? -living). Lonnie and Kathy have not reproduced.
Granddaughter Cynthia Jo Minard (1953-living) was born in 1953 in Akron. When she was 17 years of age, on May 29, 1971, she was united in matrimony with 23-year-old maintenance man Carl Harvey Crow (1947-living), a native of Barberton and the son of Harvey Glenn and Natalie Violetta (Mingle) Crow. Rev. M.E. Friedlund, of the Cottage Grove Evangelical Congregational Church, led the nuptials. One daughter was born to this union, Crostal Crow, in 1970. The couple divorced in 2015. Then in 2019, Cynthia married again to Ronald Fox ( ? -living). There are no children born to the second marriage.
Daughter Myrtle Mae Minard (1917-1971) was born on Aug. or July 18, 1917 in Akron. At the age of 22, in 1940, she was single and lived at home in Akron, earning a living as a secretary for a rubber company. On Aug. 26, 1942, when she was 25 years of age, she married 38-year-old Rex Lee Van (March 23, 1904-1952), son of George and Lila (French) Van of Medina, OH. Rev. W.L. Naumann of Cuyahoga Falls, OH presided over the wedding. Rex earned a living at the time as a safety director. One known daughter was born to this marriage, Diane Van. The couple eventually divorced. Myrtle Mae supported herself with office work in Akron and made a home at 211 North Court Street in Medina, Medina County, OH. Then on March 30, 1948, in nuptials held in Medina, she wedded salesman Robert George Hollister (Oct. 30, 1918-1998), son of William and Ella (Clague) Hollister. The couple went on to bear a family of four more daughters, among them Patti Hollister, Debra Sue Bunner Cathey, Nancy Jean Hollister, and Linda Ann Booth. Robert was a U.S. Army veteran of World War II. Their home for years was at 155 Forest Boulevard in Avon Lake, OH. The family was plunged into grief when daughter Nancy Jean died in 1955 at the age of about three. Sadly, Myrtle passed into eternity on Oct. 18, 1971. Interment of the remains was in Lakewood Park Cemetery in Rocky River, Cuyahoga County, with an obituary appearing in the Cleveland Press. The widowed Robert outlived his wife by 27 years and relocated to Florida. He grieved again at the untimely death of 28-year-old married daughter Debra Sue Cathey in 1978. Robert died at the age of 80 in Charlotte County, FL on Nov. 4, 1998. His remains are in eternal repose in Royal Palm Memorial Gardens in Punta Gorda, FL. Former husband Rex Van made a living over the years with J. Gordon Gaines Insurance Company of Akron and resided on Oak Street in Medina. He suffered a heart attack and died at home at the age of 48 on March 1, 1952, with his body discovered the next day. An obituary was printed in the Akron Beacon Journal.
Granddaughter Patti Hollister ( ? - ? )
Granddaughter Debra Sue Hollister (1950-1978) was born on June 30, 1950 in Ohio. She was twice wed. Her first spouse is believed to have been (?) Bunner. Then on Nov. 18, 1974, in Charlotte County, FL, she was joined in wedlock with Guy Donald Cathey ( ? - ? ). She relocated to Wisconsin, where circa 1978 she lived in or around Lafayette County. At the age of 28, on July 10, 1978, she was gathered in by the harvester of death. Interment was in Billings Creek Cemetery in Ontario, Vernon County, WI.
Granddaughter Linda Ann Hollister ( ? - ? ) married (?) Booth ( ? - ? ).
Son Robert W. Minard (1921-1997) was born in about 1921 in Akron. He is believed to have been employed by B.F. Goodrich Company in Akron. In 1951, he served on what the Akron Beacon Journal called a YMCA "city-wide physical education committee designed to help youngsters receive more benefit from their leisure time and to help investigate needs in the fields of health and physical education." He lived in Beth, OH in 1963 and in Cuyahoga Falls, OH in 1975. Robert relocated to Florida and died in Sarasota, FL on Aug. 13, 1997.
Copyright © 2002, 2005, 2009, 2012-2013, 2020 Mark A. Miner
Minerd.com extends its gratitude to Danny R. Minard and the late Mary Jane (Armstrong) Henney for graciously providing information and images for this biography.