Eli B. Miner
Eli B. Miner was born June 7, 1829, 1831 or 1832, in Perry County, OH, son of Daniel and Margaret (Fluckey) Miner Sr. He was a soldier in the Civil War.
When he was age three, Eli and his parents moved to Cardington, Morrow County, OH.
Eli was a carpenter, and was tall as an adult, standing 6 feet, 1½ inches high, with brown eyes and brown hair.
When his brother George died in 1852, the 20-year-old Eli purchased a single harness ($3.12) and a drawing knife (55 cents) from the estate at an auction.
After the Civil War broke out, Eli enlisted in the 96th Ohio Volunteer Infantry at Cardington on July 24, 1862, and was assigned to Company C. He was commissioned as a sergeant and later was appointed corporal.
In February 1863, in Mississippi near Vicksburg, he came down with a violent attack of diarrhea on a steamboat on the Mississippi River due to "bad water and overcrowding, ... half raw bread,. bean and pork which I ate for so long" and from lying in the Yuzo swamps. From June to August 1863, he was in hospitals at Youngs Point and Millikens Bend, LA, near Vicksburg.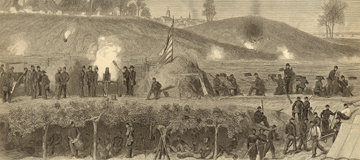 Battle action during the siege of Vicksburg, by Alonzo Chappel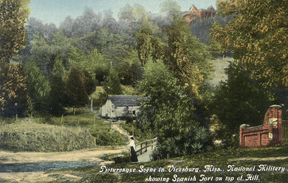 Vicksburg battlefield
in later years
A deceptively peaceful scene of the Vicksburg battlefield is seen here in a rare old postcard image, showing the Spanish Fort on top of the hill, in the years after the war.
Eli was sent home to Cardington to recuperate in August 1863 but was ordered to report to a military hospital at Columbus, OH for examination.
He was discharged on Nov. 24, 1863, and returned home. Less than a year after his return, Eli married Mary Lovenna Olney (1842-1925) on June 22, 1864 at West Jefferson, OH. Mary was Ohio-born, but her father was from Connecticut, and her mother from Maryland.
Their only child was Maud Aubrey Atkins.
In the years after the war, Eli's name was placed on the prominent war memorial in Cardington, seen here. The name of his brother Henry Clay Minor also is inscribed on the marker, on a different side.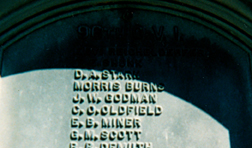 War memorial, Cardington, Ohio
The Miners first lived at Cardington, but moved frequently, and resided in places such as Waldo, OH (1863-1867), Louis Center, Delaware County, OH (1867-1870), Pierceton, IN (1870-1873), Plymouth, IN (1873-1875), Warsaw, IN (1875-1876), Knoxville and Sweetwater, TN (1876-1906) and Minneapolis, MN (1906-1912). He briefly ran a hotel in Waldo but primarily worked as a foreman in a wholesale saddle and harness factory.
During the 30 years that the Miners lived in Knoxville, from 1876 to 1906, Eli's brother Henry Clay Minor and family also made their home in the city. The 1903 Knoxville City Directory listed him as residing at 1016 Laurel Avenue in Knoxville while his brother Henry dwelled at 518 Asylum Avenue with sons Ernest and Harry.
As he aged in the postwar era, Eli suffered physically from his military-related illnesses. His cousin John H. Fluckey of Cardington said "I saw him every week or two allways supporting his back with one hand or the other, and not able to perform manual labor only part of the time..."
Eli was a member of the Appomattox Post of the Grand Army of the Republic (G.A.R.). By 1898 he was certified by a physician as "totally unfit for labor of any description" because he was "very feeble." In 1903 he wrote that he was "now confined almost completely to my room often requiring the services of an attendant both night and day."
The family is enumerated on the 1900 census of Knoxville, with Eli shown as a harness maker. They had been married for 35 years. Daughter Maud and her husband Elijah L. Atkins also made their home in the Miner household.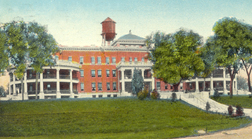 Main building of the Soldier's Home in Minneapolis
In April 1912, when his sister Margaret died, Eli somehow managed to travel to his old hometown of Cardington to attend the funeral. But the trip must have taken a terrible toll. Just 15 days later, on April 29, 1912, Eli himself died, in the Minneapolis Soldier's Home.
Mary made her home as a widow on Clinton Avenue in Knoxville. In her household were her divorced daughter Maud and widowed sister Eva Farnsworth.
She died Oct. 23, 1925 at Minneapolis. Cause of death was bronchial pneumonia, with facial cancer as a contributor. Both are buried in the Civil War Section of Lakewood Cemetery in Minneapolis. Also resting in their plot is Mary's sister Eva Farnsworth (died Jan. 13, 1932) and Cassandra E. Olney (died Feb. 10, 1897, at the age of 79), who may have been Mary's mother.
In looking through an old family photo album in the early 1970s, Eli's grand-niece Jeanette "Blanche" (Clark) Tarter commented on her memory of him: "I have a very faint shadowy remembrance of seeing Uncle Eli. I suppose it was the time that Jack and Floy Sellers remember. A tall slender man with blue eyes and a brown silky beard. I have no idea from whence he came nor whether he went nor when it was."
Copyright © 2000-2004, 2006-2008, 2019 Mark A. Miner.
Vicksburg battle sketch painted by Alonzo Chappel, and published in 1877 as a steel engraving by Johnson & Miles, New York.