Hazel (Minerd) Johnson
(1901-1967)

Hazel (Minerd) Johnson was born in 1898 near Uniontown, Fayette County, PA, the daughter of James L. and Catherine (Whalen) Minerd.
On April 9, 1923, at the age of about 25, Hazel married John Edward Johnson (1901-1972).
They produced three sons -- Jack Johnson, Richard Johnson and one other.
John was a longtime coal miner for Republic Steel Corporation, and may have assisted his politically active brother in law Wilbert Regis "Patsy" Minerd in local union organizing activities.
Hazel was a longtime housewife, raising their children. She also was "very active in Holy Rosary Church in Republic," reported the Uniontown Herald-Standard.
When the federal census was taken in 1930, John, Hazel and young Jack made their home in Redstone Township, Fayette County. John's employment was marked as "coal cutter - coal mine." Living under their roof that year were Hazel's 71-year-old father, James L. Minerd, and 21-year-old unmarried brother James W. Minerd, also a coal miner.
Hazel passed away in 1967 at the age of 66, at the Golden Age Nursing Home of Brownsville.
John outlived him by five years. He died in 1972 at the age of 71.
They are buried at Lafayette Memorial Park in Brier Hill, near Uniontown.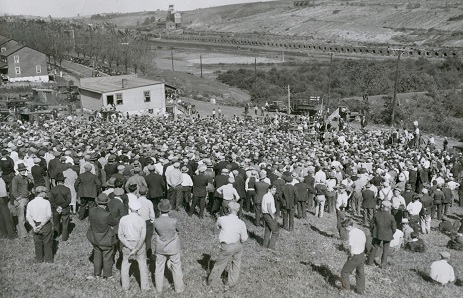 Thousands of Fayette County coal miners meeting to reject a contract offer. Note the mine tipple and coke oven batteries in the background.
~ Son Jack Johnson ~
Son Jack Johnson (1923-2010) was born on July 17, 1923 in Republic, Fayette County. He was married twice.
His first wife was Beatrice Hartman ( ? - ? ), daughter of Charles Hartman.
They had one daughter, Patricia Ann Sheckells.
He was a veteran of the U.S. Army during World War II, serving in the Pacific Theatre, and seeing "plenty of action in the Philippines with the Liberation of Luzon," said the Herald-Standard.
He was employed at Ford Motor Company in Cleveland, OH. Upon retiring, he lived for a time in Conyers, GA before returning in 1997 to Fayette County, settling into his retirement in Hopwood. "Jack loved to play golf and enjoyed traveling to Myrtle Beach, SC with his friends from Fort Motors and his wife Dorothy," said the Herald-Standard. He "played golf at the Uniontown Country Club in the Senior League and also the AMVETS Golf League at the Summit."
In August 1974, Jack and Beatrice were divorced in Ohio. He later married Dorothy ( ? -2002).
Dorothy passed away on Feb. 26, 2002.
Jack survived Dorothy by eight years. With his own health failing, he moved in 2009 into the home of his married daughter in Suwanee, GA. Jack passed away in Suwanee at age 86 on Feb. 27, 2010. His remains were returned to Uniontown for repose in Lafayette Memorial Park.
Daughter Patricia Ann Johnson married John Sheckells.
~ Son Richard "Dick" Johnson ~
Son Richard "Dick" Johnson ( ? - ? )
He married Jane and lived in Mullica Hill, NJ.
They had two daughters, Denise Restine and Karen Dempsey.
Copyright © 2007, 2010-2011 Mark A. Miner