James Whalen Minerd
(1908-1961)

James W. Minerd
James W. Minerd was born on Aug. 16, 1908 in Luzerne Township, Fayette County, PA, the son of James L. and Catherine (Whalen) Minerd.
He was only age nine when his mother died. Early in adult life, James resided in Republic, Fayette County.
When the federal census was taken in 1930, James made his home with his married sister and brother in law Hazel and John Johnson in Republic. His occupation was listed as coal miner. Their 71-year-old father also lived in the Johnson household that year.
By 1933, with his sister Margaret Minerd working in New York on the Brooklyn Times newspaper, he abandoned the coal mining life and moved there to seek a new opportunity.
On Nov. 25, 1933, when he was 25 years of age, James wed Clarine Elizabeth "Betty" Hartman ( ? - ? ) at the St. Thomas Roman Catholic Church of Brooklyn. He was age 25 at the time of marriage.
First living in Republic and Tower Hill, they moved to Grindstone, Fayette County in mid-June 1934, as reported by the Uniontown News-Standard.
They later returned to Uniontown and had two children -- Betty Jean Dennis and James Minerd.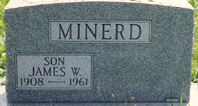 Park Place Cemetery
James was employed as a foreman. They resided in the South Uniontown area.
Circa 1936, they made their home near Tower Hill No. 1 mine. In January of that year, James' sisters Marie Edwards of Brownsville, and Margaret and Kathryn Minerd of New York City, visited at their residence, with a short article published about the event in the Uniontown Morning Herald. Their postal address in 1952 was P.O. Box 311 in Republic.
The Minerds later divorced, circa August 1950.
James resided for many years in New York City.
James passed away in New York at the age of 53 on May 2, 1961. His remains were returned to Uniontown, where he was laid to rest beside his parents at the Park Place Cemetery in Uniontown.
~ Daughter Betty Jean (Minerd) Dennis ~
Daughter Betty Jean Minerd (1934-2020) was born on March 2, 1934 in the coal mining patch town of Tower Hill near Uniontown.
Betty Jean was united in wedlock with Gerald E. Dennis ( ? -living).
The couple produced these children -- Vaughn Dennis, Sandra Riley, Gerald A. Dennis and Cynthia Kachel.
The Dennises lived in Hopwood near Uniontown.
Said the Uniontown Herald-Standard, Betty Jean enjoyed playing in the "ladies golfing league, bowling league and card club for many years and Friday nights friend's dinner group. She loved reading the daily newspaper and novels." She and her daughter Sandra attended the 2013 national Minerd-Minard-Miner-Minor Reunion and brought a decorated cake to mark the 100th anniversary of the first Minerd Reunion.
Sadly, the 86-year-old Betty Jean passed into eternity as a patient in Uniontown Hospital on March 8, 2020. Interment was in Thomas Cemetery. An obituary in the Herald-Standard noted that her survivors included five grandchilren and three great-grandchildren and asked that any memorial gifts be made to New Life Covenant Church in Markleysburg.
Son Vaughn Dennis lives in Hopwood.
Daughter Sandra Riley resides in Hopwood. She has a son, Gavin Riley Jr.
Son Gerald A. Dennis has made a home in Hopwood.
Daughter Cynthia Dennis married (?) Kachel. They dwell in Mechanicsburg, PA.
~ Son James Minerd ~
Son James Minerd ( ? -living) was born in (?).
As a young man, circa 1956, he began employment with Westinghouse. He remained with the company for 24 years. He received a business degree in 1978 from California University of Pennsylvania.
James married Barbara C. ( ? -living). They resided in Jeannette and North Huntingdon, Westmoreland County, PA where they raised their family.
The couple bore three children, among them Laurie K. Minerd, Pamela Squitiro and James E. Minerd.
He is retired and lives in Seminole, FL.
Daughter Laurie Kay Minerd (1960-2002) was born in 1960 in Jeannette, Westmoreland County, PA. She joined her parents in a relocation to Florida in about 1982. Over the years, she was employed by Florida Power and as a sales representative for KTL Trucking Company. Sadly, at the age of 42, she passed away on Dec. 30, 2002 while in Hospice House Woodside in Pinellas Park, FL. Her obituary was printed in the St. Petersburg Times.
Daughter Pamela Minerd married San Squitiro. They made a home in 2002 in Palm Harbor, FL and are the parents of three offspring -- Max Squitiro, Mia Squitiro and Eli Squitiro.
Son James E. Minerd (1961-2019) was born on April 17, 1961 in Greensburg, Westmoreland County. He moved to Florida with his parents and graduated from the University of South Florida. As an adult, he dwelled in St. Petersburg. He is said to have been "a very independent and resourceful person." Grief wracked the family when Jim died at the age of 59 on Oct. 22, 2019. His obituary was printed in the Tampa Bay Times.
Copyright © 2007-2008, 2020 Mark A. Miner