Margaret (Minerd) Pocci
(1905-1942)
Margaret Genevieve (Minerd) Pocci was born in 1905 near Uniontown, Fayette County, PA, the daughter of James L. and Catherine (Whalen) Minerd.
Margaret was a student at California University of Pennsylvania from 1923 to 1927. During those years, she lived subsequently in Republic and West Brownsville, Fayette County, and on Reppert Boulevard in Uniontown.
Circa July 1932, Margaret is known to have been employed in New York City with the Brooklyn Times newspaper. How she came to obtain this position is not yet known. She occasionally returned home for visits. After a two-week vacation in July 1932, reported the Uniontown Morning Herald, her brother Wilbert R. "Patsy" Minerd and his wife Kathryn drove Margaret from Republic to Bettis Field in McKeesport, near Pittsburgh, so she could fly by airplane back to New York "in order to be able to resume her duties with the Brooklyn Times."
On June 22, 1940, at the age of 35, Margaret married machinist Alex Louis Pocci (1906-1977), the son of Ferdnand and Theresa (Galti) Pocci of Brownsville, Fayette County. Tragedy was to follow this young family over the next few years. At the time of marriage, Margaret was employed as a "supervisor" and lived in Brownsville.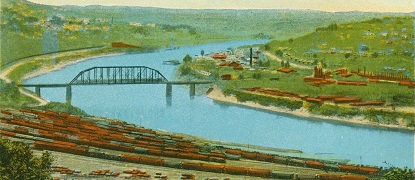 Industrial Brownsville, early 1900s
The following August, in 1941, their infant child died, and was buried at Lafayette Memorial Park near Brownsville.
A year later, Margaret became deathly ill with a "complication of diseases." While staying at the home of her brother James W. Minerd in Republic, Margaret died on Aug. 27, 1942, at the age of 36. She was buried beside her child at Lafayette Memorial Park in the Garden of Blessing. Her obituary was carried in the Uniontown Morning Herald.
After her death, Alex remarried and had a family, and resided in Scott Township, near Pittsburgh. He is thought to have been friends with legendary sportscaster Myron Cope, a radio and television commentator for many years for the Pittsburgh Steelers football team.
Alex passed away at the age of 71 in May 1977.
Copyright © 2008, 2010, 2013 Mark A. Miner