Erma was united in holy matrimony with Galon Glen Younkin (1925-2002), a native of Kingwood, Somerset County, and the son of Charles Milton and Grace Alma (Beachy) Younkin and grandson of William Lincoln and Margaret Ann (Nicola) Younkin of Kingwood. The groom was four years younger than the bride.
The marriage was one of more than a dozen known between Younkin and Minerd clans dating back to 1803. Click for more.
A portrait of Erma as a young woman is seen here, date unknown.
The Younkins went on to bear two sons -- Galen Younkin Jr. and Barry Lee Younkin.
During World War II, Galon served in the US Air Force. After the war ended, the Younkins relocated to Cleveland, Cuyahoga County, OH.
Erma "was a member of Peoples Hope United Methodist Church in Cleveland," said the Somerset (PA) Daily American. "She was a nursing assistant at St. John's Hospital in Cleveland."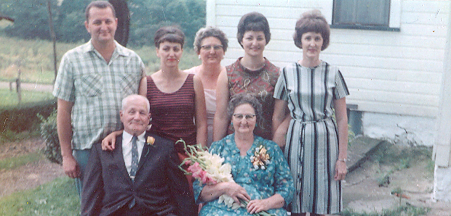 Golden wedding anniversary of Galon's parents, Charles and Grace Younkin (seated), in 1967 at their farm near Kingwood. Standing, left to right: Galon, Ruby, Pauline, Helen and Faye.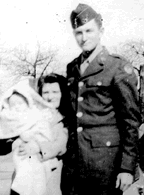 Wartime years
Galon and Erma are seen here during the wartime era with one of their baby sons.
The Younkins attending the annual Harbaugh Reunions and are known to have been present in 1963, 1966 and 1969 (when each of those years they received the "Furthest Traveled" award).
Heartache rocked the family in 1986 when son Barry passed away.

Old Bethel Church
Galon died in Cleveland on June 3, 2002. He was age 77.
Erma outlived her husband by nine months. She passed away at the age of 82, also in Cleveland, on March 4, 2003.
A memorial service was held in their home church, the Old Bethel Church of God near Kingwood, Somerset County, in the spring of 2003. Burial was in the old church cemetery across the road, right at the corner of the old Jacob and Catherine (Younkin) Minerd Jr. farm dating to 1829.
~ Son Galen Charles "Sonny" Younkin ~
Son Galen Charles "Sonny" Younkin was born in (?).
He married Carol A. Will (1942-2014), daughter of Elmer and Irene (Tischler) Will. They resided in Cleveland and had two sons -- Glenn Younkin and Eric Younkin.
Galen worked for many years as a respiratory therapist for the Cleveland Clinic. In retirement, he served in a leadership capacity with Boy Scout Troop 515 and as an officer of the Two Rivers District of the Greater Cleveland Council, Boy Scouts of America, providing opportunities for the youth of the west side of Cleveland. Among other activities, he was involved with the Greater Cleveland Council BSA for National Youth Leadership Training.
Carol was employed with U.S. Bank in Cleveland.
Over the years, he and Carol attended the National Junghen-Younkin Reunion in his parents' old home community of Kingwood, Somerset County.
Carol passed away at the age of 72 on or about May 27, 2014. Interment was in the Brooklyn Heights Cemetery.
Son Glenn Charles Younkin married Debra Lynn Smith. His employment was with Oglebay Norton in Cleveland, and hers' with U.S. Airways.
Son Eric Scott Younkin was wedded to Dana Marie Streeter. He worked for Garland Company in Cleveland while she earned a living with Specialty Chemical Company.
~ Son Barry L. Younkin ~

Cleveland Plain Dealer
Son Barry L. Younkin (1948-1986) was born on Jan. 21, 1948.

He married Elaine H. Paloney (1953- ? ).

The couple made their home in Columbia Station, Lorain County, OH.

Heartache shook the family at Barry's untimely death on March 12, 1986. A death notice was published in the Cleveland Plain Dealer. Interment was in Sunset Memorial Park in North Olmsted, Cuyahoga County, OH.
Copyright © 2001-2003, 2008, 2014 Doris (Sands) Hawker and Mark A. Miner